Intel stock has surged almost 60% over last year on strong business achievements
Intel (INTC) stock has been a rewarding investment for those who have kept it in their portfolios over the last year. Hence, the stock has gained about 60% since I recommended INTC as a buy in this article: Intel Is A Solid Buy At Current Levels.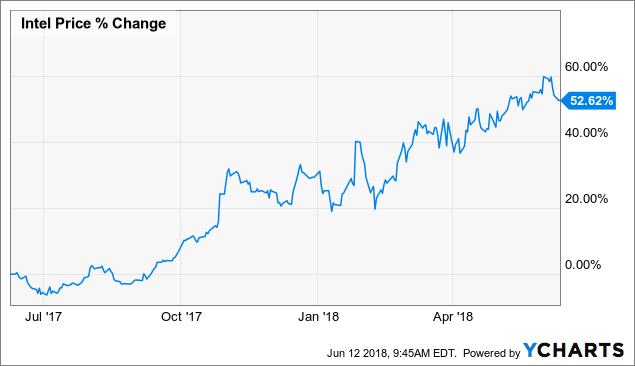 At that time, I stated that the business of Intel was more than promising and underappreciated by the market. Despite the competition from such players as AMD (AMD) and Nvidia (NVDA), Intel still managed to grow its client base in the enterprise segment with its Xeon processors, even though Intel's solutions cost more than those of its rivals.
Moreover, the acquisition of Mobileye created avenues for growth in the huge automotive market. This was evident by the fact that Intel partnered with Delphi Automotive (DLPH)(APTV), which counted such big players as General Motors (GM), Volkswagen (OTCPK:VLKAY), and Ford (F) as its clients.
In short, the company's growth was somewhat secured by the success of its product lines in the environment of limited competition.
However, it seems that the situation has changed recently, as the rivalry in the market is increasing significantly. For instance, AMD has grown its business successfully, and the company is threatening Intel's position in the client and enterprise segments. Therefore, without an additional catalyst, it will be much harder for INTC stock to continue growing at a rate that has been seen over last year, which is why investors should remain cautious until Intel demonstrates an ability to roll out new radical solutions. Let me explain this in more detail.
Intel needs an additional catalyst to keep its momentum, as the competition intensifies
While Intel stock has grown about 60% over last year, the company's revenue has only increased 6% on average over the period. The rate of growth is several times lower than that of its peers, such as AMD, Nvidia, or Micron (MU).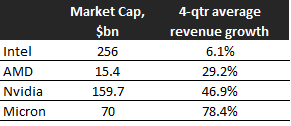 (Source: The author's calculations)
Moreover, while the rate itself does not signify major problems, the overall trend does not look impressive. Hence, over the last year, Intel's revenue growth has been lower than a year ago (the data is for calendar quarters), which sets a negative trend. This can become a problem for Intel in light of the fact that AMD, Nvidia, and Micron have improved their sales radically. This can also indicate that the three companies have taken some market share from Intel in such major markets as CPU, GPU, and memory.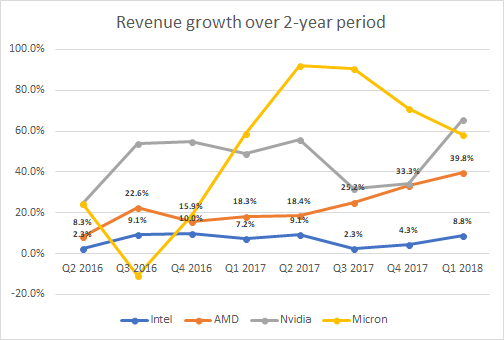 (Source: Graph created by the author; Data: Seeking Alpha)
Furthermore, Intel's operating income has improved much slower than that of Nvidia and Micron. AMD only started to show positive operating margin in 2017, but again, the rate of improvement is much faster in AMD as the company is gaining its ground in both the CPU and GPU markets across the client and enterprise segments. With small but steady increases in R&D, AMD has been able to achieve a higher rate of growth than Intel with its $13 billion R&D budget. This indicates that Intel may need some changes, either in the management, product or corporate structure, to continue being competitive in the market.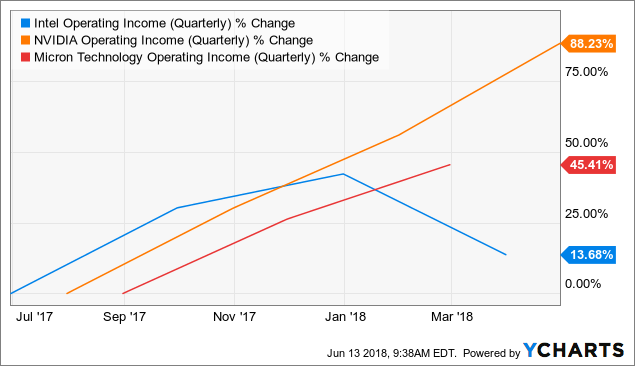 Apple ditches Intel, 10nm chips delayed, smart glasses project shut down
As regards Intel's products, the dynamics have not been very encouraging over the last months. The lack of catalysts comes from the fact that many promising solutions are either delayed or shut down.
For instance, Intel again delayed the start of production of its 10nm processors. The next-generation Cannon Lake processors were initially supposed to be launched at the end of 2018, but now Intel aims at 2019 to start the mass production. A part of this delay is explained by the increasing difficulty of making sharp improvements in the chip technology.
As we approach smaller and smaller transistor sizes, it becomes increasingly harder for companies like Intel to keep up with the two year doubling that Moore's Law demands. It's also why we're seeing things like the Kaby Lake R and Coffee Lake releases, or AMD's updated Ryzen 2 chips, which look to improve on the existing technologies at the current node rather than try to force an early jump ahead to the smaller size.
However, this can also point out some internal problems in the company. For instance, it is reported Intel has brought two industry "heavyweights" over last year as the company may be discontent with the product pipeline that's currently in flight. Therefore, the delays in product launches and lack of radical progress can be a result of internal disagreements.
Moreover, the smart glasses project, acclaimed by the press, was apparently shut down in the middle of April. The Vaunt smart glasses project was Intel's take on the wearables market, and the technology showcased earlier this year looked promising. The glasses looked "normal," but had additional functionality in it, which could attract not only tech geeks but also usual consumers.
The wearables market is not an obvious choice for the chipmaker, but the success of such players as Apple (AAPL), with its Watch and EarPods, means positive financial results can be achieved if the approach to the market is right. This could have provided Intel with a necessary performance boost.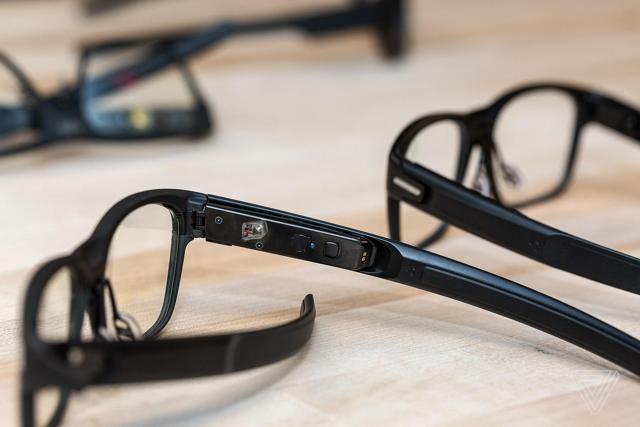 (Source: The Verge)
Furthermore, Apple is reportedly working on its own chips for MacBooks, which means the tech giant can ditch Intel processors in its laptops as early as 2020. In turn, Apple accounts for about 5% of Intel's revenue, which amounts to about $3 billion on the basis of 2017 numbers. Therefore, it will be hard for Intel to keep its growth rate at high levels in the future, even if the company finds another source of revenue to cover a $3 billion loss.
Intel's 28-core chip was a fantasy, expect increased competition from AMD
At the latest Computex, Intel and AMD revealed their next-generation CPUs: the former showcased a 28-core chip running at 5 GHz, while the latter demonstrated a 32-core Threadripper built using a 12nm process. It is stated that Intel's presentation "sent the internet into a flurry, as it seemed like Intel was demoing a future product, they said so themselves."
The initial difference in numbers was already not favorable for Intel, but the situation turned out to be even more devastating: the CPU showed by Intel was not a real product, but rather a "diversion" made to steal attention from AMD.
After Intel's demonstration, various outlets like Paul's Hardware went over to the Gigabyte suite and exposed the Intel test system shown on stage. And low and behold, the CPU in question is cooled using a massive air conditioner unit that's bringing the liquid cooling system's temperatures down to sub-ambient levels. That's red flag number one.
The picture of Intel's solution only proves the statement.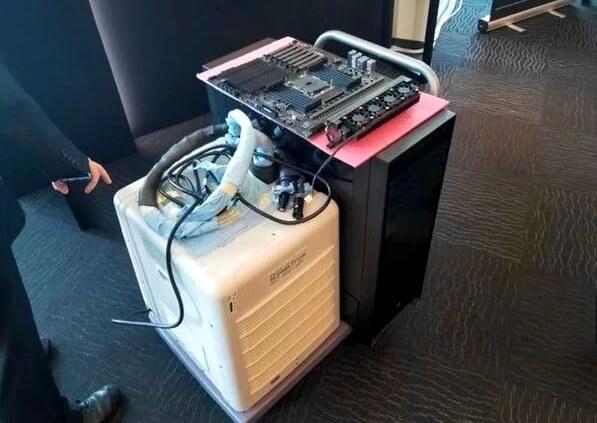 (Source: Techspot)
Moreover, the motherboard used in the demo was an enterprise-class board with the LGA3647 socket, normally intended for Intel Xeon processors, prices for which sometimes exceed $8,000. And that's red flag number two.
As a result, there is a chance Intel demonstrated just a server-grade processor, overclocking it to enormous speeds by using a massive air conditioner to keep it alive. While the initial launch was set to be Q4 2018, I find it very unlikely the company will be able to leap from such a prototype to a consumer-ready product in such a short period. In contrast, AMD's 32-core chip is a real product which uses the existing TR4 socket and X399 platform, running on air cooling with the Wraith Ripper.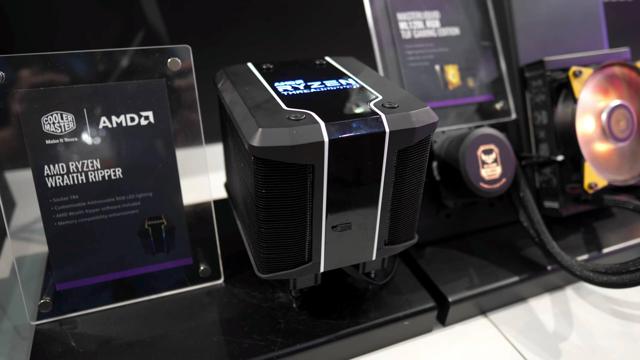 (Source: Techspot)
The main takeaway from here is that, unfortunately, it has become difficult for Intel to compete with its peers. The company's 28-core prototype, demonstrated at Computex, is not a disaster in itself, but it raises red flags over the company's ethical standards. Anandtech explains that in the pre-briefing for the press it was stated by Intel that "this was a technical showcase (the bit where it was stated that this was coming to market was a bit of a shock if we're honest)," but this was clearly not communicated as well as it should have been on stage.
There are still avenues for growth in the long term, but the medium-term risk is too high
To make it clear, I still believe the company looks good for the long term. Hence, markets such as automotive can become a fast-growing source of revenue for Intel, as cars are getting more connected with the help of technology. Moreover, the company will likely capitalize on such trends as 5G, as Intel "transitions from a PC company to a data company."
Intel's new 5G leadership has been shown off in several very public test cases in the last few months, most recently at the 2018 Winter Olympics in Pyeongchang, where the company teamed up with local operator Korea Telecom to deploy a 5G-ready commercial network for the first time.
However, I find the medium-term risks to be too high. Although the stock does not look overpriced relative to some of its peers, I do not see a clear catalyst for the company's growth in the near future.
Hence, even Intel's CEO has recently admitted that Intel will lose server share in 2H 2018 to such companies as AMD, which will inevitably influence Intel's top and bottom line as server chips generate a major portion of the company's revenue (Data Center group accounted for about 30% of total revenue and 40% of operating income in 2017). Therefore, investors should remain cautious about INTC stock and closely watch the developments in the market.
My detailed analyses of AMD, Intel, Nvidia, and other tech companies can be found on my profile page. If you like my article and would like to stay up to date on the next one, please click the "Follow" button next to my profile.
Disclosure: I am/we are long AMD, MU.
I wrote this article myself, and it expresses my own opinions. I am not receiving compensation for it (other than from Seeking Alpha). I have no business relationship with any company whose stock is mentioned in this article.