A stubbornly strong U.S. dollar has kept the technically oversold gold price from launching a rally. While the strong dollar factor is likely to continue weighing against gold in the immediate term, we'll discuss in this report the growing number of positive factors for gold which suggest the metal's prospects will improve heading into summer.
Gold investors have become increasingly frustrated by the yellow metal's inability to rise despite several promising technical indications. For one, the copper market has shown conspicuous strength lately, with the copper futures price recovering most of its losses of the last five months in just the last two weeks. Economists view copper as a bellwether of economic strength and as such, the recent rally may simply be a reflection of the improved intermediate-term prospects for the global economy. Nonetheless, there has long been a connection between copper price strength and a strengthening gold price, with the former often leading the latter. This is one reason why gold bulls have been hopeful of a turnaround for the yellow metal this month.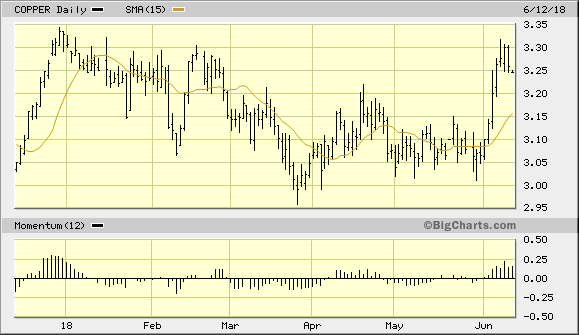 Source: BigCharts
Then there is the silver market, which has recently shown signs of coming to life again after several months of dormancy. The iShares Silver Trust (SLV) has rallied in six of the last seven trading sessions. Silver's relative strength is an even bigger harbinger for a livelier gold market, at least based on historical patterns. And yet to date, gold still hasn't responded to this positive leading signal in its close cousin silver.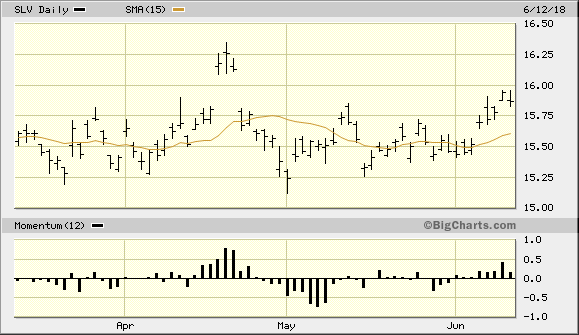 Source: BigCharts
Indeed, as is reflected in the following graph of the iShares Gold Trust (IAU), the gold price hasn't yet gotten a rub from either copper or silver. Instead, the gold ETF remains languid and is even having difficulty staying above its 15-day moving average. IAU slumped on Tuesday and finished the session under its 15-day trend line, which essentially puts the immediate-term trend back into flux after the latest turnaround attempt.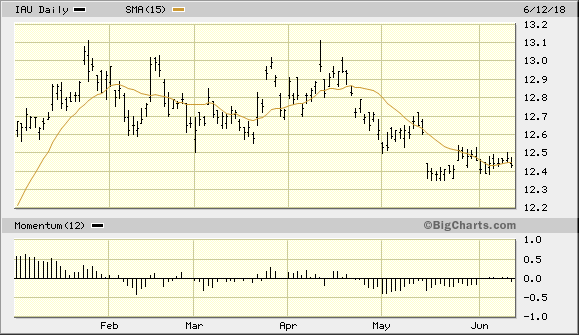 Source: BigCharts
Gold has also received an indirect incentive to rally from the recent poor performance in the cryptocurrency market. For much of the last year, analysts insisted that cryptocurrencies were drawing investors' collective attention away from gold. Some crypto pundits even went so far as to state that much of the demand among investors for protection from fiat currencies had moved to the cryptosphere.
Yet the widely followed Bitcoin market has been in a slump of late and made headlines this week after plunging some 10 percent and is now testing its yearly lows. See the NYSE Bitcoin Index (NYXBT) below.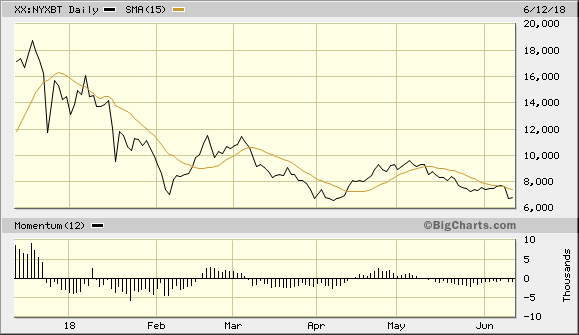 Source: BigCharts
With the Bitcoin market not providing any immediate competition to gold among safety-conscious investors, it would be easy to conclude that gold should have an easier time getting out of its latest rut. However, the biggest detriment to an immediate-term gold rally remains the strength and resilience of the U.S. Dollar Index (DXY).
Shown below is the dollar index in relation to its 15-day moving average. While DXY remains below this important delineation of its immediate-term trend, it has also shown a persistent refusal to decline any further than it has since peaking in late May. As long as DXY remains anywhere near its 15-day MA (and consequently near its year-to-date high), gold will face a powerful resistance in its attempt to rally. This strong headwind from gold's currency component is why it's critical that we see a significant weakening in DXY before we get the all-clear signal for the next gold price rally.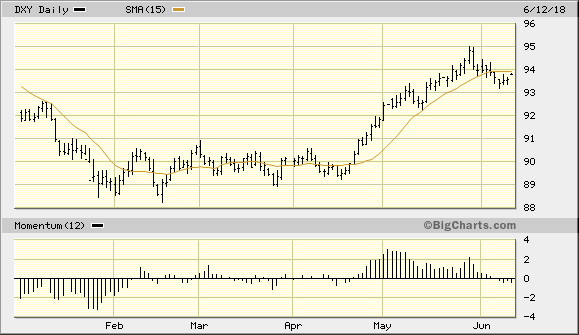 Source: BigCharts
Basically, we need to see DXY drop below its June 7 pivotal low of 93.21. This would result in a lower low and would confirm that the greenback has suffered from a definite reversal in its short-term forward momentum. Just as the recent sharp drop in the 10-Year Treasury Note Yield Index (TNX) removed the immediate pressure from rate-sensitive areas of the stock market and allowed for the U.S. equity market to bounce back from its recent doldrums, so too would a sharp dollar drop afford gold an excellent opportunity to rally and recover its losses from recent months. A weakening of the dollar/gold ratio shown below will serve as another indication that gold is ready to rally.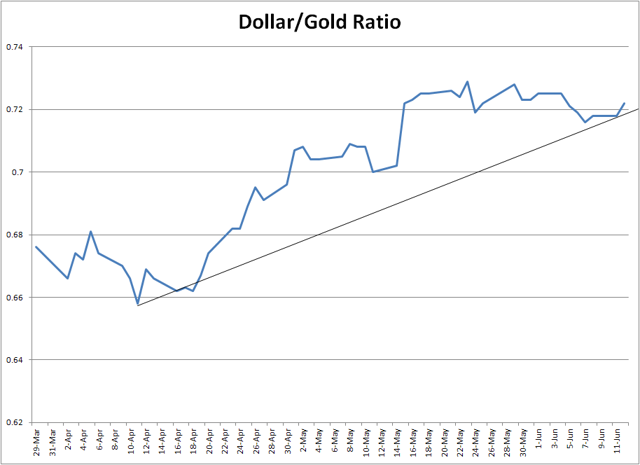 Source: BarChart
Until this happens, though, I'm not going to formally make any new trading recommendations in gold or the gold ETF. Before I do so, I maintain we need to see a definite sign that the short-term forward momentum behind the dollar index (DXY) has completely dissipated, thereby leaving it vulnerable to a sharp drop. Otherwise, the buoyant greenback will significantly limit gold's upside potential. Any immediate-term weakness in the dollar from here, however, will create a most conducive environment for a gold rally as previously discussed. For now, no new trading positions in the IAU are recommended.
Disclosure: I/we have no positions in any stocks mentioned, and no plans to initiate any positions within the next 72 hours. I wrote this article myself, and it expresses my own opinions. I am not receiving compensation for it (other than from Seeking Alpha). I have no business relationship with any company whose stock is mentioned in this article.