Enphase Energy (ENPH) may be in for a Q2 OpEx surprise, but more importantly, it is best for shareholders to look ahead to the coming quarters and comprehend what a leader in the MLPE technology arena is about to release. The article will focus on a couple gold nuggets which offer proof to the "surprise" thesis, but the remainder of the article will focus on the major technological advancement Enphase is about to release beginning in Q4.
Enphase Energy's Q1 OpEx was $20.8M; Q2 was estimated at $19.5M to $20.5M. In the last quarterly 10-Q (p.26), there was the following:

Q1 OpEx had a one-time $1.8M charge under "General and administrative" expenses due to a "supplier" issue; therefore, Q2 OpEx could be on par for ~$19M; if OpEx is indeed that amount, then operating expense along with ~$2.5M interest, would be $21.5M. Taking a $76M revenue (midpoint) times a 27.5% margin (midpoint), then operating income would come in at $20.9M.
Optimistically, taking an $80M revenue (high) times a 29% margin (high) would give $23.2M operating income. With stock-based compensation of $2M, GAAP operating income could be ($0.6M) to $1.7M or ($0.01) to $0.02 per share, with non-GAAP at $0.01 to $0.04 per share, for 97M shares outstanding. If Enphase hits its high estimates, then a profitable quarter is at hand.
Let's turn to what's in store for Enphase in the coming quarters. At the last earnings call, the conservative CEO stated "incremental" progress in Q2, a big ramp up in Q3 and completion by Q4 for the IQ7 roll-out, including IQ7PD (p.9) which will reduce warranty expenses considerably. Comparing Enphase's warranty settlements (10-Q, p.12) from last year (below), expenses have remained relatively flat; this is great news considering Enphase has now shipped "more than 16 million microinverters" (10-K, p.2), and in 2017 they shipped "approximately 2,892,000 microinverters" (p.8).
Given "further product-cost reduction initiatives for [Enphase's] microinverters, which are backwards compatible with previous generations and will be used to fulfill future warranty obligations for all generations in the field" (10-K, p.66) - this could reduce warranty expenses by 20% since legacy microinverter costs are estimated at about $50, and IQ7's around ~$40. On a ~$7.7M expense, that's about $1.5M in savings.

As the world is adopting renewable energies at an impressive pace, Enphase is on the verge of releasing a revolutionary product that will catapult them over the competition into a whole new market called microgrid aka backup aka off-grid. Enphase will have a grid-independent energy solution to offer, and unlike their revolutionary but pricey AC Battery, IQ8 microgrid will be very affordable, and as is customary with Enphase, it will be safe, easy to install, simple to manage, long-lasting with superior specifications compared (see p.23) to previous models.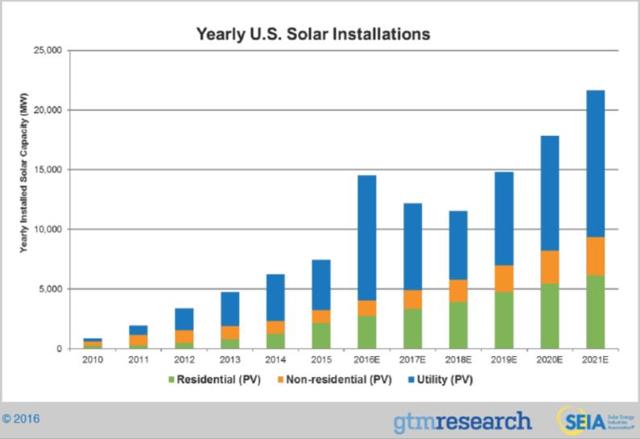 Enphase's 8th-gen microinverter, called IQ8 (see p.19), will open the door for the company into regions of the world it has never been - regions which will enable new vertical markets like solar lighting, solar water pumps, solar anything; Enphase India's rapid growth is a telltale of that since revenue there has increased 88% y-o-y, and Q1 had the largest ever shipments to the APAC region.
In addition to the "no-grid" and "weak-grid" markets like Africa and India, respectively, for the almost 800k Enphase customers, as well as millions of non-Enphase ones, upgrading (or retrofitting) a legacy "anti-islanding" solar PV system, and giving it true microgrid capability will be yet another new market for Enphase.
Essentially, just a single IQ8-integrated AC Battery or IQ8 microinverter, along with an IQ Envoy communications gateway, will be all that is needed to turn an Enphase system into a microgrid (S-series, IQ6 and IQ7 - IQ micros may have to be substituted in an M-series configuration, unless possibly an MPPT firmware upgrade can be applied). Enphase's IQ8 is ''already completed and currently in test mode" as reported in the last 10-K.
The new market for Enphase can be represented by all the regions around the world in need of grid-independent power, basically everywhere! As a microcosm, consider the millions of residents in Hurricane Alley, Typhoon Alley, and all the other "alleys" who will want power after a grid failure which Enphase's IQ8 can provide. See the graph below to get an idea of that market size (borrowed from www.climatecentral.org).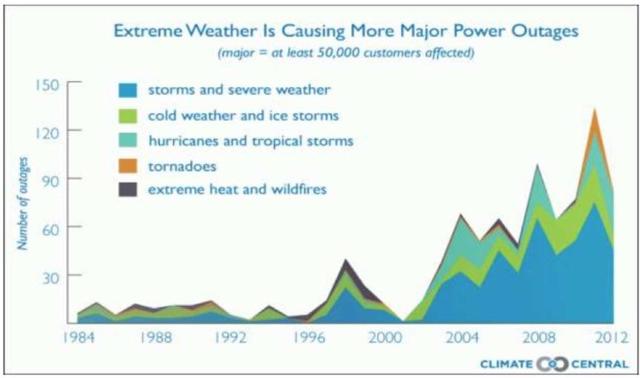 Competitors for the microgrid market are Tesla (TSLA), SolarEdge (SEDG), LG Chem (OTC:LGEAF), Magnum Energy, Schneider Electric, SMA (OTCPK:SMTGF), and Victron Energy. A Worcester-Polytechnic Institute MQP from April 2017, analyzed some of these microgrid solutions along with their complexities; however, in this MQP, a 2nd-gen, circa-2011, M190 microinverter was used to represent Enphase, and the upcoming 8th-gen IQ8 with its embedded microgrid software, called "Ensemble," wasn't yet publicly known until 2 months later (p.27); for fairness, Enphase's S-series (5th-gen) should have at least been used in the research project.
To comprehend why IQ8 will be a game-changer for Enphase, consider the affordability factor first, then the simplicity of solution which has always distinguished Enphase from the competition. IQ8 with its patented, low-voltage black-start and smooth load-matching technology will be superior.
Tesla's Powerwall Backup Gateway requires huge amounts of storage for its microgrid solution to operate; the solar PV system will not operate when the grid is down, except to recharge the battery, and then it is shut off. But, with Enphase's microgrid solution, no storage is necessary, and this removes a huge cost factor from the solution. Enphase's microgrid solution is uniquely independent from its competitors.
In competing microgrid solutions, there must be a "secondary" backup electrical panel interfaced with a separate inverter and accompanying battery farm, so that when the utility grid fails, the home's microgrid can automatically switch to this source for its power. Enphase's microgrid does not need any "secondary" to operate, and this will result in much lower installation costs versus competing systems, with a much easier "retrofit" for existing systems.
Enphase's microgrid optimally utilizes the solar PV system regardless of utility grid power; it is "grid agnostic" or "grid independent", and unlike many competing microgrid solutions which can only provide power to a subset of "critical" circuits, Enphase's microgrid can power the whole house. Since Enphase's microgrid uses the home's existing AC grid for communication, no separate DC conduit or modbus control line installation is needed.
Secondly, when considering a microgrid solution, price may be king, but safety is right up there. Currently Rule 21 Phase 1 and NEC2014 have been implemented for safety, thereby killing off most of the plain vanilla string inverters. With Phase 2 & 3 and NEC2017 safety regulations on the horizon, MLPE will become 100% of the market. Phase 2 is set for 2019 (comms), and Phase 3 (utility control) will occur thereafter. After Rule 21 Phase 2 & 3, probably the only MLPE market players left will be Enphase, SMA, SolarEdge, Fronius and possibly Huawei.
SMA may have just made the cut with their Tigo investment, but even they have yet to introduce inverters without MPPT, something now done by the optimizer. ABB (ABB) may already be out since renewables is mentioned only once in their Innovation & Technology Day presentation, and they've already canned their microinverters.
Phase 2 & 3 will require inverter companies to have major database back-ends, and with the entry of utilities into the mixture with their preferred suppliers, this may reduce the market players even more. Enphase's IQ technology already adheres to these coming regulations which should make investors very pleased.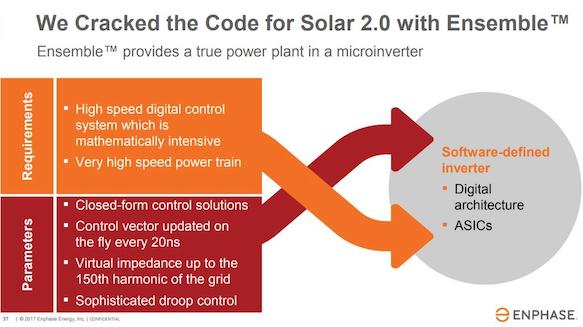 Lastly, and for the technically-challenged, consider the graphic (Analyst Day, June 2017, p.37) above which cofounder & CPO, Raghu Belur, discussed at the earnings call almost a year ago. Of all the "parameters" necessary for Enphase's microgrid, the "sophisticated droop control" is critical. Unlike the on-off crude method of the competition using solar PV to literally fill the big storage batteries using a "dumb" string inverter, Enphase is able to intricately control the solar PV generation by constantly measuring and adjusting voltage and frequency from each panel individually, and match that generation with the home's current dynamic load demand.
The patents associated with this are "Method and Apparatus for Time-domain Droop Control with Integrated Phasor Current Control" and "Methods and Apparatus for Control of Intelligent Loads in Microgrids." Using this revolutionary "droop control" technology is what will allow Enphase to offer a lower-costing microgrid solution sans storage.
As stated above, Enphase has "cracked the code" with its software-driven microgrid solution. IQ8 will be the Holy Grail of microinverters, the only one of its kind, and even more groundbreaking than the release of the first IQs with their optimal tree-structured topology and 2-wire configuration. According to CEO Jim Jenal of Run on Sun, a Tier-1 solar installation company in California, he "can't speak for the world, but Run on Sun and its clients are eagerly awaiting this product [IQ8]!" So, with this microcosm, how many more are waiting?
The recent 25M share increase, the multimillion-dollar capital investments, the optimization of service, the exponential growth of Enphase India (p.8) and the arrival of a veteran CFO experienced with multibillion-dollar enterprises, demonstrate that preparations are being made to ensure the success of this huge endeavor which IQ8 represents.
It's no longer a question of whether Enphase can avoid bankruptcy, rather, it's a question of when customers can get their hands on IQ8. Enphase's IQ8 is coming in Q4, and along with high-margin accessories like IQ Envoy, IQ Combiner Box, Q-Aggregator and IQ Battery, this microgrid solution will be the gold standard.
Disclosure: I am/we are long ENPH.
I wrote this article myself, and it expresses my own opinions. I am not receiving compensation for it (other than from Seeking Alpha). I have no business relationship with any company whose stock is mentioned in this article.
Editor's Note: This article covers one or more stocks trading at less than $1 per share and/or with less than a $100 million market cap. Please be aware of the risks associated with these stocks.