The last 6 months have been impactful in terms of different economic and political news. Regardless of the positive economic statistics and fiscal improvement in the United States beginning in 2018, the market has operated under a negative information background that has shifted all positive news to the backburner. Major news that has affected the market:
The U.S.-China trade dispute
NAFTA negotiations
Nuclear tension between the U.S. and North Korea
Upgrades to the special counsel investigation
Tariffs on steel and aluminium
Concerns over a rise in inflation
All these threats have increased volatility on the equity markets, putting pressure on investors.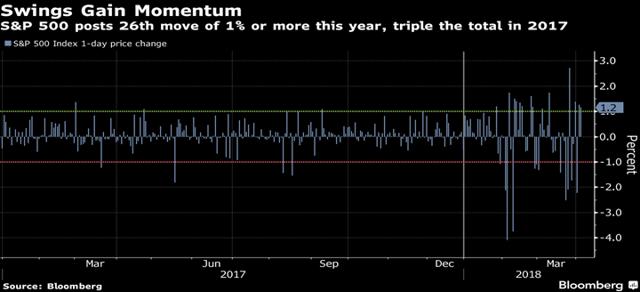 They have also led to market technicals in which only 40% of all stocks listed on the NYSE were trading above the 200-day moving average in March, indicating significant investor concern at that time.

(Source: NYSE Composite Vs. % of NYSE Stocks Above 200-Day Moving Average)
It is important to track the % of stocks that are trading above the 200-day MA as, during uptrend conditions, 200-day MA indicates a significant discount in the current market price of a particular stock. If institutional investors see a continuation of an uptrend, they will usually provide market support at 200-day MA prices. That's why this moving average is commonly called the "fundamental" or "wholesale" price indicator of each asset.
Violations of the 200-day MA can be a sign of a change in the mood of the market. While the indexes can still indicate growth, it is artificial and achieved only because of growth in highly-capitalized companies.
For example: AAPL, AMZN, MSFT, FB, GOOG, INTC in total make up about 49% of NASDAQ 100 Index capitalization. So if these 6 companies are growing while 10 other companies on the list are stable and another 84 are falling, the NASDAQ Index might keep rising. Such a situation indicates impending equity distributions from institutional investors because, in periods of growing concern, less liquid assets are sold first followed by highly-capitalized ones. Under the preceding conditions, the Index will be the last to fall, and this fall will be a result of highly-capitalized companies no longer supporting the Index by their capitalization gains. This leads to a decline in the index price.
The chart depicts the situation that occurred in the financial crisis of 2007-2009 when companies that were included in Index S&P 500 fell, but the Index at some point rose because of gains of high-capitalized companies inflows.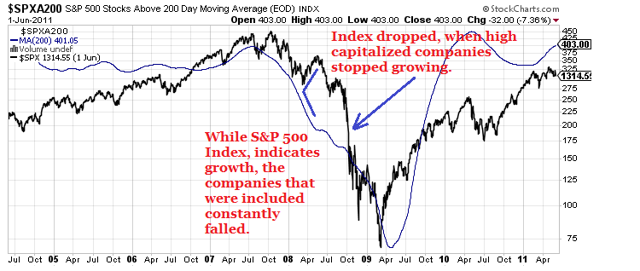 (Source: S&P 500 Stocks Above 200-Day Moving Average)
Investors have used insurance to hedge their assets against losses in case the market continues to fall.
From February until May, the put/call ratio was in an uptrend.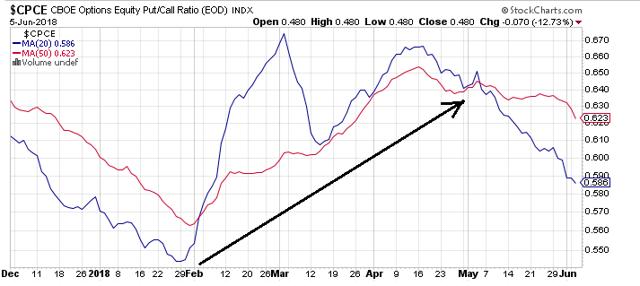 (Source: CBOE Options Equity Put/Call Ratio)
There was also an increased demand for savings bonds (U.S. Treasuries) that caused the yield spread between corporate bonds with an AAA credit rating and U.S treasuries to expand.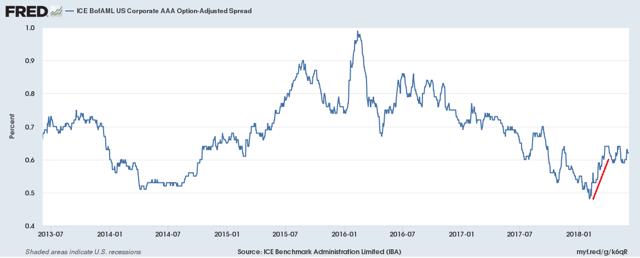 (Source: ICE BofAML US Corporate AAA Option-Adjusted Spread)
Current Situation
After an extended period of volatility and selloffs, the market now signals significant improvements.
Regardless of the continuation of uncertainty regarding trade policies, the market has become more resistant to news that was previously perceived negatively.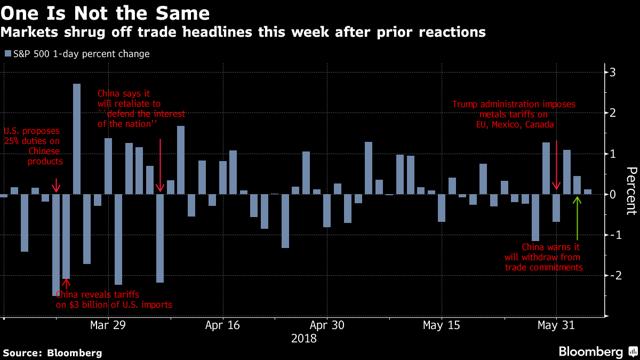 As a result, the S&P 500 Index is showing promise, with explicit signs of a decrease in supply, which can be interpreted as a change in the market mood.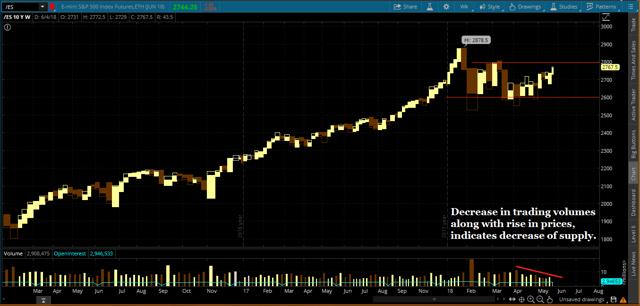 (Source: Chart created by author)
Along with the rise in price, the put/call ratio has started to fall, indicating a positive change in investor perception towards accepting risk.
The put/call ratio has reached its lowest rate since the start of 2018.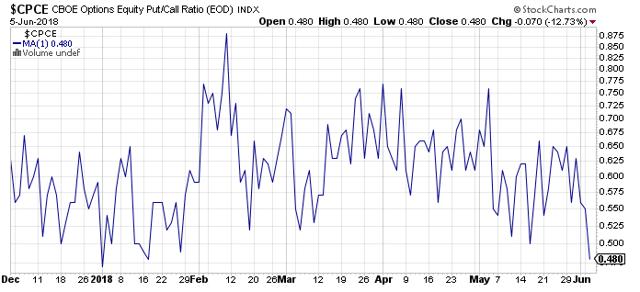 (Source: CBOE Options Equity Put/Call Ratio)
The CBOE SKEW Index, which tracks the cost of out-of-the-money S&P 500 Index options and indicates investor optimism, is in an upward trend.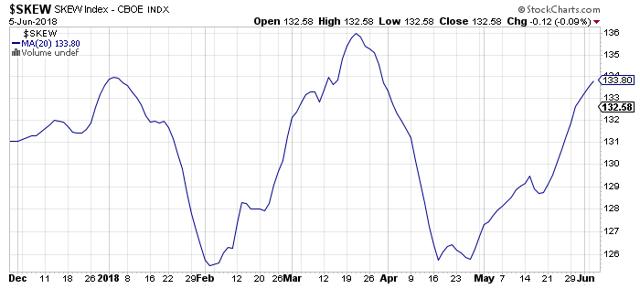 (Source: SKEW Index CBOE)
The % of stocks that have reached their 52W low (1-year low) is at its lowest since the beginning of 2018.

(Source: NYSE Composite Vs. % of NYSE Stocks at 52-Wk Lows (NYSE NL)
And the % of stocks that have reached their 52W high (1-year high) after a period of stagnation indicates a recovery towards its average.

(Source: NYSE Composite Vs. % of NYSE Stocks at 52-Wk Highs (NYSE NH)
The ratio between U.S. junk-bond yields and their high-grade counterparts has nearly reached levels not seen since October 1997 and June 2007, the lowest in more than a decade.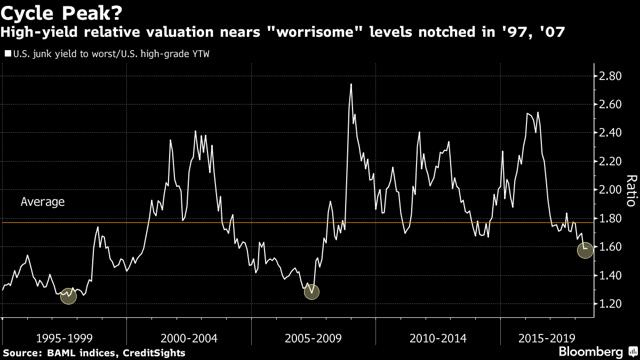 As a result, the Russel 2000 Index, consisting of 2000 mid-cap companies that have a lower credit rating and a higher default risk, indicate explicit preference from investors compared to the S&P 500 and Dow Jones Indexes within the last month.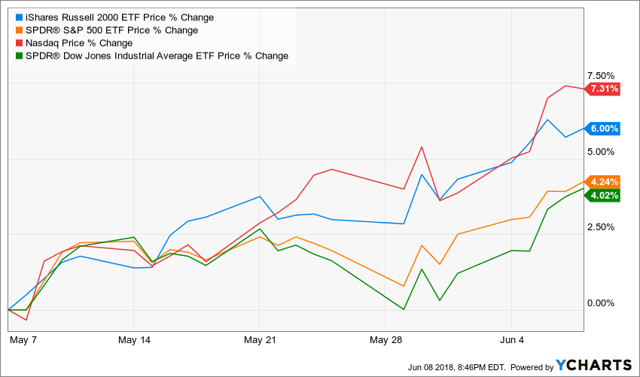 (Source: Chart created by author based on information provided by YCharts)
What Stands Behind These Improvements?
Economic conditions are good and keep improving.
The leading indicator is at its average.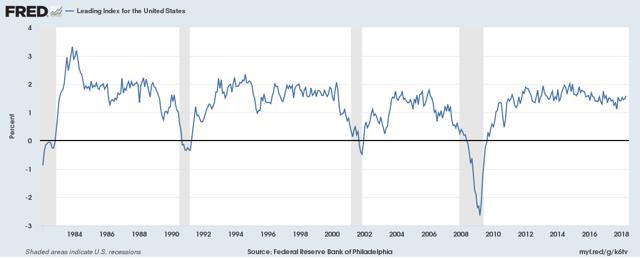 (Source: Leading Index for the United States)
Regardless of a rise in inflation, real GDP growth indicates a positive trend.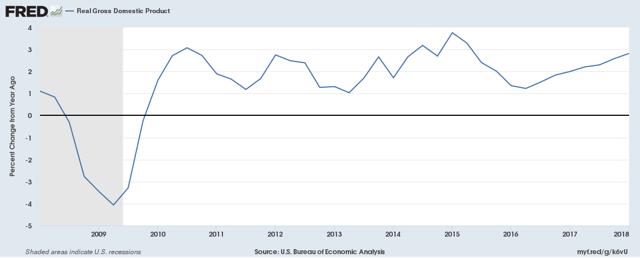 (Source: Real Gross Domestic Product)
The unemployment rate that is at 18-year low (3.8%).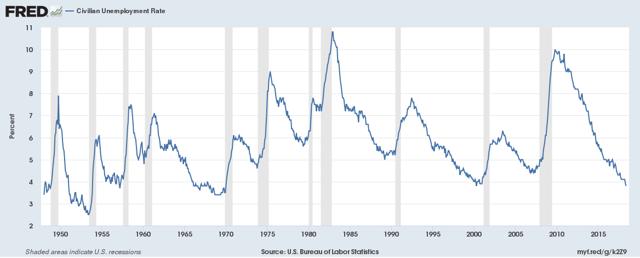 (Source: Civilian Unemployment Rate)
As a result, the economy has more job openings than unemployed workers.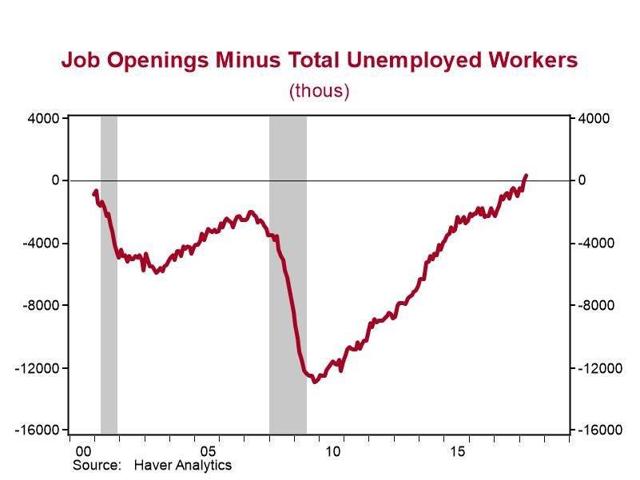 (Source: Haver Analytics)
Low unemployment brought on by the improving labor market is leading to a rise in wage growth to an all-time high, resulting in disposable income growth.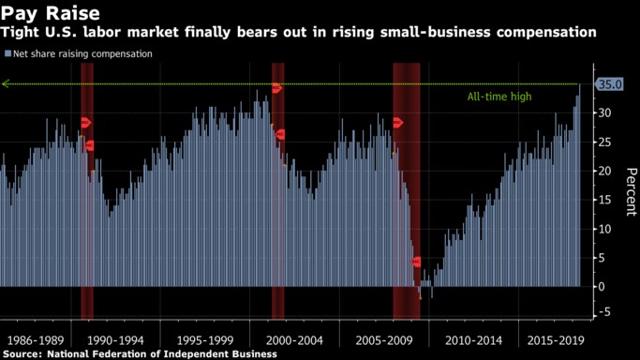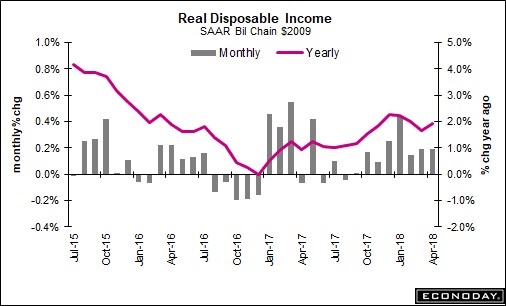 (Source: Strong Income & Consumer Spending Growth)
The corporate sector is in very good condition. Companies posted their best EPS growth since the financial crisis. Important fact: EPS growth was achieved not only by the decrease in the tax rate but also largely due to rising sales. It is possible to state that companies' net incomes indicate healthy growth.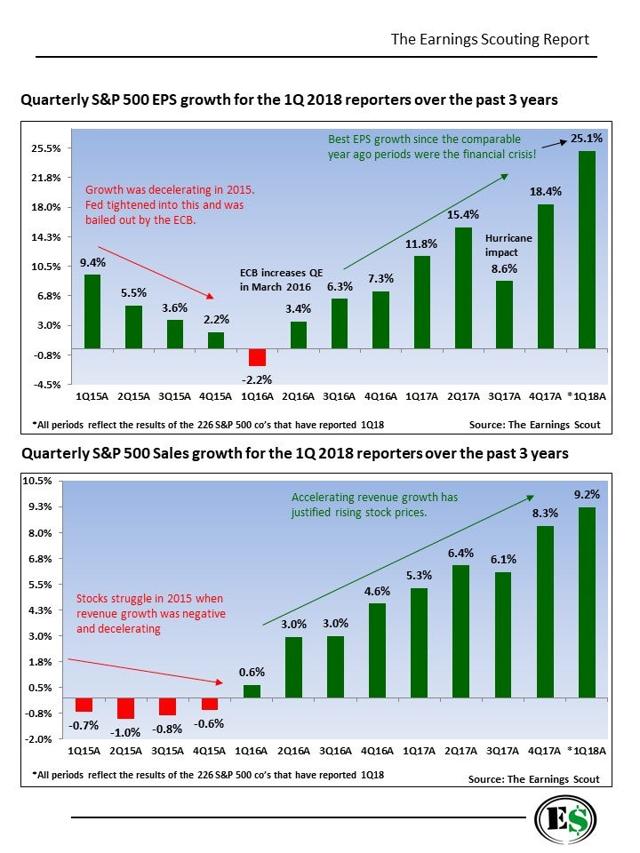 (Source: Earnings Growth Has Accelerated)
Conclusion
After the recent period of negative information flow, investors are no longer reflecting on news relating to the trade disputes and tariff issues. This is evidenced by the rise in the market the day China threatened to withdraw from the trade commitment. Such a situation shows that all of the downside was absorbed by the institutional investors that accepted all the supply coming from retail and other investors.
The decrease in the corporate yields of companies with a credit rating of CCC or below and the explicit outperformance of the Russel 2000 compared to the Dow Jones and S&P 500 indexes, shows rising investor appetite for risk. Investment in organizations with poor credit ratings is accompanied not only with a higher risk of default but also with a higher liquidity risk, so inflows in these types of firms indicate that investors don't see any threats to their investments in the short term (1 year).
As for now, all indicators provide the background for a continuation of the bullish trend which is supported by the rise in corporate sector incomes for fiscal 2018 and general economic conditions that are good and continuing to improve.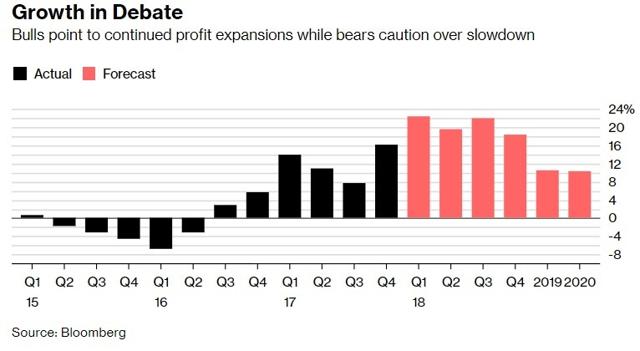 As for investment implications, I consider the Nasdaq Index the best place for investment. Regardless of the higher P/E valuation compared to the S&P 500 and Dow Jones Indexes, the Nasdaq Index consists of companies like AAPL, which have a lower P/E (Apple P/E is 17.82 compared to Nasdaq 100 P/E at 25.07) compared to the market average and have higher EPS growth potential. This combination will lead to additional inflows into such companies that are highly capitalized (Apple weighs 12% in total Nasdaq Index) and should eventually push the Index even higher.
Disclosure: I am/we are long QQQ.
I wrote this article myself, and it expresses my own opinions. I am not receiving compensation for it (other than from Seeking Alpha). I have no business relationship with any company whose stock is mentioned in this article.