Are you a fan of action films, with high-octane drama and big twists and turns? Maybe it's a stodgy sentiment, but it seems to us that drama plays much better on the big screen than in your portfolio.
Ciner Resources LP (CINR) is one of our long-term holdings - it's part of the Ciner Enterprises Group - it owns and manages Ciner Wyoming LLC - one of the world's largest and lowest cost producers of natural soda ash.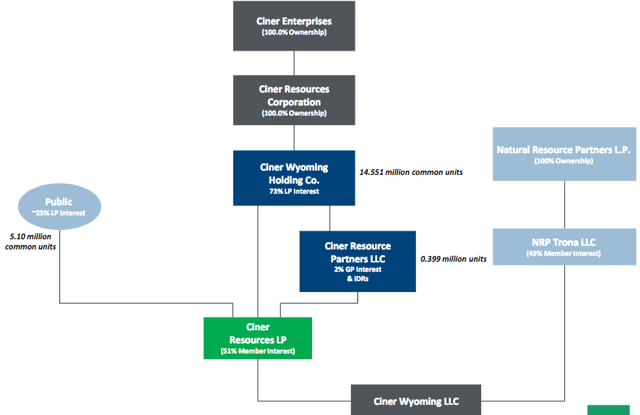 (Source: CINR site)
You're not likely to see any sexy ads for soda ash, but it's a commodity that's used in a wide variety of manufactured goods, including many types of glass, soaps, detergents, paper and pulp, in addition to other categories: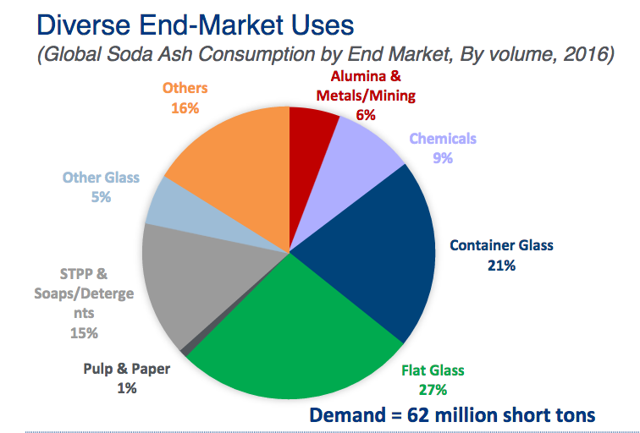 (Source: CINR site)
CINR produces natural soda ash, from Trona, which gives it a cost advantage in its niche industry, with half the cost of competing processes.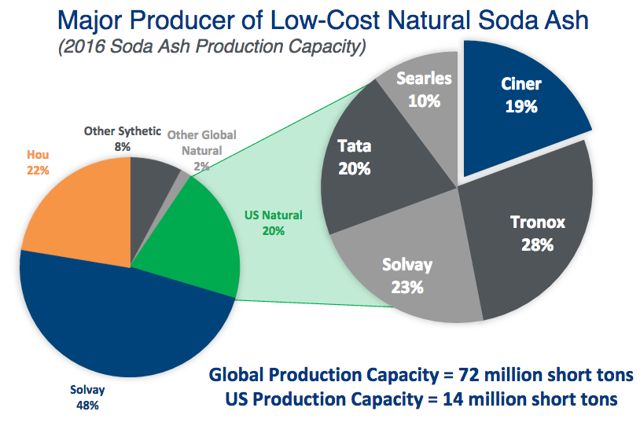 (Source: CINR site)
Distributions:
CINR currently yields 8.85%, with a quarterly $.567 payout.
It pays in the usual Feb.-May.-Aug.-Nov. cycle for LPs and should go ex-dividend again in early August. It issues a K-1 at tax time.
Since this is a tax-deferred investment, you'll get more tax advantages from it by not holding it in an IRA. There can be tax reporting consequences resulting from holding an LP in an IRA - please consult your accountant about UBTI before investing.
You can track CINR's current yield and price in the Basic Materials section of our High Dividend Stocks By Sector Tables.

Coverage was 1.16X in Q1 '18 and has averaged 1.13X over the past four quarters.

Management has kept the quarterly distribution at $.567/unit since Q3 '16. When asked on the Q1 '18 earnings call about future distribution growth, the CEO said,
"I would say the fundamentals improving the way they are, hopefully should put us back on a path to growing our distributions in the future."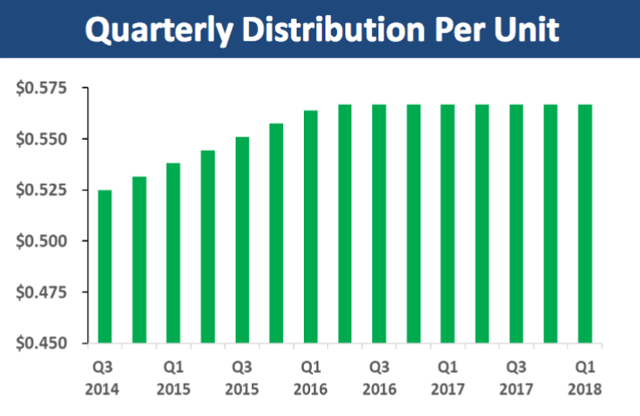 (Source: CINR site)
Options:
There are no call or put options available for CINR, but you can see details for over 20 other income-producing trades in our free Covered Calls Table and our Cash Secured Puts Table.
Earnings:
Q1 '18's earnings were uninspiring at first blush, with revenue, net income, EBITDA, and DCF falling. However, a big part of the issue was that there were no sales to Turkish affiliate CIDT in Q1 '18, vs. $36.3M in Q1 '17, which also included freight cost.
Management commented on the Q1 call that
"We recognized higher international pricing during 2017 due to increased sales to our Turkish affiliate. These sales included full inland and ocean freight costs in our results compared to ANSAC volumes which only contemplate rail freight to the U.S. ports. While this mixed change results in higher revenue, it also gives rise to higher freight costs."

"Our revenues for the quarter were $121.2 million, down 4.3% compared to the first quarter of 2017. The reduced sales were almost entirely driven by the reduced freight component of our sales due to the elimination of sales to CIDT. International sales dropped to $65.9 million in the quarter compared to $77.5 million in Q1 of 2017, due to two primary drivers. First, we had a 7.8% decrease in volumes sold, as we had zero sales to CIDT in the quarter, and we also shifted some volume to the domestic market. Second, the absence of CIDT sales caused pricing to drop 7.8% vs. 2017 due to the loss of the higher freight component in our sales numbers, which we had in 2017 from CIDT."
CINR's sales to ANSAC only includes rail freight to the U.S. ports. Q1 '18 ANSAC sales jumped by 60%, to $65.9M:

(Source: CINR Q1 '18 10Q)
Other bright spots were that domestic dollar volume grew by 12.6%, and domestic tonnage grew by a healthy 13.9%. Management said on the earnings call that
"international prices were up 7.9% after netting out the freight impact from our affiliates sales."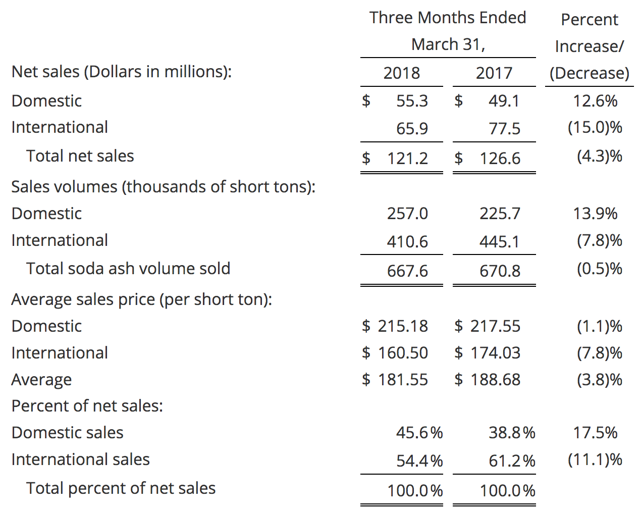 (Source: CINR site)

CINR's modest 1.37% DCF growth over the past four quarters resulted in a 1.73% increase in distribution coverage, 10 1.13X. Unit count was flat over the past four quarters. EBITDA was roughly flat, and revenue grew 0.92%, while net income fell by -3.19%: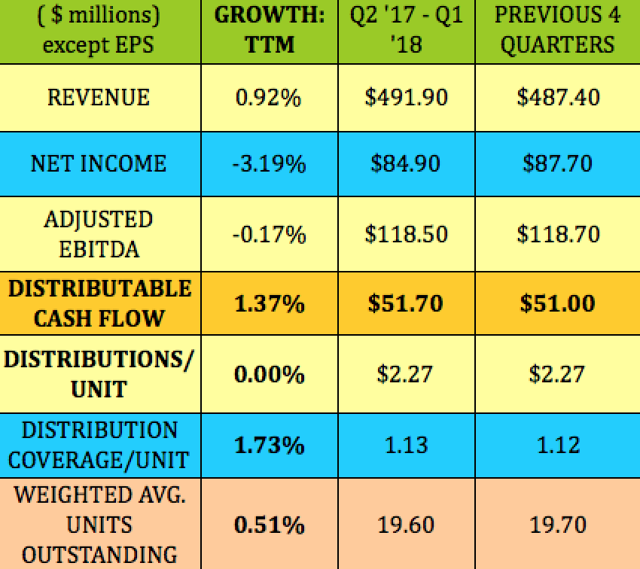 Risks:
There is commodity risk with CINR. Although the company is a low-cost leader in its industry, prices can drive revenues and profits up and down. Management commented on recent price trends on the Q1 '18 call:
"International prices were up 7.9% after netting out the freight impact from our affiliate sales. Domestic volumes were up 13.9% compared to last year. Both of these exceeded our expectations and caused us to adjust our 2018 outlook."

"While the demand data is a little mixed right now in China, demand around the world seems quite robust. In China domestic prices have been rising in recent weeks, the supply has been reduced due to maintenance related shutdowns. Additionally, there are some plants in China which will need to be relocated or updated after the environmental inspections last year. All of this provides a positive foundation for Asian pricing for the rest of 2018."
Q2 '18 seasonality -
"We've lowered our full-year outlook for sales volume by 1%. As you know, the second quarter is typically the lowest production volume quarter of the year, as we take our largest producing unit down for an annual maintenance outage. The outage this year was already expected to last longer than normal. However, we encountered an unexpected issue last week that will delay start of our units by roughly one week. Impact from the delay is expected to be 30,000 tons to 40,000 tons from our production plan, which equates to roughly the 1% that we've lowered our outlook."
Guidance:
Countering that downtime will be increased domestic volume for 2018 - management increased its full-year guidance to an increase range of 125 - 150K short tons, vs. the previous range of 80 - 125K.
Domestic tonnage grew by 31.3K tons in Q1 '18, which was on track for a ~125K full year increase. If tonnage decreases in Q2 '18, due to the downtime, this implies a much stronger Q3 and Q4 '18 for CINR, which is what happened in 2017 - the second half outperformed the first half: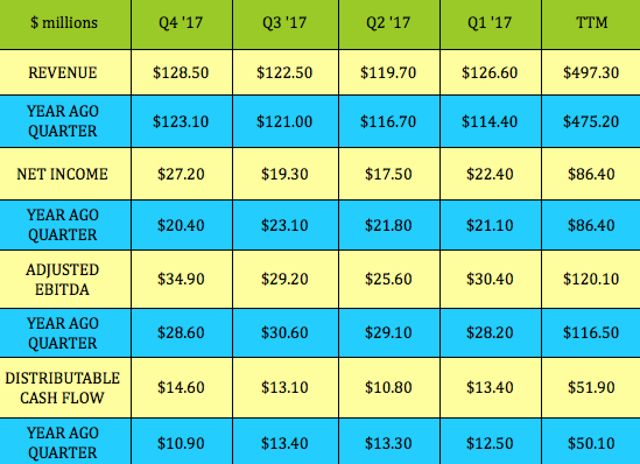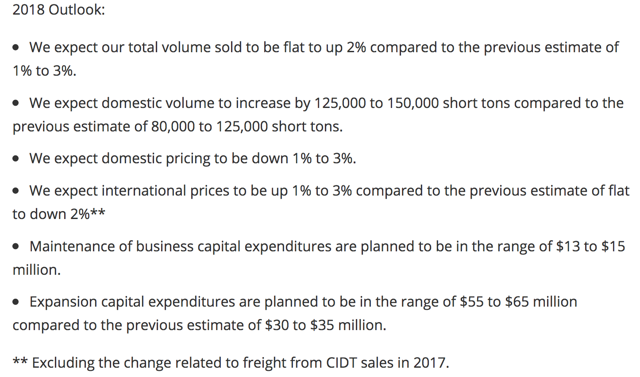 (Source: CINR site)
New Developments:
Management spoke about its new infrastructure program on the Q1 call. This program should perk up CINR's earnings in 2019 and beyond:
"We are going to invest approximately $45 million over the next 12 months to install a new gas turbine, as well as update our energy infrastructure. This new turbine will eventually generate approximately one third of our electricity needs, while also providing the steam needed in our surface operation. At current natural gas prices, the project initially should generate about $7 million in annual Wyoming EBITDA, and eventually rising up to about $12 million annually once fully utilized. We expect to commission the new unit in May of 2019."
(Source: CINR site)
Tailwinds:
Soda ash consumption is projected to grow ~2.1% annually over the next several years - not huge growth, but the fundamentals look like they're in place, judging by the much lower rates of per capita consumption in other parts of the world vs. the U.S.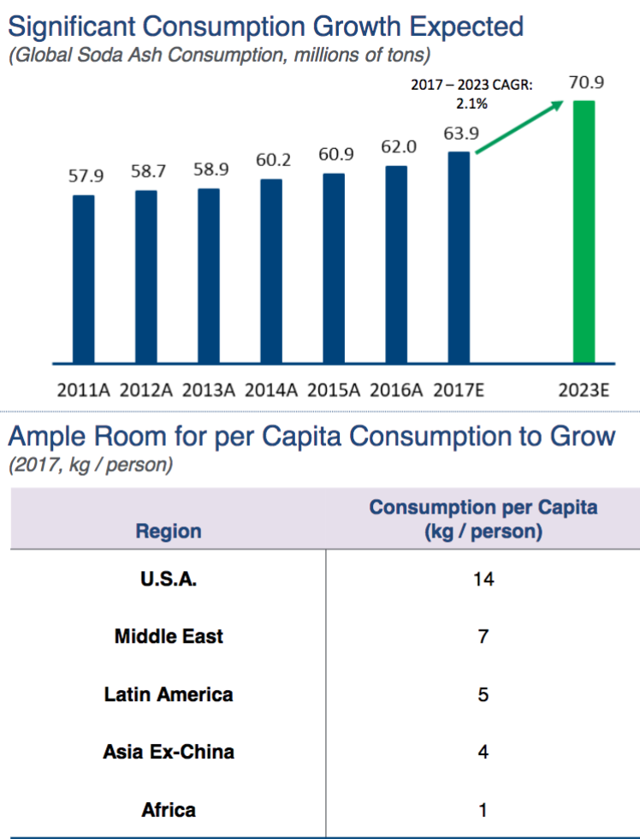 (Source: CINR site)
Analysts' Price Targets:
At $25.62, CINR is 5.4% below analysts' lowest price target of $27.00 average price target of $29.33 and 14.5% below the average price target of $33.00.

Performance:
CINR's price performance is mixed vs. the benchmark iShares US Basic Materials ETF (IYM) - it has outperformed over the past month and year to date but has underperformed in the past quarter and 52 weeks.

Valuations:
At 12.56, CINR's trailing P/E is slightly higher than its five-year average. While we don't have direct comps, its price/DCF of 9.96 is a bit higher than DCF valuations we've seen, which have been averaging just under 9X.
The big plus here is that 8.85% yield which dwarfs the 1.33% industry average.

Financials:
CINR has one of the lowest Net Debt/EBITDA leverage ratios, just .93X, that we've seen in the Basic Materials sector. It also has very robust interest coverage, of 25X. Its ROA, ROE, and operating margin are all much higher than broad industry averages.

Debt and Liquidity:
"We continue to maintain a very conservative balance sheet with a current leverage ratio of 0.91 times net debt to adjusted EBITDA. We reduced our long-term debt outstanding in the first quarter by $17.5 million." (Source: Q1 '18 call)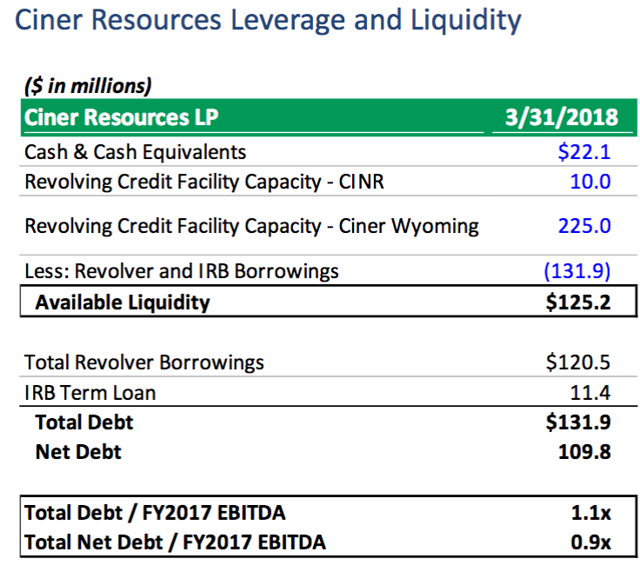 (Source: CINR site)
CINR has just $11.4M due in 2018, with no other debt maturities until 2022:

(Source: CINR Q1 '18 10Q)
Summary:
We rate CINR a hold, meaning that we intend to hold onto our shares, but non-holders may want to consider delaying a purchase until after the Q2 earnings report in early August. CINR has an attractive, well-supported yield, and low leverage. However, seasonality is a short-term factor to be aware of - CINR's Q2 '18 earnings will be pressured by downtime.
They'll probably report the week of August 6th. The price/unit fell in August '17, after the Q2 '17 Q2 earnings came out, but slowly came back. The similar seasonality, coupled with the downtime issue, may present a potentially cheaper entry point in August '18 for long-term income investors who want steady high yield income with low leverage.
All tables furnished by DoubleDividendStocks.com, unless otherwise noted.
Disclaimer: This article was written for informational purposes only, and is not intended as personal investment advice. Please practice due diligence before investing in any investment vehicle mentioned in this article.
Our new Marketplace service, Hidden Dividend Stocks Plus, focuses on undercovered and undervalued income vehicles.
We scour US and world markets to find solid income opportunities with dividend yields ranging from 5% to 10%-plus, backed by strong earnings.
These stocks are often small cap, low beta equities that offer stronger price protection vs. market volatility.
We publish exclusive articles each week with investing ideas for the HDS+ site that you won't see anywhere else.
Our strategy is working in 2018 - the HDS+ portfolio is outperforming the market handily, and has an average dividend yield of over 8%.
Disclosure: I am/we are long CINR.
I wrote this article myself, and it expresses my own opinions. I am not receiving compensation for it (other than from Seeking Alpha). I have no business relationship with any company whose stock is mentioned in this article.