Goldman Sachs
Goldman Sachs (GS) remains my favorite M&A advisor. It was the third ranked bank in Q1 global deals, behind Morgan Stanley (MS) and JPMorgan (JPM). They beat out Bank of America (BAC), Citi (C), Lazard (LAZ), Credit Suisse (CS), Barclays (BCS), Centerview, and Rothschild among the other top banks.
Last quarter, Goldman advised on 81 deals worth a total of $239 billion. This represents a 21% market share. While they have been on top historically, they have ceded the number one spot to JPMorgan in both the US and Europe, in part due to JPMorgan's strength in financials and healthcare, the top two deal sectors for advisory fees so far in 2018.
But what is next? In the recently released annual shareholder letter, Goldman's CEO discussed Marcus, their digital consumer financial services platform. One direction that Goldman might consider would be to buy a discount brokerage such as E*TRADE (ETFC) to give Marcus a trading platform to better compete with Robinhood.
There is plenty of room to run for M&A activity, especially if equity markets remain stable. Consolidating sectors could include telecom and entertainment as well as financials. So far this year, deal volume has been primarily driven by strategic deals. Deal volume is driven by a low cost of capital combined with limited opportunities for organic growth.
The public policy environment could support an M&A boom for the rest of this year. Corporate tax cuts make American businesses far more competitive and strengthen the currency that buyers have for making offers. Deregulation – especially rolling back expensive and intrusive banking regulation that was cobbled together in the law writing panic that follows every financial crisis – is even more important. While changes to taxes and spending can take a while to impact the economy, deregulation takes effect the day that it is signed into law.
The AT&T (T) and Time Warner (TWX) victory over the DoJ in district court is also certain to encourage further deal making. As the Wall Street Journal wrote in their editorial, Justice's Antitrust Humiliation,
Well, that was a rout.
While that was not Goldman's deal, they are working on many other deals and potential deals that are indirectly impacted. For one example, they are working with CVS (CVS) on their acquisition of Aetna (AET) which could face similar antitrust theories from regulators. The market implied probability of that deal being successfully completed dramatically rose following the AT&T court decision. Goldman is also working with Fox (FOX) (FOXA), facing a definitive deal and potential bump from Disney (DIS) and an unsolicited offer from Comcast (CMCSA). Comcast is newly heartened by AT&T's courtroom win.
In terms of deals yet to be announced, a consolidation wave could hit the telecommunications and entertainment companies. Time stamp Recode's chart; it will look very different in a year or two.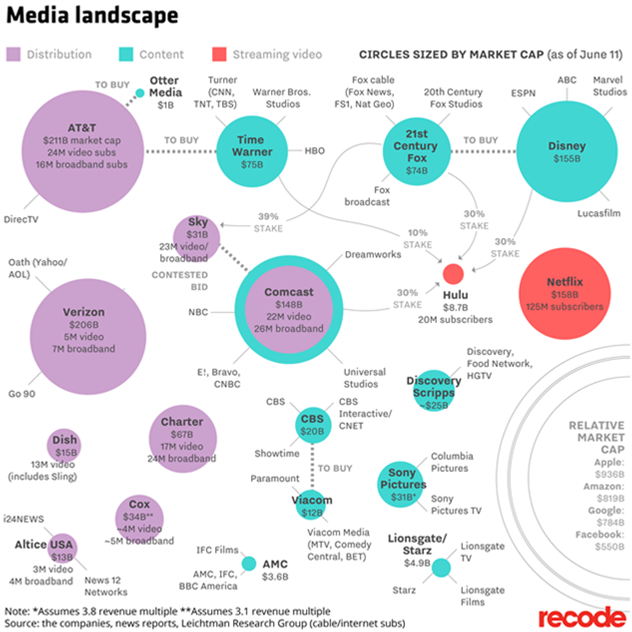 I expect at least five of these companies will get bought. Goldman will get a lot of this advisory business, perhaps enough for it to regain its number one spot in the league tables by year-end.
The first quarter was also strong in equity derivatives trading. Interactive Broker's (IBKR) founder Thomas Peterffy recently discussed derivative trading profits at the top banks including Goldman,
It was interesting to learn that the top five U.S. banks earned $9.5 billion in the first three months of 2018, trading equity derivatives. Fascinating!

Only the top five US banks! $150 million per trading day, and only by trading equity derivatives, i.e. options, futures and swaps.

Who do you think is on the other side of those trades? Hedge funds, mutual funds, pension funds, endowments, ETF issuers, the so-called sophisticated, institutional investors. They collectively took the $9.5 billion loss in the first three months.

Yes, these institutions pay about 100 billion a year to their prime brokers around the world, with whom they trade their equity portfolios. This does not include bonds or loans or unregistered securities where the markets are much wider. But this is the safe position to be in. Morgan Stanley's prime brokerage is very expensive but should something go wrong, they are PROBABLY too big to fail and the clients pay for that. That is the reason I am long Goldman and Morgan Stanley in my personal portfolio -- betting that people will continue to choose the path of least resistance and do nothing differently, as long as their personal interest is not directly on the line.
This is a well-deserved backhanded compliment.
First United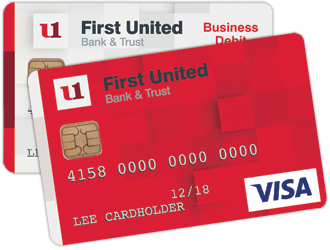 This month, my favorite small cap bank is First United (FUNC). I introduced it to Sifting the World members last fall as my favorite Russell 2000 (IWM) reconstitution candidate worth owning over the next year or two with over a 95% likelihood of being able to sell it higher later. This past spring, I returned to the subject of First United, saying on StW that,
May 11 is an exciting day. In addition to being Richard Feynman's birthday, it is the Russell 2000's Rank Day in which membership eligibility for this year's reconstitution is determined from market caps on the day's close. The list of the companies that made it will be pretty clear by the next morning but will be posted June 8 and updated June 15 and 22. June 25 the markets will open with the newly reconstituted index. One company likely to benefit from being newly added is First United (FUNC), an undervalued bank that is likely to meet this year's criteria. I own it and you might consider owning it too.
I returned to the subject a half dozen times within my forum for long-term value investors but also want to share it publicly because it is the best opportunity among the stocks getting added to the Russell 2000. Indexers have to buy four months of average daily trading volume by the end of next week, which is the most of any company. Based on its value to potential strategic acquirers, First United is worth around $33 per share. Many long-term holders have concentrated positions that they are not planning on selling, but index funds will buy regardless of price.
Conclusion
Top deal advisors such as Goldman could benefit from a deal boom this year as advisors work on consolidating the media and banking landscapes. One bank with a safe loan portfolio and cheap stock, First United, could benefit from multiple catalysts – getting added to the Russell 2000 this month and getting bought by a larger bank sometime thereafter. While First United management does not have an intention to sell immediately, their most logical exit would be a sale to WesBanco (WSBC) City Holding (CHCO), or United Bankshares (UBSI) at a 30-40% premium to today's market price. These potential suitors have complementary geographies and strong equities to use as merger consideration. They each trade for well over two times tangible book value so could make First United an accretive acquisition even with a huge premium. Meanwhile, getting added to the Russell 2000 and getting potential takeover interest means that sell side analysts are eager to roll out First United coverage. Several are likely to publish reports initiating coverage within the next quarter.
Disclosure: I am/we are long AET, FOX, FOXA, FUNC, TWX.
I wrote this article myself, and it expresses my own opinions. I am not receiving compensation for it (other than from Seeking Alpha). I have no business relationship with any company whose stock is mentioned in this article.
Additional disclosure: The information contained on this article is not and should not be construed as investment advice, and does not purport to be and does not express any opinion as to the price at which the securities of any company may trade at any time. The information and opinions provided herein should not be taken as specific advice on the merits of any investment decision. Investors should make their own decisions regarding the prospects of any company discussed herein based on such investors' own review of publicly available information and should not rely on the information contained herein. The information contained in this article has been prepared based on publicly available information and proprietary research. The author does not guarantee the accuracy or completeness of the information provided in this document. All statements and expressions herein are the sole opinion of the author and are subject to change without notice. Any projections, market outlooks or estimates herein are forward-looking statements and are based upon certain assumptions and should not be construed to be indicative of the actual events that will occur. Other events that were not taken into account may occur and may significantly affect the returns or performance of the securities discussed herein. Except where otherwise indicated, the information provided herein is based on matters as they exist as of the date of preparation and not as of any future date, and the author undertakes no obligation to correct, update or revise the information in this document or to otherwise provide any additional materials. The author, the author's affiliates, and clients of the author's affiliates may currently have long or short positions in the securities of certain of the companies mentioned herein, or may have such a position in the future (and therefore may profit from fluctuations in the trading price of the securities). To the extent such persons do have such positions, there is no guarantee that such persons will maintain such positions. Neither the author nor any of its affiliates accepts any liability whatsoever for any direct or consequential loss howsoever arising, directly or indirectly, from any use of the information contained herein. In addition, nothing presented herein shall constitute an offer to sell or the solicitation of any offer to buy any security. This post may contain affiliate links, consistent with the disclosure in such links.