Welcome to the weekly oil storage report edition of Oil Markets Daily!
Note: The estimate of this portion is only available to HFI Research subscribers.
Highlights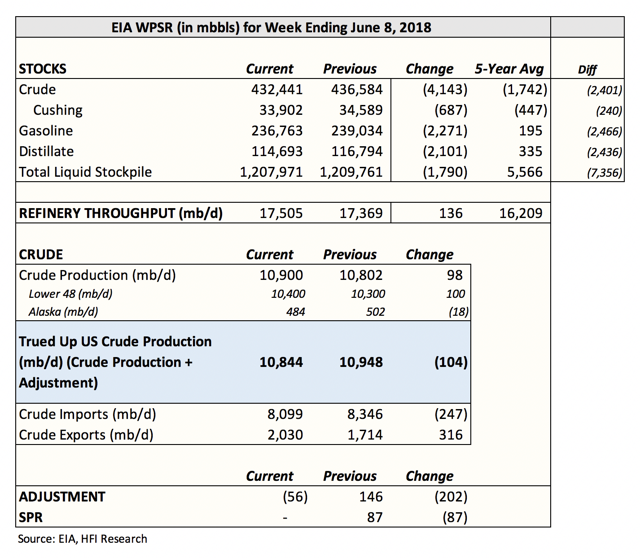 Following last week's one-time anomaly in refined product demand, EIA shows products supplied jumping 3.346 million b/d week over week. Demand did not drop off a cliff, contrary to popular belief, and this week quickly corrected that.
Crude storage declined 4.143 million bbls vs. our estimate for a 5.12 million bbl draw. (We started to track our crude storage estimate against API's.)

Crude imports were lower week over week, while refinery throughput increased yet again to 17.505 million b/d. Lower 48 production increased, and for those wondering why there was a sudden jump by 100k b/d, EIA announced at the start of June that all estimates for Lower 48 production will be rounded to 100k b/d.
Nonetheless, even though this report was bullish from every angle, one thing we have to acknowledge is that U.S. oil production has now pierced to the 10.85 million b/d range or roughly two months ahead of schedule. This also explains why Midland basin differential has blown out, and this will likely indicate a slower growth trajectory over the summer.
Looking at the various assumptions we have in our model, once the elevated U.S. crude imports level off by July, crude storage should start to see more sizable draws. One thing we are currently playing within our model is the possibility of refinery throughput remaining 17.5+ million b/d, while the U.S. consistently exports 2+ million b/d. In such a scenario, U.S. crude storage would hit a level not seen since early 2014. If you take into account linefill of 25 to 30 million bbls, that would push storage levels far below adequate levels.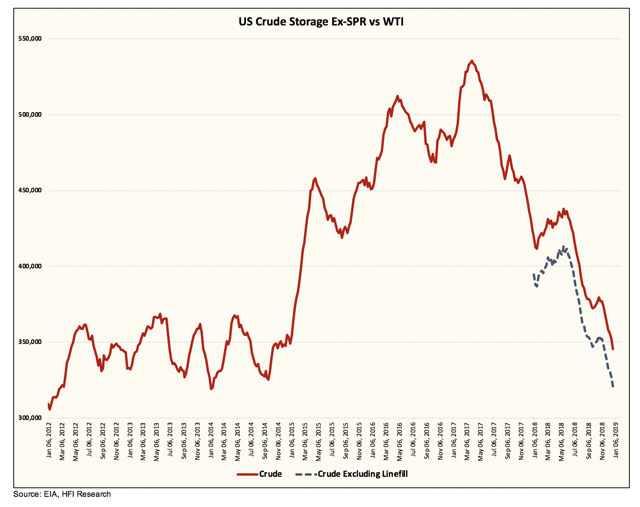 Turning to gasoline, the implied demand drop last week did not start a new trend, as some had suspected of the sudden drop in demand. What made it worse was that last week's data coincided with the Memorial Day weekend, which signals the start of the summer driving season. But it was nice to see this figure rebound still implying healthy demand in the U.S. Gasoline seasonally builds by 195k bbls, so the draw of 2.271 million bbls was bullish on a comparative basis.
Distillate storage following last week's build declined again this week by 2.101 million bbls. This compares to the 335k bbl build in the five-year average. Distillate storage is now uncomfortably low, and in IEA's latest oil market report today, middle distillate storage is now in severe deficit around the world. So, what we are seeing in the U.S. is not an anomaly.
Total liquid stockpile declined 1.79 million bbls and materially more bullish than the five-year average build of 5.566 million bbls. Last year, total liquid stockpile saw a build of 6.809 million bbls.
Looking ahead, despite this EIA oil storage report being very bullish, the oil markets continue to weigh the possibility of OPEC and Russia increasing production on June 22. While the market continues to focus on this, we are watching global floating storage along with the physical market to give us clues as to when the oil consolidation will end. So far, we're seeing supportive trends developing with floating storage in the North Sea declining. While these noisy fundamentals don't change the long-term bullish outlook, it's still important to watch for turning points.
As we wrote in our Monday article titled "Short-Term Pain For Long-Term Gain." Even if OPEC and Russia increase oil production, it won't offset the production declines that will come from Iran and Venezuela. The only deterrent to the bullish fundamental projection will be solely dependent on oil demand destruction, so we are focusing all of our resources on that.
Next Week's Estimate (Subscriber-Only Section)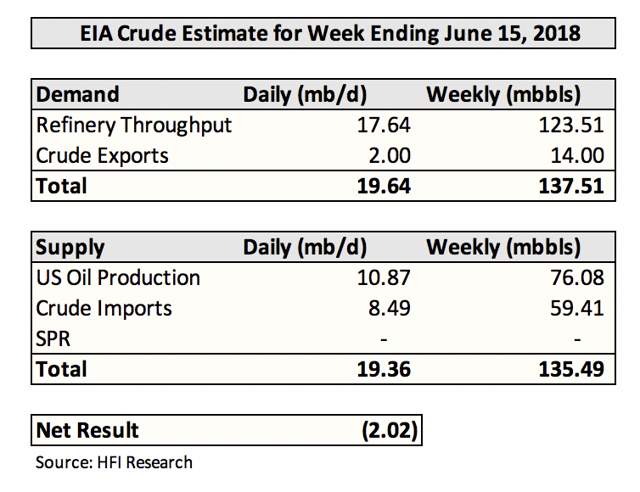 In the latest tracking data, crude imports are on the rise again with the latest showing a ~400k b/d increase week over week. U.S. crude exports are also tracking lower. We have adjusted for the increase in U.S. oil production in our model.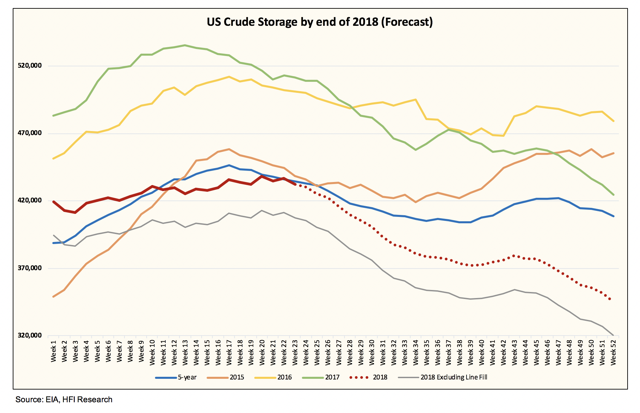 But even taking these variables into account, we show materially lower crude storage by year-end, so the forecast remains unchanged on that front.
U.S. Oil Production + Adjustment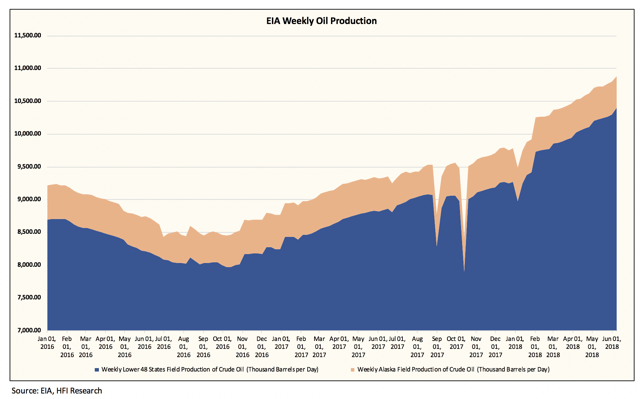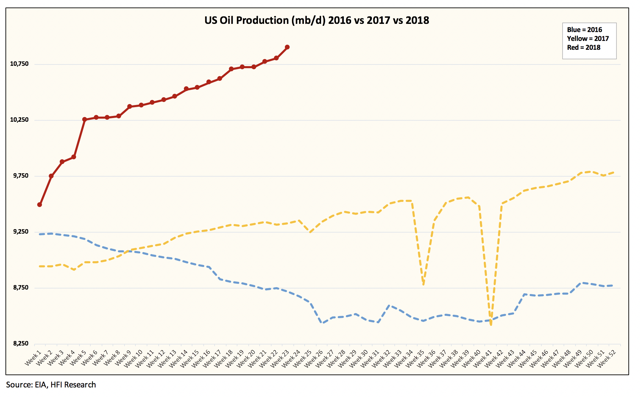 U.S. oil production has certainly surprised to the upside. We estimate that our crude storage forecast for May was thrown off by 6 million bbls because of higher-than-expected U.S. oil production. But the real disappointment came as a result of lower-than-expected refinery throughput.
Using our trued-up U.S. oil production estimate, we have U.S. oil production surging in April and May with June showing ~10.85 million b/d. This is roughly two months ahead of schedule and explains why Midland differentials have widened so severely in the last two months: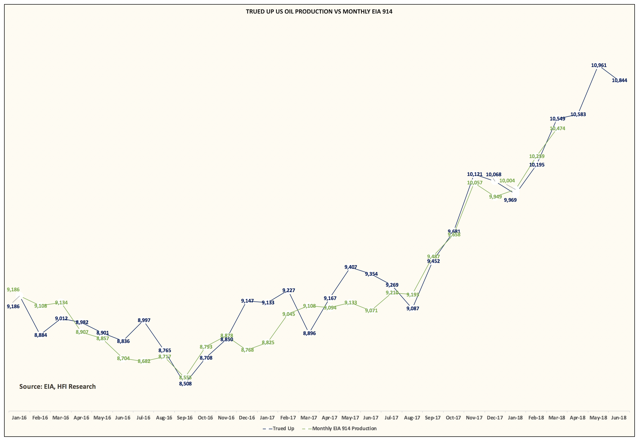 While the higher-than-expected U.S. oil production could be viewed as a bearish data point, our team's analysis indicates that Permian's lack of takeaway capacity will constrain much of the growth going forward. Our estimate indicates that Permian bottleneck issues will remain until Q3 2019, which will force U.S. oil production growth lower. In addition, most of the rampant growth has been from private operators, while public companies have signaled restraint with regard to the mantra of "growth at any cost." Soon enough, smaller private Permian operators will feel the pinch of not having the adequate takeaway capacity, and growth will slow down.
This lower-than-expected growth setup for U.S. oil production will last into the end of 2019.
Crude Storage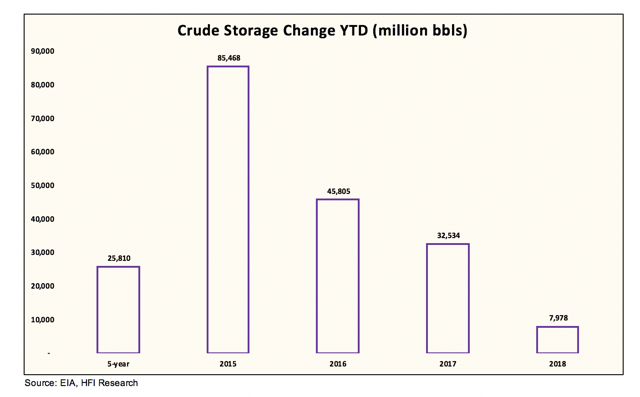 Crude storage fell 4.143 million bbls vs. the five-year average decline of 1.742 million bbls. This pushes the YTD build to 7.978 million bbls vs. the 25.810 million bbl build for the five-year average.
The better-than-average trend should continue with next week showing a five-year average draw of 1.262 million bbls. Once crude imports level off, then the draws will steepen.
Cushing

Gasoline

Distillate
Refinery Throughput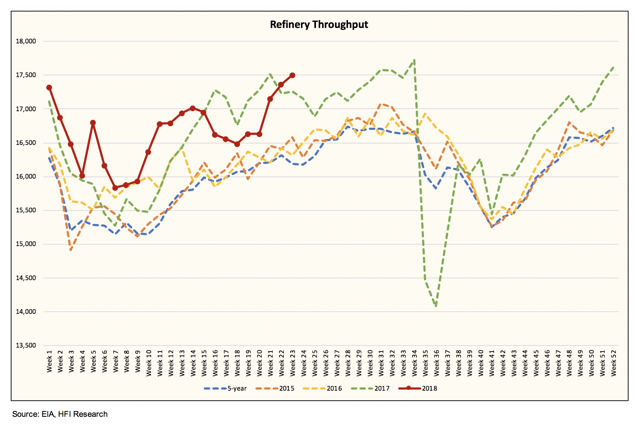 Crude Imports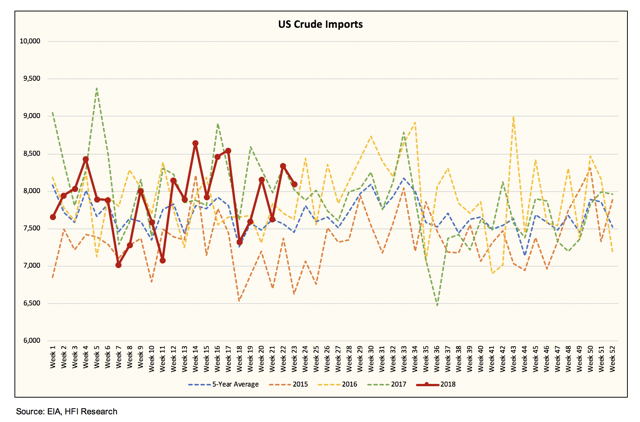 Crude Exports

Total Liquid Stockpile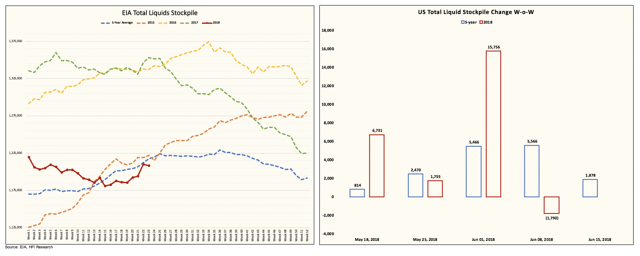 Adjustment Factor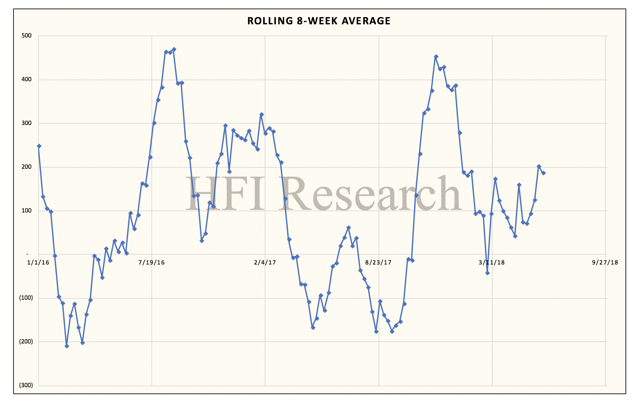 Days of Supply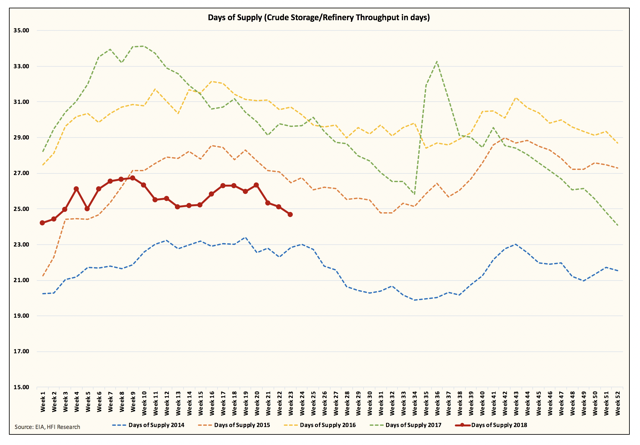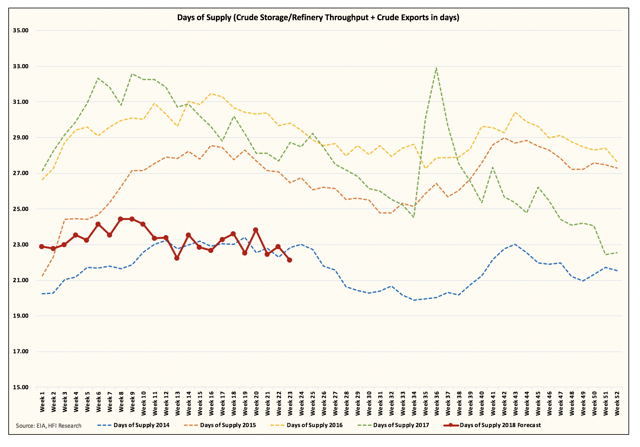 Conclusion
The oil market remains in limbo for now. Physical market weakness thanks to elevated global floating storage, along with concerns over the June 22 meeting, are keeping prices capped for the time being. But the forecast oil storage balance to the end of 2019 is getting increasingly bullish, with the inevitable production declines from Venezuela and Iran pushing global oil market balances deeper into deficit. The recent rhetoric from OPEC and Russia may dampen oil price strength in the short term, but fundamentals will ultimately dictate.
June will see global refinery throughput ramp up 5+ million b/d, and the global storage draws will accelerate into the end of Q2 to Q4 2018. The title of this article is "be careful what you wish for" because, based on our latest update, the only deterrent to the bullish oil thesis is one that involved high oil prices causing oil demand destruction, a scenario that does not bode well for any risk assets. So, for energy investors, while the prospects of higher oil prices are getting better by the day, it's important to focus your attention on the next most important variable. In this case, it's oil demand.
Thank you for reading. If you liked this article, please leave a "Like" at the bottom.
If you have found our oil market articles to be insightful, we know you will find our premium service to offer more value to you. We have been one of the few research firms to have nailed the oil market fundamentals, and if you have questions, we have answers. See here for more info.
Note: Starting June 1, HFI Research has been limiting the number of public articles we publish. Weekly oil storage reports will continue, but all storage estimates - including next week's estimate - will be reserved for HFI Research subscribers.
Disclosure: I/we have no positions in any stocks mentioned, and no plans to initiate any positions within the next 72 hours. I wrote this article myself, and it expresses my own opinions. I am not receiving compensation for it (other than from Seeking Alpha). I have no business relationship with any company whose stock is mentioned in this article.