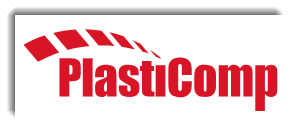 Quick Take
PolyOne (POL) has announced the acquisition of PlastiComp for an undisclosed amount.
PlastiComp has developed as a leading manufacturer of long fiber composite materials.
POL has acquired PlastiComp to add to its high-performance advanced composite capabilities, and the deal should be a net positive in the medium term as it integrates the acquisition and begins selling the new capabilities through its channels.
Target Company
The Winona, Minnesota-based company was founded in 2003 to manufacture pre-compounded reinforced thermoplastic pellets for customers in the field of reinforced polymer composites.
The replacement of metal and lightweight products with unique and complex long fiber technology [LFT] composite formulations has proven to have numerous benefits, such as high strength and stiffness, design freedom, fatigue endurance, corrosion and wear resistance, EMI shielding, and recyclability.
Management is headed by Founder, President and CEO Stephen Bowen. Prior to founding PlastiComp, he managed European operations of RTP Company and was CEO of Polymer Composites.
Below is an overview video of some of the benefits of LFT:
(Source: PlastiComp)
PlastiComp's primary offerings include:
Long Glass Fibre
Long Carbon Fibre
Hybrid Glass + Fibre
Maximum Toughness
Velocity High Flow
(Source: PlastiComp)
Market And Competition
According to a 2016 market research report by Markets and Markets, the global composites market is projected to grow from $72.58 billion in 2016 to $115.43 billion by 2022.
This represents a CAGR of 8.13% between 2016 and 2018.
The main drivers for this expected growth are increasing use of composites in the aerospace industry and defense applications.
Glass fiber composite manufacturing plants are expected to increase in countries such as China and India as demand for glass fiber composites increases. The Asia-Pacific region is currently the largest consumer of composites in the world.
Major competitive vendors that provide composites include:
Acquisition Terms And Rationale
PolyOne didn't disclose the acquisition price or terms and didn't file an 8-K or disclose a change in financial guidance, so the purchase price was likely for a non-material amount.
According to POL's most recent 10-Q filing, as of March 31, 2018, the firm had cash of $165.5 million and total liabilities of $2.16 billion, half of which was long-term debt.
POL acquired PlastiComp for its long fiber technology to create advanced composite materials.
As PolyOne stated in the deal announcement,
Inherent benefits of LFT-based materials include high strength and stiffness, design freedom, fatigue endurance, corrosion and wear resistance, EMI shielding, and recyclability. Through its Complēt product lines and design capabilities, the company serves global customers in a wide range of demanding applications, including medical devices, robots and drones, marine, and outdoor high performance equipment.
POL's stock price has risen approximately 3.0% in the wake of the acquisition announcement as the chart below indicates: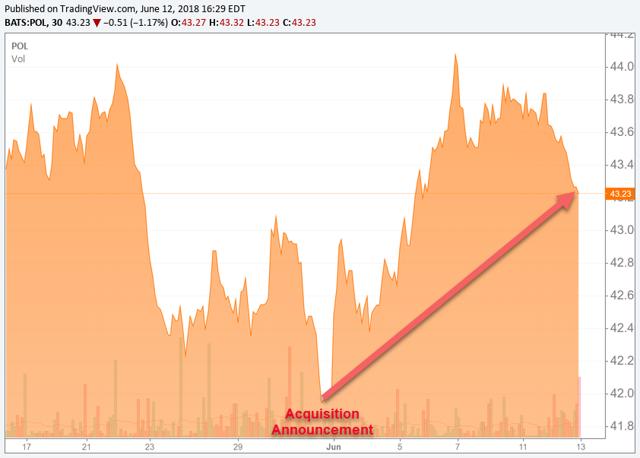 (Source: Seeking Alpha)
The deal provides PolyOne with specialty, long fiber composites technologies, with further penetration capabilities in applications that require high-performance, mission-critical technologies.
These growth opportunities include medical devices and robotics, both of which show tremendous growth potential in the future as populations age and robotics technologies continue to advance.
PlastiComp's long fiber reinforcement expertise will bring additional product line possibilities to PolyOne's suite of offerings; I view the deal as an add-on to its high-end capabilities.
I expect the acquisition to be a net positive for POL in the medium term as the firm integrates the acquired company and begins to add the new capacities to its sales force.
Disclosure: I/we have no positions in any stocks mentioned, and no plans to initiate any positions within the next 72 hours.
I wrote this article myself, and it expresses my own opinions. I am not receiving compensation for it (other than from Seeking Alpha). I have no business relationship with any company whose stock is mentioned in this article.