Momo (NASDAQ:MOMO) is a market leader in mobile-based social networking services in China, a sector that offers abundant potential for growth over the years and even decades ahead. According to data from China Internet Network Information Centre, there are currently 772 million internet users in China, and 97.5% of China's online population can access the internet via a smartphone.
Based on financial reports for the first quarter of 2018, Momo has 103.3 million monthly active users as of March of 2018, a vigorous increase of 21% versus 85.2 million monthly active users in the first quarter of 2017. Total paying users in the company's live video service and value-added services, without double counting the overlap, were 8.1 million for the first quarter of 2018, compared to 7.0 million for the first quarter of 2017.
Momo has reached a considerable size, and it's growing rapidly, but the company still has a lot of room for expansion when considering the size of the addressable market opportunity.
The company has produced impressive financial performance over the long term, with key variables such as revenue, free cash flow, and earnings per share moving in the right direction at a considerable speed over the past several years.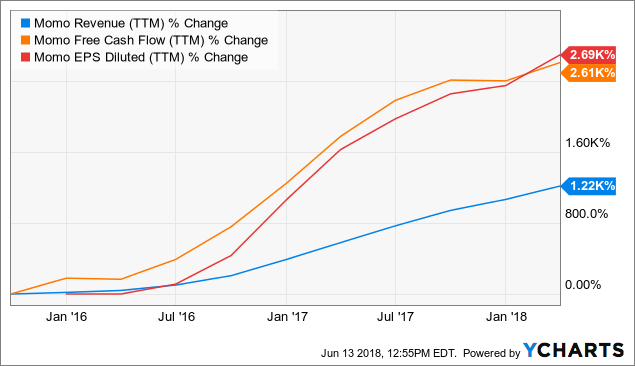 Total revenue during the first quarter of 2018 amounted to $435.1 million, a vigorous increase of 64% from $265.2 million in the first quarter of 2017. Revenue from live video services was $371.5 million in the period, an increase of 74.8% from $212.6 million during the same quarter in the prior year. Value-added services, which includes membership subscription revenues and virtual gift revenues, amounted to $37 million in the first quarter of 2018, an increase of 62% from $22.9 million during the same period of 2017. Mobile marketing and mobile games generated $18.7 million and $6.6 million in revenue, respectively.
Momo closed the acquisition of Tantan, a matching platform for romantic relationships, in May of 2018. Although Tantan officially launched its monetization features in January of 2018, management said in the earnings conference call that "It has been showing a very impressive growth trajectory ever since."
Costs are rising rapidly with total cost and expenses increasing by 65% year over year and reaching $288.7 million in the first quarter of 2018. This is mostly due to increased spending in areas such as revenue sharing with the broadcasters related to the company's live video service and virtual gift recipients, as well as an increase in personnel-related costs during the period.
But the company is still generating impressive earnings growth in spite of these cost increases. Net income amounted to $129.9 million in the first quarter of 2018 versus $81.2 million in the same period last year. Non-GAAP net income increased 57%, to $142.3 million during the first quarter of 2018.
Attractive Valuation
The stock is trading at historical highs as of the time of this writing. However, price performance and valuation can be remarkably different things. Wall Street analysts are on average expecting Momo to make $3.09 in earnings per share during 2019; under such assumption, the stock is trading at an inexpensive forward price to earnings ratio of 17.2.
Especially since Momo is growing so rapidly, valuation levels are comparatively attractive. The price to earnings growth ratio for Momo currently stands at 0.66 versus an average of 2.36 for companies in the Internet Software and Services industry.
Strong Momentum
Stock prices don't just reflect current fundamentals, but expectations about those fundamentals can be even more important. When a company is delivering better than expected earnings and expectations about future earnings are increasing, this generally means that the stock price is increasing too.
Momo has delivered earnings numbers considerably above expectations in the past four quarters in a row. The chart below shows the expected earnings number, the actual reported number and the difference between the two, both in absolute terms and in percentages.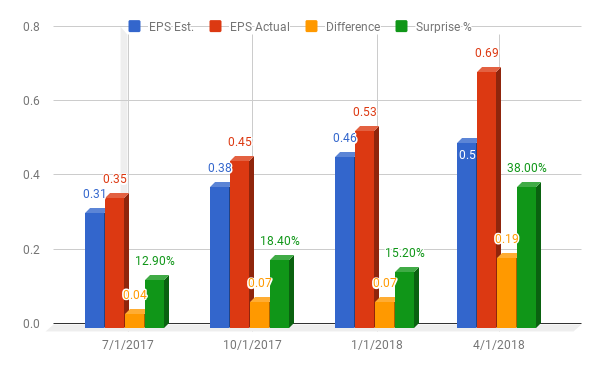 The chart below shows the evolution of the stock price in comparison with earnings expectations for the current fiscal year and next fiscal year. There is a clear correlation between price and earnings expectations, and they are both moving upwards lately.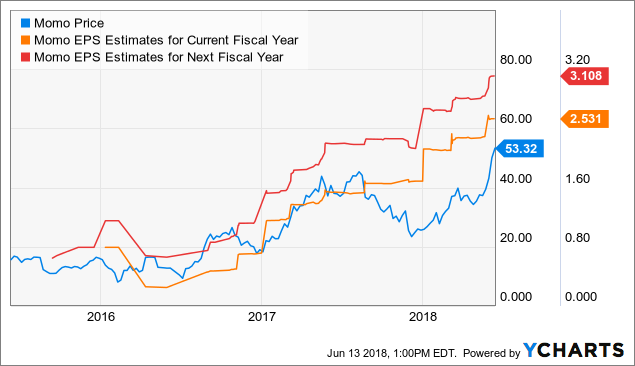 Spectacular Relative Strength
Companies with superior relative strength tend to continue outperforming over the middle term. Besides, money has an opportunity cost. When you buy an investment with subpar returns, that money is not available to be invested in companies with superior performance. For this reason, we don't just want to buy stocks that are doing well, we want to buy the names that are performing materially better than others.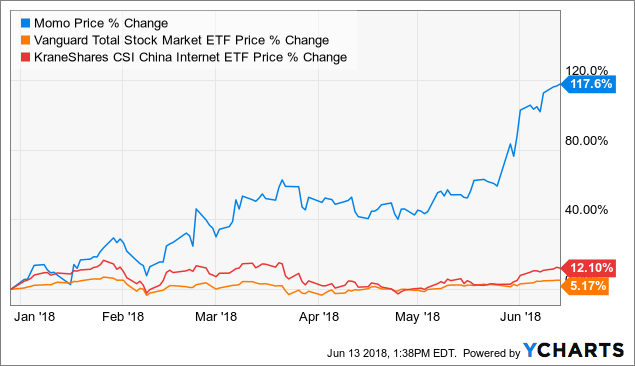 Momo is downright crushing both the Vanguard Total Stock Market (VTI) ETF and the KraneShares CSI China Internet ETF (KWEB) on a year-to-date basis. When it comes to relative strength, Momo doesn't leave much to be desired.
Putting It All Together
The PowerFactors system is a quantitative investing system available to members in my research service, "The Data Driven Investor." This system basically ranks companies in a particular universe according to the factors analyzed in this article for Momo: quality, valuation, momentum, and relative strength.
The system has produced solid backtested performance over the long term. The chart below shows how the 50 stocks with the highest PowerFactors ranking among companies with a market capitalization value above $300 million performed in comparison to the broad market.
The backtesting assumes an equal-weighted portfolio, monthly rebalanced, and with an annual expense ratio of 1% to account for trading expenses. The benchmark is the Vanguard Total Market ETF.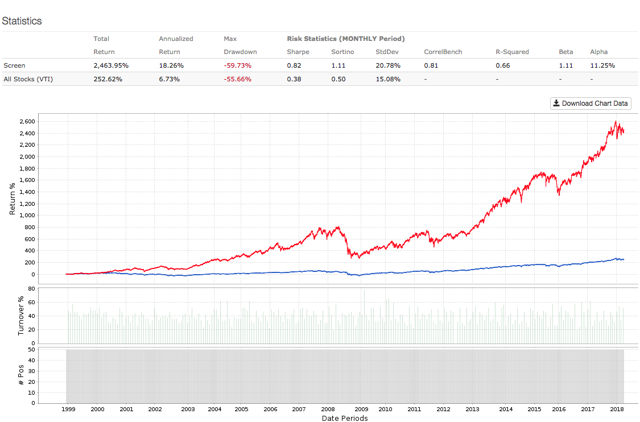 Data from S&P Global via Portfolio123
The system materially outperformed the benchmark, with annual returns of 18.26% per year versus an annual return of 6.73% for the market-tracking ETF in the same period. In other words, a $100,000 investment in the Vanguard Total Market ETF in January of 1999 would currently be worth around $352,600, and the same amount of capital allocated to the PowerFactors system would have a much larger value of over $2.5 million.
Momo is one of the stocks currently recommended by the PowerFactors system, and the company gets high scores across the four factors considered: quality, valuation, momentum, and relative strength. If backtested performance is any valid guide, then Momo is well-positioned for attractive returns going forward.
Capitalize on the power of data and technology to take the guesswork out of your investment decisions. Statistical research has proven that stocks and ETFs showing certain quantitative attributes tend to outperform the market over the long term. A subscription to The Data Driven Investor provides you access to profitable screeners and live portfolios based on these effective and time-proven return drivers. Forget about opinions and speculation, investing decisions based on cold hard quantitative data can provide you superior returns with lower risk. Click here to get your free trial now.
Disclosure: I/we have no positions in any stocks mentioned, and no plans to initiate any positions within the next 72 hours.
I wrote this article myself, and it expresses my own opinions. I am not receiving compensation for it (other than from Seeking Alpha). I have no business relationship with any company whose stock is mentioned in this article.