This research report was produced by The REIT Forum with assistance from Big Dog Investments.
Taubman Centers (NYSE:TCO) is one of the best mall REITs in the sector. It also has some great preferred shares that were recently in the Buy range. However, TCO's preferred shares just rallied and are now within the Hold range.
For investors interested in The REIT Forum's preferred share ratings, see my guide to preferred shares. I also have a guide for preferred share dividend captures.
TCO common stock
Taubman Centers' portfolio is unmatched: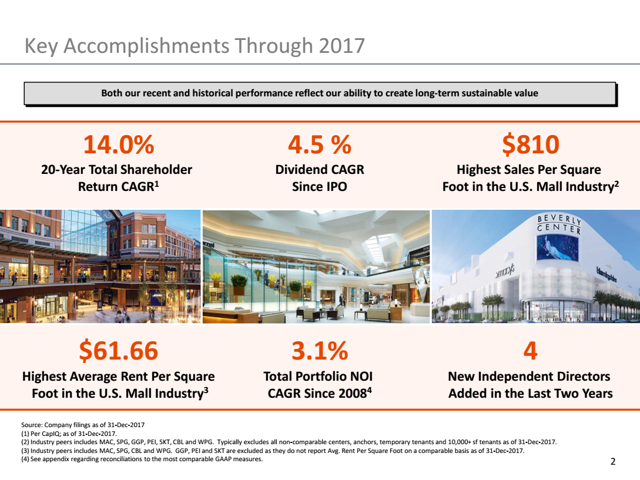 (Source: TCO investor presentation)
The REIT has dominant properties that exhibit extremely high sales per square foot.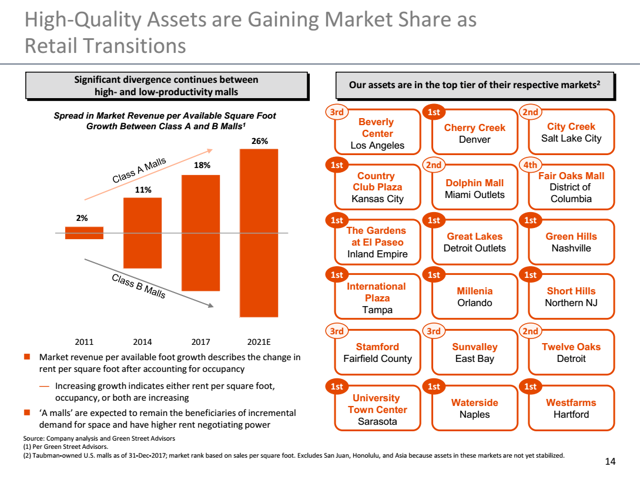 (Source: TCO investor presentation)
TCO is primarily focused on "Class A" malls. Its emphasis on high-quality malls leads to high sales per square foot. The company also has a relatively strong balance sheet: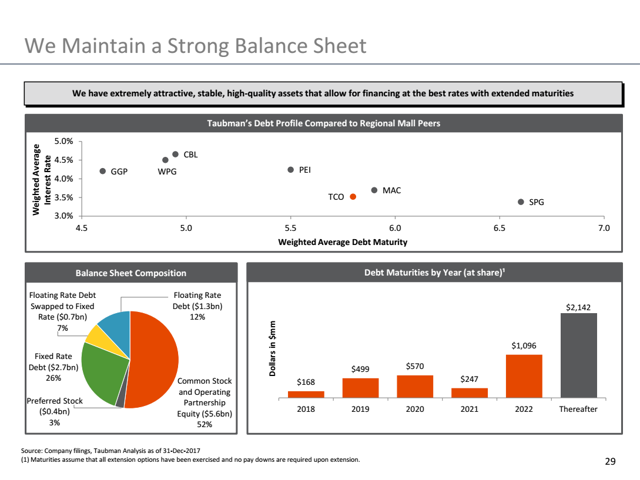 (Source: TCO investor presentation)
While TCO is doing well on the balance sheet, I believe it should be interested in lowering its leverage. The company hasn't shown interest in this so far. Therefore, I have downgraded its preferred shares from a risk rating of "1" to a risk rating of "2"
TCO preferred shares

(Source: CWMF's subscriber spreadsheet) (subscription required for 50+ preferred shares and baby bonds with comparing prices)
Given the higher level of Treasury yields, investors should be aware of the interest rate risk. Both preferred shares are in the Hold range, and I'd like to see them drop around $0.20-0.30 before I upgrade them to a Buy. Both shares were recently in the Buy range.
The downgrade to a risk rating of "2" still makes them some of the lowest-risk preferred shares within the mall REIT sector. These are still very reasonable for the B&H (buy-and-hold) investors. While the level of risk is reasonable, I don't like TCO's leverage in the current economic environment for mall REITs.
They are going into the ex-dividend date, so they have some potential for dividend captures, but it is noticeably less compelling than it was weeks ago at materially better prices.

There is some embedded dividend, but with the recent jump in prices, the potential for a dividend capture has gone down significantly.
If investors were going to choose between the J and K series, TCO-J comes out slightly ahead. TCO-J is trading closer to the call value of $25, but has a better stripped yield by 20 basis points.

Neither preferred share has call protection on the calendar. While the worst-cash-to-call is more attractive for TCO-K, I see a call being extremely rare here. I do not think TCO is likely to call either preferred share. That doesn't guarantee it won't happen.
If TCO wanted to call its preferred shares, the company would probably need to issue another preferred share at a materially lower rate to make it worthwhile. It would be a good option for the company to pay down debts and lower leverage, but reducing debt with near-term maturities would be superior. On a final note, even though there is call risk, both preferred shares have a positive worst-cash-to-call.
Final thoughts
Taubman Centers holds extremely high-quality mall space with excellent sales per square foot. I still view TCO preferred shares as being a good option for the buy-and-hold investor when they come into the Buy range. The price volatility on these two preferred shares is generally low, and the underlying portfolio is strong. These preferred shares carry very little risk outside of call risk and have a positive worst-cash-to call. Interest rate is the biggest risk.
If you enjoyed reading this article and want to receive updates on our latest research, click "Follow" next to my name at the top of this article.
Safe high-yield dividends
If you're looking for the best deals on REITs and preferred shares, consider joining The REIT Forum. We offer investors risk ratings and fundamental analysis. The REIT Forum practices more defensive investing with higher yields and lower beta. Join today!
Disclosure: I/we have no positions in any stocks mentioned, and no plans to initiate any positions within the next 72 hours.
I wrote this article myself, and it expresses my own opinions. I am not receiving compensation for it (other than from Seeking Alpha). I have no business relationship with any company whose stock is mentioned in this article.