With incoming data from clinical trials to be released in the second semester of 2018, Magenta Therapeutics (MGTA) will be studied closely. In this piece, I will add some more interesting details about the amount of cash held by the company. It is much more than what was shown on December 31, 2017. In my view, this fact will give us an edge over other investors.

Source: magentatx.com
Business Objective
Incorporated in Delaware in June 2015 and headquartered in Cambridge, Massachusetts, Magenta is a clinical-stage biotechnology company focused on the development of medicines to bring the curative power of bone marrow transplant to more patients.
The company explains the concept of bone marrow transplant with the following words in the prospectus:
Transplant is a well-established and often curative medical procedure, and emerging data on stem cell gene therapy, which is bone marrow transplant using gene-modified stem cells, suggest the potential for meaningful benefit with this newer form of transplant. Bone marrow transplant and stem cell gene therapies use the same widely-adopted decades-old transplant process." Source: S-1/A
What's the current stage of these medicines? According to the prospectus, there are several challenges that the company's product candidates are expected to address. Read the following lines:
The ability to treat patients with a bone marrow transplant is limited by the challenge of obtaining sufficient cells to perform the procedure, the inherent morbidity and mortality of current methods used to prepare patients for transplant, and complications following transplant." Source: S-1/A
What's the market opportunity?
I could not find specific information about total addressable market. However, the company seems to be preparing treatments for a long list of illnesses. The target market should not be reduced. The following are diseases where bone marrow transplant could be useful:
Blood cancers such as acute myelogenous leukemia.

Myelodysplastic syndromes.

Hemoglobinopathies such as sickle cell disease and beta-thalassemia.

Multiple sclerosis and scleroderma
Candidates - Future Milestones
The company has several product candidates, but the most advanced is the MGTA-456, which has obtained clinical proof of concept in 36 patients. Regarding this product, the investors should remain alert in the second half of 2018 because the market expects data from the initial Phase II.
The second clinical candidate is the MGTA-145, which is focused on helping doctors easily harvest greater number of blood stem cells from patients and donors to improve patient outcomes. According to the prospectus, primate transplant data is expected in the second half of 2018.
The following image was provided by the company, which contains more detailed information about these two programs:

Source: S-1/A
Additionally, the company is also researching on new antibody-drug conjugates, ADCs, for transplant conditioning. The ADCs are known for the treatment of cancer by directing a toxin to specific cells. Magenta is intended to adapt this clinically validated process for conditioning patients for bone marrow transplant.
I don't want to dig deeper on other product candidates since the most advanced are MGTA-145 and MGTA-456. However, I will include the following image, which includes all the other candidates of Magenta. It is beneficial to note the following. If these advanced candidates are not successful, the company will have other potential products.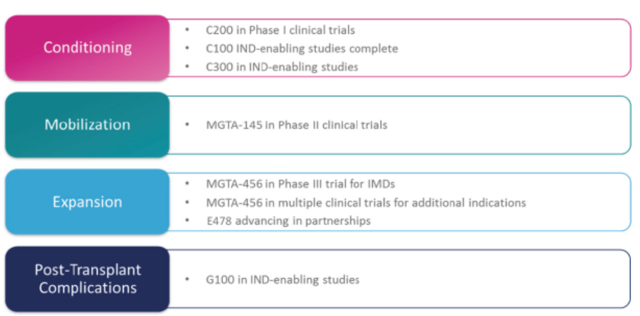 Source: S-1/A
Number of Employees and Facilities
The number of employees is not small given the short history of Magenta. The company has 48 workers, out of which 30 are focused on R&D:

Source: S-1/A
The facilities leased also show business growth. Magenta is right now operating from an office with 12,500 square feet, but it has signed an agreement to move into a new office with 69,000 square feet. With this information in mind, I believe that the number of employees will increase after the IPO:

Source: S-1/A
Experienced Management and talented Board of Directors
Members of the management bring a lot of expertise accumulated while working in large institutions like GlaxoSmithKline plc (NYSE:GSK) (OTCPK:GLAXF), Pfizer Inc. (NYSE:PFE), Baxalta among others. Additionally, I could read about directors, who executed research or took academic roles in prestigious academic institutions such as The University of California, San Francisco, Harvard University, Washington University School of Medicine, Stanford University, or Columbia University.
Balance Sheet: Real Cash in Hand is 40% of the IPO Price
In my opinion, the way the amount of cash was shown to investors may help us. It could give us an edge.
Investors who only check the state of the balance sheet as of December 31, 2017, will believe that the total amount of cash is approximately $51.4 million before taking into account $103.8 million from the IPO. Have a look at the following image:

Source: S-1/A
In my view, the investors who don't carefully read 44 pages of the prospectus will not get to know that Magenta sold, in April 2018, 11,223,102 shares of Series C redeemable convertible preferred stock and received gross proceeds of $52.3 million. Read the following text included on page 74 of the S-1/A document:

Source: S-1/A
With this amount of cash in hand, in my opinion, the cash in hand looks a bit different. Taking into account $51.4 million reported in December 2017, $103.8 million from the IPO and $52.3 million from the convertible securities, the total amount of cash is expected to be more than $200 million, or approximately $6.03 per share. If the IPO price is $15, the amount of cash will represent more than 40%.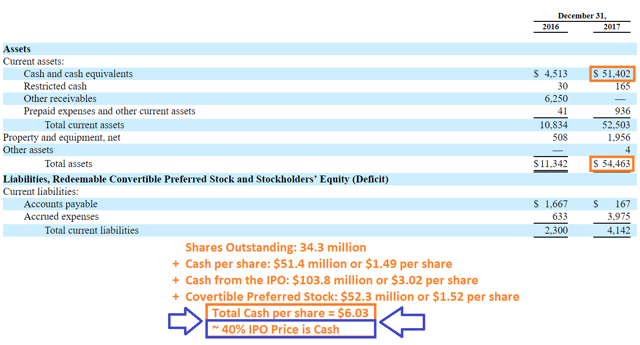 Source: S-1/A
Finally, it is also beneficial that Magenta does not report financial debt, and the contractual obligations do not look significant as of today. Note that in the following table, the payments for the rental payments of the new office were not included. The company will have to pay $59.2 million in a ten-year period:

Source: S-1/A
Burn rate - Income Statement and Cash Flow
The income statement shows a loss equal to $35 million in 2017. With about $200 million after the offering, the company will have money for approximately six more years.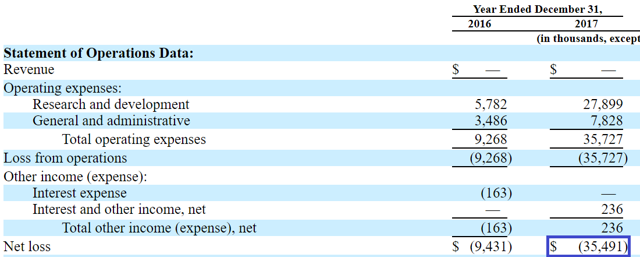 Source: S-1/A
The cash used in operating activities was equal to approximately $22 million in 2017. With this amount of burn rate, the company would run out of cash in about 9 years:

Source: S-1/A
With the cash flow statement and the income statement, the analysts would usually expect the company to raise more capital or issue debt in 2024-2029. However, taking into account the new lease and new employees to be hired, I believe that the cash will disappear much earlier. In the prospectus, I could read on page 71 that it should happen in Q1 2020:

Source: S-1/A
Proceeds from the IPO
The company also provided information about how it will use the money from the IPO. The conditioning programs, the MGTA-456 and the MGTA-145 candidate will require $39 million, $14 million and $9 million, respectively:

Source: S-1/A
Shareholders
The following is the list of shareholders before and after the offering. Please note that all the venture capital firms that invested in Magenta will reduce their ownership, which may not look that good for new shareholders. Third Rock is reducing its ownership from 28.9% to 23.3%, Atlas Venture is reducing from 17.48% to 14.09%, and GV is reducing from 5.9% to 4.76%.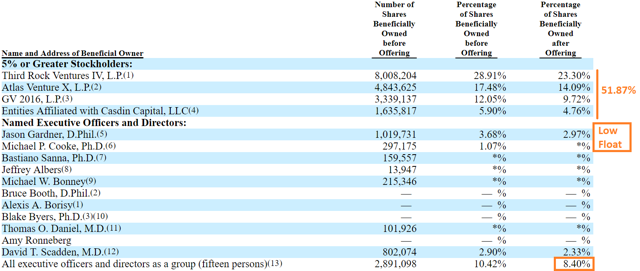 Source: S-1/A
In this case, as the venture capital firms and directors own large amount of shares, their trading activity will be very relevant to the market. Be sure to monitor the trades, mainly after 180 days from the publication of the prospectus. They will be able to sell shares after this time period:

Source: S-1/A
Valuation - Peers
The following information about the competitors of Magenta was provided in the S-1/A document:

Source: S-1/A
From the group, I could identify Intellia Therapeutics (NASDAQ:NTLA) as a comparable peer. It has 195 employees. Like Magenta, it does not show debt, has a lot of cash in hand, but shows no revenues. The amount of cash per share is only 30% of the value of NTLA's shares. With this figure in mind, Magenta seems undervalued.
Additionally, Molecular Templates, Inc. (NASDAQ:MTEM), with 38 employees, very little debt, substantial cash and generating very little revenue, is also another interesting peer. Its cash per share is approximately 31% of the stock value. Taking into account the cash in hand, Magenta would also be undervalued as compared to MTEM.
Finally, Bellicum Pharmaceuticals (NASDAQ:BLCM), with 137 employees, shows a different credit profile since it has $35.32 million in debt, and $82 million in cash. The revenue is very small, $0.2 million. The cash after deducting the debt is below 20% of the value of each BCLM share. In my view, BCLM is overvalued as compared to Magenta.
Conclusion and Risks
With data to be released in 2018 and having substantial amount of cash in the balance sheet, Magenta should be followed closely. In my case, I will be a buyer on the IPO day at $15.
With that, there are several risks to note. Firstly, the float is low; so investors should be expecting large amount of share price volatility once the IPO goes live. Additionally, if the candidates are not successful, which may happen in about 85% to 90% of the cases, the investors will lose almost all the money. As a result, I believe that retail investors will do good by leaving Magenta to professional traders.
Disclosure: I/we have no positions in any stocks mentioned, and no plans to initiate any positions within the next 72 hours.
I wrote this article myself, and it expresses my own opinions. I am not receiving compensation for it (other than from Seeking Alpha). I have no business relationship with any company whose stock is mentioned in this article.