Note: This article was originally published June 9th on Value Investor's Edge, a Seeking Alpha subscription service. Please take advantage of our two-week free trial going on through June 15th.
Overview - Shifting Markets
Being aware of the overall market conditions is as critical as a ship's captain familiarizing himself with the weather before undertaking a voyage. Stock prices have a strong tendency to move together in the same direction especially in the short-term. Stocks are also especially susceptible to the collective trading direction of their peers within the same sector.
Over the past few years maritime trade has witnessed broad market trends which contributed to these collective moves. For example, from a supply side standpoint, a thick orderbook led to an oversupply of vessels which outpaced demand and in turn drove down charter rates culminating in crises across several segments.
We saw historic lows in dry bulk, massive bankruptcies unfold in container shipping, and a downturn in the crude tanker segment. We were able to profit in shipping despite the rough markets; going forward, we believe the opportunities for successful 'stock-picking' look even better.
Navigating Previous Market Conditions
Allow me just a few paragraphs to illustrate how we handled the markets during the past few years, along with some looks at our results before we get back to the crux of this article.
Over at Value Investor's Edge, although we certainly aren't perfect, we made several successful bearish calls based on these trends well before they were fully understood by the broader market. These moves proved to be correct and contributed to our service outperforming the market in recent years.
Some of those broader calls include shorting dry bulk in 2015 (prior to adding long positions at far lower prices during 2016), turning bearish on crude tankers in early-2017 before that market imploded, and recognizing a developing oversupply and potential crisis situation in container shipping in 2015, allowing us to sell/avoid Seaspan (SSW) and peers before they imploded.
The most clear-cut example of our stock-selection in a single sector (crude tankers in this case) is the contrast of our takeover-driven buy of Gener8 Maritime (GNRT), which returned nearly 50% in a year, at the same time we were shorting Nordic American Tankers (NAT), which dropped 70% in a year!
Although we try to occasionally profit off of these short calls, the biggest factor is simply a voiding these portfolio landmines. Sometimes the best trade is the one that isn't made.
Armed with our data analytics, we've made several long calls based on real time company valuations vs. stock prices. The most recent example is buying Seaspan (SSW) in the low $5's during 2017, eventually arriving at our $8 fair valuation target, which we rode up to $9 before selling while reiterating our fair value estimate. Looking back further, we had a lot of success in the dry bulk markets, including buying Scorpio Bulkers (SALT) around $3/sh and their related debt (SLTB) at $9.10. Our data showed these stocks were trading substantially under their tangible value (i.e. NAV) at the same time assets also sat near all-time lows.
Finally, in segments experiencing seemingly strong upside potential, such as LNG for example, we saw other market disconnects and misguided valuations which caused us to take a bearish stance on firms such as Dynagas (DLNG) prior to major downside moves. Most recently, we bought pre-earnings puts in Golar Partners (GMLP), which returned up to 17x our original investment. This was the same firm that just a couple years ago tripled in under a year following our bullish call around $8/unit. This highlights our commitment to constantly examine a changing market for opportunities.
Things Are Changing
Shipping has been a brutal market for the past several years, but we've done well overall despite the challenges. However, things now look poised to get better for the industry overall. Will stock selection still win? We believe it will be more important than ever as we see several bifurcated fleet opportunities and we are facing substantial regulatory changes into 2020.
But the oversupply situation described above is poised to get better as the global orderbook-to-fleet ratio is actually at its lowest point in 20 years.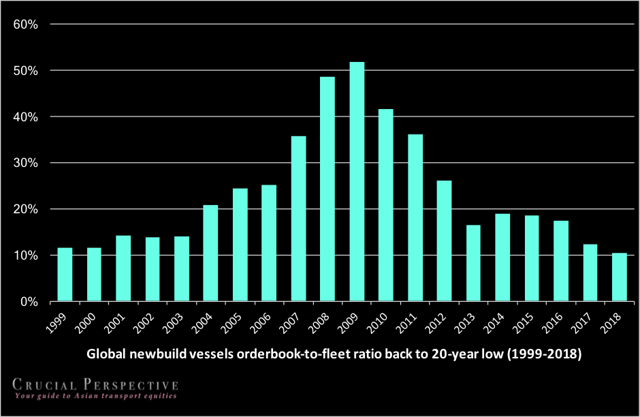 Source: Crucial Perspective
This subdued fleet expansion amid a time of positive global economic sentiment will pave (or is already paving) the way for a recovery in several areas. Most investors are a bit hesitant when making a short call, however, this changing environment will likely be leading to more long calls.
But, just because we saw near uniform drops across vessel classes in certain segments doesn't mean we are going to see a uniform recovery. But as shown below, some areas will fare better than others, and this means that now, more than in the past few years, it is a stock pickers' market.
As the market becomes more dynamic and complex we expect that these disconnects will only grow more pronounced paving the way for far more opportunity than we have seen in recent years.
How And Why
If you read my latest LPG and Container reports you probably noticed a connection. Lager vessel classes in both these segments composed a significant number of newbuild orders, both in terms of cargo capacity and actual ship numbers.
This focus on larger tonnage could lead to a bifurcated market with smaller classes benefiting from an improving supply/demand balance while larger classes would languish as vessel supply continued to outpace demand.
But it is worth noting that this trend of orders for larger vessels isn't confined to just these two segments. Both the dry bulk and crude tanker markets are suffering a similar fate.
The reason behind these orders isn't so straightforward. Some brokers report that a significant volume of contracting recently has been based on replacement demand. Increased ordering would coincide with owners' expectations of phasing out tonnage over the next couple years. Expectations may be justified as many assume the 2020 sulfur cap will likely result in increased scrapping as 2019 comes to a close.
Meanwhile, another theory is that attractive newbuild prices enticed owners to place orders out of a justified fear that this window may be closing.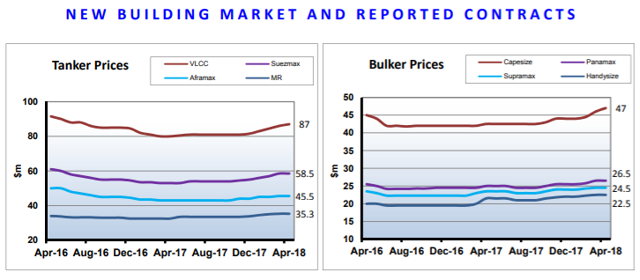 Source: Athenian Shipbrokers
The focus on larger classes could be potentially attributed to low prices leading to greater proportional improvement in economies of scale. But now that prices are climbing across the board we could see a return to a more appropriate ordering pace and mixture of vessels.
Nevertheless, we are facing a situation where larger classes have formed a disproportionate share of the overall global orderbook.
For LPG, orders for Very Large Gas Carriers represent about 75% of the entire orderbook with that particular class projected to add 11% gross capacity through 2018. This level of supply growth will make it difficult for charter rates to advance. While smaller classes set for possible net fleet reductions which should bring about an entirely different environment - if cascading is kept to a minimum.
The container segment is the second most pronounced with 1,868,718 of the 2,697,181 teu's on order (representing nearly 70% of the total orderbook) attributed to the Ultra Large Container Vessel, ULCV, class. The smaller classes here have downright thin orderbooks with potential net fleet reductions in a couple classes.
We also find that in dry bulk the Capesize and larger classes compose roughly half of the entire orderbook in terms of capacity. In fact, 14.8% gross tonnage is set to be added to these larger classes through 2021 whereas other smaller classes are projected to experience low single digit gross tonnage growth over that same time.
Finally, the crude tanker space has seen Very Large Crude Carrier orders pick up pace while a fresh round of deliveries should keep pressure on rates. 20 VLCC's have already been delivered this year and another 31 are set to hit the water in 2018. 2019 will see the addition of 64 additional vessels. That's a pretty sizable influx for a fleet that currently numbers 741 vessels. In capacity terms, smaller classes like the Aframax and Suezmax class have much more manageable orderbooks at 11.5% and 8.9%, respectively, whereas the VLCC class is nearly at 16%.
Gibson was the latest shipbroker to recognize a developing bifurcated market.
Much attention has been given in recent months to continued activity in newbuild VLCC tonnage. We, at Gibson's, are not an exception to that, warning repeatedly about the risk of over-ordering if investment in VLCCs continues at such a relentless pace. However, what has gone largely unreported is the fact that the pattern of ordering activity has been completely different in other tanker segments, starting from Suezmaxes down to MRs.
The point of all this is that we may very well be entering a market where certain vessel classes stand a chance to outperform others based upon variances in the orderbook.
Indices
Charter rate variations may be hidden if we don't scrutinize the market carefully.
For example, the Baltic Dry Index, or BDI, is a good way to get an overall snapshot of the heath of dry bulk shipping. But what many may not know is that the weighting of this index favors a certain class while negating other classes entirely.
Dry bulk vessels can range anywhere from 20,000 dwt to 450,000 dwt. But the BDI only tracks moves in three vessel classes. Capesize vessels typically come in around 180,000 dwt and compose 40% of the weighting. Panamax vessels are between 50,000-99,999 dwt and make up 30% of the Index. Meanwhile, Supramax vessels come in at 50,000-72,999 dwt and account for the final 30% of the BDI.
So while the BDI is a brief overall snapshot it doesn't give the whole story. This index fails to take into account several other classes and the weighting may hide rate nuances for different classes.
For example, take a look at the one year chart for the Baltic Dry Index. It looks pretty volatile.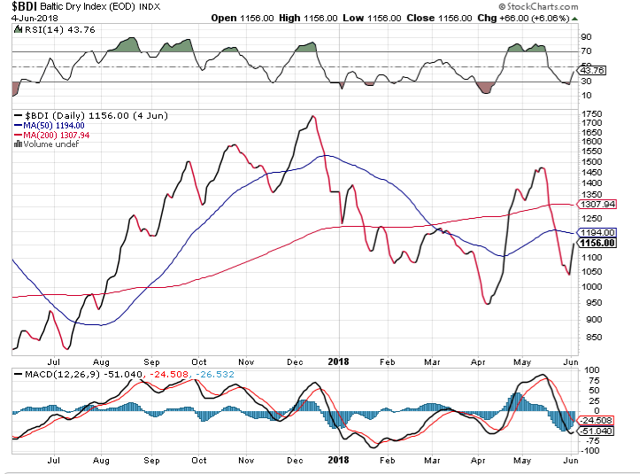 Source: stockcharts.com
But this volatility can be attributed almost exclusively to the Capesize class which has recently experienced more significant charter rate fluctuations than any other class.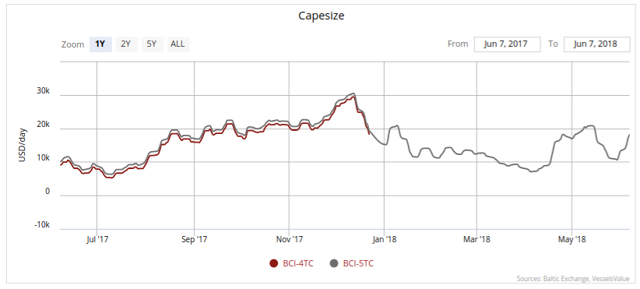 Source: VesselsValue
Notice that the BDI and Capesize rates are heavily correlated. But when we look at the Panamax and Supramax classes we see a different picture.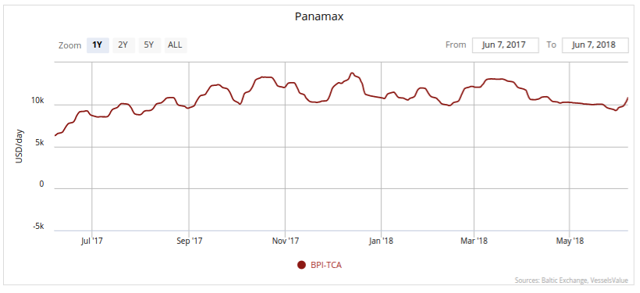 Source: VesselsValue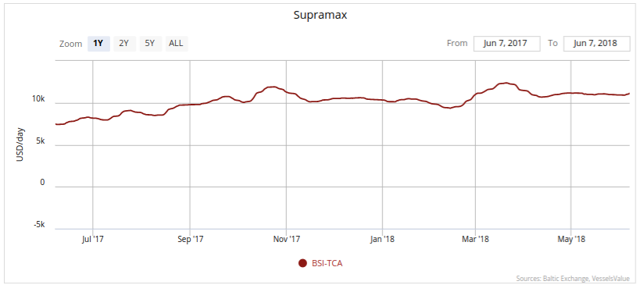 Source: VesselsValue
Notice that both classes experienced far less volatility and for the most part have been on a steady upward climb.
It's worth noting that the Handy fleet, which is not part of the BDI, has experienced similar stability.
Marine Link reports:
During the first four months of 2018 freight rates for Handysize, Supramax and Panamax went up by 25-27 percent as compared to the same period of last year. All three sectors moved from loss-making average earnings in the full year of 2017 to a profitable level in first four months of 2018.

Meanwhile, Capesize freight rates improved by only 5 percent as compared to the same period last year, and stayed within loss-making territory at $12,660 per day, needing at least $15,000 per day on industry average to cover all costs.
This is why it is important to look beyond the averages and take into account individual classes. Over at Value Investor's Edge we provide weekly updates regarding these changing rates for individual classes.
But what should you look for after that?
Fleet Composition
Because not all charter rates will experience the same fate, when investing in individual companies the composition of the fleet becomes an important factor.
What types of vessels compose the fleet and what types of charters are they on? This can be a time consuming task to examine all the companies then make a determination.
Fortunately at Value Investor's Edge we have already done all the hard work.
One aspect of VIE's analytics platform is that it provides fleet profiles for each company broken down by vessel numbers and dwt.
Here is an example using Genco's fleet.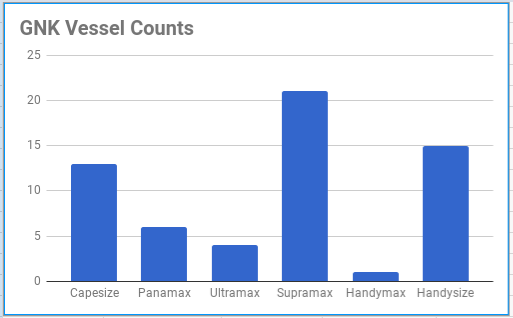 Source: Value Investor's Edge
The platform also provides information as to how each company charters their fleet. Some are exclusively tied to spot rates. While others may have a majority of short term charter contracts and still others may have long term coverage.
As this becomes more of a stock pickers' market charter rates, fleet profiles, and charter coverage are all need to know facts going forward for any investment in maritime trade.
Asset Values
Asset values can be significantly impacted by current charter rates and future expectations.
The fact is that a company's stated book value may differ greatly from the actual value of the fleet as charter rates fluctuate and live valuations are not readily updated.
Fortunately through our partnership with VesselsValue we have access to live fleet valuations for each company which helps us arrive at a far more accurate NAV.

Source: VesselsValue
NAV is arguably the second most important metric when it comes to properly placing a value on a shipping company.
Aside from this we also can access when vessels were bought and sold to determine if these were accretive purchases or beneficial sales. This is very important since it can show if a company is acting in a counter-cyclical manner, which would be beneficial, or responding to market swings which could result is sub-optimal decisions.
Finally, it shows us the ages of vessels and the average of the overall fleet.
Often, there are significant disconnects between stock prices and NAV presenting deep value opportunities.
Age Matters
The upcoming 2020 Sulfur Cap has led to many analysts calling for a two-tiered market based on vessel ages. Some have even noted the presence of scrubbers on vessels will perhaps make that a three-tier market.
Older vessels have higher fuel consumption than their newer counterparts which benefit from improved designs and more efficient engines. This higher fuel consumption will potentially see operators of older vessels paying several million more per year for fuel. Those with the newest and most efficient fleets will be impacted the least.
But those with scrubbers will still be able to utilize high sulfur fuel oil and take advantage of low fuel prices, which will likely fall as demand for HFO decreases. Once fixed costs are recovered, which could be as little as one year, these vessels will likely see the lowest bunkering costs going forward.
Which fleets have scrubbers? Which ones are the youngest? Which ones will likely see costs rise the most? These are all important considerations for investors.
Finally, another important measure, the Ballast Water Management Convention, will add another layer of costs as owners purchase and install compliant equipment. But some companies already find themselves in full compliance with the BWMC. Meaning those fixed costs are already accounted for and expensive equipment purchases and prolonged dry docking are behind them.
Upcoming Supply Side Coverage
Over the course of the next couple months I will be releasing a series of reports detailing the exact composition of the current fleet as well as the orderbook for each segment and class.
This will provide a solid overview of potential net fleet growth over the course of the next year and should be considered required reading for any investor. These full reports will be made available to subscribers of Value Investor's Edge.
Conclusion
The last few years have seen broad market trends dominate. This can be attributed to a very thick orderbook which saw deliveries across nearly all segments and classes outpace demand resulting in an overall bearish trend.
That situation is coming to a close in certain classes and as a result these broad market trends are likely to give way to selective stock picking. We believe we can outperform to an even larger degree, especially as we see the rise of bifurcated markets, both due to fleet sizing discrepancies and pending regulations.
With the potential for several bull markets forming in a variety of areas, it becomes increasingly important to understand how a company is positioned in order to determine just how much they stand to benefit. Conversely, there are companies which find themselves in not so great positions. We will work diligently to try to correctly identify these situations.
Thank You
If you found this article helpful and/or would like to easily refer back to it in the future, please click the "Like" button and it will be saved to your favorites.
If you would like to stay up to date on my latest analysis, I invite you to follow me on Seeking Alpha (click the "Follow" button next to my profile picture at the top) as I continue to cover all aspects of maritime trade.
Finally, if you are wondering what is the best way to invest in maritime trade please visit Value Investor's Edge.
Disclosure: I am/we are long SALT.
I wrote this article myself, and it expresses my own opinions. I am not receiving compensation for it (other than from Seeking Alpha). I have no business relationship with any company whose stock is mentioned in this article.
Additional disclosure: Value Investor's Edge is a top-rated research service dedicated to offering actionable trades and strategic income opportunities. We now cover a variety of deep value and income-driven sectors, while maintaining our focus and very profitable record of shipping industry coverage. Members receive exclusive access to over a dozen reports per month, including regular shipping and commodity macro analysis from James Catlin, exclusive content by top-tier deep value analyst J Mintzmyer, industrial and MLP ideas from Michael Boyd and international insights from Ian Bezek. This winning team has developed a dedicated following of highly knowledgeable investors and industry professionals who also share their own thoughts and ideas.