The last time my investment club invested in the Utility sector, the decision was made based on basketball - specifically, Coach Mike Krzyzewski of Duke. Ridiculous? Absolutely! Harmful? In the long run, probably not.
The vote happened quickly in the last few minutes of a meeting - before I could derail it. It prompted a vow on my part that such hurried, uninformed decision-making would never happen again.
In the summer of 2016, our Otter Tail (NASDAQ:OTTR) investment doubled. We decided to diversify geographically. Beyond considering locale, the club selected Duke Energy (NYSE:DUK) because they liked Coach Mike.
We're at a point where it wouldn't hurt to add another utility to our portfolio from a diversification standpoint. Basketball will not be a deciding factor this time.
Selecting A Utility
Since the summer of 2016, we've adopted a model for selecting DGI (dividend growth investing) stocks based on GRAVY - "GR"owth "A"bility, "V"aluation and "Y"ield. We strive to invest in healthy, fairly valued dividend payers with clear potential for dividend growth.
Our filters and weighting and scoring system highlighted Black Hills (NYSE:BKH). The electric and gas utility has grown its dividend for 48 years and offers a yield nearing 3.4%. Geographically, it would have my club heading west.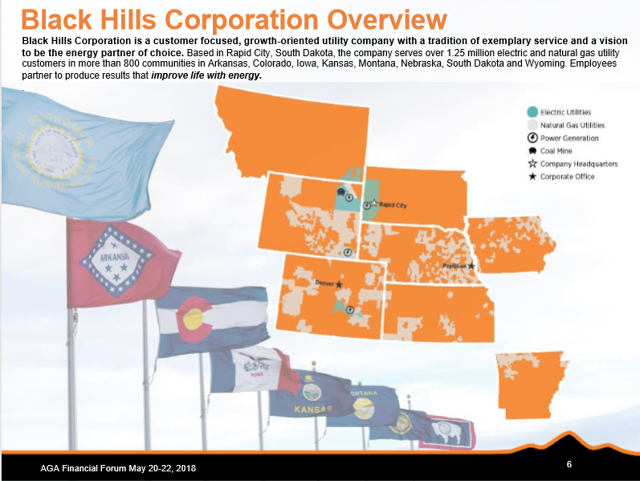 (Source: Black Hills 2018 AGA Financial Forum Presentation)
One aspect of the Black Hills story immediately sparked interest - it's at a turning point. My investment club is drawn to turning points. The rest of 2018 and 2019 will be spent setting the utility up for greater growth.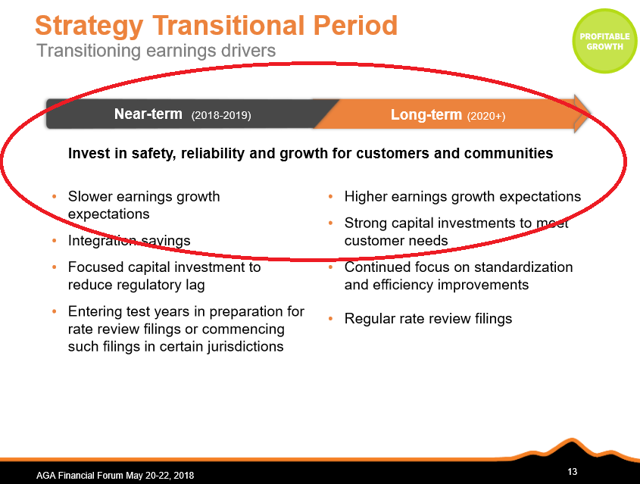 (Source: Black Hills 2018 AGA Financial Forum Presentation)
Consistently playing devil's advocate, it was time to ask the challenging questions. For example, if 48 years of dividend growth is attractive, wouldn't the 62-year track record of Northwest Natural Gas Company (NYSE:NWN) be downright gorgeous? And Northwest Natural Gas serves customers on the mainland as far west as one can get in the Pacific Northwest. The yield is comparative at 3.26%. However, dividend growth has been stifled at just $0.01 annually since 2014.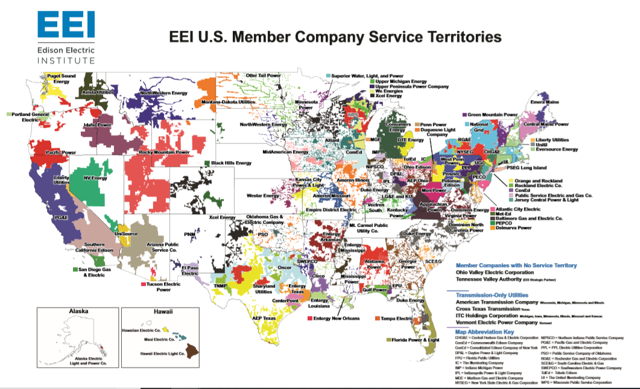 (Source: EEI U.S. Member Company Service Territories)
Or, would the club be better served diversifying into a utility like Xcel Energy (NYSE:XEL) that spans from Michigan to Texas, covering the extremes of climate in the U.S.? Though the company's dividend growth track record pales at just 15 years, its yield is comparative at 3.57%. And probably because it hasn't been growing its dividend as long, its 5-year average growth rate tops 6%, greater than that of both Black Hills and Northwest Natural Gas Company.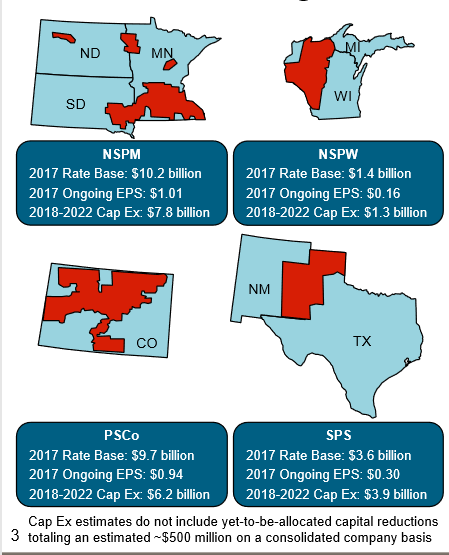 (Source: Xcel Energy West Coast Investor Meetings presentation, May 30-31, 2018)
Comparisons
In my club, selecting a DGI candidate means considering several pertinent factors.
Black Hills

Northwest Natural Gas

Xcel Energy

Dividend Yield

3.37%

3.26%

3.57%

Dividend Growth Track Record

48 years

62 years

15 years

Dividend Growth Average

Past 5 Years

4.10%

0.95%

6.30%

Payout Ratio

56.38%

83.93%

61.10%

Debt-to-Equity Ratio

0.64

0.51

0.58

Forward P/E Ratio

16.57 on $3.40

24.91 on $2.33

17.52 on $2.43
(Source: Author-created from company data)
Earnings in the utility segment typically increase when the company's regulated rates increase. Rate cases are utilized for overall cost increases or large projects. Rate cases require regulatory approval by state. Thus, rate base growth is a result of capital investment.
Black Hills

Northwest Natural Gas

Xcel Energy

Rate Base &

Growth Estimate

$3.35 billion

$1.3 billion

4-5%

$24.8 billion

~6.5% CAGR

Capital Investment Forecast

$2.264 billion

$750-850 million

$18.5 billion

Return on Equity

9.90%

9.5-10.1%

10.81%

EPS Growth Estimate

Near term slow

Long term above industry average

3-5%

5-6%

Dividend Growth Objective

Protect track record with

Flexibility to declare larger increases when EPS growth slows

Protect track record

5-7%

Payout Objective

50-60%
(Source: Author-created from company data)
Based on the factors featured in the tables above, Xcel Energy stands apart. But it's not just about size. Yes, it has the largest rate base of the three. But its capital plans for future infrastructure are proportionately greater compared to its rate base.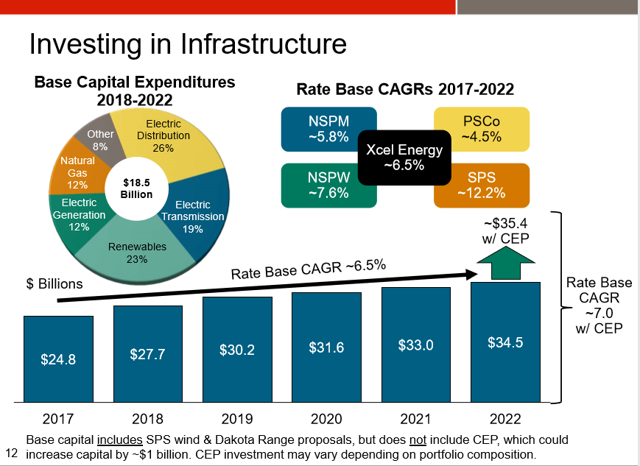 (Source: Xcel Energy West Coast Investor Meetings presentation, May 30-31, 2018)
It's Not All Up, Up, Up
With the potential of Xcel's growing rate base, it's natural to wonder if its customers' bills will go up, up, up. On one hand, residential customers are employing energy-efficient technology and lowering usage. But Xcel intends to do its fair share for customers. The utility is targeting that its customers' bills increase only at a rate that is "at or below inflation". The first step to controlling the rate means maintaining its operations and maintenance budget at approximately $2.3 billion through 2022. Last year marked the third consecutive year that the company was able to lower its O&M expenses. In 2017, its operational and technology improvements resulted in full-year O&M expenses totaling less than the 2014 level.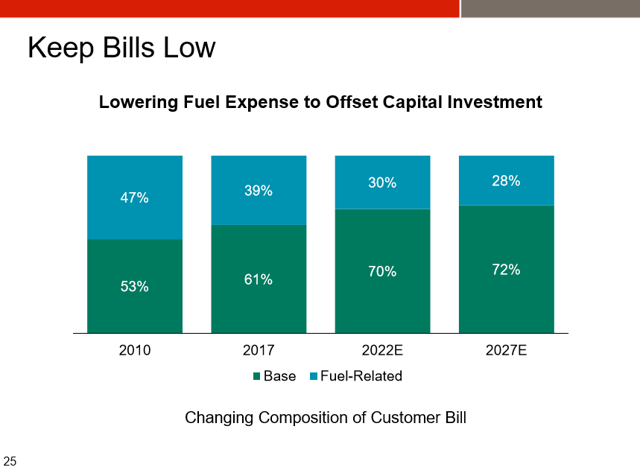 (Source: Xcel Energy West Coast Investor Meetings presentation, May 30-31, 2018)
Additionally, Xcel's fuel costs are projected to decrease alongside its carbon emissions. From 2005 through 2017, the company reduced its carbon footprint by 35%. By 2030, the goal is to be 85% carbon-free by continuing the reduction of coal usage and adopting renewable energy sources - wind and solar. By 2021, Xcel projects it will have 3,050 MW of new owned wind capacity. Its Colorado Energy Plan, introduced in 2017, aims to retire two coal units producing 660 MW, add 700 MW each of solar and natural gas and up to 1,000 MW of wind. Xcel also proposes to add 1,250 MW of wind in New Mexico and Texas.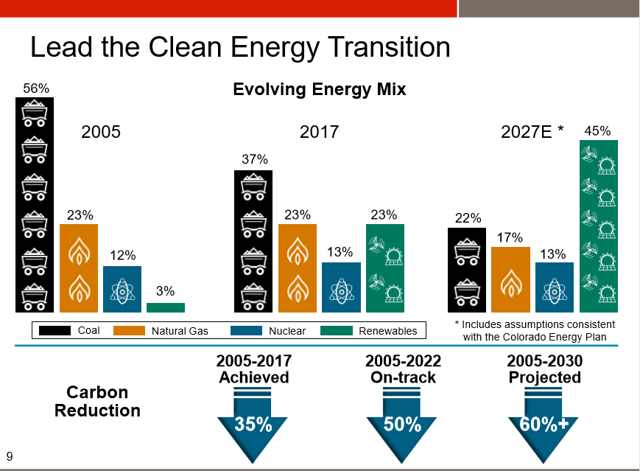 (Source: Xcel Energy West Coast Investor Meetings presentation, May 30-31, 2018)
Demands Now, Demands For the Next Decade
Like all utilities, Xcel Energy is currently dealing with the impact of tax reform. The company expects it to be accretive to earnings over the next five years.
Tax reform also benefits the utility company's customers. Incorporating the benefits of tax reform for customers requires state commission approvals.
"Ultimately, tax reform results in lower taxes, lower deferred taxes and, correspondingly, lower cash flow metrics. And in response, we expect to moderate our five-year capital expenditure plan by $500 million and issue up to $300 million of additional equity."
While tax reform presents a bit of a challenge currently, the challenge is temporary.
Even "moderated" to $18.5 billion, Xcel's capital expenditure plans certainly signal that it will be aggressively building its future infrastructure. Besides the utility's goal to lead its industry's clean energy transition, the company also intends to be ready for potential demands coming in the next decade, such as electric vehicle adoption or battery storage.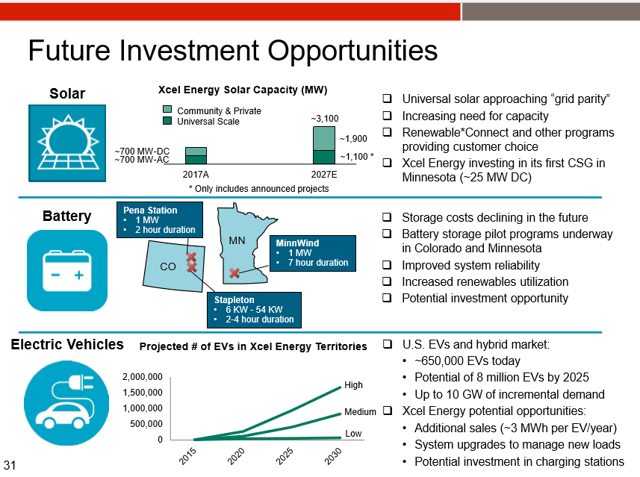 (Source: Xcel Energy West Coast Investor Meetings presentation, May 30-31, 2018)
Investment Rationale
Black Hills may be at a turning point, and that may well entice my investment club. But it's hardly a measurable factor. The dividend growth track records of both Black Hills and Northwest Natural Gas Company are a source of pride and will very likely be protected by their Boards. This factor alone warrants consideration.
It certainly does not compare, but Xcel Energy's track record of 15 years is respectable. As well, it dominates in enough of the categories my club has deemed important to warrant not only consideration but investment. It is healthy and fairly valued. There's clear potential for dividend growth. And speaking of immeasurable factors, though we don't live in its service territories, we should certainly value Xcel's goal of keeping its customers' bills low in spite of a growing rate base.
It's not going to be about basketball this time. But this decision should be a slam dunk.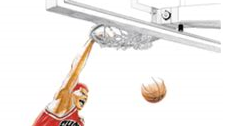 (Source)
Disclosure: I am/we are long OTTR, DUK.
I wrote this article myself, and it expresses my own opinions. I am not receiving compensation for it (other than from Seeking Alpha). I have no business relationship with any company whose stock is mentioned in this article.
Additional disclosure: I belong to an investment club that owns shares in OTTR and DUK. At our July meeting, I'll review BKH, NWN and XEL.