"The dark horse which had never been thought of rushed past the grandstand in sweeping triumph…" Benjamin Disraeli
From the early part of this year, I assessed the possibilities of the companies I believed to be best positioned to cash in on the potential of sports betting legalization. Wynn (NASDAQ:WYNN) was not among them. That was because its former CEO and legendary founder, Steve Wynn, had been on record for many years as being opposed to widespread expansion of sports betting and online real money gaming in general. When asked for his rationale, he told the media that in general, he did not see the sector as having the potential others did.
He also expressed concern about the adequacy of fire walls to make transactions bulletproof. Slowly over time, his views began to moderate somewhat but in the end, he was at best in a let's see what develops frame of mind. Meanwhile since the landmark Supreme Court decision early last May green-lighting the legality of state-sponsored sports betting, the entire gaming sector has been energized and is on the move on sports betting.
Whether in the casino, online real money wagering or lottery systems space, every major company was already maneuvering to push ahead with state legislators on bills that had been stalled due to the uncertainty of the federal statute since overturned by the court.
Wynn just didn't seem to figure in the mix. Firstly, the company had both hands fully coping with the turbulent regulatory and PR aftermaths of the Wynn resignation over the allegations of sexual misconduct with female employees dating back decades. Secondly, after Wynn closed his entire position in the stock, the company found itself with a formidable new partner, Galaxy Entertainment Group (HK: 0027), which had acquired 4.9% of Wynn shares as an investment.
Beyond that, Wynn's ex-wife, Elaine, who still holds the largest single block of common 9.1%, was determined to force board changes and impose her thinking on the company's future on its new CEO, Matt Maddox. Threats and rumors abounded about the company selling off its Boston project, and class action lawsuits diluting the many positive moves made by the new management to get past the negative aspects of the Wynn legacy.
Meanwhile the company is killing it in Macau as the VIP and Premium mass sectors of the market posted huge y/y gains over 2017. VIP alone was up 26.7% for the year and Wynn Palace was among the market leaders in the Premium Mass and VIP segment. A 12% y/y increase in May GGR there was labeled "disappointing" by some observers, who didn't take either the low hold or bankroll fatigue factors into consideration. The stock will bounce back.
New CEO Maddox furthermore acted immediately to scale down the Wynn Paradise Park project by cancelling the proposed tower and announcing that the outdoor/boardwalk lagoon entertainment/shopping and dining amenities would only be available to Wynn guests. In the process, the company would save over $1bn - money to be diverted to expansion in Macau and building cash for a possible run at Japan when that nation seeks RFPs sometime in 2019. In quick order, the company said that its Boston project, due to open midsummer next was not for sale.
Secondly, it is already deep in the planning process for a Macau expansion on land the company controls near its Wynn Macau property. So given Maddox and his team are already balancing two heavy plates of core company business, where were they on sports betting? They'd been notably sotto voiced on the issue since the court decision, yet on closer scrutiny, we have come to believe that as the sports betting legislative race quickens in the US, we could very well see Wynn, under the new management, not letting itself to be counted out. So from a long-shot participant, we now see Wynn as a potentially aggressive mover along with other casino giants, into the sports betting business.
Whether by acquisition or by internal development, under the new management we think Wynn will be a player here.
Investment Thesis
Our sources indicate that Wynn personally was never convinced that legal sports betting was as big a business as touted. He furthermore told former associates of ours that his take on the profit potential given the heavy gaming taxes and customer acquisition costs common in the space, that it wasn't a prize worth fighting for. Others in management disagreed and believed the company needed to be a participant in the space because legalizations, state by state, were going to come faster than previously anticipated. "Some people around the company felt strongly that Wynn had to be part of the sports betting future. "You got the feeling," one source told us, 'That they don't want to blunder into inaction. The corporate culture is still strongly aimed at land based, superior product. But these guys worry about making the mistake Caesars did by bypassing Macau early in the game. They won't repeat that kind of mistake."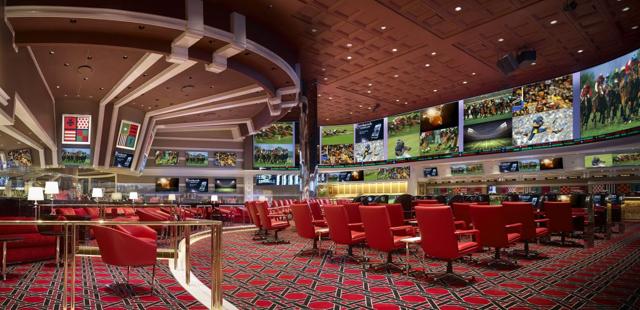 The Wynn sports book in Las Vegas completely refurbished last year.
The golden Wynn database
While estimates of the Wynn database for its Las Vegas and Macau properties are relatively small compared with multi-property industry giants, in this case, it's the quality not quantity, that counts. "Wynn's VIP database and average premium mass customer in Las Vegas is pure gold," one long-time database executive with clients in the gaming space told us. He has never done work at Wynn but is "highly confident" on a "percentage basis, they have a cadre of high end business that no other casino operator in Las Vegas can compare with. And that database contains the kind of players for whom weekly laydowns of $10,000 to $20,000 on NFL games are commonplace," he said. "They just can't sit around watching these mega sports bettors taking their action elsewhere—it's that simple."
By any industry measure, one high end sport bettor is probably as valuable in terms of his action as 1,000 casual bettors who may take a $10 shot on an NFL game while at a casino, or online. The presumed illegal sector of sports betting is $150b annually. It is comprised of bettors at every level, but any bookie will tell you that it's the high-end players who keep their businesses healthy. That raises the issue of credit, the mother's milk of illegal sports betting.
Because of that reality, skeptics don't believe legalization will de facto put the bookies out of business especially at the high end where Wynn shines. This is only partially true. While currently, the four major credit card issuing banks do not extend credit lines for gambling, they are mulling the issue seriously. Most frequently cited is the probability that they will enter the business by offering credit cards for sports betting with strict topside limits, perhaps anything up to $1,000 aimed at the casual or periodic player.
But that, according to our sources, poses no problem to bettors. A person wanting to bet $5,000 on a game can put together a team of friends and relatives in a simple proxy betting system. Each person has a $1,000 line. The big bettor guarantees the separate play, to his 5-person group and if he loses, provides the money to pay the credit card off and if he wins, gives each member of the team a small share of the winnings. Team members have zero risk, the opportunity to make a few, have cash in advance to cover the credit payoff and everyone's happy. This is just one way. Gamblers being as resourceful as they always are will figure it out.
Enter Craig Billings: Early last year, Wynn hired Craig Billings as its new CFO, bringing a senior manager to the Maddox team with deep experience in the digital space. Prior to joining Wynn, he was at Aristocrat Technology, Chief Development officer at International Game Technology (NYSE:IGT), which is expected to be a major player in the coming scramble for sports betting contracts. Beyond that, Billings served as co-executive chairman of NYX, a leader in sports betting technology acquired in early 2017 by Scientific Games (NASDAQ:SGMS).
He also did a stint at Goldman Sachs (NYSE:GS) investment banking department. "Billings isn't only there to count quarters from the slots," said our industry source. "His background in digital and online gaming is broad and deep. His voice will be among those working on the hows and whens Wynn gets into the sports betting business, that's a certainty."
Wynn resignation aftermath: The aura of the personal problems of the former chairman at what is seen by some authorities as the board's tepid response to complaints, could impair but not stop, any Wynn effort to snare sports betting contracts from sensitive state licensing authorities.
But we don't consider this a deal breaker at all because the company has been so thoroughly vetted by ultra conservative officialdom in states like Massachusetts - post the Wynn revelations, that we do not consider it so large that if the company's bid was innovative and technically sounder than competitors', they could well snap off a few major states. Perhaps by proposing upscale retail betting parlors in strategic locations.
Wynn is currently cheap: At writing, Wynn shares are trading at $176, considerably off its high before the Macau Union Pay scare news of June 5th. Furthermore, another disgruntled land investor in the Boston site has filed a suit alleging the company did not compensate him properly after a side deal over the price of the land. The suit is one of many filed concerning the parcel acquisition. Our local gaming attorney friends are highly skeptical as to its merit at this point. Because of this and also because Wynn's beta sits at 1.93, always making it a target of day traders and options round-trippers, the stock is way below its value.
Some Macau analysts like JPM have already backtracked on the dire predictions of the removal of Union Pay terminals in 3 properties' pawn and jewelry shops. Some even are seeing it as bullish in terms of sustaining liquidity and transparency. So this was another example of media hysteria that always takes its toll on Wynn shares.
So at this price, well below the $203 high of the year, plus the strong Macau performance continuing, the clearing of all the underbrush of the Wynn era, the position of Galaxy showing high conviction in the company's future and now, with the growing expectation that Wynn will be more active in the race for sports betting deals, possibly by acquisition, we call this a particularly good entry point for the shares here. And as we always point out, this is a stock to hold based on its long track record of rewarding shareholders handsomely.
Disclosure: I/we have no positions in any stocks mentioned, and no plans to initiate any positions within the next 72 hours.
I wrote this article myself, and it expresses my own opinions. I am not receiving compensation for it (other than from Seeking Alpha). I have no business relationship with any company whose stock is mentioned in this article.