The story is playing out as expected.
Late last month, Chilean wine producer Concha y Toro (VCO) released the results of its first quarter of 2018. Following a 2017 that I have called a "great vintage" from a financial and operational perspective, I see some of the same bullish trends playing out as the new year kicks off.

Credit: Viña Concha y Toro
Total revenue increase of only 2.4% may not sound like much to most investors, especially those with a bias towards growth. But the 1Q18 growth mix suggests that one of the key pillars of my investment thesis ("premiumfication" more than fully offsetting volume decreases and pushing gross margins up) is standing strong.
With total volume sold down in the quarter, I estimate that favorable pricing contributed with more than 5 percentage points to the total company's YOY top line increase. In addition, even the volume weakness seemed mostly confined to one sub-segment of Concha y Toro's business that is relatively small (just over 3% of total revenues) and widely expected to perform poorly as the company exits less profitable product lines: Argentina.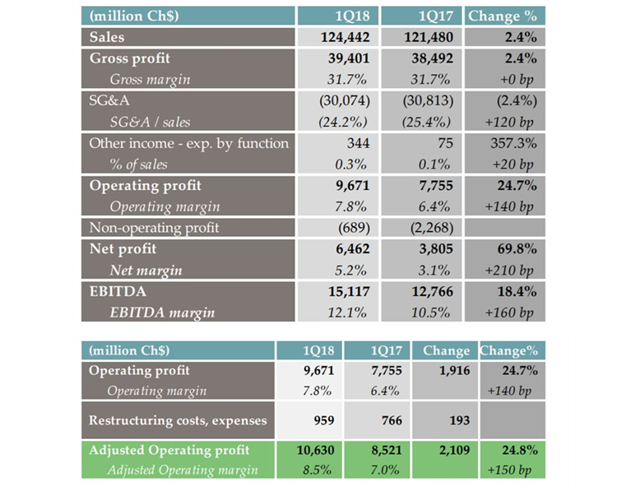 Source: Company's earnings slides
Further down the P&L, gross margins stayed flat YOY, after a 4Q17 of material improvement. The high cost of grapes is most likely behind the lack of margin expansion, which is consistent with the recent narrative and, this quarter, helped to fully offset the benefit from higher wine retail prices.
The good news is that Concha y Toro revealed a sizable increase in the production of grapes during the 2018 harvest season, after two years of low yield due to climate challenges. This is very much aligned with my January and February, on-the-ground channel checks. While the volume hike will likely have little impact on bottles sold, it will probably help to push grape prices to the wine maker down.
The table below summarizes the P&L results of all years since 2015, as well as my projections for the 2018-2020 period.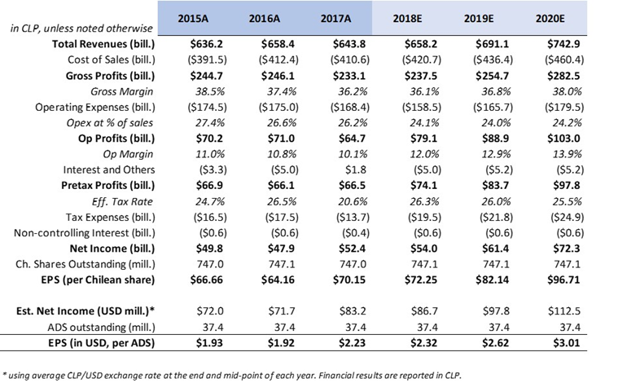 Source: DM Martins Research
On the stock
Concha y Toro's 1Q18 results were robust, in my view. Perhaps more importantly, they helped to support my investment thesis, reinforcing the trends in improved pricing and cost savings from restructuring efforts that I expect to carry forward over the next several quarters.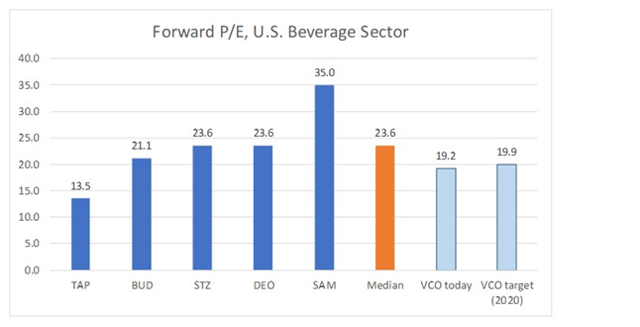 Source: DM Martins Research, using data from YCharts and Yahoo Finance
VCO has not moved substantially higher since my original buy call on the stock. The company's fundamentals and financial results achieved so far, however, give me confidence that my $60/ADS price target by 2020 is very much achievable.
For now, I make no changes to my financial model, and continue to believe that (1) Concha y Toro will manage to deliver $3/ADS in EPS in 2020 and (2) assuming the robust, double-digit earnings growth trend is confirmed, forward P/E multiple should expand slightly closer to the peer group average, currently in the low 20s.
Disclosure: I am/we are long VCO.
I wrote this article myself, and it expresses my own opinions. I am not receiving compensation for it (other than from Seeking Alpha). I have no business relationship with any company whose stock is mentioned in this article.