The ride hasn't been without bumps. But I am thoroughly impressed with Target's (TGT) performance, at least since it became my August Idea of the Month. The company managed to reinvent its business model and shake off a discouraging start to 2017 in a short period of no more than 18 months. Along with the company's sales recovery came the stock price, up about 40% since I became a TGT bull, less than 10 months ago.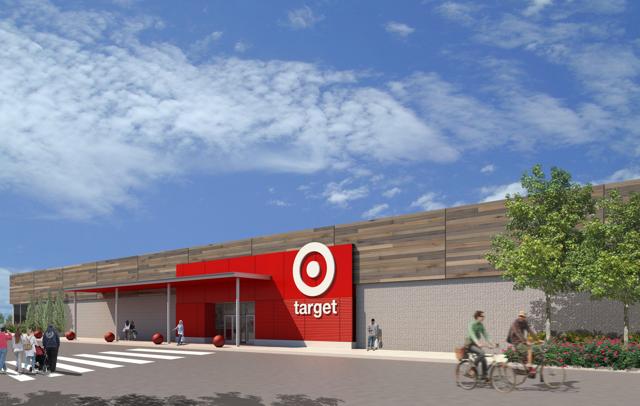 Credit: Seven Days
With the frequent swings in share price, however, opportunities have come and gone in the blink of an eye. Case in point, I considered offloading my position in January 2018 as the stock flirted with $80/share (my original target price, pre-December 2017 tax reform) and the upside potential that once existed seemed to have mostly disappeared. Having decided to hang on to my shares, I then saw the stock price dive to nearly $70 less than one month ago, leading me to "pound the table" for a 25% gain opportunity that I found highly probable.
Here we are again, and TGT is about to push through its 52-week high. As much as I have appreciated the apparent success of the retailer's turnaround efforts, I must be diligent and methodical to know when to hold and when to fold. Even though I have maintained my price target of $90/share by 2020 intact for a few months, the stock's current implied 13% gap to fair value (10% projected annual return on investment through 2020, once I include the dividends) may not sound like much, particularly when I consider the risks associated with the investment and the stock price volatility.
To assess whether holding TGT at nearly $80/share makes sense, I once again turn to my model. The robust foot traffic data delivered in Target's most recent quarter gives me the confidence that my estimated 1.7% annual top line growth rate could prove to be overly conservative, and that my projected 23.0% opex-to-revenue ratio might be a bit too low as wages should continue to rise.
See updated model below.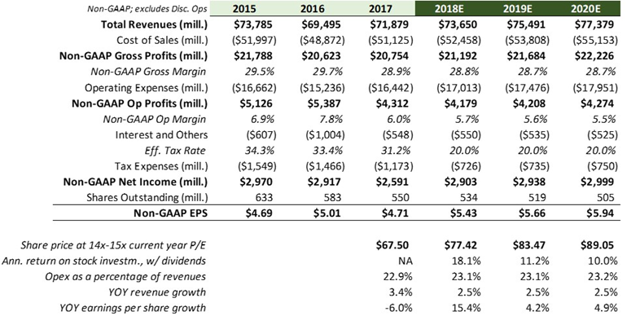 Source: DM Martins Research
I adjust my model to capture my revised expected revenue growth rate of 2.5% per year through 2020. Helping to support momentum is likely to be a spike in merchandise volume sold, aided by increased foot traffic and an evolving digital channel, especially as Target's "strategic focus on affluent urban markets, improved shopping experience and convenience (store pickup, faster delivery), and well-performing brands [continues to] bear fruit."
Capping the sales hike are likely to be pricing pressures caused by an increasingly competitive landscape of everyday low price, along with footprint (i.e. number of stores open and/or square footage) that I don't expect to increase significantly.
On profitability, I lower my 2020 op margin projections from 5.7% to 5.5%. Driving the dip are higher SG&A charges, particularly as Target's minimum wages are expected to rise 36% over the next two years, to $15/hour. Helping to counter the increase in personnel costs are (1) continued efficiency gains and (2) lower investments in store remodeling, which I expect to start phasing out next year.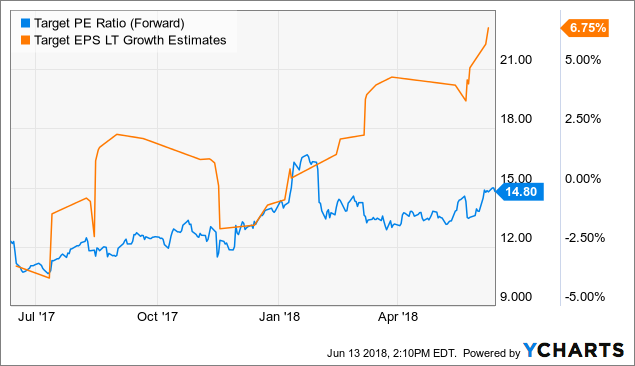 On valuation, I find it unlikely that TGT's forward P/E multiple will move much higher than 15.0x, if at all. The stock currently trades at 14.8x, nearly three turns above the bargain levels of August 2017. Earnings growth would need to pick up the pace for significantly higher valuation levels to be justified, and I am just not ready to bet on such a move.
I continue to project that TGT will trade at 15.0x forward earnings by 2020, and that valuation expansion will not play a crucial role in the stock price's movement between now and then. My current price target, therefore, gets adjusted slightly down to $89/share.
So when should I sell TGT?
All accounted for, I remain fairly confident that TGT will reach my new price target of $89/share within the next 18-24 months, and I find the 10% annualized potential upside still enticing. At the same time, I find it unlikely that revenue growth (considering the already strong economy today) and margin resilience (considering pricing pressures and higher SG&A) will impress beyond my expectations, suggesting that a stock valued at much more than my current price target in the next few quarters is also not very probable, in my opinion.
As a result, I will continue to hold TGT for now. But if or when the stock reaches $85 apiece, eating away much of the upside potential, I will very likely be ready to hit the sell button and call this investment play a successful one.
Disclosure: I am/we are long TGT.
I wrote this article myself, and it expresses my own opinions. I am not receiving compensation for it (other than from Seeking Alpha). I have no business relationship with any company whose stock is mentioned in this article.