We continue to remain long L Brands (LB) and will collect the dividends until shares come back into the green. Investors often forget the scope, for example, of the Victoria's Secret brand. It is the clear preferred millennial brand and although its gross margins have fallen under 40% recently, one can point to the culling of apparel & swimwear as being the obvious reason for the temporary drop in profit.
Furthermore, we finally are seeing signs that an inflection point concerning sales growth could be near. Many analysts on the recent earnings call questioned a possible return to Swim in reviving sales growth per say but it is not going to happen and here is why. Sometimes a company needs to take 2 steps back to take one step forward. In fairness to Les Wexner, he took the ruthless decision of culling Swimwear which once upon a time brought in half a billion dollars to the business. Why did he do it? He felt he could grow the business faster without it. That one step forward now seems to be within striking distance and the company is now far more focused on its core categories and other areas like lingerie, sport, beauty, etc.
I took some flak (in relation to remaining long L Brands) from some subscribers but I still view this company as being undervalued. L Brands took the very similar route to Procter & Gamble (PG) in that P&G also culled brands that were not delivering enough in order to focus more on its core products. Have LB investors had to wait for the turnaround far longer than anticipated? Yes, but that doesn't mean the turnaround has failed. Here are other areas where I see L Brands making inroads in the not-too-distant future.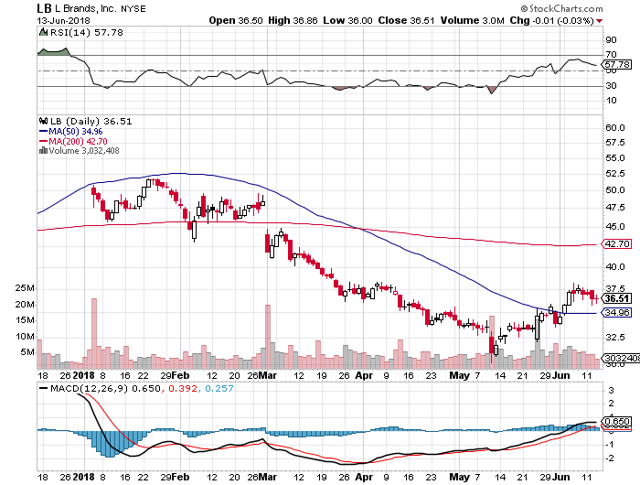 Whereas the company before relied solely on its brand to bring customers in-store, now the retailer is becoming far more aggressive with respect to driving traffic in-store through promotions at high peak shopping times of the year. Management on the earnings call talked about how it moves the new customer up through the funnel through service and new merchandise. From a pure sales perspective, this makes sense as long as profit erosion doesn't hurt too much on the front end. It is a known fact that once a customer moves up through the funnel by buying more expensive merchandise, the probability of that customer coming back is greatly enhanced. Long-term investors won't mind seeing some margin erosion on the front end if customer numbers are increasing. This is what we will be focusing on over the next few earnings reports instead of the core earnings and margin numbers.
L Brands is doubling down on China which could end up being a huge market for the retailer. Why? Well, the middle-class Chinese who are hungry for the western lifestyle will let you know pretty quickly whether your brand will be a hit or miss. First impressions from the 5 initial Victoria's Secret stores which opened in Q4 last year look good in that the company will open 10 more fully kitted out brick and mortar stores by the end of the year. This market will let us know pretty quickly about the strength of Victoria's Secret brand. Although the company is remaining tight-lipped about more store openings, I expect at least a similar investment in 2019 if all goes according to plan. Again investors need to remain patient with added investment cost here.
Wexner is also doubling down on the company's stores and again many see this as a bold move. Why? Well, look at the number of retailers which have gone to the wall or have closed shops down en masse in order to focus on the digital channels. The best time to invest in a segment of your business is when the masses are running the other way. Mall traffic may be on the decline but it will bottom. I acknowledge the fact that retailers with little to none competitive advantages will find it difficult to compete with online competition going forward. However, L Brands has successful, proven brands and knows its regular customers want these stores. This is what Wexner is banking on and I believe he is spot on.
Again this could be a slow burner here but we will stay the course. Long L Brands.
Disclosure: I am/we are long LB. I wrote this article myself, and it expresses my own opinions. I am not receiving compensation for it (other than from Seeking Alpha). I have no business relationship with any company whose stock is mentioned in this article.