Oil prices rose and a very disappointed Chesapeake Energy (NYSE:CHK) cheer-leading section glumly watched the stock stagnate or even decline. Now there has been enough stock price action to rouse those cheerleaders into action. Coming to the aid of all that optimism is the long-awaited gas price news that may aid the stock price progress.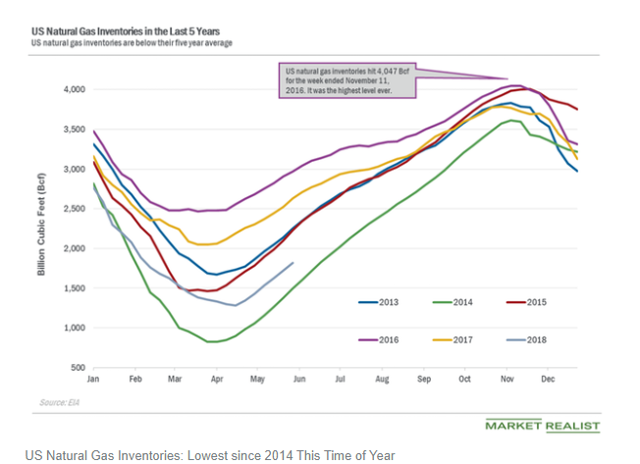 Source: Market Realist article on Yahoo Finance Website
It has been a long time since gas prices have done anything other than decline. There have been some rallies along the way before gas prices declined to a new low the next time around. How the low inventories will affect future gas prices remain to be seen. But a primarily gas producer like Chesapeake Energy will take any good news that can be found after years of price declines to previously unimaginable levels.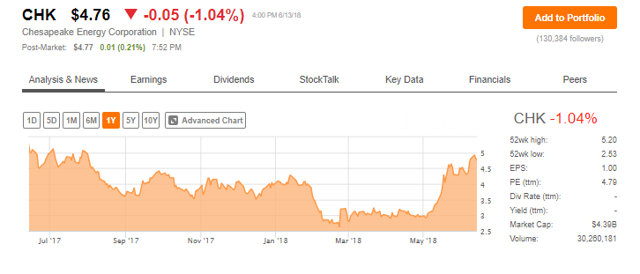 Source: Seeking Alpha Website June 13, 2018
The stock is showing signs of life by climbing from abysmal levels to low levels. Still the doubling of the stock price from its lows is the kind of action that brings out the cheerleaders for a much higher price and more profits. Wise investors that doubled their money from the low price should be inclined to "take some money off the table" by cashing in some profits. Wall Street has a saying that "some days the bulls win and some days the bears win. But the pigs never win."
That is almost always true of a financially weak company like Chesapeake Energy. Maybe this will be the start of one of those storied 600% runs. But nothing is guaranteed in this era. Management needs to use any break in the stock price like this latest rally to repair the balance sheet at a relatively low cost to shareholders.
Chesapeake Energy has been short on necessary cash flow levels and very high on long-term debt. The main benefit of a common stock rally like this is the ability to trade equity for debt at a reduced cost of dilution to current shareholders.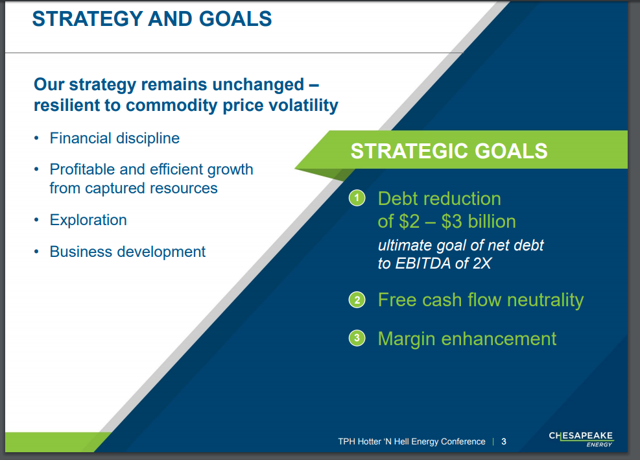 Source: Chesapeake Energy TPH Hotter 'N Hell Energy Conference May 16, 2018
Two large goals that remain high on the wish-list attest to the damage that low gas pricing has done to this company. The debt reduction has been a goal ever since I wrote my first article on the company. Sadly, over the last few years, management has not made a dent in that debt reduction goal despite some property sales. If the market finally perceives that higher gas prices are "here to stay" for a while, then maybe enough accretive property sales can be made to finally achieve that debt reduction goal without damaging the cash flow from operations in the process.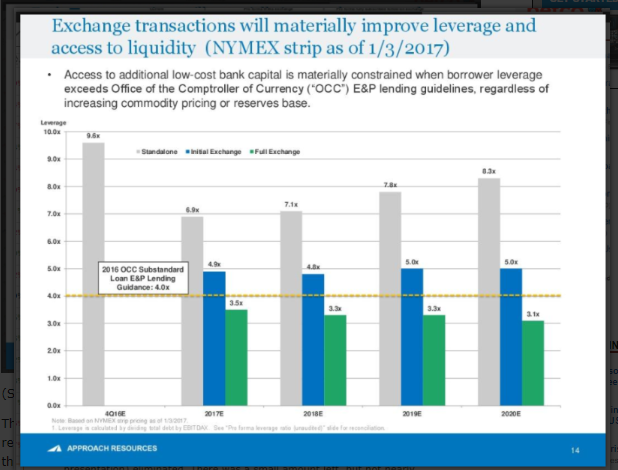 Source: Approach Resources article on Seeking Alpha website
The original presentation appears to be gone now, so an older article is referenced for this slide. This management is well aware that cash flow needs to be related to the long term debt as shown in the slide above. The debt due profile is extremely favorable because not much debt is due for awhile. Against considerable odds, management successfully refinanced a lot of debt to buy the company more time for production to profitably grow and bail the company out of its debt straitjacket.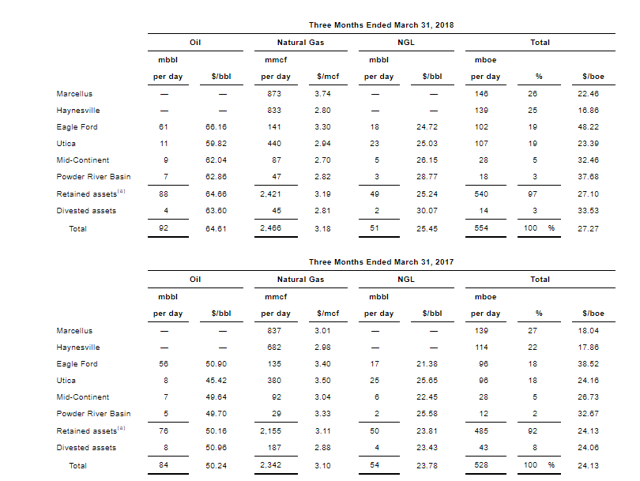 Source: Chesapeake Energy First Quarter, 2018, Earnings Press Release
The largest problem up until now has been the lack of oil production increase. Management has had a liquids emphasis for some time. But as shown above, the results have yet to appear. Large companies like Chesapeake Energy have a very hard time realigning their production mix to a more profitable product line. Clearly, there was some progress as shown above. But not nearly enough progress to make a dent in the pathetic cash flow reported.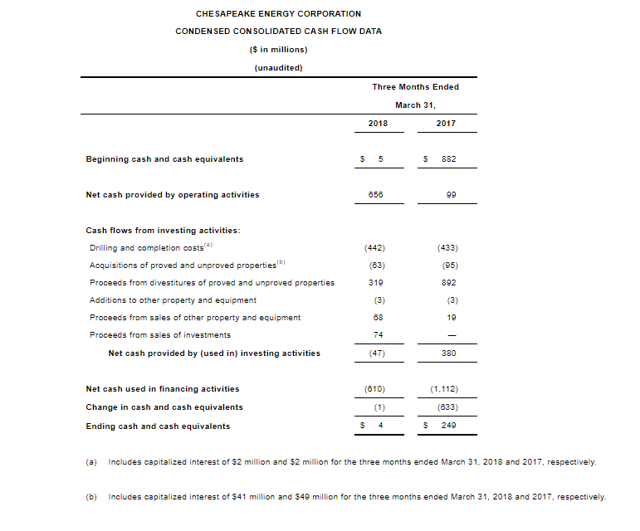 Source: Chesapeake Energy First Quarter, 2018, Earnings Press Release
Most of the cash flow improvement shown above was due to the lack of one-time payments that had plagued management for many quarters. Even so, the debt reported is close to $10 billion. Therefore most lenders would want to see at least $3 billion in annual cash flow. They would probably prefer $5 billion in cash flow when negotiating their best rates. Plus the company needs a cash flow cushion to be ready for the next inevitable commodity price downturn.
That is why "time is of the essence." That higher stock price allows management to do either accretive acquisitions to improve cash flow or trade equity for debt in a less costly manner than would have been the case just a few months back. Finding the appropriate opportunities is another barrier to progress. It will be very interesting to see how long the higher prices last and what management does during this period of higher pricing.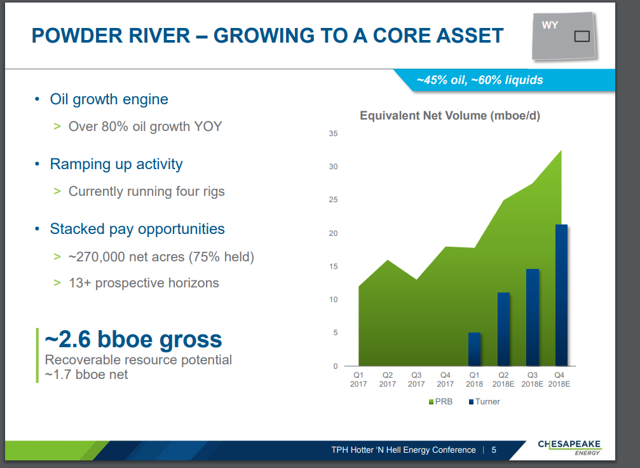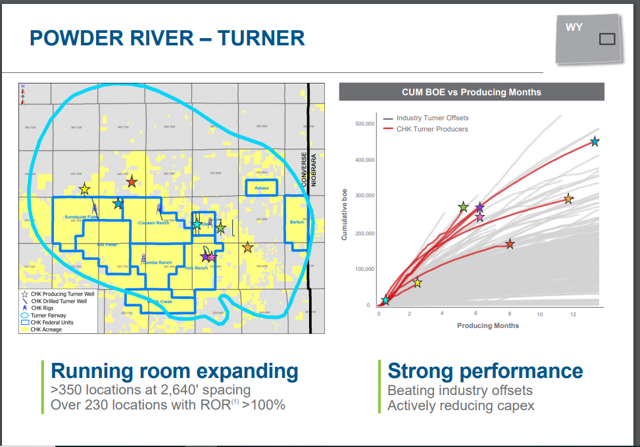 Source: Chesapeake Energy TPH Hotter 'N Hell Energy Conference May 16, 2018
Interestingly, management is betting quite a bit of the capital budget on a basin that has not recently been a major oil producer. The growth in this production may be a harbinger of things to come. But progress here will not make a material difference in the financial results this year because Chesapeake Energy is simply too large. Continued success, however, combined with a few growth years could change the materiality considerably.
The company is running 4 rigs in this basin. Therefore management clearly expects big things from this basin in the future. Expected success could herald the emergence of still another major oil producing basin in the United States. The kind of results shown above will attract competitors to the area. That is especially true of competition that is weary of the Permian bottlenecks and pricing discount. Should that happen, the company appears to have some major infrastructure advantages over potential competition at the current time.
Many large companies like Chesapeake plan ahead on the associated production needs "just in case." But in this industry, such advantages can disappear overnight under the right circumstances. Right now, management appears to be happily growing production as fast as is prudently possible. There also appears to be more than enough pipeline capacity to support current growth plans.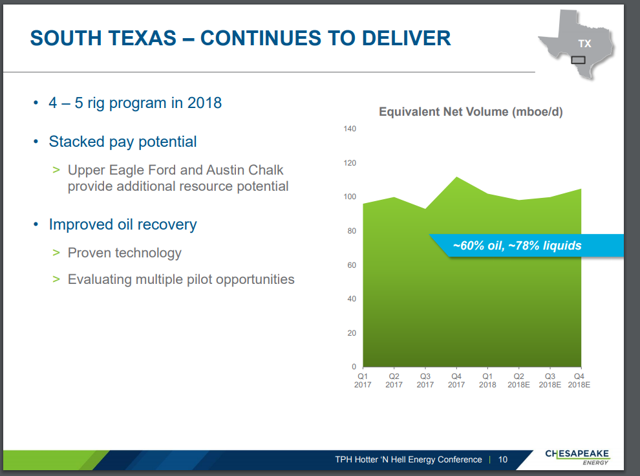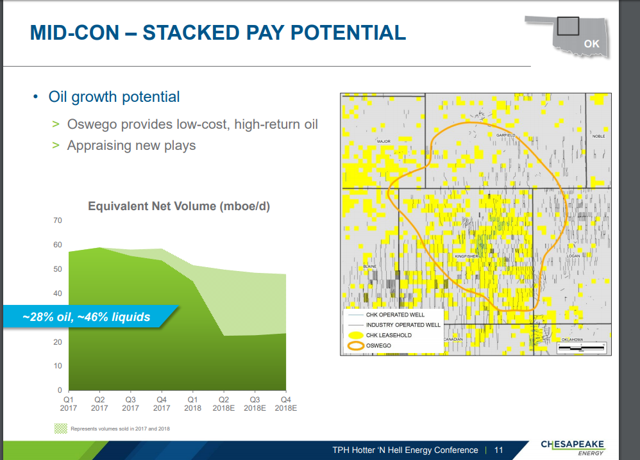 Source: Chesapeake Energy TPH Hotter 'N Hell Energy Conference May 16, 2018
Clearly management is drilling for a far larger percentage of oil and liquids than was true in the past. It would be ironic if gas prices aided cash flow materially for the first time in a few years. However, in the long term, oil appears to be more profitable so the strategy of drilling for more liquids appears reasonably justified.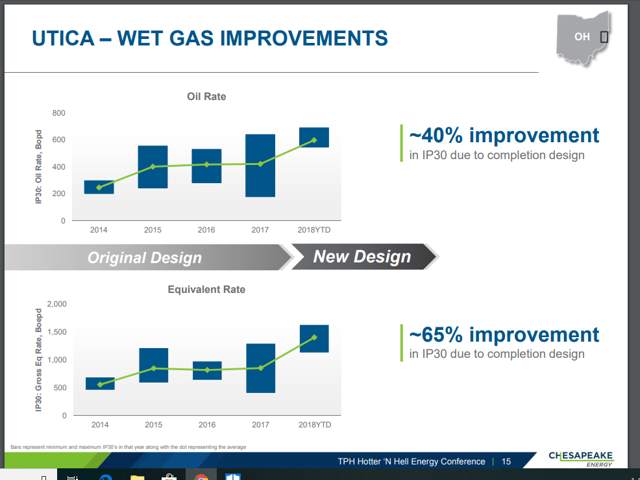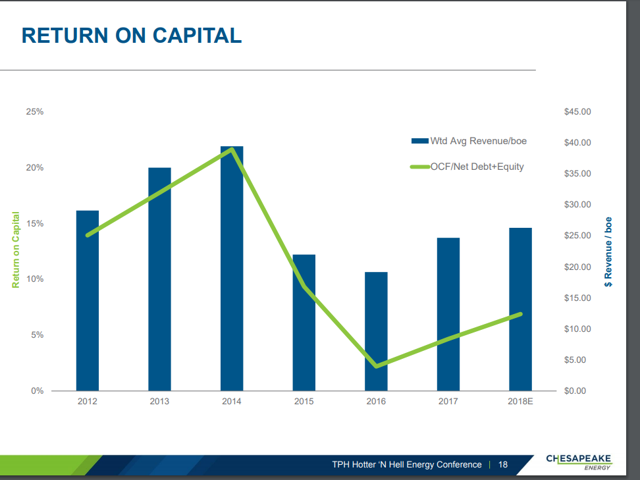 Source: Chesapeake Energy TPH Hotter 'N Hell Energy Conference May 16, 2018
Even primarily gas-producing leases have been re-evaluated to emphasize producing more profitable liquids. The return on capital shown above is finally moving in the right direction. But it still appears to be an uphill battle for the company to outgrow the long-term debt straitjacket.
In the meantime, the company may be able to use the recent stock price rally to meaningfully reduce long term debt. Management has previously done some debt for equity swaps but it has been a while since those were completed. It may be time to revisit the strategy. Every little bit of cash flow aid is sorely needed. Management has done well to make the progress shown above. Not many managements would have made that progress.
However, there is still a long ways to go before this stock is investment grade material. Until that time of financial strength upgrading, this stock is a trading only opportunity. There is still a very real risk of 100% loss of a common stock investment. Therefore, only very disciplined traders should consider this stock for investment. Widows and orphans need not apply. The current stock price rally could extend into one to tell the grandchildren about. But the rally could end tomorrow. Right now, it is hard to make a fundamental case for stock price improvement. Clearly, the latest rally is at the "hope springs eternal" stage. This management needs to take advantage of that hope promptly.
Disclaimer: I am not an investment advisor, and this article is not meant to be a recommendation of the purchase or sale of stock. Investors are advised to review all company documents and press releases to see if the company fits their own investment qualifications.
I analyze oil and gas companies like Chesapeake Energy and related companies in my service, Oil & Gas Value Research, where I look for undervalued names in the oil and gas space. I break down everything you need to know about these companies -- the balance sheet, competitive position and development prospects. This article is an example of what I do. But for Oil & Gas Value Research members, they get it first and they get analysis on some companies that is not published on the free site. Interested? Sign up here for a free two-week trial.
Disclosure: I/we have no positions in any stocks mentioned, and no plans to initiate any positions within the next 72 hours.
I wrote this article myself, and it expresses my own opinions. I am not receiving compensation for it (other than from Seeking Alpha). I have no business relationship with any company whose stock is mentioned in this article.