After its recent slide, shares of D.R. Horton (DHI) now trade at their lowest valuation in years, at just 6.5 times my FY-18 (Sep.) pretax profit estimates.
Despite persistent, unfounded fears of a housing slowdown - existent since the housing markets 2012 bottom - and rising mortgage rates, DHI continues to prove itself as homebuilding's most consistent grower of profits. That's no small feat since it's also the country's largest builder, accounting for about 8% of all new single-family homes sold.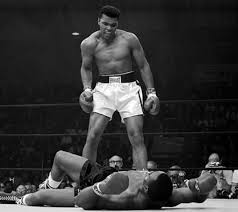 With solid visibility into 25-30% profit growth in both FY-18 and FY-19, Horton is positioning itself for high future returns while minimizing operational and financial risk inherent to the industry.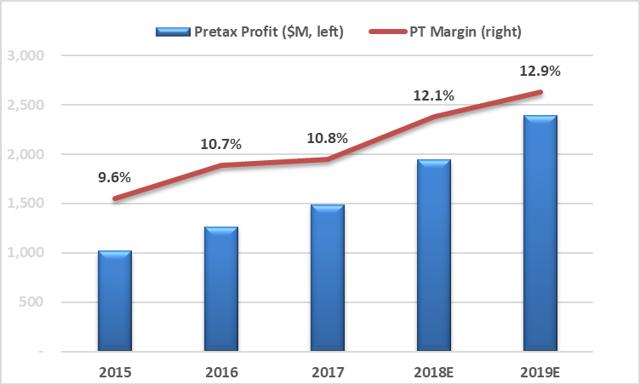 Source: SEC filings, SMR estimates.
De-risking starts with the balance sheet. At less than 15% net debt to total capital, the company is less leveraged than any national builder. Total debt of only $2.5 billion at FY-end 2017 is a fraction of its two largest peers' Pulte (PHM) and Lennar (LEN). (Each of these peers has made large acquisitions funded partly by debt over the past decade, while the vast majority of DHI's growth is internally generated.)
Backed by a superior balance sheet and lower cost of capital (<4% avg. interest rate), D.R. Horton is well positioned to achieve substantial growth opportunities.
Size And Scale
Despite its modest capital base, DHI controls more lots, or homesites, than any builder.

Source: SEC filings, SMR estimates.
Horton also sells homes into more communities, or subdivisions, than any homebuilder. With operations in about 80 metro areas in 26 states, and leading share in numerous key housing markets (e.g., S. Fla, Houston, Inland Empire, etc.), the company benefits from broad-based demand. Yet with no single market accounting for more than 7% or 8% of sales, geographic diversification limits exposure to local or regional economies.

Source: SEC filings, SMR estimates.
Over these past few years the company's heightened its focus on the relatively under-served first-time and move-up buying segments – marketed mainly through its Express (~$225,000) and D.R. Horton (~$320,000) brands. Even as many other builders have skewed their operations toward more affluent homebuyers to achieve wider increases in home prices, DHI has renewed its focus on affordability. And while Horton does build second move-up and even luxury properties via its Emerald Homes brand, these higher end properties account for only about 10% of annual revenues.
At a time when affordability is a major obstacle for many potential home buyers, DHI continues to offer by far the lowest average home prices among these production builders.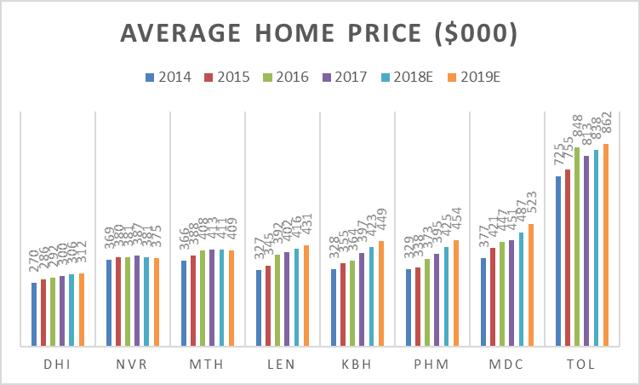 Source: SEC filings, SMR estimates.
However, in DHI's case, home price does not necessarily correlate to margins. Costs in terms of land acquisition is a key factor, and most of DHI's land acquisition is underwritten to achieve gross margins of 20% to 25%. At around 21% (including capitalized interest), DHI's gross margins are roughly the same as upscale builder Toll Brothers', while also being above the overall peer average.
Then, as you move further down the income statement to overhead expenses, scale advantages accruing to Horton become increasingly apparent. Corporate overhead, almost an entirely fixed cost, continues to trail corresponding sales increases. Even marketing expenses are scaled against its massive unit volumes (in FY-18 DHI should sell about 53,000 homes).
Thus, the company's total overhead is easily the industry's lowest, further testimony to DHI's scale and its superior management (Don Horton: "fast nickels – not slow dimes"). Since 2012, the builder's reduced its overhead from about 11% of sales, to less than 9%, as its grown the number of homes closed by about 20% annually.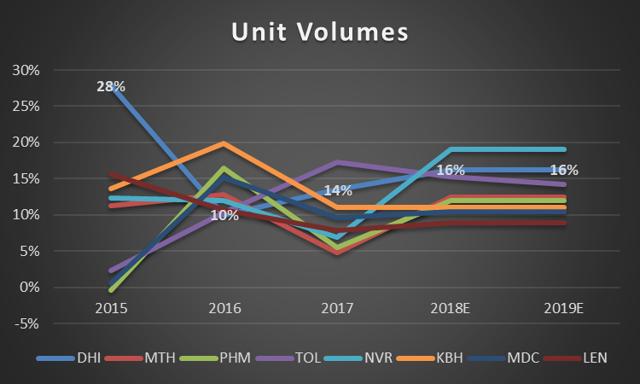 Source: SEC filings, SMR estimates.
Besides selling into a larger market segment, DHI's more affordably priced product connotes numerous important advantages in terms of (lower) risks and (higher) returns.
The key risk in a homebuilder is inventory, primarily risk associated with land, and to lesser extent spec homes – although most of DHI's homes are sold before they're built. Its entry-level and move-up homes require less inventory and with shorter-lives – due to looser regulations and faster permitting typical for this more affordable product. The multi-decade long success of its land buying strategy is built around buying B- or C-lots and turning them into an A-subdivision through internal efficiencies.
Permitting a community can run several years, especially in highly regulated states like California, New York and New Jersey. This partly explains why higher-priced Toll, Tri Pointe (TPH) and even Pulte (with a greater concentration in large, active-adult communities) must carry five or six years' worth of homesites, versus just three or four at D.R. Horton. It also helps illustrate how DHI will deliver nearly 10% more homes than Lennar in 2018 from an inventory level that's some 20% lower.
Return-Driven Model
D.R. Horton turns this inventory faster than any national* builder, a key element to its attractive returns on capital. (*NVR is regionally focused, and it buys all its land via option contracts. More about NVR.) DHI's land purchases aim for a 20% ROI (return on inventory), based on pretax income for each community.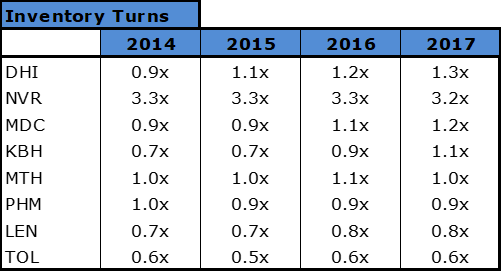 Source: SEC filings.
As the improving first-time buyer segment plays to DHI's established strengths, the company is further leveraging its operating advantages into higher returns. The key homebuilding metric for "same-store" sales is absorption rate – monthly sales per neighborhood. Since 2013, DHI's increased its pace of sales by more than 40%, to an estimated 2.4x. Spread across close to 2,000 communities, it adds up.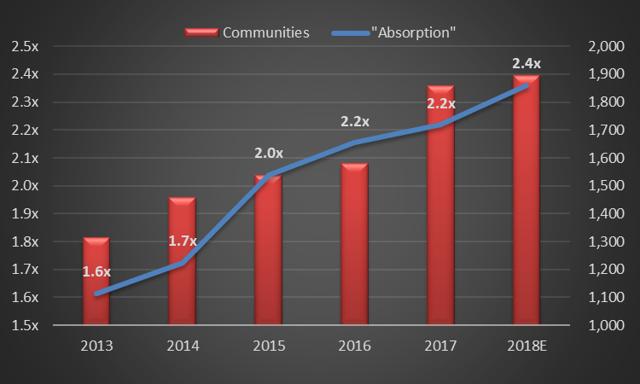 Source: SEC filings, SMR estimates.
In its most recent quarter the company increased its orders by 13% despite selling from slightly fewer subdivisions than during the prior March.
At the same time, Horton's enhancing returns (and reducing land-based risk) by boosting its proportion of land purchased through option contracts. Soon after reaching its goal of raising the percentage of optioned lots to 50% of its controlled homesites in FY-17 (vs. just 32% in FY-15), the company acquired a 75% interest in publicly traded land developer Forestar Group (FOR).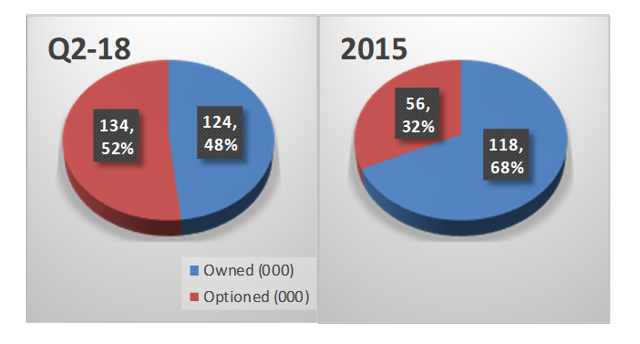 Source: SEC filings.
Boosted by its majority interest in FOR, DHI plans to raise its optioned lot count to 60% of the total by 2020, at which time FOR should provide 10,000 homesites.
Valuation and Target Price
Even as company and industry demand continue to strengthen, homebuilding shares have suffered a moderate YTD decline – mainly due to concerns around rising interest rates. Currently priced around $43, shares of D.R. Horton are valued at just over two times current book.
Over the next year, investors should become more comfortable with rates and the overall housing market's ongoing recovery – where new homes sales are only now back to levels from the mid-1990's.
As broader sentiment around housing improves, shares of industry leader DHI will be among the main beneficiaries. By this time next year, I expect investors to merit this best-in-class homebuilder a price of $55, implying about a 30% total return, based on a discounted 8.3 times multiple applied to forecast FY-19 pretax profits.
Disclosure: I am/we are long DHI, LEN, NVR. I wrote this article myself, and it expresses my own opinions. I am not receiving compensation for it (other than from Seeking Alpha). I have no business relationship with any company whose stock is mentioned in this article.