The Fed goes bold. On Wednesday, the U.S. Federal Reserve emerged from their latest FOMC meeting on monetary policy. The fact that they decided to raise interest rates for the fifth time in its last six press conference meetings was already accepted as given. Instead, Jay Powell continued to make a splash in his relatively new role as Fed Chair by striking a bold tone about the course of monetary policy going forward. It's full steam ahead for the Fed, which has important implications for portfolio strategy for the summer and the year ahead.
The Fed is finally getting back to normal. After Ben Bernanke took easy monetary policy to the extreme, Janet Yellen was a hawk in dove's clothing including completely winding down the Fed's asset purchase program, raising interest rates by a quarter point on five different occasions and initiating the process of winding down the Fed's bloated balance sheet. Current Chair Jay Powell, who took the reins in February, continues to move the Fed on a hawkish course.
He raised interest rates for a second time on Wednesday while at the same time stripping much of the soothing Fed speak from the announcement. At the same time, he announced that all 2019 FOMC meetings would be followed by press conferences, thus effectively putting them in play for potential rate changes. Lastly, the Fed revised their growth forecast higher, which was perhaps the most notable move of them all.
Looking past global risks. What made the Fed's latest announcement bold was the fact that they not only showed no hesitation in the wake of mounting geopolitical and global market risks, but they upped the ante on their optimism about the prospects for the U.S. economy.
Whether the Fed will be right or wrong in their economic forecast remains to be seen, as their track record during the post crisis period is spotty at best. Instead, what Jay Powell and the Fed declared on Wednesday is that they remain set on raising interest rates and tightening monetary policy regardless of what is taking place in Italy, across Europe, in emerging markets, or on the international trade front.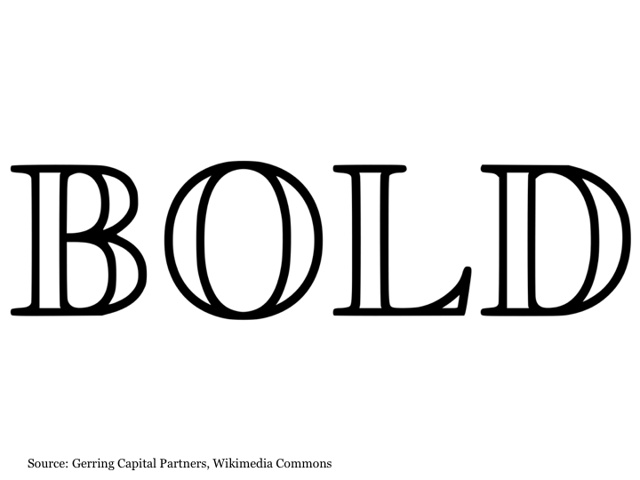 The Fed's is bullish on the U.S. economy.
"The decision you see today is another sign that the U.S. economy is in great shape... Growth is strong. Labor markets are strong. Inflation is close to target."
- Jay Powell on Wednesday following the Fed's latest FOMC meeting
Is the U.S. economy in great shape? Or are we still in nothing more than the afterglow of global central banks having pumped nearly $15 trillion into the global economy over the past several years fanned by a major corporate tax cut at the start of 2018. Put more simply, is this growth real and sustainable? After all, I heard all about global synchronized growth last year, yet it is proving unfounded as the central bank liquidity tide slowly recedes around the world. And is the projected 2.5% real growth beyond a potential 2018 sugar high really great shape or simply more of the same during the post crisis period.
About labor markets and inflation. Indeed, labor markets are strong, but is this a good thing or a bad thing at this point from a market perspective? The following chart looks more like overdue recession to me than anything else.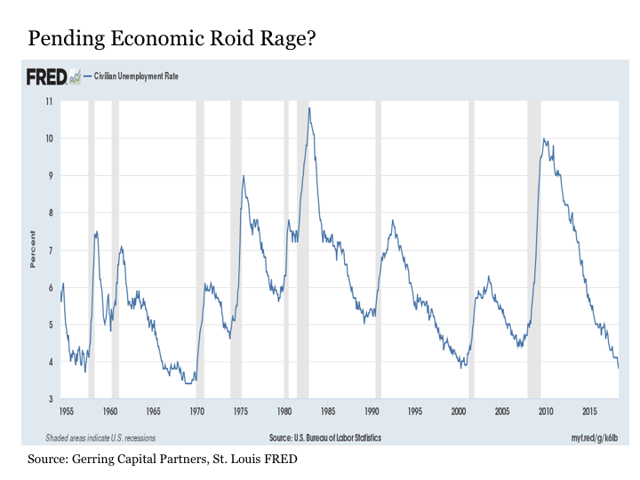 And while inflation is indeed close to target, it has been a "mystery" by the Fed's own admission in remaining stubbornly weak despite a decade's long prodding from policy makers in batting the deflationary threat that still looms in the shadows today.
What if the Fed is too bullish on the economy? The Fed's bold moves on monetary policy have important implications for portfolio strategy moving forward. It is raising risks in some segments of capital markets, while creating opportunities in others.
The risks have been increased to the downside for U.S. stocks. The risk is not necessarily in the immediate term or the short term, as current momentum appears likely to propel the U.S. stock market as measured by the S&P 500 Index to new all-time highs before it's all said and done. But the Fed going bold means more rate hikes sooner. And with U.S. stocks still at historically high valuations despite the jump in share buybacks and boost to after tax earnings thanks so far in 2018, the weight of downside pressure on equities in the intermediate term to long term is mounting.
Moreover, if either the U.S. economy or corporations fall short on their currently rosy growth forecasts, then this downside pressure is only likely to build. And if stocks were to start to fall into a sustained decline, investors can no longer be certain that the Fed will simply ride to the rescue the way they have so many times before during the post crisis period. After all, the Fed is going bold.
The risks have been increased to the upside for U.S. Treasuries. What? How can the Fed raising rates be positive for U.S. Treasuries? Simple. Because the weight on the scales associated with the Fed's current actions are tilted toward bonds over stocks. How? It all depends on the current state of the economy. For if the Fed was raising interest rates because economic growth and inflation was running hot, then this might be good for stocks but would be bad for bonds.
But that's not at all what is taking place today. Instead, the Fed is going increasingly bold with raising interest rates in an economy that is experiencing solid but unspectacular growth and inflation that is barely "close to target" despite seemingly boundless global policy support for nearly a decade. In short, higher rates are more likely to result in a recession, which is good for Treasuries and bad for stocks, than anything else given the economic backdrop.
The market is confirming this waning outlook for economic growth. One has to look no further than the U.S. Treasury yield curve for signals favoring the looming recession outcome, as the spread between the 10-year Treasury and 2-year Treasury yield fell to a fresh new post crisis low following the Fed announcement at a mere 39 basis points. Not yet inverted, but well on its way.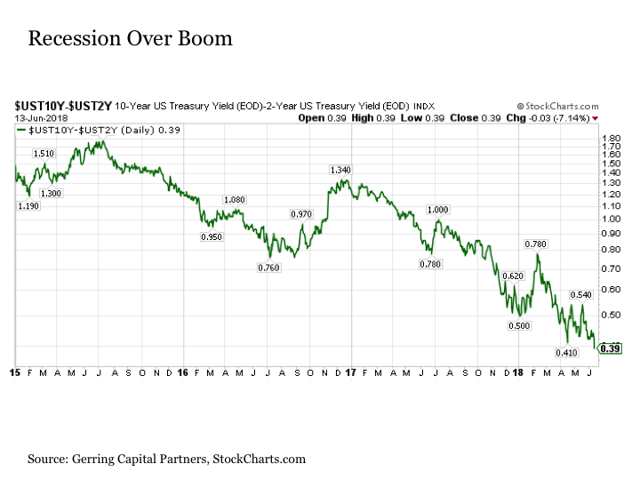 The investor with a pulse continues to agree. Institutional and retail investor money flows continue to favor bonds over stocks. For example, since the start of 2018, a net -$52 billion has flowed out of domestic equity ETFs and mutual funds according to the Investment Company Institute. At the same time, a net +$117 billion has flowed in to bond ETFs and mutual funds. This is an important ongoing tailwind for bonds as well as a notable headwind for stocks once central bank liquidity and corporate stock repurchases get shut off.
What about the Fed "selling" and the rising debt? First, it is important to note that the Fed is not selling Treasuries as part of their program of winding down their balance sheet. Instead, they are simply letting existing Treasury holdings mature and not reinvesting the proceeds to buy new Treasuries. As for the rising debt, as long as demand is sufficient to absorb the increase in supply, then rates can remain low.
Opportunities remain best at the long end of the Treasury curve. Fed rate hikes have had a profound impact on the short end of the Treasury curve as would be expected in a Fed rate hiking cycle.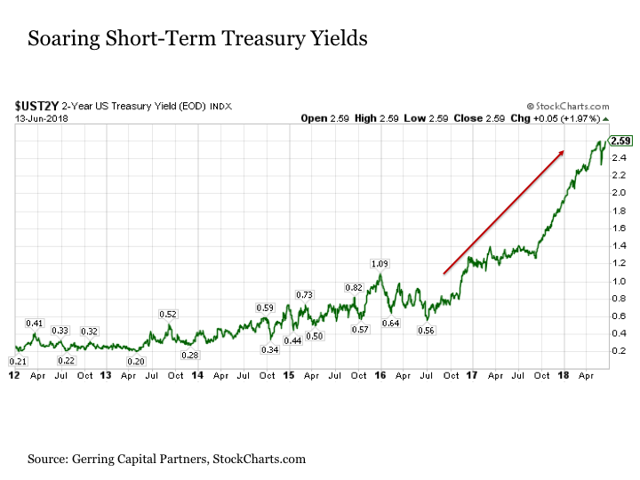 But as for the long end of the curve, the trend in yields remains definitively to the downside with various levels of technical support to keep yields in check.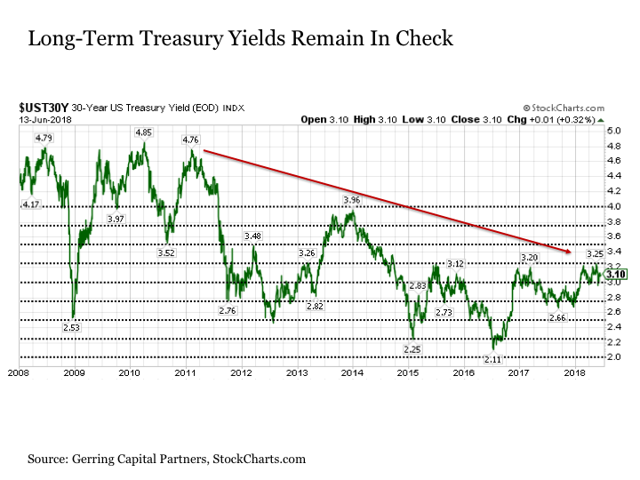 Could long-term yields trend higher in the near future? Absolutely. Are we setting up for a sustained blow out in yields to the upside on the long end of the curve? Given that we are no higher on the 30-year yield versus where we were both 18 months and 3 years ago in an environment where the Fed is now moving aggressively to raise interest rates with still benign inflationary pressures, such an outcome appears increasingly unlikely. Instead, an eventual move lower in long-term rates appears to be the more likely outcome.
Own both, but favor long-term U.S. Treasuries over stocks going forward. Stocks and long-term interest rates may continue to rise in the near term, but such trends will present opportunities for investors with an intermediate term to long-term investment horizons. For despite all of the talk of strong economic growth and rising inflationary pressures, the risks to the economic and market outlook are continuing to bias to the downside. And the Fed's latest announcement on Wednesday only added to this direction. Such is an environment that favors owning long-term U.S. Treasuries and biasing toward more defensive allocations in equity strategies.
Disclosure: This article is for information purposes only. There are risks involved with investing including loss of principal. Gerring Capital Partners makes no explicit or implicit guarantee with respect to performance or the outcome of any investment or projections made. There is no guarantee that the goals of the strategies discussed by Gerring Capital Partners will be met.
Disclosure: I am/we are long TLT. I wrote this article myself, and it expresses my own opinions. I am not receiving compensation for it (other than from Seeking Alpha). I have no business relationship with any company whose stock is mentioned in this article.
Additional disclosure: I am long selected individual stocks as part of a broad asset allocation strategy.