On August 1, 2007, as the evening rush hour traffic crawled along Interstate 35W in Minneapolis, Minnesota, the unthinkable happened: the Interstate 35W bridge collapsed into the Mississippi River 64 feet below, killing 13 people and injuring 145.1
Nearly ten years later on February 7, 2017, in Oroville, California, officials evacuated more than 180,000 people after severe erosion on the Oroville Dam - the tallest dam in the U.S. - necessitated emergency releases of Lake Oroville water to avoid catastrophic floods.2 Although a decade apart and in different regions of the country, these events are symptomatic of the slow-motion crisis in American infrastructure that has been unfolding and continues to the present day.
The American Society of Civil Engineers' 2017 Infrastructure Report Card gave the U.S. a D+, finding nearly 1 in 10 bridges "structurally deficient," including the bridge that collapsed in Minnesota.3 17% of dams are deemed a "high hazard potential,"4 while U.S. transit systems face a huge rehabilitation backlog to the tune of $90 billion.5 The picture is similarly dismal in other categories such as energy resiliency, ports, rail, and schools.6
American Bridges Are Falling Apart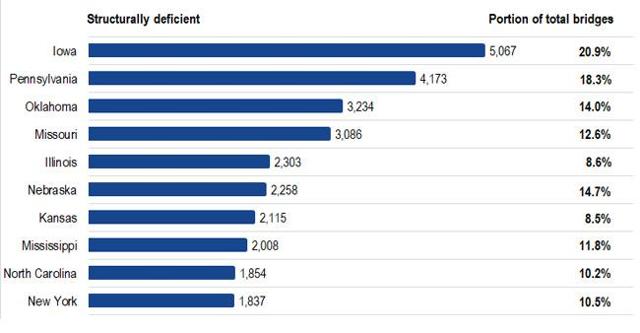 Source: U.S. Department of Transportation Federal Highway Administration. Data as of 12/31/2017.
As a candidate, President Trump famously promised a $1 trillion infrastructure plan, and the White House mentioned figures as high as $1.5 trillion after he took office. When unveiled in February, the administration's plan called for only $200 billion in federal spending over the upcoming decade, offloading much of the remaining costs to states, local governments, and the private sector in the form of public-private partnerships.7
Despite the urgency of the crumbling infrastructure and the lack of federal funding, state and local infrastructure spending have not increased to address this issue. The opposite is the case: state and local spending on infrastructure as a share of GDP is actually at a 30-year low.8
This historically low state spending is occurring at a time of very low interest rates and anticipated rate hikes by the Fed, which ordinarily should provide strong incentives for states to lock in low rates while they still can to finance infrastructure projects. According to Moody's, although most states have plenty of room to run up their debts (with the notable exception of Illinois), they are choosing not to do so, exercising an unusual amount of fiscal restraint, especially given the infrastructure crisis.9
This marked reticence of states to borrow could point to a fundamentally more fragile economic picture than the stock market, the Federal Reserve's comments, or recent headlines seem to indicate. In spite of strong incentives to borrow and finance badly-needed infrastructure projects, states are - broadly speaking - taking a very conservative approach. They do not appear ready or willing to take on more debt, nor do they wish to boost taxes - none of which bodes particularly well for the future of American infrastructure.
Post Disclosure
1 NPR. "10 Years After Bridge Collapse, America Is Still Crumbling." Aug. 1, 2017
2 California Department of Water Resources
3 NPR. "10 Years After Bridge Collapse, America Is Still Crumbling." Aug. 1, 2017
4 2017 Infrastructure Report Card
5 Ibid.
6 Ibid.
7 The Washington Post. "Trump's big infrastructure plan has a lot of detail on everything but how to pay for it." Feb. 11, 2018
8 Denter on Budget and Policy Priorities
9 Moody's. "Moody's: Slow Growth in US State Debt Continues for Fifth Straight Year." Apr. 24, 2018.
IMPORTANT MUNI NATION® DISCLOSURE
This content is published in the United States for residents of specified countries. Investors are subject to securities and tax regulations within their applicable jurisdictions that are not addressed on this content. Nothing in this content should be considered a solicitation to buy or an offer to sell shares of any investment in any jurisdiction where the offer or solicitation would be unlawful under the securities laws of such jurisdiction, nor is it intended as investment, tax, financial, or legal advice. Investors should seek such professional advice for their particular situation and jurisdiction.
VanEck does not provide tax, legal or accounting advice. Investors should discuss their individual circumstances with appropriate professionals before making any decisions. This information should not be construed as sales or marketing material or an offer or solicitation for the purchase or sale of any financial instrument, product or service.
Please note this represents the views of the author and these views may change at any time and from time to time. MUNI NATION is not intended to be a forecast of future events, a guarantee of future results or investment advice. Current market conditions may not continue. Non-VanEck proprietary information contained herein has been obtained from sources believed to be reliable, but not guaranteed. No part of this material may be reproduced in any form, or referred to in any other publication, without express written permission of VanEck. MUNI NATION is a trademark of Van Eck Associates Corporation.
All indices listed are unmanaged indices and do not reflect the payment of transaction costs, advisory fees or expenses that are associated with an investment in a fund. Certain indices may take into account withholding taxes. An index's performance is not illustrative of a fund's performance. Indices are not securities in which investments can be made.
The Bloomberg Barclays Municipal Bond Index is considered representative of the broad market for investment grade, tax-exempt municipal bonds with a maturity of at least one year. The AAA and BBB indices are sub-sets of this broader index.
Municipal bonds are subject to risks related to litigation, legislation, political change, conditions in underlying sectors or in local business communities and economies, bankruptcy or other changes in the issuer's financial condition, and/or the discontinuance of taxes supporting the project or assets or the inability to collect revenues for the project or from the assets. Bonds and bond funds will decrease in value as interest rates rise. Additional risks include credit, interest rate, call, reinvestment, tax, market and lease obligation risk. High-yield municipal bonds are subject to greater risk of loss of income and principal than higher-rated securities, and are likely to be more sensitive to adverse economic changes or individual municipal developments than those of higher-rated securities. Municipal bonds may be less liquid than taxable bonds.
The income generated from some types of municipal bonds may be subject to state and local taxes as well as to federal taxes on capital gains and may also be subject to alternative minimum tax.
Diversification does not assure a profit or protect against loss.
Investing involves substantial risk and high volatility, including possible loss of principal. Bonds and bond funds will decrease in value as interest rates rise. An investor should consider the investment objective, risks, charges and expenses of a fund carefully before investing. To obtain a prospectus and summary prospectus, which contain this and other information, call 800.826.2333 or visit vaneck.com. Please read the prospectus and summary prospectus carefully before investing.
Van Eck Securities Corporation, Distributor
666 Third Avenue
New York, NY 10017
800.826.2333