Many times asset classes use binary events to either print a bottom or confirm a bottom and I believe gold (GLD) yesterday used the FOMC meeting to confirm that it definitely did print an intermediate low in May. A breakout in gold would lead many gold bugs to search for a reputable miner to ride this rally higher. A solid mining company with good growth prospects is essentially a leveraged play on gold and can be an excellent investment when both the stock market (SPX) and gold are rising in tandem.
From this standpoint, Barrick Gold (ABX) may seem an attractive play at present for a few reasons. First, the company's earnings multiple of 16.5 is well below what the industry is trading at at present. Barrick is nothing like the bloated risk-taker we saw in times past. In fact, some of the major credit agencies upgraded Barrick this year due to how the company has tackled its debt debacle in recent times.
In the first quarter of this year, the company again reported strong operating ($507 million) and free cash flow ($181 million) numbers compared to the same period 12 months prior. Here is how I see a potential investment in Barrick at present. Personally, I don't see enough leverage in ABX at present for reasons I explain below.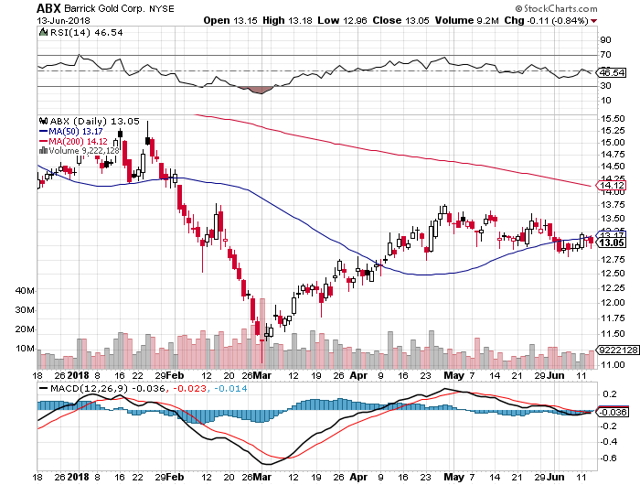 Some investors in the precious metals space are defensive in nature as they use their investments as an inflation hedge. Inflation is definitely on the rise which is why a dividend-paying mining company like Barrick may be a preferred choice over investing in the commodity itself. Gold seems to get a bad rap when rates rise due to the lack of income that it provides. Warren Buffett has been pretty vocal about this down through the years. However if rates are rising, it is usually on the back of higher inflation. Inflation is the loss of purchasing power of the dollar and as gold is priced in dollars - this should be bullish for gold right? This seems to be the confusion with gold in a rising interest rate environment. The bears feel there will be an exodus to fixed income investments such as bonds but the bulls feel, there will be a flight to safety if inflation keeps on going higher. This is where Barrick may gain some ground. It looks like a solid defensive play right here. Why? Well, its debt dropped to $6.4 billion at the end of its latest fiscal year. The company's target is $5 billion by year-end which is a long way from the $13+ billion figure we saw back in 2014. Catherine Raw, the CFO spoke on the first quarter earnings call that shareholders can expect additional returns going forward. If the yield for example was bumped up above 2.5%, I see investors being attracted to ABX here as a defensive play.
However, I'm in the camp that believes gold could break out of the trading range it has been in for the best part of 12 months now. For this reason, Barrick, I believe, will underperform its competitors because it has deleveraged itself far too much over the past. Now, in my opinion is when you want to have a mining company reporting record production and not be interested in paying down debt. Barrick leveraged its balance sheet significantly in the gold bear market which started in 2011. The company was just unlucky with the Pascua Lama project (with respect to timing and environmental problems and in the end had to shelve it for a sustained period of time back in 2013. At present, the company is exploring the option of constructing an underground mine on the Argentinean side. Time will tell whether Barrick will be able to recoup any significant percentage of the billions that have already gone into this project.
Barrick has very attractive all-in sustaining costs which should come in around $780-$790 this year on the gold side. Cost of sales will come in around $830 an ounce and cash costs about $555 per ounce. Back at the height of it in 2012 and 2013, Barrick was spending close to $6 billion in capex to build the business. this year, I would say the company will be lucky to hit $1.4 billion as priorities have changed. What does this mean for production? We are looking at more falling production. Barrick hit almost 5.4 million ounces last year. This year, the company will be lucky to hit 4.7 million.
There is a time to leverage and a time to deleverage. It is clear that gold ended its bear market in December 2015 and has been making higher highs since. Although under pressure to bring down debt, there has been too much of a risk-aversion attitude over the past 2 years. The price of gold over the next year or two will let us know if ABX was right.
Disclosure: I/we have no positions in any stocks mentioned, and no plans to initiate any positions within the next 72 hours.
I wrote this article myself, and it expresses my own opinions. I am not receiving compensation for it (other than from Seeking Alpha). I have no business relationship with any company whose stock is mentioned in this article.