Boy oh boy - I'm sure you've seen all the headlines suggesting retail is dead - and if I see one more (headline) calling for a "retail apocalypse," I'm going to scream.
But it's true many investors are fearful, but perhaps it's because they aren't equipped to understand the ongoing evolution of the brick-and-mortar model. In my latest newsletter, Forbes Real Estate Investor, I provided a deep-dive in retail, and Marcus & Millichap explained:
"…to a panicked novice in the retail forest, it might feel like the entire landscape is on fire. But smart survivalists know how to scrutinize the environment holistically and identify both hazards and advantages before making a move."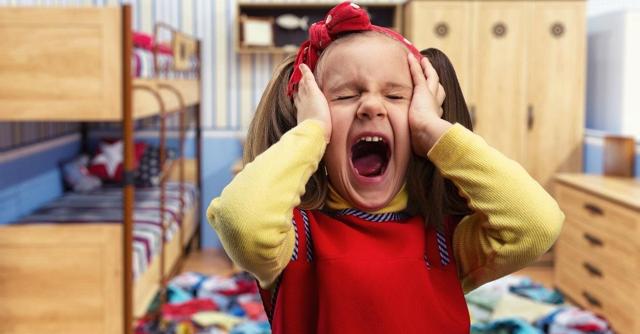 Photo Source: How to Have a Scream-Free Morning Routine
Marcus & Millichap provided seven economic, industry and cultural signposts that help define the retail terrain:
The economy is strong, and consumers and businesses are upbeat: The U.S. economy is in its eighth year of expansion, unemployment is historically low at 3.9% and inflation is manageable. Consumer confidence rose in April to a near 18-year high, and a record 7.8% of respondents said they plan to buy a home, a harbinger of higher spending. Meanwhile, small business sentiment is hovering at record highs.
Bricks and mortar stores continue to grow: Chains operating more than 50 locations opened about 4,000 more stores than they closed in 2017, according to IHL Research. Include smaller chains and the increase would be well over 10,000. Dozens of pure-play online retailers are opening stores, recognizing their importance in building customer relationships.
Corporate profits are healthy: Retail spending has increased every year since 2009 and is expected to grow between 3.8% and 4.4% this year, according to the National Retail Federation. About 70% of companies in the Thomson Reuters Retail/Restaurant Index beat analyst earnings expectations in the fourth quarter of 2017. Nine percent matched. Blended revenue grew about 8%, with 80% of retailers reporting.
Shopping center vacancy rates are holding steady: The national retail vacancy rate stood at 5% in the first quarter of 2018, despite store closures. Since the Great Recession, developers have pulled back on construction of malls and strip centers. An average of 48 million square feet of retail space has been built each year since 2010 - roughly one third the annual average from 2000 to 2008 - according to the Wall Street Journal. High-quality centers offering desirable locations with easy access boast particularly strong occupancy rates and rents.
E-commerce is a molehill, not a mountain - yet: Some 90% of purchases are still made in the real world. Except for Amazon (NASDAQ:AMZN), the top ten retailers are brick-and mortar operators: In order, they are Walmart (NYSE:WMT), Kroger (NYSE:KR), Costco (NASDAQ:COST), Home Depot (NYSE:HD), CVS (NYSE:CVS), Walgreens (NASDAQ:WBA), Amazon.com, Target (NYSE:TGT), Lowe's (NYSE:LOW) and Albertsons. Meanwhile, a recent study of 72 mall closures found that newer shopping centers - not e-commerce - were the most common cause of their demise.
Traditional retailers are leveraging the Internet as an essential marketing tool: Knowing that hyperconnected customers are using mobile phones in their stores, larger retailers are embracing an omnichannel strategy to boost sales. Rating sites such as Yelp (NYSE:YELP), Google (NASDAQ:GOOG) (NASDAQ:GOOGL) Rating and TripAdvisor (NASDAQ:TRIP) empower local restaurants and other small businesses by giving consumers a new avenue for discovery.
Consumers, particularly Millennials, are prioritizing experiences, convenience and speed: In 2016, Americans spent more at restaurants and bars than grocery stores for the first time ever. Since the mid-2000s, purchases at food services and drinking establishments have grown twice as fast as all other retail spending, according to research by the Federal Reserve Bank of St. Louis. Traditional retailers are responding to changing habits by offering high-touch service and unique experiences
As Marcus & Millichap explains:
"The sectors' constant reinvention carries legitimate risks and profitable rewards. Every era has seen shortsighted retailers cling to 'tried-and-true' practices that ultimately fail, while others adapt and prosper. The current period is no different. Creative businesses that embrace new technologies and service models are winning and winning big."
That's precisely what I want to do within my retail REIT portfolio - I want to win big!
One of the reasons that I decided to design the "New Money Portfolio" is to provide a basket of REITs that included all of my Strong Buy picks.
Why else do I call these "Strong Buys?" Let's check their share price performance for just the past month. Please note, each is still undervalued, and makes a great buy. For comparison we'll use the one-month period for the broad market index SPY, up over 2%; VTI up about 2.5%; and Real Estate ETF, VNQ, up about 3%. Please keep these numbers in mind, as we scan through my 4 Strong Retail Buys...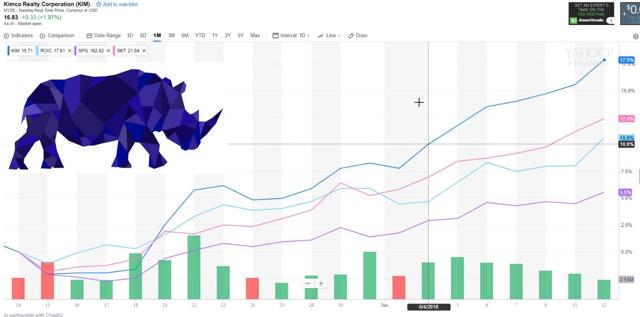 The above chart lists 4 of my top retail REIT Strong Buys and over the last 30 days shares have averaged 12.9% (as I said, VNQ up about 3% in 30 days). These REITs include:
Kimco Realty (NYSE:KIM): +17.9%

Tanger Factory Outlet (NYSE:SKT): +12.4%

Retail Opportunity (NASDAQ:ROIC): +10.6%

Simon Property (NYSE:SPG): + 5.5%
The New Money Portfolio is definitely "over-weight" retail and this means that I would not recommend it unless you have a stomach for shopping (brick & mortar). Also, I need to disclose my bias, I have a wife and four daughters who love to shop, and that gives me an advantage because my family serves as a barometer in which I can understand "what's hot and what's not."
In terms of the retail REIT sector, I don't consider Washington Prime (WPG) or CBL Properties (CBL) "hot," and in fact, I consider these REITs speculative at best. As my reader base knows, I have no interest whatsoever in "market timing." If a company does not grow its dividend, there'd better be a good reason for it.
Alternatively, my focus in retail has been exclusively on the quality names. There's no reason to be too cute, so I want my retail picks to be battle-tested, armed with adequate re-development capital, and safe & growing dividends. Also, the source of income must be diverse with a tactical emphasis on generating steady NOI growth (the true sign of quality).
So without further ado, let's get the party started…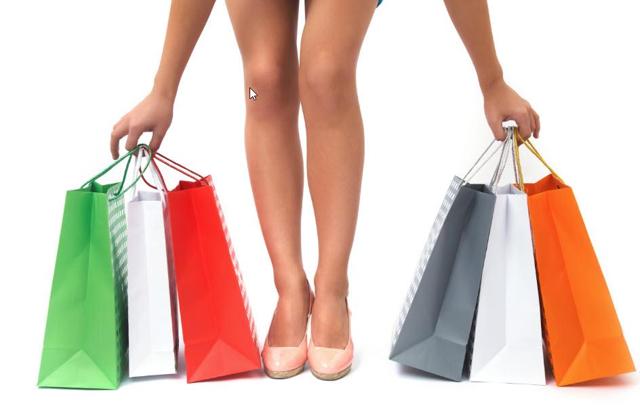 Simon Property Group (SPG) is the big retail REIT on the Mall side, in its size and ability to provide outsized returns for investors.
Over the past month, SPG has accelerated 5.5%, beating the broad indexes - but this accomplishment is in last place in our short four-company list.
Simon's well-known for its high-quality, "trophy," "A" malls, and in great measure, uses its low cost of debt (A-rated) and prudent capital allocation discipline to produce steady, reliable earnings and dividend growth.
Simon has ownership interests in over 230 retail properties totaling over 190 million square feet across North America and Asia, and an expanding footprint in Europe with 21.1% interest in Klepierre (OTCPK:KLPEF), a leading European mall operator based in France.
Quarter-ending results as of March 31 included core funds from operations (FFO) at over $1.0 billion, or $2.87 per diluted share - an increase of 4.7% over the prior year period; 12-month U.S. malls and premium outlet "retailer sales per square foot" were $641, an increase of 4.2%; occupancy was 94.6%; redevelopment and expansion projects, including additional new anchors, were underway at 28 properties across the portfolio countries; and stock repurchases exceeded 1.4 million shares.
This is the ninth consecutive year of dividend increases (most recently a year-over-year increase of 11.4%), with a current annual yield of 4.69%.
With a fortress balance sheet and robust value creation through re-development and ground-up development, the company should be able to continue to generate steady and reliable dividend growth.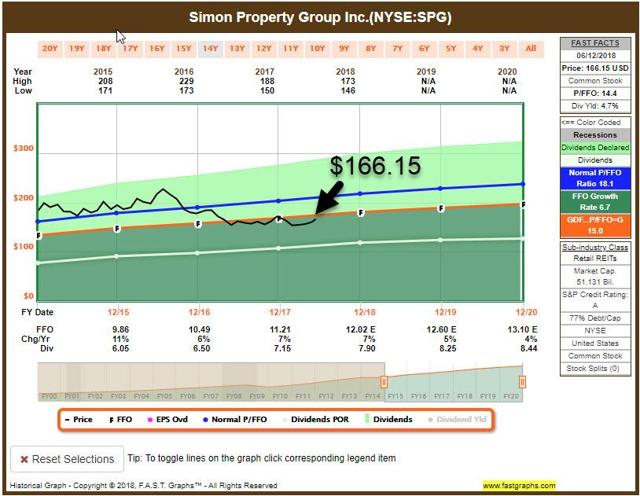 Of four Retail Strong Buys on this list, shopping center REIT Kimco Realty Corp. has seemingly conflicting honors: the highest one-month stock performance, up 17.9%, and, the single most undervalued of the four.
Kimco is one of North America's largest publicly traded owners and operators of open-air shopping centers, specializing in acquisitions, development and management for 60 years.
Facts & figures: As of March 31, the company had interests in 475 properties across the U.S., primarily concentrated in the top major metropolitan markets, comprising 81 million square feet of leasable space. With 4,000 tenants, lease expirations are balanced, for a higher margin of safety. Four of the top five tenants are rated investment grade by Moody's.
In Q1-18: Kimco achieved 5.4% growth in FFO to $0.39 per diluted share ($0.37 during Q1-17); the portfolio was 96.1% leased; ABR/sf $15.69 (Annualized Base Rent); consolidated net debt-to-recurring EBITDA 5.7x; and only $8 million outstanding on $2.25 billion unsecured line of credit. (The company's only one of a dozen in BBB+ or BAA1 rated REITs, and continues to seek opportunities to improve their rating.)
First-quarter repurchases totaled 1.6 million shares (average price $15.17).
With recycling the primary initiative, Kimco is on target to complete $800 million in dispositions this year.
The dividend has increased yearly since 2010. Current yield 6.69%.
With its solid balance sheet, well diversified portfolio, top-quality management team, and extremely attractive, well-covered dividend, I'm confident Kimco has a sufficient margin of safety to enhance shareholder value. It's one of the best REIT bargains today.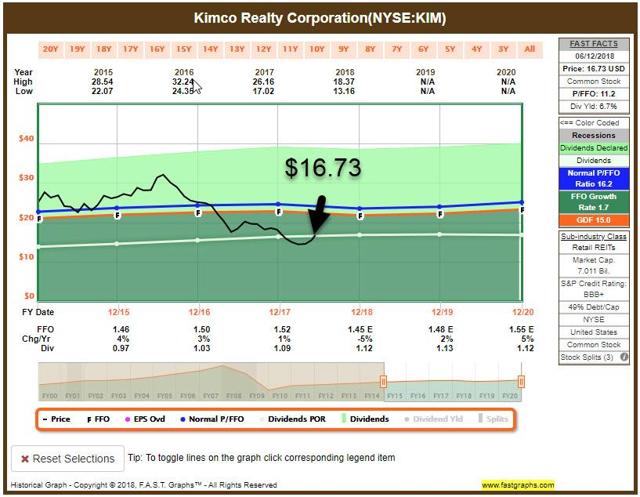 Retail Opportunity Investments Corporation's share price increased 10.6% in the past month - the lowest double-digit for this foursome. It has the closest price to valuation - a narrow margin of safety. But don't look away: it's a solid company for many reasons.
All of ROIC's 91 owned and operated shopping centers (10.5 million square feet) are in desirable West Coast metropolitan markets including Seattle, Portland, San Francisco, Sacramento, Los Angeles, Orange County, San Diego - densely populated, with middle and upper incomes.
Counting over $3 billion total assets and over 1,500 tenants, ROIC has a diversified revenue stream with recession-resistant tenants in its Top 10: Albertsons, Kroger, Save Mart, CVS, Rite Aid (NYSE:RAD), accounting for 20% total ABR.
ROIC selects retailers based on financial strength and daily customers. Q1-18's lease rate represented the 15th consecutive quarter at or above 97%. With fewer than 4% rolling this year, ROIC can selectively capitalize on rent growth with the right retailers. ROIC also has about 54,000 square feet of pad development/expansion underway (16% projected yield) to provide boost.
Q1-18 FFO totaled $37 million, $0.30 per diluted share ($34.3 million, or $0.28 per share, in Q1-17). Guidance is on track at $1.16 to $1.20 per diluted share.
Among peers, ROIC has the third best FFO/share growth, followed by Regency Centers (NYSE:REG) and Federal Realty (NYSE:FRT) - and third highest dividend growth per share.
Currently yielding 4.13%, the dividend has increased eight straight years - from one of the most coveted shopping center portfolios in the U.S.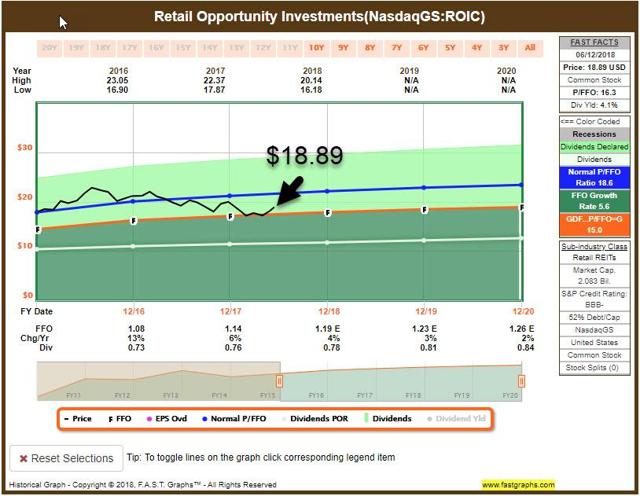 The share price for Tanger Factory Outlet Centers this past month increased 12.4%, and is outlet center priced compared to the current valuation.
Tanger operates and owns (in part or whole), 44 upscale outlet shopping centers in 22 states coast to coast and Canada, with over 15.3 million square feet, leased to over 3,100 stores, operated by over 500 different brand name companies, attracting over 189 million shoppers annually.
A REIT since 1993, Tanger has had consistent growth, solid management and a fortress balance sheet (BBB+) - and is the only 100% outlet-focused REIT.
It's not a traditional mall REIT. Without department stores (no Bon-Ton (BONT), Sears (SHLD), J.C. Penney (NYSE:JCP)), Tanger's less vulnerable to large-scale tenant bankruptcy risk. The model's simple: provide a reliable, diversified revenue stream (most tenants are publicly held), easily reconfigure properties to minimize downtime (most just need a broom-sweeping), and market effectively.
Tanger's first-quarter FFO grew 3% to $59.3 million or $0.60 per share ($57.7 million, $0.58 prior year period); share repurchases totaled about 444,000 common shares.
The company expects FFO payout ratios under 60% (low compared to many REITs). The current dividend yields 6.1% - not the highest in retail, but likely the safest and able to grow - it's had yearly increases since Tanger went public (even during difficult periods).
Tanger keeps a further margin of safety by maintaining over 95% occupancy (the last several years), and pre-leasing new projects at 60% minimum.
With strong fundamentals, Tanger's well-positioned to expand its footprint, when the time's right.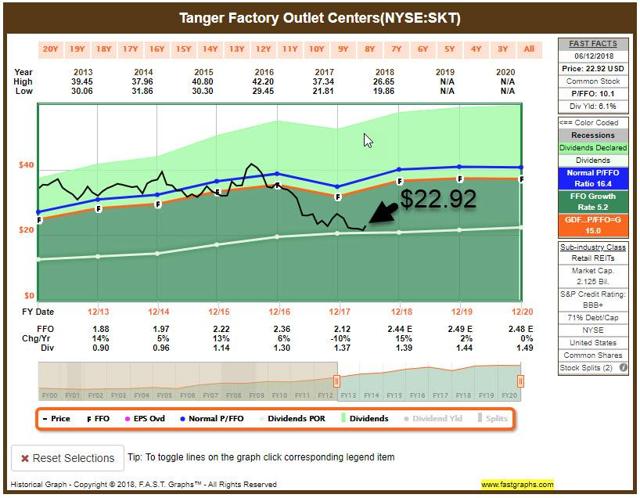 Note: We are excited to announce that this Friday, June 15th, we will be hosting our first subscriber-only call with Brad Thomas.
A little-known fact: Brad wrote the "Rap Review" column for his high school newspaper, so it's fitting that he's breaking out his rapping skills to provide subscribers with the very best in "REIT RAP."
I can assure you Brad is not going to become the next Vanilla Ice, but he is known to bust a few good rhymes, from time to time. You are not going to want to miss Brad's inaugural subscriber-only call this Friday, June 15th, at 2:00 PM ET. Subscribe NOW.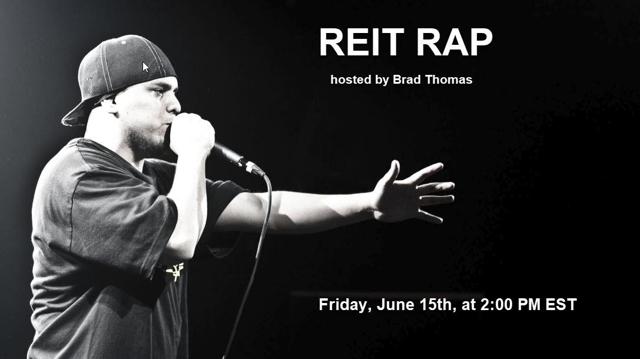 All Strong Buy picks can be viewed in my Marketplace service (The Intelligent REIT Investor).
Note: Brad Thomas is a Wall Street writer, and that means he is not always right with his predictions or recommendations. That also applies to his grammar. Please excuse any typos and be assured that he will do his best to correct any errors if they are overlooked.
Finally, this article is free, and the sole purpose for writing it is to assist with research, while also providing a forum for second-level thinking. If you have not followed him, please take five seconds and click his name above (top of the page).
Source: F.A.S.T. Graphs
Disclosure: I am/we are long ACC, AVB, BHR, BRX, BXMT, CCI, CHCT, CIO, CLDT, CONE, CORR, CTRE, CUBE, DEA, DLR, DOC, EPR, EXR, FRT, GEO, GMRE, GPT, HASI, HT, HTA, INN, IRET, IRM, JCAP, KIM, KRG, LADR, LAND, LMRK, LTC, MNR, NNN, NXRT, O, OFC, OHI, OUT, PEB, PEI, PK, PSB, PTTTS, QTS, REG, RHP, ROIC, SBRA, SKT, SPG, STAG, STOR, TCO, TRTX, UBA, UMH, UNIT, VER, VNO, VNQ, VTR, WPC. I wrote this article myself, and it expresses my own opinions. I am not receiving compensation for it (other than from Seeking Alpha). I have no business relationship with any company whose stock is mentioned in this article.