In this article, I will be looking at "FANG+" through the lens of the technical outlook of the group as represented by the NYSE FANG+ Index. From a technical perspective, this group of stocks is overbought and the group is sending a warning sign to investors about the potential for a correction to occur soon. I will cover three technical metrics that show this group of stocks is overbought and due for a pullback. Given FANG stocks make up a large portion of indexes, any correction that occurs will likely lead the overall market lower.
NYSE Fang+ Index Overview
The NYSE FANG+ Index consists of 10 equally weighted companies, which includes the original FANG stocks: Facebook (FB), Amazon (AMZN), Netflix (NFLX), Google/Alphabet (GOOG) (GOOGL).
The index also includes:
Apple (AAPL)
Alibaba (BABA)
Baidu (BIDU)
NVIDIA (NVDA)
Twitter (TWTR)
Tesla (TSLA).
Relative Strength Index (RSI)
The first technical indicator I looked at was the RSI and it shows that while not at overbought levels yet (>80), it is very close and trending upward. As the chart shows, each of the last two times the RSI was above 80, the FANG+ Index had a correction.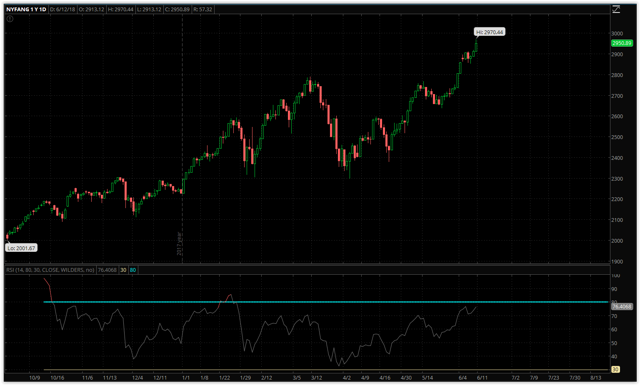 ThinkorSwim
Moving Average Convergence Divergence (MACD)
The second technical indicator I looked at was the MACD and it is at the top end of the range it has been at over the past year. The MACD has been at this level two times in the past year, and each time FANG+ Index has had a correction.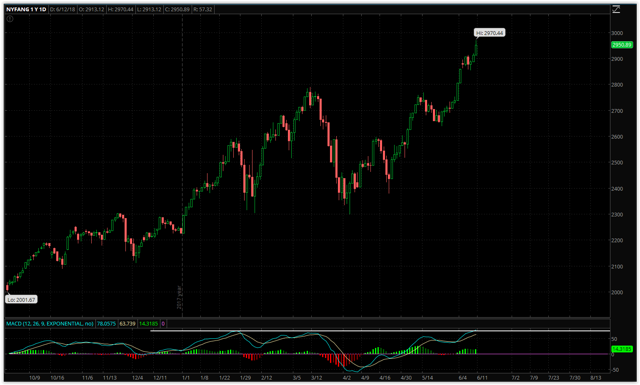 ThinkorSwim
Angled SMA (Simple Moving Average)
The final technical indicator I looked at is an unknown by name, but the principle behind it is simple. The Angled SMA indicator is from the ThinkorSwim platform and it looks at the slope of a moving average. It essentially measures the sharpness of a move and in this case, the sharpness of the recent move in the FANG+ Index as right at the same level that occurred back at the beginning of March. Right after the FANG+ Index was as this level it suffered a large sell-off.
ThinkorSwim
Fundamental reason for a decline
1. Regulation/Fines: There was news recently that the EU was prepping another large fine for Google in the neighborhood of around $2.8 billion. This could spread to other companies in the form of more fines from the EU. Then, here in the United States, it was announced yesterday that Google, Facebook and Twitter are going back to Capitol Hill in a couple weeks for hearings on anti-conservative bias.
2. Apple slowing orders: There was a report out last week about Apple ordering 20% less parts from suppliers, which could imply not as strong demand.
3. Management Change: Almost a month ago, the COO of Baidu announced he would be stepping down in July. Shares of Baidu reacted unfavorably to this news.
4. Tesla Saga: There is the ongoing Tesla saga of whether they will need to raise capital, will they make their production goals, and how big will the Q2 loss be.
Closing Thoughts
All three of the technical indicators I looked at show a pullback in FANG stocks is likely right around the corner and thus a pullback in the overall market is likely. So, that brings up a question, how would an investor capitalize if a correction in FANG is about to occur...There's an ETF or ETN for that!
In June 2017, I wrote an article titled "The Closest Thing To A 'FANG' ETF", which identified the First Trust DJ Internet Index ETF (FDN) as the ETF with the largest exposure to FANG stocks. One way to play a potential bearish move would be to use options on FDN to capture a downward move in FANG stocks. On the other hand, there is a high risk/high reward way to play a potential bearish move and that comes in the form of a 3x inverse ETN tied to the NYSE FANG+ Index. The ETN is the BMO REX MicroSectors FANG+ Index -3X Inverse Leveraged ETN (FNGD) and it also has its opposite to play a bullish move and that is the BMO REX MicroSector FANG+ Index 3X Leveraged ETN (FNGU). The leveraged funds are for trading purposes only and anyone considering them should be careful if you choose to use them.
Disclosure: I am/we are long FB.
I wrote this article myself, and it expresses my own opinions. I am not receiving compensation for it (other than from Seeking Alpha). I have no business relationship with any company whose stock is mentioned in this article.