For investors that have been investing in junior gold explorers (i.e. micro-cap gold non-producers), the last two and half years have been very frustrating. Let alone since 2011 when the junior gold explorers reached their sky high valuations. Many analysts have claimed gold being in a "new bull market" since early 2016. While gold has indeed increased by a compound annual growth rate of 8.6% since December 31, 2015, the 37 junior gold explorers that I am following have collectively grown by a mere 1.4%. Despite their leverage to gold, they have massively under-performed physical gold.
Among the reasons underpinning their under-performance are the lack of interest of investors in gold in general (still), the high risk of dilution over time through private placements, the exploration risks and their relatively high cash burn rate. They have the potential to be multibaggers during a gold bull run like investors experienced in the first half of 2016. But they also can lose over 60% of their value in less than two years (since their high reached in 2016 for most of them). Investing in a junior gold explorer is not for the faint of heart. As such a deep dive due diligence process is warranted prior to investing in any of these junior gold explorers.
To compare the performance of a junior gold explorer, there's no good alternative to the GDXJ or the SGDJ exchange-traded funds ("ETF"), two ETFs that seek to track the performance junior gold miners. Both primarily hold gold and silver producers and therefore they do not track well the non-producers. I have thus created an index of 37 micro-cap gold explorers that can be used as a benchmark. This index is meant to represent the pulse of the junior gold explorers market in the Americas and by extension to gauge the risk appetite of investors in the gold market and its high-beta derivatives.
This junior gold explorer index was created using the same methodology as the S&P 500 index. It is a market capitalization weighted index where each constituent weight in the index is proportional to its market value. What does this mean exactly? First, the market capitalization of each constituent is calculated by multiplying its stock price to its shares outstanding. As an example, on 6/8/2018, Treasury Metals (OTCQX:TSRMF) closed at $0.30 a share and had 123.1M shares outstanding representing a market capitalization of $37M. Second, the weight of each constituent in the index is calculated by dividing each market capitalization to the total market capitalization of the index. To continue on the proposed example, TSRMF weight in the index on 6/8/2018 was $37M divided by $3.8B (sum of all market capitalizations included in the index that day) or 0.95%. Third, the index price on 6/8/2018 was calculated as the sum of all stock prices of the constituent weighted by their weight index. For TSRMF, it means that its weighted price in the index on 6/8/2018 was $0.30x0.95/100=$0.0028 and the sum of all weighted prices in the index yielded $0.96. As such, the larger the market weight of a company in the index, the more impact it has on the index on the way up and on the way down.
The index is composed of the following 37 junior gold explorers: Almaden Resources (NYSEMKT:AAU), Amarillo Gold (OTC:AGCBF), Atac Resources (OTCPK:ATADF), Auryn Resources (NYSEMKT:AUG), Bonterra Resources (OTCQX:BONXF), Chesapeake Gold (OTCQX:CHPGF), Corvus Gold (OTCQX:CORVF), Dalradian Resources (OTCPK:DRLDF), Eastmain Resources (OTCQX:EANRF), Equinox Gold (OTCPK:EQXGF), First Mining Gold (OTCQX:FFMGF), Falco Resources (OTCPK:FPRGF), GoldQuest Mining (OTCPK:GDQMF), GoldMining Inc (OTCQX:GLDLF), Gold Standard Resources (NYSEMKT:GSV), Gowest Gold (OTC:GWSAF), Klondike Gold (OTC:KDKGF), Pure Gold Mining (OTCPK:LRTNF), Midas Gold (OTCQX:MDRPF), Marathon Gold (OTCQX:MGDPF), Mineral Mountain (OTCQX:MNRLF), Northern Dynasty (NYSEMKT:NAK), Golden Predator Mining (OTCQX:NTGSF), Pershing Gold (NASDAQ:PGLC), Premier Gold (OTCPK:PIRGF), Probe Metals (OTCQB:PROBF), Northern Empire (OTCPK:PSPGF), Paramount Gold Nevada (NYSEMKT:PZG), Sabina Gold & Silver (OTCPK:SGSVF), Telson Mining (OTCPK:SOHFF), Spanish Gold Mountain (OTCPK:SPAZF), Sandspring Resources (OTCQX:SSPXF), International Tower Hill Mines (NYSEMKT:THM), Treasury Metals (OTCQX:TSRMF), Victoria Gold (OTCPK:VITFF), Vista Gold (NYSEMKT:VGZ), Belo Sun (OTCPK:VNNHF).
These 37 junior gold explorers have a market capitalization between $14M and $340M. The median being $70M. I have voluntarily excluded all explorers with a market capitalization above $500M because they are the exceptions and they would distort the index too greatly as explained earlier. Among those explorers excluded from the list are Novo Resources (OTCQX:NSRPF), Seabridge Gold (NYSEMKT:SA) and Novagold Resources (NYSEMKT:NG). The list of the constituents making the index is not exhaustive by any means but good enough to be representative of the sector as a whole. Below is the product of the index since 12/31/2014.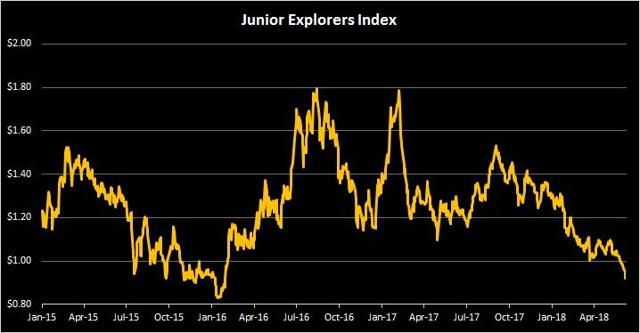 Source: Bloomberg
As one can deduct from the chart, it's all over late 2015 again for the junior gold explorers! The year-to-date performance of the index is -28.4% while that of gold and the GDXJ ETF are -0.4% and -3.3%, respectively. The index has not traded that low since early February 2016, only two weeks after reaching its all-time low on 1/1/2019 (the index is only trading 12.5% above that level). And the index is still 90% below its peak reached in February 2011. Is this the precursor of another 2016 gold bull run? Time will tell but the junior gold explorers have a lot to catch up and the bottom does not look far below. The risk/reward ratio looks more and more in favor of the risk takers at the current level. Gold investors need however a change in sentiment toward gold and the miners for their risk appetite to fully resume.
The holdings of the index command over 200 million ounces of gold and gold equivalent. The average valuation calculated as the sum of their enterprise value to total resources as of 6/13/2018 is $21 per ounce of gold. At their peak, these junior gold explorers were trading at around 5x their current valuation. This is supported by the fact that a re-rating will operate as gold stabilizes above $1500 implying that many of these explorers in the index will find a path to funding and thus to production. Like many investors in this highly risky sector, I can't wait for gold to finally break out above its multi-year resistance of $1360-$1380 which should propel gold above $1,500 technically speaking.
Disclosure: I am/we are long GLDLF, SSPXF.
I wrote this article myself, and it expresses my own opinions. I am not receiving compensation for it (other than from Seeking Alpha). I have no business relationship with any company whose stock is mentioned in this article.
Editor's Note: This article covers one or more microcap stocks. Please be aware of the risks associated with these stocks.