BlackBerry (BB) is scheduled to report its Q1 earnings in about two weeks. The security-focused service provider's shares have rallied by about 25% over the past 2 months and the upcoming earnings call would more or less determine whether this rally would continue or if it would fizzle out going forward. In addition to looking at its financials, the market would want to know if its ventures in high-growth industries - IOT, secure RTOS amongst others - are materializing into growth drivers for the company. So, I wanted to discuss a few key items that investors should be watching closely when BlackBerry releases its next earnings report. Let's take a closer look.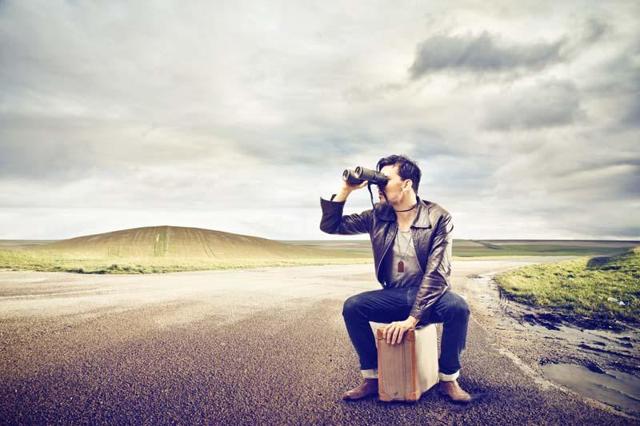 (Source: Bigstockphoto, Image license purchased by author)
The Art of Guidance-ing
BlackBerry has been a volatile stock to own over the past several years; its financials have fluctuated and so has its stock price. But the company, overall, has substantially improved its operational positioning over the years. Rather than indulging in discussions about its prospective bankruptcy back in 2014, readers, commenters and investors are now generally seen debating about the magnitude of its growth rate. This speaks volumes about the extent of its turnaround and highlights a major shift in investor sentiment.
But coming back to the company's Q1, the investing community would be eager to know if BlackBerry has any new positive news that can catapult its shares higher. The ex-smartphone vendor has beaten the street's estimates in three of its most recent quarters (chart attached below) so, from a purely statistical standpoint, it is likely to outperform once again. For the record, the analyst consensus pegs BlackBerry's revenue for the period at about $210 million - down around 14% year on year.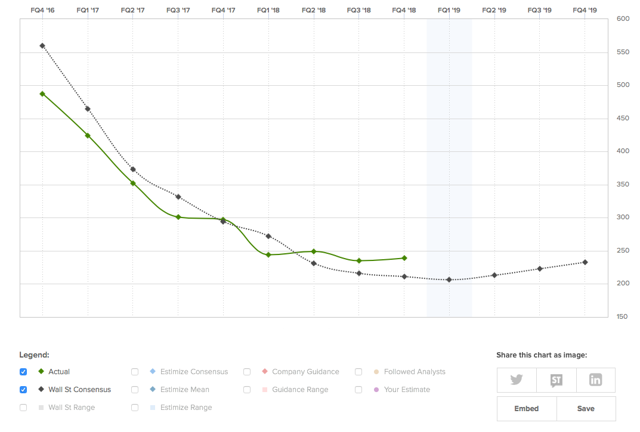 (Source: Estimize)
But the year-on-year sales decline of this magnitude isn't exactly terrible news for the company or its shareholders. As the chart attached below would indicate, a 14% sales decline would actually mark an improvement compared to the historical levels. Then, if BlackBerry outperforms the street's figures once again, it would further add to this improvement.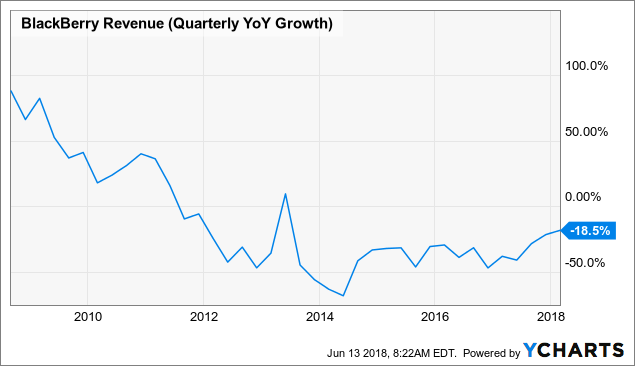 But that's just the broad financial outlook. We need to evaluate the company on a granular level as well.
Segmental Breakdown
It's a well-known fact by now that BlackBerry's handset and service access fee business verticals will eventually head to zero. The technology stalwart has exited the hardware business so the residual revenues will continue to shrink down the line. Similarly, the company has been pivoting away from service access fee in favor of software and services for many quarters now, so that's another dwindling revenue stream.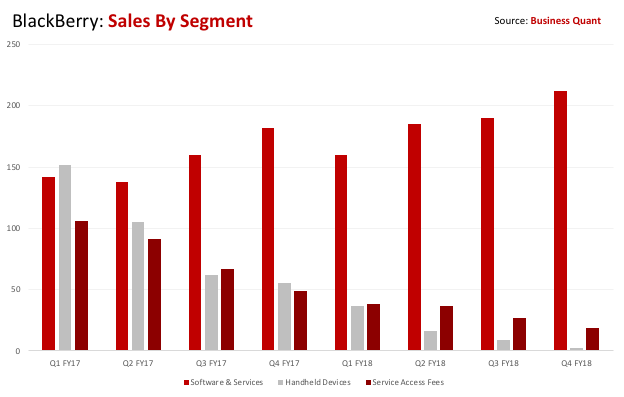 (Source: Business Quant)
So, rather than focusing too much on the performance of these two dying business verticals, investors should be closely tracking the output of its other verticals that supposedly have a longer residual value and are currently in their growth phases. After all, the company's management team has pinned their hopes on the growth of software and services, so evaluating the segment on a granular level would yield more relevant insights. The chart attached below highlights the breakdown of the software and services division.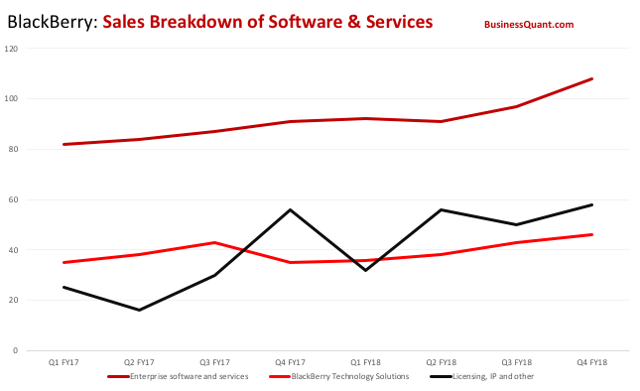 (Source: Business Quant)
The ex-smartphone vendor has some really interesting ventures (Radar, QNX) so I'm largely expecting it to post sustained growth in all of the above-mentioned sub-segments. Its licensing and technology solutions groups are fairly small compared to its more established enterprise software and services vertical, so I wouldn't be surprised if the former group continued to grow at a relatively faster clip than the latter.
I suppose the enterprise software and services segment will have the most prominent impact on the company's overall financials. After all, it accounted for about 46% of BlackBerry's overall revenue in the fourth quarter. Therefore, it needs to continue growing in a stable manner to at least ensure that BlackBerry meets or beats the street's revenue expectations.
Other Key Items
With that said, investors also need to look forward to management's commentary regarding some of its ventures in high-growth areas. For instance, BlackBerry doesn't exactly reveal the sales figures for QNX but it did announce earlier this week that its secure RTOS has cumulatively been embedded in over 120 million vehicles. It would be interesting to hear the management's take on how specifically would its QNX division impact the company's overall financials over the course of the next few years.
Not to mention, BlackBerry's management sounded very upbeat when they initially launched Radar last year. I've detailed the prospects of this business division extensively in my past articles (here and here) so we won't be covering the same points here again. But its management did note in the last conference call that their Radar division posted its first $1 million quarter. That, however, does not tell the entire story.
Anyone following the asset tracking industry would know that there are two broadly two price elements attached with every sale – monthly recurring fee and the hardware cost. I noted in my above-linked article that Radar-M's recurring monthly fee stood at anywhere between $10 - $20, but the hardware cost stood at $400. Most of the asset tracking platform firms are betting on the growth of their platform's recurring collections while the hardware collections largely cover the cost of installation and the actual hardware itself. So, investors should be looking forward to clues regarding the extent of its recurring Radar revenues, separate from the hardware revenue.
Also, the company unveiled a code scanning solution, Jarvis, earlier this year. It basically scans really large codes, running into 100 million-plus lines, to look for vulnerabilities, weaknesses and loopholes. It's a scalable offering, with a pay-as-you-go model, so it can potentially become a sizable growth driver for the company if it's even remotely as good as its being marketed as. Daniel Chan of BlackBerry noted in their last conference call that there were 6 proof of concept trials underway, so investors should look forward to getting an update on its conversions and trial pipeline in the company's upcoming earnings call.
Final thoughts
There's no denying that BlackBerry is in the process of turning things around. Its financial and operational positioning has vastly improved over the past couple of years and it's en route to becoming a financially sustainable business. But it's important that it keeps improving its core operations so that it eventually transitions into a free cash flow-positive enterprise. I would recommend readers and investors to closely track the aforementioned key items to evaluate its progress, and to get an idea about where its shares could be headed next.
Author's Note: I'll be writing another report on BlackBerry, reviewing its Q1 earnings. Make sure to click that "Follow" button at the top of this page to get a notification as soon as the report goes live. Thanks!
Disclosure: I/we have no positions in any stocks mentioned, and no plans to initiate any positions within the next 72 hours.
I wrote this article myself, and it expresses my own opinions. I am not receiving compensation for it (other than from Seeking Alpha). I have no business relationship with any company whose stock is mentioned in this article.