In the dinners that we have had over the past week, it is likely that most of us have used a McCormick (MKC) product at some point. The multinational food giant is involved in everything from salts and peppers to hot sauces to even mustard. The various blends and spices and food products that McCormick produces make up essential parts of your meals every day around the world. With seasonings and spices that span the globe, McCormick makes up over 20% of the $11 billion dollar spices and seasonings market, which is over 4 times larger than the next largest competitor. McCormick remains the leader in the space by a wide margin and maintains a large economic moat over its competitors through its international diversification, household penetration, and increasing margins as it continues to scale.
Global Flavor Market and Diversified Portfolio of Products
While consumers across the United States might regularly enjoy McCormick products with many of their meals, McCormick has a dominant international presence outside domestic borders. McCormick has penetration in over 150 countries globally and has 19% of its sales concentrated in countries with developing economies. Operations in 2017 accounted for $5.2 billion in global sales as penetration in developing markets grew as well as increased global demand for flavoring products. It is expected that the global flavor market will grow at 5% CAGR through 2022. On top of this, an internal research study on international consumers found that 80% of consumers in major international markets including China, Mexico, Poland, Australia, and France have an increased demand for seasonings and spices as well as willingness to try new flavors. With a product portfolio comprised of 14,000 different ingredients sources from around the globe, McCormick is continuously staying ahead in developing the most innovative, creative, and freshest products. While other companies such as General Mills have cut investments and earnings guidance, McCormick has leveraged higher investments in brand development in the wake of weakening competition. In 2017, McCormick spent 7% of sales on research & development and marketing, amounting to over $300 million total. McCormick's expansion to more international markets requires the constant development of new products to appeal to different consumer tastes & preferences, and the marketing efforts will ensure sticky retail relationships with the vendors that carry McCormick's products into the future.
While McCormick produces dozens and dozens of different products, a great number of them are organically sourced and produced. It's part of a growing shift to appeal to the increasing trend towards purchasing of healthier and organic foods that McCormick is attempting to leverage. In McCormick's investor presentation last May, they reported that "fresh perimeter" sales are growing twice as fast as the total U.S. Food & Beverage market. While not a very commonly used term, "fresh perimeter" refers to, quite literally, fresh items in a grocery store including fruits, vegetables, organic ingredients, and others. The general organic market is expected to grow at 13% CAGR through 2025 and reach a market value of $320 billion. McCormick's spices and seasonings offered are nearly all USDA organic certified and non GMO certified and are made up of simple and sustainable ingredients. Though more expensive, it allows McCormick to situate itself as an organic brand for future demand.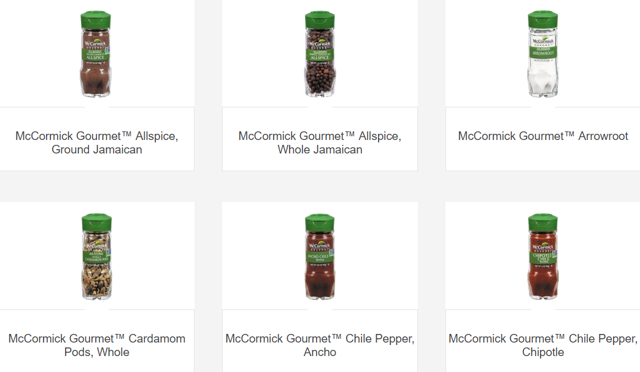 McCormick.com
Increased Household Penetration with Acquisition of RB's Food Division
McCormick completed the $4.2 billion dollar acquisition of the food division of Reckitt Benckiser Group. With the acquisition came some powerhouse brands including Frank's Red Hot Sauce and French's Classic Yellow Mustard. McCormick already dominated market share with its seasonings and spices, but the acquisition landed them in an estimated 4 million more households, bringing total household penetration to over 87 percent as well as increasing their customer base in the branded food segment by 30 percent. Household penetration for millennials is higher than for any of McCormick's other consumer groups and is growing at twice the rate of other competitors in the spices and seasonings category.
McCormick's ability to win over the consumers of the future is incredibly important, and the company is leveraging its size to create brand awareness and establish a more digital presence moving forward. After the acquisition of RB's food brands, the company planned to develop its first television advertisement in seven years. It's an effort that goes in line with their diversification of products as they plan to integrate Frank's and French's with their seasonings portfolio. They've aggressively rolled out plans to bring to market Frank's Red Hot Seasoning Blend as well as organic versions of French's mustard. With the financial backing of McCormick, the brands in the company's portfolio should be able to diversify and reach new markets that they had not been able to previously.
Margin and Cash Flow Growth, Increased Leverage
Significant margin improvement in a $13 billion dollar company is nothing to sneeze at. Operating margin has steadily increased from roughly 14% back in 2013 to 16.4% trailing twelve months as of Q1 2018. This 2.4% translates to hundreds of millions for the bottom line over several years, fueling efforts to fund brand development, international expansion, and the acquisition of RB's food division. McCormick's ability to scale while controlling costs has given it the ability to be flexible and pursue new ventures unlike its competitors who have cut back. Cash flow from operations have grown at 15% CAGR since 2013 from $465 million to $815 million at year end 2017.
For FY2018 guidance on earnings, McCormick expects EPS of $4.85-$4.95, up from 2017 EPS of $3.77. The continued integration of the acquisition's brands into McCormick's portfolio should continue to bolster revenue growth and allow McCormick to pursue new markets that it hadn't been able to with just its spice and seasoning products.
McCormick has been highly leveraging itself in order to fund accretive acquisitions such as the one of RB's food division. In Q3 2017, total non-current liabilities increased from $1.3 billion to $6.1 billion, largely due to financing of the $4.2 billion dollar acquisition. Despite taking a large debt load, McCormick has been able to keep the financing under wraps and have paid off nearly $700 million in just the past six months alone, bringing the total long-term debt down to approximately $5.4 billion. Despite TTM debt repayment of $590 million, McCormick has remained cash flow positive with TTM operating cash flow of $751 million. The heavy leveraging has been able to work for McCormick up to this point, but the aggressive tactics likely cannot continue with the Federal Reserve's recent interest rate hike with 2 more on the horizon.
The Wrap
The growth of the organic foods market, McCormick's continuous international development, and the diversification of its products with the recent acquisition should all serve as revenue drivers for years to come. That said, McCormick is not without its risks. Because McCormick's products are largely based from natural ingredients, they must source their ingredients from commodity-based raw materials, which will have periods of price volatility where not much can be done to hedge the risk. Along with this, selling in over 100 international markets exposes McCormick to significant foreign exchange risks that more domestically focused competitors do not have to place as much worry on.
However, while these risks are present, McCormick has catalysts behind it that will allow it to continue to benefit from emerging international markets and increase household penetration globally. The business is largely non-cyclical and while it will have rough patches in the road, McCormick is a long term hold to buy and forget about. It's not going away any time soon, and it would be a great bet to capture gains from the growth of natural foods and developing markets for years ahead.
Disclosure: I/we have no positions in any stocks mentioned, and no plans to initiate any positions within the next 72 hours.
I wrote this article myself, and it expresses my own opinions. I am not receiving compensation for it (other than from Seeking Alpha). I have no business relationship with any company whose stock is mentioned in this article.