Luxoft Holding, Inc. (LXFT) is a leading provider of software development and consulting services as well as information technology (IT) solutions to a global client base that consists mainly of large multinational corporations. The company operates in six main industry verticals, including: financial services, automotive and transport, telecommunications, travel and aviation, technology, and energy. Luxoft's products and platforms include software and services like Horizon, SuperCloud, Twister, iStockTrack, TEORA, Populus, AllView, CVNAR and Retail Engagement Suite (RES) in the Internet of Things (IoT) space.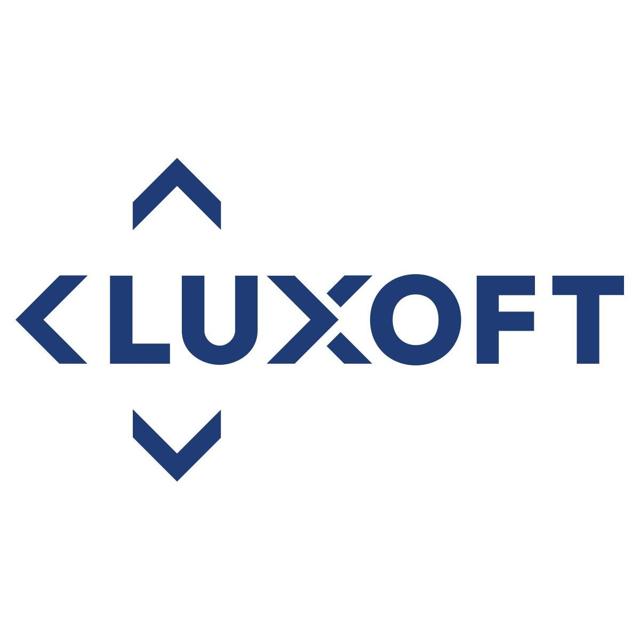 The company's largest clients are Deutsche Bank (NYSE:DB) and UBS (NYSE:UBS) that accounted for 23.3% and 20.0% of total sales respectively in 2017. Since late 2015, Luxoft has faced significant headwinds and share prices have tumbled as the company's largest client DB has struggled and the two companies' relationship has been strained.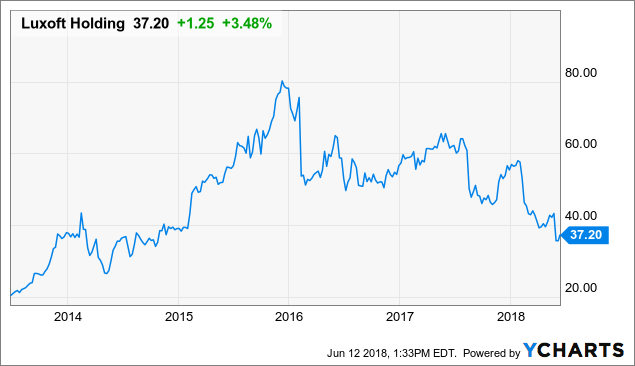 Luxoft's response has been consistent attempts to diversify its revenue stream. Although this caused falling margins, consistent acquisitions and a growing list of well-respected clients and partners have led to significant top-line growth for the past five years at Luxoft. In 2018 revenues topped $906 million vs. back in 2013 when the company saw revenues of just $314 million. However, margins remain an issue as high margin business from Deutsche Bank and other legacy anchor clients continues to fall. Luxoft has taken action in an attempt to prevent further margin decline by cutting out low margin businesses, mainly in the Healthcare and Telecom verticals, reducing SG&A expenses, and increasing efficiency.
Although the vast majority of Luxoft's business remains on track for continued growth, and margin improvement with scale, the company's reliance on Deutsche Bank has investors worried. The recent CEO and CFO change at DB has done nothing but exacerbate concerns at Luxoft about its top client. This led Luxoft CEO Dmitry Loschinin to suspend full-year 2019 guidance in the most recent quarter and issue solely a quarterly guidance in these uncertain times. Luxoft simply doesn't know what will happen with its Deutsche Bank account going forward. This means the company could potentially lose some or all of ~20% of its sales at any time in 2018 or 2019. Although I do believe Luxoft has the fortitude, technological expertise and business acumen to flourish long term in its growing industry verticals, the current headwinds are simply too strong to recommend a buy at this time. This, in spite of an appealing relative valuation and impressive revenue growth. Still, I wanted to bring Luxoft to the attention of my readers as I believe its potential is evident. Undoubtedly Luxoft is one to watch going forward.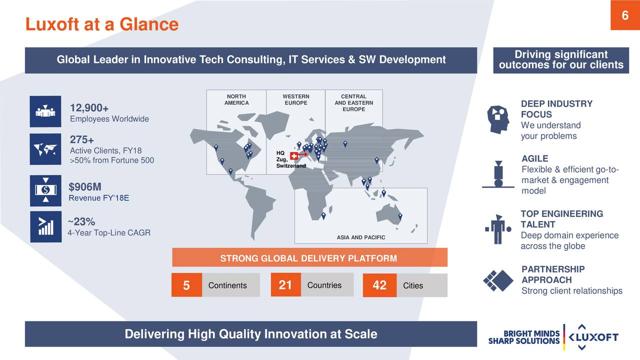 From 2018 Investor Presentation
A Less-than-Stellar Beginning to 2018
Despite a double-digit increase in overall revenues YoY, the most recent quarter was not a strong one for Luxoft. Revenues from top client Deutsche Bank fell 13% on the year, and the company's overall revenue bump was buoyed by the recent acquisition of derivIT, a technology consulting company and global alliance partner to Murex, as well as the acquisition of UNAFORTIS, a wealth management consultancy firm that aligns well with Luxoft's new focus on wealth management, private and universal banking. EBITDA and net income also both fell in the quarter despite the revenue increase.
In Thousands US Dollars

Three months that ended March 31

2017

2018

Revenue

206,365

220,438

EBITDA

24,097

22,252

Net Income

13,735

11,706

Net Income Margin

6.7%

5.0%
Table Compiled by Author From Luxoft Key Financial Data
This brings us to the real concern for investors when looking at Luxoft, the continuing downward trend in margins. Since 2015, margins have fallen across the board at the company as the chart below illustrates.
| | | | | | | |
| --- | --- | --- | --- | --- | --- | --- |
| | 2013 | 2014 | 2015 | 2016 | 2017 | 2018 |
| Gross Margin | 43.4% | 42.4% | 43.5% | 41.7% | 39.5% | 37.4% |
| Operating Margin | 13.7% | 14.8% | 15.3% | 12.2% | 8.8% | 6.6% |
| EBITDA Margin | 16.4% | 17.7% | 17.4% | 16.5% | 13.7% | 11.7% |
| Net Income Margin | 11.9% | 12.9% | 12.1% | 10.8% | 8.0% | 6.3% |
Table Compiled by Author From Luxoft Key Financial Data
Luxoft is aware of this negative trend and has been attempting to right the ship. A portfolio rebalancing and cost cutting effort has been underway for some time. Although the most recent quarter reveals the futility of these efforts thus far. Luxoft promises that with scale improved, margins will come especially in key verticals like Automotive, but as of now, it is difficult to trust in Luxoft's ability to improve margins, especially with the Deutsche Bank fallout looming overhead.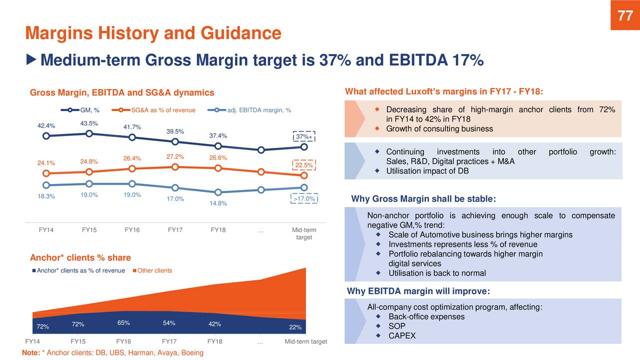 From 2018 Investor Presentation
Why This Is One To Watch
Despite decreasing margins and falling net income, there were many positives in Luxoft's most recent quarter and FY18 which I believe makes it one to watch going forward. For example, the company was able to sign 13 new clients in FY18 bringing its total to 138 and illustrating staying power within multiple industries. Luxoft also collaborated with international powerhouses like Amazon Web Services (NASDAQ:AMZN) in its blockchain-as-a-service technology development and SoftBank (OTCPK:SFTBY) (TYO:9984) in cloud infrastructure for humanoid robotics as was discussed in the Q4 2018 conference call. These top-of-the-food-chain collaborations illustrate the value of Luxoft's technological and industry-specific expertise in rapidly growing verticals.
The Automotive vertical was a particular bright spot in the most recent quarter. Q4 revenue growth was up 58% for the sector. For the full year, revenues increased 43%, slightly above expectations of 40% growth. Luxoft added six OEMs, six Tier 1 suppliers and five technology vendors to its portfolio and continued a consistent theme in FY18 of securing multiyear strategic partnerships that will help develop in-car technologies for clients. One recent example of this is Luxoft's newly formed partnership with Pegasystems, Inc. (NASDAQ:PEGA) whereby the two companies will work together to create a cloud-based, end-to-end mobility services platform for car-makers.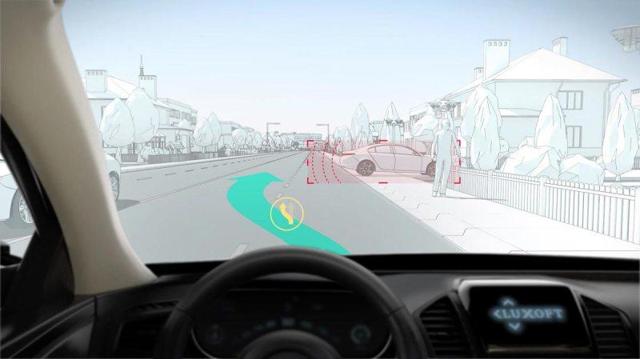 Daimler (OTCPK:DDAIF) (OTCPK:DMLRY) is the company's most important automotive client, and in 2018, the two companies showed off at the Consumer Electronics Show (CES), unveiling an intuitive and intelligent multimedia "digital cockpit" system. Luxoft has also secured a strong position with Daimler in the autonomous driving area meaning a significant opportunity for future revenues. A diversified and strong base of clientele has been a priority for Luxoft over the past three years since DB revenue began to fall. From Daimler and Pegasystems to IBM (NYSE:IBM) and Intel (NASDAQ:INTC), Luxoft has a growing laundry list of impressive clientele that it believes will help offset any losses from DB.
This leads us to High Potential Accounts, or HPAs, which have been management's major talking point over the last four years. As high margin revenue from legacy anchor clients falls, High Potential Accounts are meant to aid in a transition and diversify revenues. HPA revenue increased 49% in FY18, reaching 38% of total revenue versus 27% last year. In the last four years, HPA revenue went from 10% of total sales to 38%, demonstrating both the attractive long-term growth story these accounts exemplify as well as the company's revenue rebalancing strategy taking effect.
Another positive for Luxoft is the health of its balance sheet and the lack of significant debt. Short-term borrowings as of the end of March 31, 2018, were under $1 million, even in spite of continued acquisitions since 2015 and falling margins. The company has funded acquisitions through cash generated from operations, its current cash position and currently available credit facilities as it said it would do in the 2017 20-F. Luxoft has been able to maintain a healthy cash balance throughout the past three years even with these acquisitions and headwinds.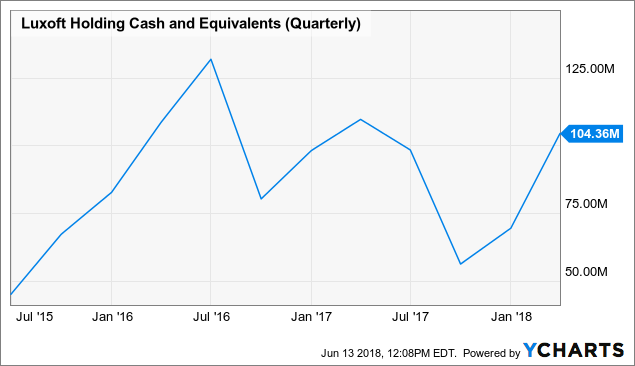 The company's ability to maintain a strong balance sheet in trying times is testament to its businesses efficiency and potential. Perhaps the most important reason to keep an eye on Luxoft though is its increasingly attractive valuation as investors fall out of love with the stock after several years of declining share prices.
Valuation
As of June 12th, 2018, Luxoft trades at just 1.4x sales. Given the impressive revenue growth seen at the company over the past five years, this seems low. Until you factor in the DB debacle and falling margins. Then it becomes more clear as to why Luxoft trades where it does. Trading at 22x earnings doesn't seem unreasonable given the current issues at the company.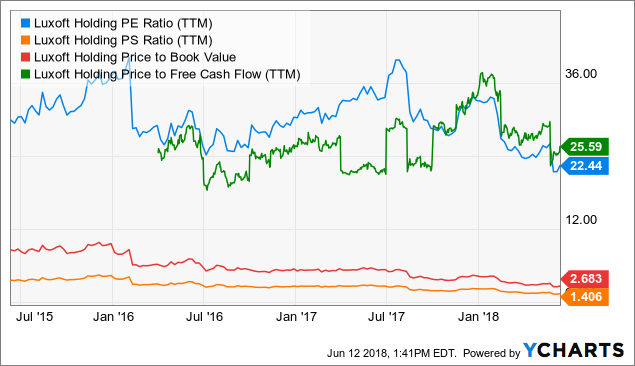 However, comparing Luxoft with its most closely related peer, Virtusa Corp. (NASDAQ:VRTU), we can see the company does in fact trade at a discount. VRTU is trading at over 74x earnings, has a price to book of 3.65, and a price to cash flow over 28x. VRTU does trade at a similar 1.49x sales, however, lending credence to Luxoft's current valuation. Still, given the fact that VRTU's margins aren't far ahead of Luxoft and its revenue growth has been slightly behind, the two should trade at a similar P/E. I believe fears surrounding Luxoft's top clients and margins have led to the declining valuation, which may present an opportunity for a keen investor who is paying attention in the coming months.
Conclusion
Luxoft is a global, growing, diversifying, first-class software and IT firm that you should be keeping an eye on. The company's impressive list of clientele and partners, exploding verticals, increasing revenues and strengthening relative valuation will help make it a long-term winner. For now, the uncertainty in regards to Deutsche Bank and falling margins make the company simply too risky for me to declare it a buy. However, Luxoft will be on my watch list going forward as management seems confident the end of this downward trend is near. I will need a quarter of proof where I see improving margins and net income, continued diversification of revenues, expansion of HPAs and strengthening client relationships before I consider taking a position though. For now, Luxoft is simply one to watch.
Disclosure: I/we have no positions in any stocks mentioned, and no plans to initiate any positions within the next 72 hours.
I wrote this article myself, and it expresses my own opinions. I am not receiving compensation for it (other than from Seeking Alpha). I have no business relationship with any company whose stock is mentioned in this article.