With oil prices rising significantly (and with the possibility of oil exceeding $100 by this time next year) - oil stocks seem like an obvious option to capitalize on such growth.
However, I have noticed somewhat of a negative sentiment surrounding Chevron Corporation (NYSE:CVX) at this point in time. The argument goes that even with spiking oil prices, competitors such as Exxon Mobil (NYSE:XOM) are in a better place to reap the fortunes from rising oil.
How true is this and does Chevron really have limited upside?
In a previous article, I pointed out that this is not the first time we've seen Chevron go through a period of significant decline. Back in the 1990s, after a period of price stagnation, a combination of cost-cutting efforts and rising oil prices led to a significant surge in the stock: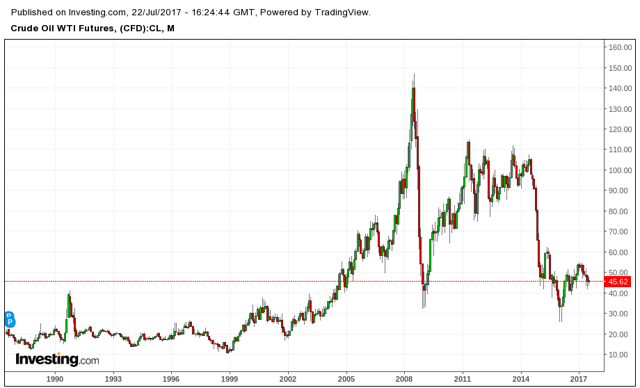 On this basis, I argued that we could well see the same happen again, given that 1) Chevron has been engaging in significant cost-cutting efforts, and 2) Chevron has been able to increase earnings growth significantly since 2016: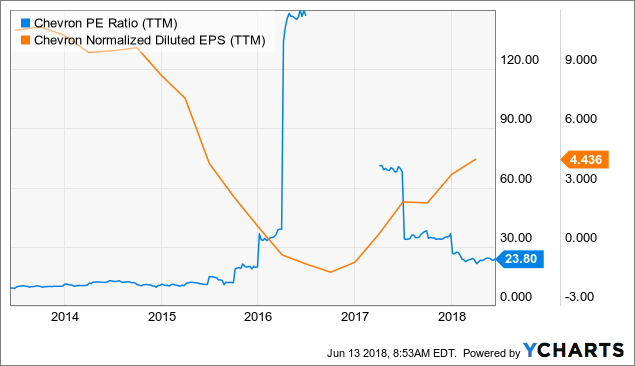 When we look at earnings, we see that there has been significant growth in this metric since 2017 when EPS was in the red. However, given that the stock was in negative earnings territory and the fact that the P/E ratio is still higher than pre-2016 levels, it is little wonder that we are seeing caution on the part of investors.
From a production standpoint, the Gorgon and Wheatstone LNG projects have seen significant growth, along with that of the Permian basin where shale production has grown by 65 percent from the previous year. When we look at the earnings summary, we see that upstream earnings have more than doubled since 2017:

Source: Chevron News Release April 27, 2018
Moreover, this growth has been across both U.S. and International Upstream segments: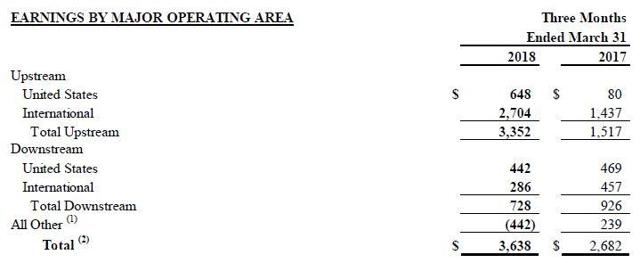 Source: Chevron News Release April 27, 2018
However, we did see a decrease in downstream earnings across both U.S. and International as a result of refined product sales bringing in lower margins, as well as higher expenses from turnaround activity at the El Segundo refinery in California.
Overall, we see that earnings are up on a holistic basis as a result of higher upstream activity. However, downstream earnings have shown a slight decline due to higher oil prices, and this could be a double-edged sword as higher prices could affect downstream profitability.
On the basis of the above, we see that upstream has accounted for 92% of overall earnings. Let's compare this to Exxon Mobil. When we look at earnings for the latter company, we see that upstream accounts for 75% of total earnings for 1Q18. Compared to 1Q17, we see that the company saw a 55% rise in upstream earnings, while downstream, chemical, and corporate and financing all saw a drop in earnings.

Source: Exxon Mobil Corporation 1Q18 Investor Relations Data Summary
Moreover, when we come back to the issue of production, we see that total worldwide liquids and gas production for Exxon Mobil has actually decreased from 1Q17, and the company is more exposed to downside from non-upstream operations: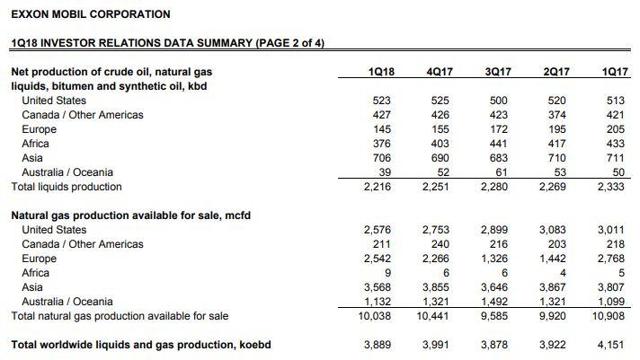 Source: Exxon Mobil Corporation 1Q18 Investor Relations Data Summary
In this regard, Chevron is more exposed to the upstream segment, but we also see that it is upstream that is providing the bulk of earnings growth for both of these companies at this point in time.
Since downstream operations focus on the refining of oil, increased consumption can in many instances help to offset the decreased margins on refined products. Therefore, downstream-focused companies often benefit from lower oil prices. In a high-price environment, we can expect the opposite to be the case. Margins on refined products may be higher, but decreased consumption from higher prices offsets any margin gains.
Therefore, given Chevron's exposure to the upstream segment, along with the fact that earnings growth has increased significantly for the company as a result of both rising prices and production - I simply don't buy that this stock has limited upside.
While Chevron had a payout ratio of nearly 100% in January, we see that it has dropped to 56.5%:

Source: dividend.com
We can expect the payout ratio to drop further as earnings grows, given that Chevron will be able to maintain a current rate of dividend growth while investing more free cash flow back into its business. Based on the current earnings trajectory, I foresee that Chevron will soon return to pre-2015 levels on a P/E basis, and in this regard I foresee that a price of $127 will soon provide a lot more value from an earnings perspective.
To conclude, I see Chevron as being in a great position to capitalize on growth in upstream earnings, and with a yield of 3.53% at a payout ratio of 56.5%, the company is still reinvesting significantly while continuing to pay out a strong dividend - and I see Chevron as being able to continue to do this as earnings grow.
I am long this stock and staying long.
Disclosure: I am/we are long CVX.
I wrote this article myself, and it expresses my own opinions. I am not receiving compensation for it (other than from Seeking Alpha). I have no business relationship with any company whose stock is mentioned in this article.
Additional disclosure: This article is written on an "as is" basis and without warranty. The content represents my opinion only and in no way constitutes professional investment advice. It is the responsibility of the reader to conduct their due diligence and seek investment advice from a licensed professional before making any investment decisions.