Software has been one of the hottest sectors in the market in the last 12 months. With the Dynamic Software index rising nearly 43% in the past year, most companies in the sector are hitting peak valuations. Adobe (NASDAQ:ADBE) is no exception. The company has soared nearly 83% in the past 12 months. With second quarter earnings being released this upcoming Thursday, we will dive in a little to see what to expect. Will the company continue its current trajectory and beat expectations, or will it fail to live up to the hype?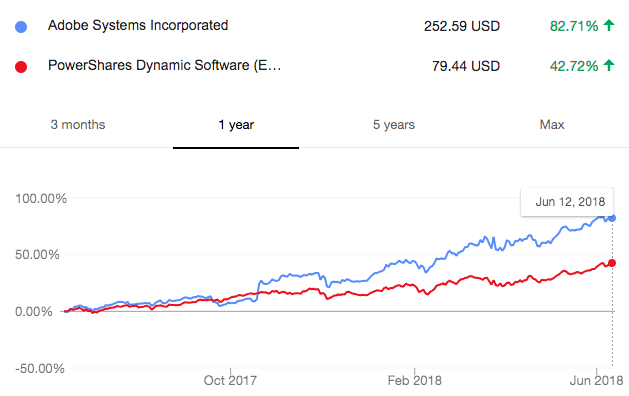 The first item in their 10Q from the first quarter that I would like to look at is their revenue and how it is broken down. From the first quarter last year to the first quarter this year, the company had its revenues grow 24%. This is no small feat and it is coming as the company is really going all in on their subscription-based business model. In fact, the company saw revenues coming from products and services and support actually shrinking while the subscription revenue grew almost 30%.
The subscription model has become incredibly popular in the last few years. It now covers many needs from music, entertainment, shaving, and the works. Some incredibly successful companies, such as Netflix, rely completely on subscription services to succeed. This model makes sense as it allows for reduction of costs due to scaling, protects their patented material better, and creates a strong and loyal customer base.
We can see this in action for Adobe as the nearly 30% increase in subscription revenue only increased costs by 16.6%. The ability to scale at reduced cost, especially for a company based on fixed costs with low variable costs, is a great way to grow their revenues. This also should allow the company to keep their revenue more consistent as the subscription model makes customers pay the same amount per period, thus reducing cyclicality.
This increase in revenue at minimal cost increase has allowed the company to grow its operating margins from 28% in the first quarter of last year to 34% in the first quarter of this year. It has also helped their margins grow from 24% to 28% in their net income. Between the revenue growth and the margins growth, the company saw net income increase a staggering 46%. This can help shed light on why the software industry is doing so well.
The company has seen extreme growth and it is expected to continue; maybe not quite as fast, but it should remain significant. Therefore, a good way to value the company is to compare it to its peers. Considering the growth, I felt that comparing the companies on last years annual sales would be ignoring relevant data, thus I will compare them based on first quarter performance. I will compare P/ Q1 EBITDA for each company. The numbers might seem high but keep in mind it is only divided by the EBITDA of one quarter instead of a whole year.
When comparing these numbers, I found that ADBE trades at nearly 179x Q1 EBITDA as per their 10Q. Microsoft, however, is trading at only 101x Q1 EBITDA, and Oracle is trading even below that at 58x EBITDA. The only explanation is that the market sees much larger growth potential for Adobe than its peers. This could be due to its acquisition of Magento, which allows it to break into the e-commerce space, in which it has had no place in the past. This could open new doors to revenue growth and profit growth in the future.
This extremely high trading multiple puts ADBE in a fairly precarious situation come earnings time. If the company fails to meet expectations of $1.25 per share, it would not be out of the question to see their EBITDA multiple come back to earth. This could present a large risk for the company. That being said, if the company does meet expectations, those who have been waiting for confirmation may finally buy in. Thus, I believe that the stock will move largely in either direction come earnings time.
To invest in this, I would suggest buying both put options with strike price around 5%-7% below the stock price and Call options approximately the same distance above the stock price. This should allow profitability for either a crash or a pop. At such high trading multiples, the volatility come earnings time tends to be much higher and this could prove profitable.
Disclosure: I/we have no positions in any stocks mentioned, and no plans to initiate any positions within the next 72 hours.
I wrote this article myself, and it expresses my own opinions. I am not receiving compensation for it (other than from Seeking Alpha). I have no business relationship with any company whose stock is mentioned in this article.