By Gaurav Sinha
I have written on the jump in the VIX that occurred in February, taking investors by surprise. While there was a precursor to this unprecedented surge in the VIX (a compression of spreads between implied minus realized volatility), it was subtle and the move was very sudden. VIX moves are important due to their strong negative correlation to equities.
In this blog post, I will highlight another relatively more stable signal we have been following and the one that has been flashing red for some time, the VIX futures curve. I will also talk about strategies that can cushion market corrections that typically follow periods of heightened volatility.
VIX Futures Curve: A Signal to Watch
The VIX is indicative of one-month implied or forward volatility. When there is a spike in the VIX, it simply means investors anticipate higher volatility in the future.
Now, most investors are aware of term-structure curves in relation to commodity futures curves. Similarly, VIX can also have a futures curve where different points in the curve imply investors' anticipation of implied volatilities at that time.
Under normal circumstances, as one moves further out in the future on the curve, corresponding values should be higher, partly because six months have more uncertainty than, say, one month.
In other words, usually six-month minus one-month VIX futures spreads should be positive. Commodity traders refer to this upward sloping nature of a futures curve as being in "contango," and it also implies a roll cost every month-why investors structurally long in volatility-hedging products face a strategic headwind.
The exhibit below shows a standardized series of VIX one-month and six-month futures contracts going back 10 years. Out of about 2,610 trading days, there were about 1,193 days (46% of time) when the one-month standardized VIX was higher than the standardized six-month VIX.
To put it simply, VIX one-month futures surged faster than VIX six-month futures (highlighted in gray on the lower chart). It happened during the financial crisis of 2008-09 and during the Greek default and euro-contagion in 2011, and most recently this inversion started on January 29, right before a big spike in VIX on February 5 ahead of the substantial decline in equities in the weeks that followed.
An acceleration in the near-term over medium-term VIX can thus be a strong signal of heightened volatility and possible market corrections.
What can take investors by surprise is that with an occurrence rate of almost 50% (1,193 days out of 2,610 days), this acceleration is not uncommon!
VIX 1-Month Volatility Surpasses VIX 6-Month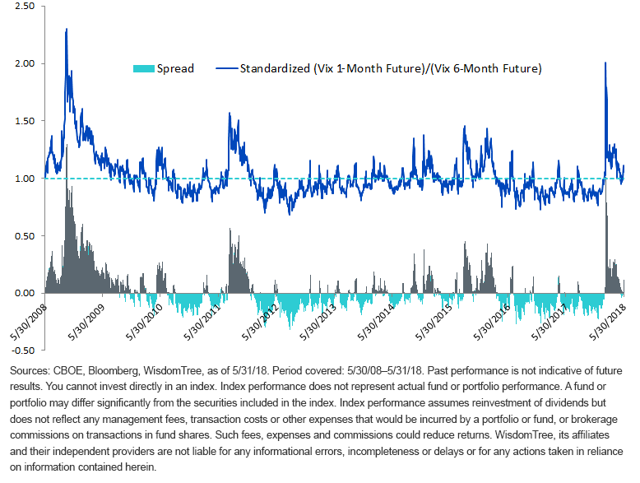 How WisdomTree Can Help?
Can investors mitigate these periods of high volatility?
In 2016, WisdomTree launched its first option-selling strategy, the WisdomTree CBOE S&P 500 PutWrite Strategy Fund (NYSEARCA:PUTW), which tracks the Cboe S&P 500 PutWrite Index (PUT).
This cash-collateralized strategy sells at-the-money (ATM) monthly put options on the S&P 500 Index and collects premiums. Therefore, by generating monthly income by selling put options, this strategy aims to offset losses in a declining market while still providing positive returns during rising markets.
Given PUTW's popularity and track record, we also launched a small-cap version of the same strategy, the WisdomTree CBOE Russell 2000 PutWrite Strategy Fund (BATS:RPUT), which tracks the Cboe Russell 2000 PutWrite Index (PUTR) and sells cash-collateralized monthly ATM options on the Russell 2000 Index.
The table below highlights the relative cumulative outperformance of these option-selling strategies against their respective equity benchmarks during above-discussed periods when short-term volatility surged.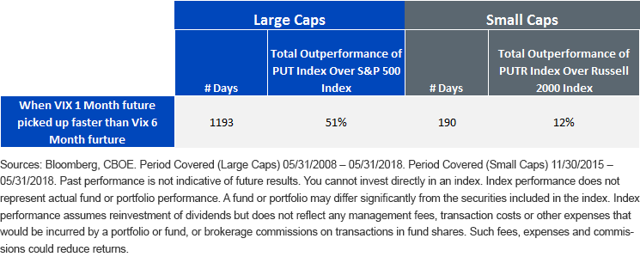 For definitions of terms in the chart, please visit our glossary.
Taking it one step further, I also show the five longest instances in which VIX one-month futures constantly traded higher than VIX six-month futures, for large- and small-cap universes.
Large Caps
PUT Index vs. S&P 500 Index

Small Caps
PUTR Index vs. Russell 2000 Index

Options selling strategies did what they were designed to do: outperform their respective equity indexes, which were mostly trading negative for those days when volatility had spiked.
Conclusions
Short-term investors try to time markets by developing and watching various signals to time risk on or off, while long-term investors go by a simple rule: Time spent in the market is more important than timing the markets. What connects the two investing themes: To grow your portfolio, your asset allocation should be able to survive the cyclicality of markets' booms and busts.
Strategies designed to help reduce volatility, such as WisdomTree's PUTW and RPUT, deserve attention to help stay the course without introducing unique stock selection risk of other low-volatility investment strategies. By incorporating option strategies, investors could outperform not only during periods of stress but also potentially on a longer-term risk-adjusted basis. Additionally, option-selling strategies have the potential to generate higher income for an investor's portfolio during periods of heightened volatility. We believe PUTW and RPUT are compelling candidates for any risk-sensitive equity asset allocation.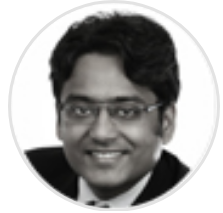 Gaurav Sinha, Asset Allocation Strategist
Gaurav Sinha is currently working as Asset Allocation Strategist at WisdomTree since November 2014. He is leading the Portfolio Analytics and Solutions team and builds specialized investment solutions along with customized analytics for our clients. He is also deeply involved in advancing WisdomTree's product suite and has particular expertise on India. Gaurav came to WisdomTree after stints at World Bank, Morgan Stanley and recently with Windhaven Investment Management. He received his Masters in Financial Engineering from Columbia University in 2009 and holds a bachelors Engineering degree from the prestigious Indian Institute Of Technology (IIT).