The big question for PFSweb (PFSW) over the past few quarters was whether the company's weak 2016 truly was an anomaly. Late that year, PFSweb basically brought on more business than it could handle. Margins plunged, and issues lingered into the beginning of 2017.
PFSweb did show a nice recovery last year, particularly in the back half. Q4 results in particular looked solid, as I wrote at the time, assuaging some of the concerns I'd held about choppy performance. With the company having moved on from those engagements, PFSweb looked (and looks) like it's getting back to normal. And the stock has responded, moving to two-year highs before a recent, modest, pullback: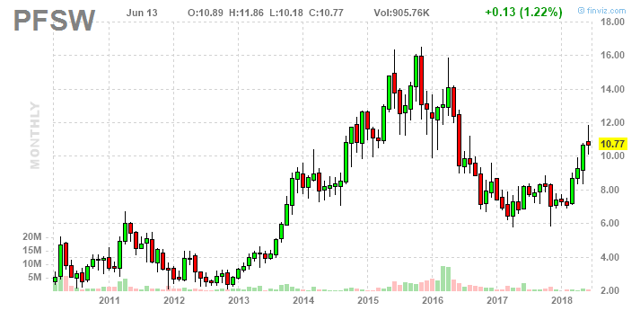 Site: Finviz.com
Near the highs, the question now becomes whether a "normalized" PFSW still has more upside now that it's reached the double digits. And I think the answer is "yes". PFSW isn't as cheap as it was a year ago; valuation has moved from downright cheap to pricing in some level of consistent growth. But there's reason to see that growth coming, and an activist stake raises the possibility of a sale over the next couple of quarters.
There are risks here, to be sure. Q1 results were solid, but a seasonally quiet quarter doesn't establish a new trend on its own. There's still a question as to whether the company's niche - working with suppliers that are big enough to drive real e-commerce revenue, but not big enough to bring it in-house - is sustainable, let alone set up for multi-year growth. For now, however, given that PFSweb seems back on track, those risks appear worth taking.
Q1 Results
PFSweb's first quarter report is another step toward the business normalizing. What the company calls "service fee revenue" (a figure that includes gross profit on a small product resale business, and excludes pass-through revenue) declined 1.7% year-over-year. But the comparison against Q1 2017 - when PFSweb had that extra business - skews the results a bit, and the figure appears in line with management expectations.
Meanwhile, margins expanded nicely - again, in large part due to the comparison. SFE gross margin rose 610 bps to 37%. The comparison helps, but it's worth pointing out the figure is 240 bps better than that achieved two years ago, showing progress even disregarding the disruptive engagements. Adjusted EBITDA rose 21% with higher SG&A (excluding one-time costs a year ago), driven by higher personnel costs per the 10-Q, deleveraging against the lower revenue base.
It's a good quarter, to be sure, though not quite cause for celebration just yet. Profits and, to a lesser extent, revenue tend to be weighted toward the back half, with the consulting business spiking in Q3 and the fulfillment operations seeing more volume in Q4 ahead of the holidays. But at the least, PFSW has strung together two solid reports - something it hasn't done in the past couple of years - and providing more evidence that the business is moving in the right direction.
Supporting The Bull Case
Meanwhile, PFSW continues to give more color surrounding its two business units, which were separated for reporting purposes in the Q4 report. The PFS Operations segment - the e-commerce fulfillment business - is larger, with guidance suggesting it will generate about 60% of revenue. PFSweb is guiding for 5-10% growth long-term, with a flat to -3% performance in 2018 again affected by the comparison to 1H 2017 results.
LiveArea (consulting and brand marketing services) looks like the more attractive business - at least for now. Gross margins are higher (though SG&A is as well), and growth is expected to range from 10% to 15% long-term, with guidance of 8-14% for 2018.
Combined, that suggests high single-digit top-line growth going forward - enough to drive operating leverage. And the company sees more opportunities for margin expansion, with CEO Mike Willoughby on the Q1 call citing "land and expand" opportunities and more service offerings as contributing to margins going forward.
And the quarter seems to provide some qualitative support for those efforts. A contract with a "major health and beauty client" (which I believe to be L'Oreal (OTCPK:LRLCY)) added 3 new brands. A partnership with Shopify (SHOP) expands into SMB. Per the call, LiveArea annual contract value rose 56% Y/Y, including a nice win with Aaron's (AAN), which is investing heavily in building out its e-commerce capabilities.
PFSweb still offers the "end to end" capabilities that combine LiveArea and operations offerings, with ~a quarter of clients using both services - and those clients driving roughly half of total sales. But management has argued that separating the two businesses from a branding and operations standpoint itself has helped performance. And Q1 shows some early evidence to support that claim.
Again, PFSweb hasn't completely proven itself. But the business is getting back to normal, and there's a nice path to upside here. Mid- to high-single-digit revenue growth should lead to expanding EBITDA margins, and likely double-digit profit growth. That should be enough to get the stock comfortably above current levels.
Risks and Valuation
Fundamentally, one of the reasons why the second half of last year and the first half of 2018 looked important is that they would either confirm or negate the argument that 2016 profits were hit by the low-margin engagements. At the moment, it looks like PFSweb is back to growth, and doing so over a multi-year period, albeit a bit slower than investors might have hoped a few years ago: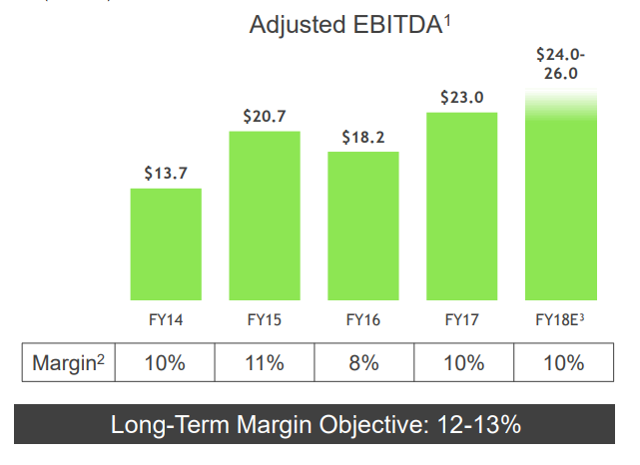 Source: PFSweb May presentation
2018 guidance suggests a 5-8% CAGR in terms of EBITDA, albeit with some margin compression over that period. It's not spectacular, and to be honest, I'm a bit skeptical of longer-term targets projecting revenue growth to accelerate.
But there's enough, as is, to support some growth going forward. End demand should continue to be solid, as more brands invest in e-commerce and omnichannel and more of the smaller high-end brands advertising on every single podcast being produced rent scale instead of building out their own operations.
And some growth is enough to at least keep PFSW above $10. The midpoint of guidance suggests a 9.5x EV/EBITDA multiple, ~1x EV/revenue (using the SFE figure), and ~18x normalized free cash flow. None of those multiples necessarily price in torrid growth - or anything close to management expectations. There's still room for margin expansion in 2019. Growing revenue 7%+ a year for the next 3 years, and hitting the low end of the long-term margin target would get EBITDA to $36 million.
A 10x EBITDA multiple, assuming $27 million in net debt is paid off, would value PFSW near $19, about 75% upside. Peer comparisons are tough, but as I pointed out last year Sapient, Rosetta, and Razorfish were bought out in the 12-13x EBITDA range. And that figure would suggest a P/FCF in the 17x range, modestly below current levels, and pricing in consistent, if unspectacular, growth going forward.
Meanwhile, one recent catalyst for the stock has been an activist stake by Ancora Advisors, who now owns 6.2% of PFSW shares. Ancora is reportedly pushing for a sale, and with a ~$200 million market cap and $1.5-2 million in public company costs, per the Q1 call, such a move might make some sense. Getting the 12-13x paid for peers would imply a takeout price (including debt) around $14-15.
Again, there are risks here. Execution hasn't been perfect, even ignoring the late 2016 issues. There's still concern about churn longer-term: PFSW lost Starbucks (SBUX) as a customer last year when the chain shut down its online store. CFO Tom Madden said on the call that expected churn is in the 5-8% range annually, and the company focuses on brands more than retailers (who might be more interested in bringing operations in-house as they grow), which should limit risk. Still, one of my long-held worries has been that the best customers will outgrow PFSweb, leaving a weaker base over time.
Overall, though, the case for PFSW still looks reasonably strong. The argument for the stock a year ago was more of a fundamental case: if 2016 issues were fixed, the stock was simply too cheap. The case now is a bit more qualitative: this looks like a business starting to perform well in what looks like an attractive industry, with a reasonable valuation. Add to that the potential catalyst from M&A, and there's enough to stick around and see what the company can do as 2018 plays out.
Disclosure: I am/we are long PFSW.
I wrote this article myself, and it expresses my own opinions. I am not receiving compensation for it (other than from Seeking Alpha). I have no business relationship with any company whose stock is mentioned in this article.