When looking for the next potential investment, it's a good idea to start with a screener to narrow in on a group of investments that may have potential. I chose for this list a few requirements to narrow in on some potentially attractive CEFs:
All CEFs on this list are invested primarily in equities, because I feel that equities are a better choice right now as bonds will continue to gravitate lower while the Fed increases rates.
All the CEFs listed are trading at a discount from their NAV per share.
All the CEFs listed are yielding over 10%.
I did not do any further research into the funds listed as far as sustainability so of course, please do you own due diligence. This list is merely a starting point to potentially find some attractive funds. There is a risk that at any time a fund can cut its distribution which would most likely cause the share price to drop sharply.
The funds are ranked from 12th to 1st based on yield, lowest to highest.
12. Macquarie/First Trust Global Infrastructure/Utilities Dividend & Income Fund (MFD)
This fund currently yields 10.27% and pays on a quarterly schedule. The fund seeks to provide a high level of current return consisting of dividends, interest, and other similar income while attempting to preserve capital. The fund invests predominantly in securities that are involved in the management, ownership and/or operation of infrastructure and utility assets. These assets are expected to offer reasonably predictable income and attractive yields. The fund currently has a discount of -1.35%.
Utilities and infrastructure I believe are always a good place to at least hold some of your assets, they help mitigate downside risk during recessions and market pullbacks. They are seen as strong earners of free cash flow companies that can still pull in tons of cash during economic slowdowns. However, with that said, MFD holds about 30% right now in the Oil and Gas sectors which have additional risks with commodity price swings.

Source - CEFconnect
11. Liberty All-Star Equity Fund (USA)
This is a fund I personally like, the current distribution rate is 10.37% and is paid on a quarterly schedule. I covered USA in the past, "Closed-End Fund USA - A Fund For A 10% Yield." The fund has a current discount of -5.48%. The fund is a little unique in the fact that it combines three value style and two growth style investment managers. The investment managers are selected to operate different portions of the assets. They demonstrate a consistent investment philosophy, decision-making process, continuity of key people and above-average long-term results.
They actually have a managed distribution policy to pay out 10% of its NAV per year, payable in quarterly installments of 2.5%. I believe this is strong for income investors that like predictable income. While the fund I believe would be even stronger as a monthly payer, I still believe this fund has some room in a portfolio for a total return play, consisting of income and capital appreciation.
Source - CEFconnect
10. Kayne Anderson Energy Total Return Fund (KYE)
KYE invests primarily in equity and debt securities of companies in the energy industry, this includes MLPs, midstream corporations, marine transportation, and energy related debt. The current yield is 10.40% and is paid on a quarterly schedule. The current discount is at -7.50%.
KYE is actually set to be merged into the very similar fund, Kayne Anderson Midstream/Energy Fund (KMF), subject to shareholder approval the funds are expected to be merged fiscal quarter ending August 2018. With this merger management expects to be able to lower expenses, thus, lowering the expense ratio for shareholders. This puts more money in investors wallets.

Source - CEFconnect
9. Neuberger Berman Real Estate Securities Income Fund (NRO)
NRO has a current distribution rate of 10.58% and is on an attractive monthly-paying schedule. The current discount is -3.68% and I recently wrote on NRO as well, "CEF NRO: Is This Almost 11% Yield A Buy." The fund invests primarily in securities issued by real estate companies and REITs. With the primary objective of high current income, and a secondary objective of capital appreciation.
NRO I believe is a buy, the best part about this high yielder is the fact that they have been nearly earning 100% of their distribution. As of the last Annual Report, that is slightly dated from 10/31/2017, average UNII per share sits at -$0.0023. This is about a quarter of one cent, with such a high distribution I would have expected significantly less coverage. Also, with well diversified underlying REIT holdings coming from multiple sectors and about 41% in preferred securities I think this is a good place to be in.

Source - CEFconnect
8. NexPoint Strategic Opportunities Fund (NHF)
NHF has a distribution rate of 10.63%, with a discount of -8.55%. This fund has recently just completed a rights offering. For further insight, Left Banker and Stanford Chemist have articles covering the rights offering. Left Banker had a few different articles covering the subject, "NHF Rights Offering Expires At A -15.8% Discount," the other articles can be found when clicking on the author's name and navigating to the articles. Stanford Chemist had a great article as well, "NHF's Rights Offering Analysis." I would highly suggest looking into both articles to gain a deeper understanding of the subject.
NHF has had rights offerings in the past and I suspect they will continue because they have been successful, especially for management that stands to gain from the added income they will draw from the fees. I would be cautious on NHF if you are not intending to subscribe to their rights offerings, and thus, becoming diluted by the additional shares.
The fund has an investment objective to provide current income and capital appreciation. To achieve this, the fund invests primarily in below investment grade debt and equity securities and has the ability to hedge.
The large spike in the distribution chart is from the REIT the fund had spun-off. NexPoint Residential Trust (NXRT), the fund was spun-off through a pro-rata taxable distribution of NXRT common stock.

Source - CEFconnect
7. Tekla Word Healthcare Fund (THW)
THW distribution rate stands at 10.63%, with a very attractive discount of -9.23% paid on a monthly schedule. The fund has an investment objective of seeking current income and long-term capital appreciation. The fund attempts to achieve this through investing in companies engaged in the healthcare industry, including equity securities and debt securities.
I had in the past covered the other fund offered by Tekla, "Closed-End Fund THQ: Large-Cap Healthcare Stocks At An 8% Yield." I believe healthcare is a great sector to have at least some exposure in. The sector had recently been selling off with uncertainty in the healthcare sector with Republicans in control of the White House and Congress and what those impacts may be on the ACA. Overall, THW has a huge discount that is looking very attractive, especially with such a large yield as well.

Source - CEFconnect
6. Nuveen Energy MLP Total Return (JMF)
JMF is displaying a distribution rate of 10.68%, that is paid on a quarterly basis. The fund has a discount of -2.94%. The investment objective for JMF is to provide tax-advantaged total return, by investing in a portfolio of MLPs that operate in the energy sector. The fund also may use various hedging techniques in seeking to enhance its risk-adjusted total return over the longer-term.
MLP funds and any energy related tickers have all become sold off as the oil recovery keeps trudging on after the oil price collapse in 2015-16. JMF however, holds 90% in oil gas storage. These holdings are not completely sheltered from commodity price swings but generally have fixed prices it charges to move and store the commodities that other companies need. This I believe is why when you see the distribution history for JMF it has been relatively stable since its inception.

Source - CEFconnect
5. Fiduciary/Claymore MLP Opportunity Fund (FMO)
FMO has a distribution rate of 10.72%, paid out on a quarterly schedule. The fund currently has a discount of -4.51%. Like JMF above it, FMO seeks to provide a high level of after-tax total return by investing in a portfolio of MLPs.
FMO had the same luck of investing in oil and gas storage MLPs, that remained relatively sheltered from the oil crash. Just looking at the distribution chart, the fact that they have been steadily raising up until this year shows that management had been pretty confident in their ability to earn the distribution. FMO is actually also showing a 1-year z-score of -1.40 as the fund appears to be oversold sharply.

Source - CEFconnect
4. Guggenheim Enhanced Equity Income Fund (GPM)
GPM currently shows a distribution rate of 10.76%, paid as a quarterly distribution. The fund has a shallow discount of just -0.22%. The fund seeks a high level of current income and gains with a secondary objective of long-term capital appreciation. To achieve the stated goals the fund utilizes investments in equities, either through individual securities or ETF holdings and with an options strategy to potentially enhance income.
On March 20, 2017 two other Guggenheim funds were merged into GPM, Guggenheim Enhanced Equity Strategy Fund and Guggenheim Equal Weight Enhanced Equity Income Fund. The discount might be slight, but one thing you can notice from the distribution chart is that they have maintained the same distribution since the 08-09 crash. I personally like to see that kind of consistency and to me it can be viewed as attractive. The other benefit is the fact that you get broad diversification within GPM as the top holdings are ETFs; PowerShares QQQ Trust (QQQ), SPDR S&P 500 (SPY), and iShares Russell 2000 Index (IWM) are the three top holdings.

Source - CEFconnect
3. Nuveen All Cap Energy MLP Opportunities Fund (JMLP)
JMLP has a current distribution rate of 10.78%, with a discount of -1.76%. The fund pays on a quarterly distribution frequency. Like the other Nuveen fund above, JMLP invests in primarily MLPs but with an added emphasis on focusing on small and mid cap Energy MLPs. The fund has an investment objective to provide a high level of total return including current distributions and capital appreciation.
I like JMLP but it is almost a mirror image of JMF above, the other Nuveen MLP fund that invests in Oil & Gas storage sector but with JMF you get longer history. Maybe some combination of holding both funds would intrigue another investor.

Source - CEFconnect
2. ClearBridge Energy MLP Opportunity Fund (EMO)
This fund offers investors an 11.19% yield, with a discount of -4.75%. The distribution is paid on a quarterly schedule. This is another fund that holds energy-related MLPs, with a focus primarily on MLPs with operations in crude oil, natural gas liquids, and refined products infrastructure. The fund seeks a high level of total return with an emphasis on cash distributions. They additionally target MLPs with long-lived assets, predictable cash flows, and relatively low direct commodity exposure.
Now EMO is an MLP fund that I enjoy, I don't own in but have it on my watch list. The top holding at 10% is Enterprise Products Partners (EPD), EPD is seen as one of the strongest natural gas and crude oil pipeline companies. EPD has continued to raise its dividend every single quarter for 19 years. It's not a guarantee that it can continue but history has a way of repeating itself.

Source - CEFconnect
1. Virtus Global Dividend & Income Fund (ZTR)
To round off this list we have ZTR, I was not able to get their fund website to load so this data is strictly taken from CEFconnect which has shown in the past to occasional display errors. With the main focus on distribution rate and discount, I have found a very high percentage of this data to be correct from CEFconnect for these two categories.
ZTR currently displays a quite enticing distribution yield of 12.22%, the discount is almost non-existent at a mere -0.09%. The fund has an investment objective of current income and capital appreciation. The fund utilizes a strategy of investing in high quality bonds and equities to attempt to achieve the stated objective. While the fund does show a razor thing discount, the fact that its 1-year average is at a premium of 1.70% giving this fund a z-score of -0.40.
I would be cautious with this fund however, the last 6-months the fund seems to be running into a rough patch with -9% NAV performance while the broader market has remained flat. This may be due to the roughly 36% in bonds the company holds, with almost 20% in AAA rated debt. Investment grade bonds will continue to get destroyed as the Fed raises interest rates.

Source - CEFconnect
I am not entirely sure why CEFconnect shows a weird gap in distribution above but I will include another visual to clarify that they did indeed pay distributions through 2015-16.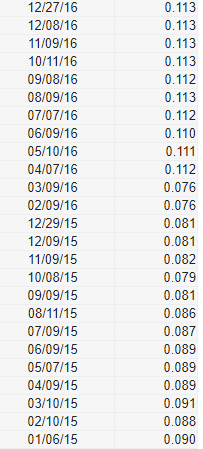 Source - Dividend Channel
Conclusion
Buying an investment based solely on its distribution is risky business and further research must be conducted. This is not an all-encompassing list as there are other funds that yield over 10% while trading at a discount as well. I chose to narrow the list by funds that are invested primarily in equities and cut the list to the 12 highest yielders. I am sure there are other funds that trade even at slight premiums that could have been included in this list but didn't make the cut due to not being at a discount.
When you are an income investor, there is a good probability that you are holding or at least tempted to buy CEFs as they provide higher than typical yields for their investors.
Please feel free to leave any questions or comments below in the comments section! If you like this article, please consider clicking the "Follow" button above to stay up-to-date on future articles.
Disclosure: I am/we are long USA.
I wrote this article myself, and it expresses my own opinions. I am not receiving compensation for it (other than from Seeking Alpha). I have no business relationship with any company whose stock is mentioned in this article.
Additional disclosure: May initiate a position in any of the funds mentioned over the next 72 hours.