High-intensity, slick water fracs are changing the energy equation of the world. With short-cycle investments directing most oil & gas activity in 2018, parts suppliers like Halliburton (HAL) could experience growth again similar to their start-up days.
Institutional investors are usually anticipatory of such powerful dynamics and get in before the little guy can. However, I believe HAL has powerful catalysts working in its favor that institutional investors are overlooking, such as drillers choosing to pursue short cycle operations, pumpers switching to slick water fracs, financial conditions improving from alleviated supply chain restraints and rail issues, and technical indicators flashing buy signals on the 200 day moving average.
In other words, the stars are aligning for Halliburton, who is providing, potentially, an opportunity of a lifetime for long investors.
Catalyst: Slick Water Fracs Create Wear And Tear
I have already written about the historical shift from gel fracs to slick water fracs, and how sand companies like Hi-Crush Partners (HCLP) benefit, since drillers are using 3-4 times the amount of sand today, compared to 2014. But, Halliburton may be the biggest beneficiary of all, since the high-intensity nature of slick water programs degrade parts so quickly.
In fact, HAL stated that for every new build of horsepower that comes on, only 50% translates into new crews. Or, as new horsepower comes online, half is being used just to replace old equipment or crews already in the field. So, wear and tear on parts and horsepower is very real problem for drillers, and new builds won't even be able to keep pace with the extreme rate of degradation seen from slick water jobs. This mega trend will play right into the hands of Halliburton.
International activity is on the rise, too. Argentina is seeing record production and stage counts in the Vaca Muerta shale basin, and the Middle East and Asia are seeing increases in completions activity, too. Mexico and Brazil are auctioning blocks off as well, and will only drive future revenues for Halliburton.
Financials
In addition to having powerful catalysts, Halliburton's financial condition is strong. Revenues for the quarter were $5.7 billion, with net income coming in at $619 million. This represents a year-over-year increase of 34%, and over 200%, respectively. These results were primarily driven by increased completion and production activity in North America, where operating income tripled to $500 million.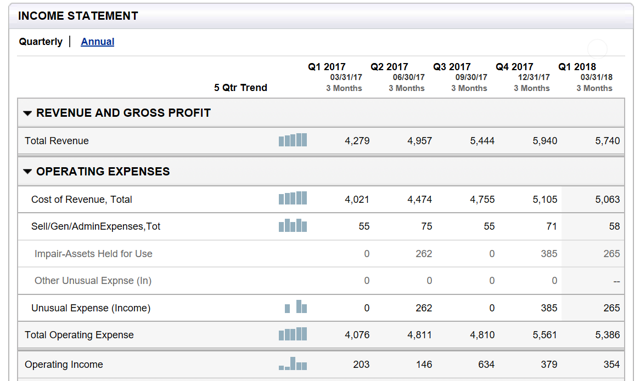 Source: E-Trade
International revenues for completions were strong as well, particularly in Argentina and the Middle East. Latin America, Mexico, and Venezuela, however, offset some of this strength. Drilling revenue also increased 15%, showing drillers willingness to add to DUCs, not just complete current drilled but uncompleted wells.
HAL's balance sheet also shows that the company is in heathy financial condition, with assets just under twice more than liabilities. The company is coming out of one of the worst commodity-price downturns in history, so this is not alarming to see, as long as revenues and net income are expected to grow (which they are).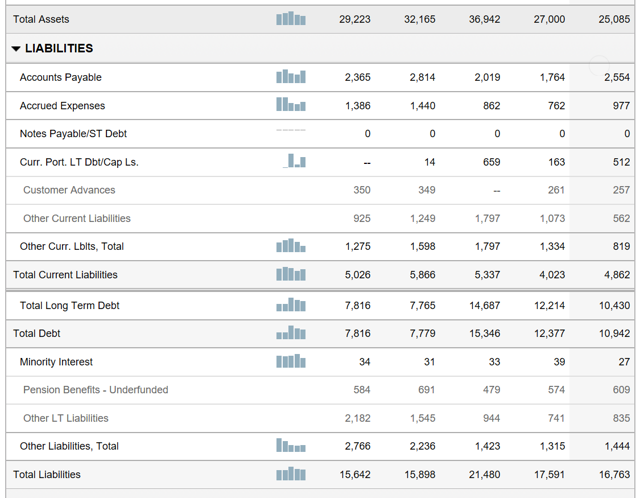 Source: E-Trade
CapEx of $2 billion appears high. But, with revenues of over $5 billion quarterly, and operating income set to rise since rail and supply chain issues are in the rear view mirror, HAL should have no problem spending within cash flow from future operators.
Cash flow from operations during the first quarter was $572 million with capital expenditures of $501 million, proving HAL can spend within cash flow.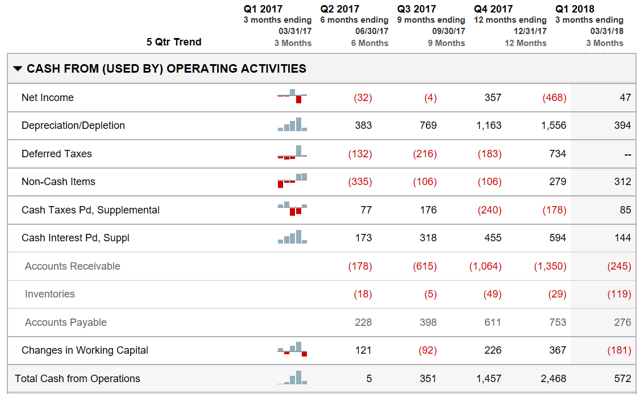 Source: E-Trade
While revenues and cash flow have been strong for Halliburton, net income has been a bit bumpy. This inconsistency in net income seen in the last few quarters is primarily attributed to rail issues, supply chain constraints, and poor weather which are, again, largely transitory issues for HAL.
Technicals Flashing A Buy Signal
Along with game-changing catalysts and improving financial conditions, Halliburton's one-year chart (below) is setting up for a multi-year bull run. The stock is trading at just under $50 a share, and is perched on the all-important 200 day moving average (black line).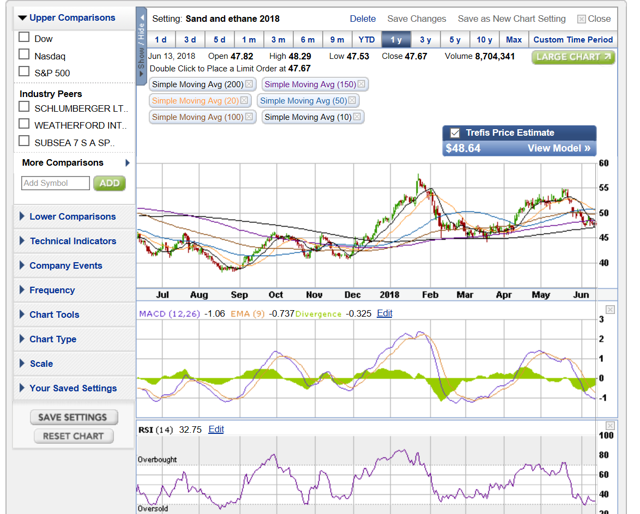 Source: E-Trade
Along with being on the 200 day mavg, HAL's RSI is oversold at 40, increasing the odds of a bounce up to the 100 day mavg (brown line at around $50). If HAL's stock can then hold $50 a share for a few days, the nine day mavg would have a chance to loop sideways and press into the 200 day mavg, forming strong support. A golden cross of the 9 day mavg through the 20 day mavg, subsequently, would be the next key development to watch for HAL.
HAL's one-year chart is bullish, and so is a max-timeframe chart. Formally trading at $70, HAL has almost 50% upside from current levels at $50 a share.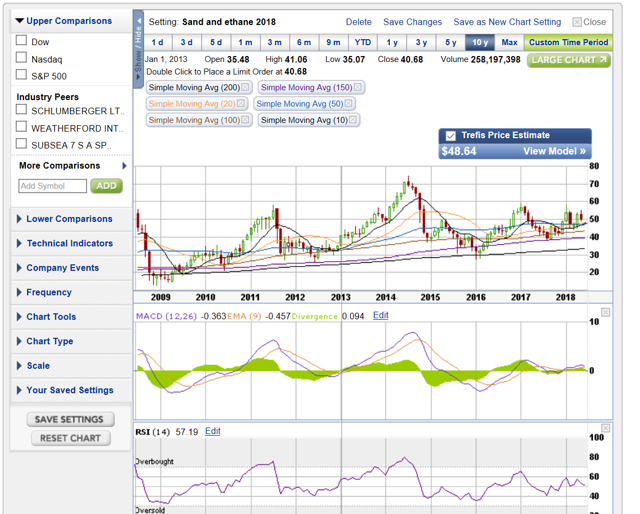 Source: E-Trade
HAL's stock on a max-time frame is also showing a golden cross, with the 9 day mavg crossing up through the 50 day mavg. When a golden cross sets up on both time frames like this, a powerful move to the upside is probable.
Analyst Targets
Analysts seem to agree that HAL is primed for a move higher. The low target of $54 implies great value, as the stock is trading below $50 a share; while the high target of $79 implies more than 65% upside.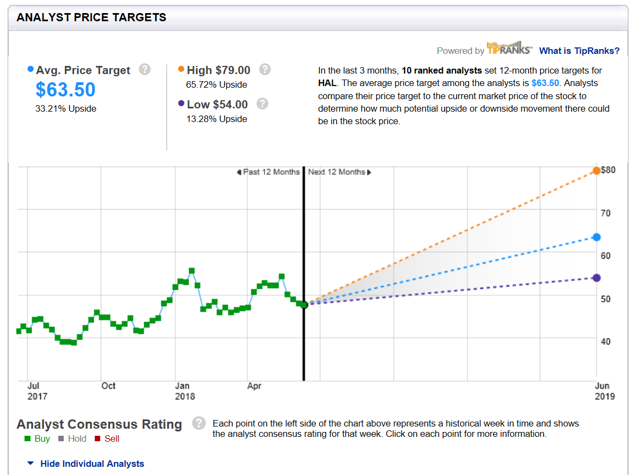 Source: E-Trade
So, when a stock is trading below its low target, and yet has a high target of over 65%, a price dislocation could be occurring, presenting a serious buying opportunity for long investors.
Risks
Halliburton has risks to their story that could obviously derail their future performance, such as rising interest rates, inflation from an overheating economy, consumer demand softening for petroleum products, governments shakeups in foreign economies, and scaling business activity up and down quickly, which is why I like frac sand players as an alternative to traditional oil and gas investments.
A large portion of Halliburton's capital expenditures will be spent on R&D and new product lines, so there's always a risk to executing such endeavors. There are some promising products in HAL's pipeline to be excited about, though, such as ICRUISE, which drives down drilling times with improved rotary steering technology, and EARTHSTAR, a new software platform which has "comprehensive mapping abilities" that could rival Carbo's (CRR) fracking software.
HAL did mention, though, that short cycle drilling reduces the risks of boom-bust times, which has affected the oil & gas sector for decades. The shift in CapEx allocation to shorter cycle plays are due to the returns and lower risk profile that North American shale provides to e&p operators. As a result, more consistent earnings growth, over longer periods of time, should be seen from energy companies like HAL, and drive more institutional investment towards the space.
Conclusion
The stars are aligning, indeed, for Halliburton. Having major catalysts working in its favor, such as a shift to worldwide short cycle drilling, and higher-intensity slick water jobs, will be driving record earnings for Halliburton. In addition to short cycle drilling driving historical earnings, since HAL is trading below analyst targets, is sitting on the 200 day moving average, and has put their rail and supply chain issues behind them, investors should strongly consider going long HAL anywhere under $50.
Disclosure: I am/we are long HCLP.
I wrote this article myself, and it expresses my own opinions. I am not receiving compensation for it (other than from Seeking Alpha). I have no business relationship with any company whose stock is mentioned in this article.