Does the small cap rally have more room to run?
In this article, we discuss the reasoning for the outperformance of small cap stocks versus large cap stocks and why small cap stocks have more room to grow.
SmallCap Stocks (IWM) vs. Large Cap Stocks (SPY)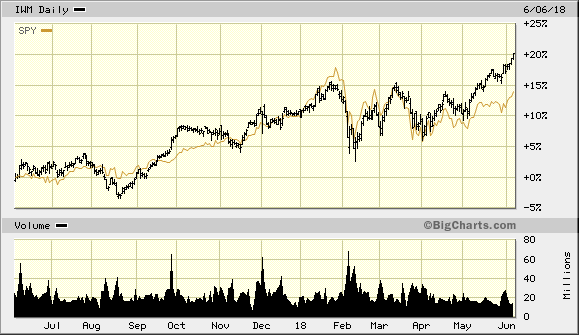 International Current Events Have Less of an Impact on Small Cap Stocks
In general, small cap stocks are more U.S.-centric because they do not have the resources to sell their products internationally. Similarly, the products of small cap companies may not have the same demand overseas, thus small cap companies are often times limited to sales in the U.S. only. According to data from FactSet, U.S. revenue exposure for small cap stocks in the Russell 2000 is 79.4%, a substantial difference from the S&P's 69.7% domestic exposure and the Dow's 61.7%. Thus, in times of international turmoil, small cap stocks can be seen as more of a safe haven from geopolitical concerns, currency fluctuations, and tariff issues than large cap stocks.
Furthermore, since small cap stocks are, in general, less exposed to foreign markets as compared to large cap stocks, small cap stocks should be less exposed to currency fluctuations as well. Recently, the dollar has been strengthening relative to other currencies, hurting profitability for large cap stocks that have a large foreign presence. Investors may view small cap stocks more favorably than large cap stocks because small cap stocks do not face exchange rate risk as much as large cap stocks.
The recent trade wars with China may have scared investors away from large cap stocks that are internationally exposed. Small cap stocks are, in general, more insulated from trade disputes because they are less exposed to other countries. Investors may be more enthusiastic about small cap stocks over large cap stocks because small cap stocks do not have as great of a potential for diminished earnings as a result of the tariff situation abroad.
Lower Corporate Tax Rate and Rising Interest Rates
The recent corporate tax rate cut may have led investors to believe that economic growth in the U.S. in the second half of the year will pick up. Even small cap stocks that are not profitable and are not affected by the lower corporate tax rate could see an upside benefit in their stock price as investors are more enthusiastic about the U.S. economy and its growth outlook. And, since small cap stocks have underperformed large cap stocks since 2014, investors may view small cap stocks as having more potential upside, all else equal.
Similarly, in a period of rising interest rates (like we are currently in), small cap stocks do not have the debt burden that large cap stocks have. Thus, when interest rates increase, small cap stocks most likely will not have a large increasing interest expense; therefore, investors may view small cap stocks as a better investment over large cap stocks since they are not as exposed to interest rate risk.
Increased Consumer Confidence and the Small Business Optimism Index
Lower corporate tax rates and rising interest rates have increased the profitability (for those that are profitable) and appeal of small cap companies which in turn may have increased consumer confidence and the growth outlook of small business owners. When consumers are more confident in the economy, they spend more money, leading to greater revenue of small businesses throughout America. And, as seen in the most recent consumer confidence report, Americans are at a 17-year confidence level high. The consumer confidence report also suggests that Americans view business conditions even more favorably than before.
As per the consumer confidence report: "Consumers' assessment of current conditions improved in May. Those claiming business conditions are 'good' increased from 34.8 percent to 38.4 percent, while those claiming business conditions are "bad" decreased from 12.3 percent to 12.0 percent." Both of these results bode well for the upside potential of the stock market, and, more specifically, the beginning of a great growth opportunity for small cap stocks.
This strong outlook can also be seen in the Small Business Optimism Index. In the index's most recent report, small business optimism is at all-time highs, never before seen in its 45-year history. Additionally, the number of small businesses reporting poor sales fell to a near record low. "Never in the history of this survey have we seen profit trends so high," said NFIB President and CEO Juanita Duggan. "The optimism small business owners have about the economy is turning into new job creation, increased wages and benefits, and investment."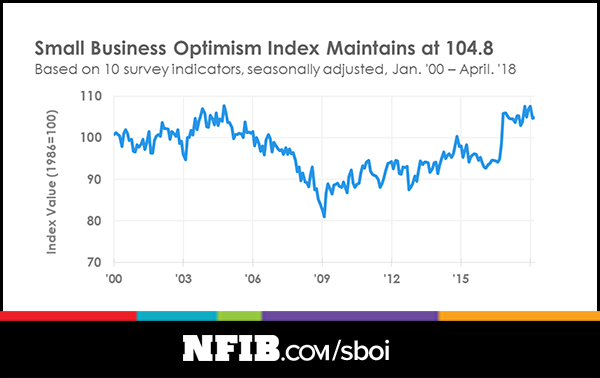 3 Small Cap Stocks Rated Buy by Singular Research
NV5 Global, Inc. (NVEE)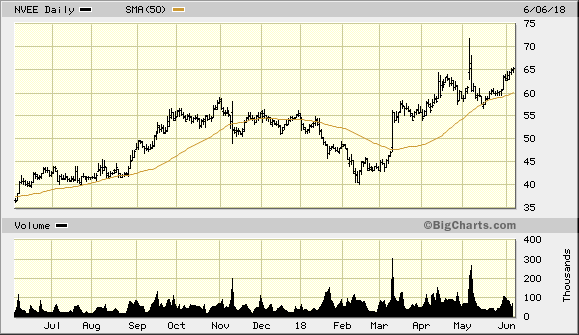 NV5 Global, Inc. is a provider of professional and technical engineering and consulting solutions in the infrastructure, energy, construction, real estate and environmental markets. The company's clients include the U.S. federal, state and local governments, and the private sector. NV5 Global announced better-than expected Q1 2018 adjusted EPS, increasing 51% YoY to $0.59. The M&A pipeline remains solid and new project wins position NVEE for robust revenue growth in 2018.
Revenues increased 47.5% mainly due to acquisitions. Gross revenues stood at $94.5 million in Q1 2018, up 47.5% versus $64.0 million in Q1 2017. The increase in gross revenues was primarily due to the contribution from acquisitions completed subsequent to the first quarter of 2017 as well as organic growth. During Q1 2018, NVEE experienced significant wins resulting in organic growth of each of its five verticals. Organic growth for the quarter was 10%, an increase of 67% compared to the first quarter of 2017.
Strong M&A pipeline. Management noted a robust acquisition pipeline and a number of additional opportunities in the second half of this year. The acquisition of Butsko Utility Design in Q1 2018 adds additional leadership and technical resources that should allow NVEE to further grow its national energy platforms. In Hong Kong, NVEE acquired CSA consultancy, a well-established and well-known MEP design and technology firm. This strengthens the Company's presence in Hong Kong and extends its international footprint.
Control 4 Corporation (CTRL)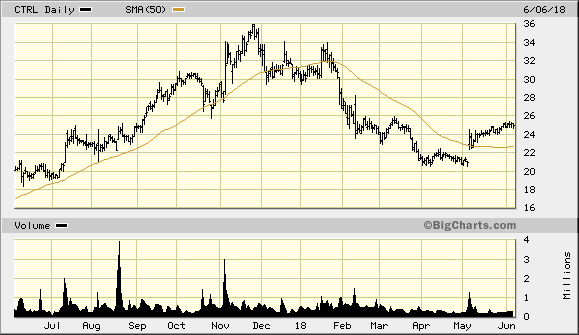 Control4 is a leading provider of smart home and business solutions that are designed to personalize and enhance how consumers engage with an ever-changing connected world. Their products unlock the potential of connected devices, making entertainment systems easier to use and more accessible, homes and businesses more comfortable and energy efficient, and individuals more secure. The company announced better than expected first quarter results with revenues increasing 18% to $59.1 million and EPS up 75% YoY.
Revenues up 18% vs. prior year. Total revenues were up 18% to $59.1 vs. $50.2 million in the prior year quarter, and down sequentially vs. $68.1 million in the preceding (December) quarter. We forecast revenues of $57.7 million for the current quarter. The increase was largely attributable to revenue growth in both North America (+17% YoY) and international (+22% YoY) segment on account of new dealer additions as well as growth from existing dealers.
Non-GAAP gross margin of 53.6%. CTRL delivered non-GAAP gross margin of 53.6%, compared to 51.9% in Q4 2017 and 51.8% in Q1 2017. The increase is primarily from a combination of favorable fluctuations in exchange rates and markets, as well as lower programmatic price reductions during the period. The management noted that incremental investments starting in Q2 2018 in its global fulfillment centers to accommodate growth and improve delivery times will moderate gross margin improvements during the balance of 2018.
NMIH Holdings Inc. (NMIH)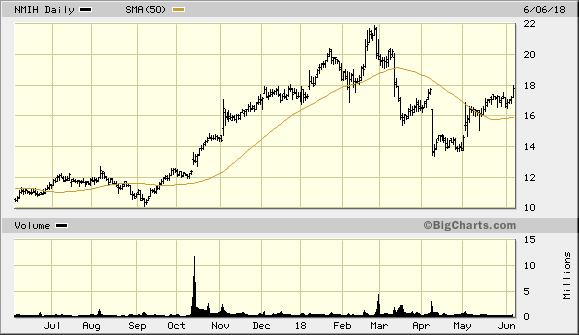 NMI Holdings, incorporated on May 19, 2011, provides private mortgage guaranty insurance through its insurance subsidiaries. The company's primary insurance subsidiary, National Mortgage Insurance Corporation (NMIC), is a mortgage insurance (MI) provider on loans purchased by the Government-sponsored enterprises (GSEs). In Q4 2017, NMIH delivered better than expected growth on the revenue side, with premiums up 53% from Q4 2016.
NMI has shown rapid revenue growth over the past several years and the trend continued in Q4 2017. Total revenues increased ~49% to $54.5 million in Q4 2017 vs. $36.6 million in the prior year quarter. For full year 2017, revenues grew ~48% YoY to $182.7 million. The increase is primarily on account of new insurance written and rapid growth in insurance-in-force. Primary insurance-in-force was $48.5 billion at the end of Q4 2017, an increase of 51% over Q4 2016. Premiums earned for the quarter was $50.1 million, up 53% compared with the fourth quarter of 2016.
Total new insurance written (NIW) of $6.9 billion in Q4 2017. NIW mix was 83% monthly premium product, which compares with 79% in the prior quarter and 75% in the fourth quarter of 2016. The monthly fee product delivers predictable cash flow over a longer period of time, while the one-time product delivers much more cash up front. The company wants to keep a mix of about 80% monthly fees, as this creates a good balance between cash now and a longer, more predictable source of cash flow.
Thank you for reading our research report. We hope that this report has inspired you to read more about small cap stocks as a potential investment opportunity both now and in the near future.