Galmed Pharmaceuticals (GLMD) is a pharmaceutical company focused on the development of their lead candidate, Aramchol, for the treatment of liver diseases—specifically the treatment of NASH. Aramchol is an SCD-1 modulator specifically made to target the liver with a dual mode of action on liver fibrosis. After a phase 2a trial which was not well-received by the market, Galmed was determined to redeem themselves in the near future. And on the 12th, that's exactly what they did.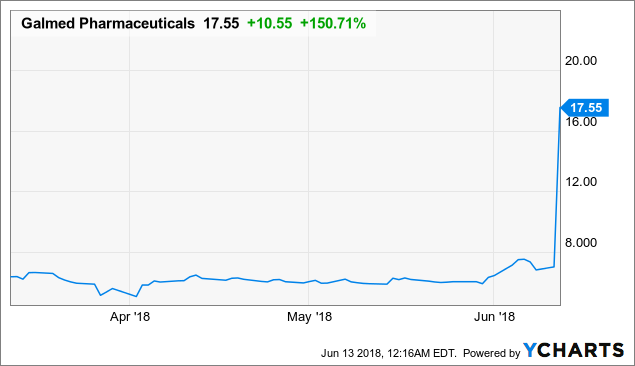 Bulls were rewarded on Tuesday after Galmed announced positive top-line 52-week biopsy data from their phase 2b ARREST study. Their 600mg dosage managed to almost achieve statistical significance for an endpoint which the FDA considers as a valid primary endpoint for a phase 3 trial. The 600mg dose, when compared to placebo, yielded more patients which managed to achieve NASH resolution without the worsening of fibrosis. Statistical significance for this endpoint was missed by 0.0015. Despite the data being mixed in certain areas, the stock rose sharply in reaction to this data. Shares of Galmed closed at $17.59 a share by the end of the day, representing about a 151 percent daily increase in value. At the time of writing, shares are trading in the 16 dollar range.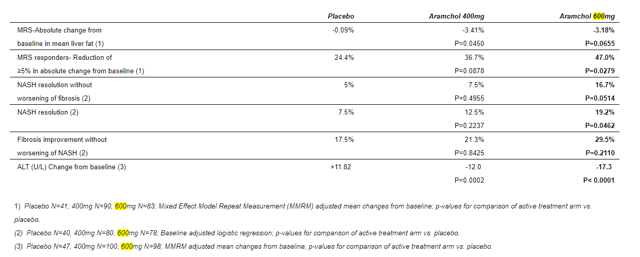 Source: Galmed Press Release, 6/12/18
The safety profile of the drug remains consistent and solid, with only a few patients reporting minor adverse effects. A notable decrease in ALT and AST for both dosages was noted, as it was able to achieve statistical significance with respective p values of (p≤0.0002) and (p≤0.001). ALT and AST are key enzymes which are produced at high levels when the liver is damaged, this reduction indicates that Aramchol is at least regulating the liver's response to NASH.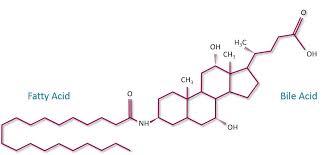 Source: Molecular Structure Of Aramchol, Galmed Corporate Presentation.
Notably, the main bullish aspect of the data was the 600mg data. 19.2 percent of patients in the Aramchol 600mg arm managed to achieve NASH resolution. Only 7.5 percent of those treated with a placebo dose managed to achieve NASH resolution. As the dosage increases from 400mg to 600mg, efficacy improves on 5 of the 6 categories. It could be argued that if the dose of Aramchol was upped, they could achieve statistical significance over placebo for NASH resolution without the worsening of fibrosis. As the dosage increases, the drug does produce more favorable results. The only issue with this is that it could possibly compromise the favorable safety profile Aramchol has right now, but that remains to be seen. MRS-Absolute change from baseline in mean liver fat did not improve as the dosage increased but slightly decreased from 3.41 percent to 3.18 percent as the dosage increased from 400 to 600 milligrams.
What is interesting is that MRS-Absolute change from baseline in mean liver fat was the primary endpoint of the trial, and it was not met by both dosage arms. The 400mg dosage just barely managed to eke out a P-value of 0.045 while the 600mg dosage reported a P value of 0.0655. A P-value of less than 0.05 is considered statistically significant by the FDA.
To be quite frank, I am quite surprised about how well this data set has been received by the market. The market seems to be in a state of euphoria over companies which are trying to treat NASH. Obesity is a major issue in both developed and developing nations, and so is diabetes, two major underlying causes of NASH. Global Data projects the NASH treatment market to grow to $25.3 billion by 2026. In 2015, the market size was valued at only a little over half a billion. This is a lucrative market, especially when you factor in the fact that the current treatment options are very limited. No drug has been approved by the FDA for the treatment of NASH yet.
Intuitively, one would think that this is great news for Galmed. After all, they have a clinical candidate for the treatment of NASH which seems to work according to their interpretation of the data. However, not all is as rosy as it would first seem.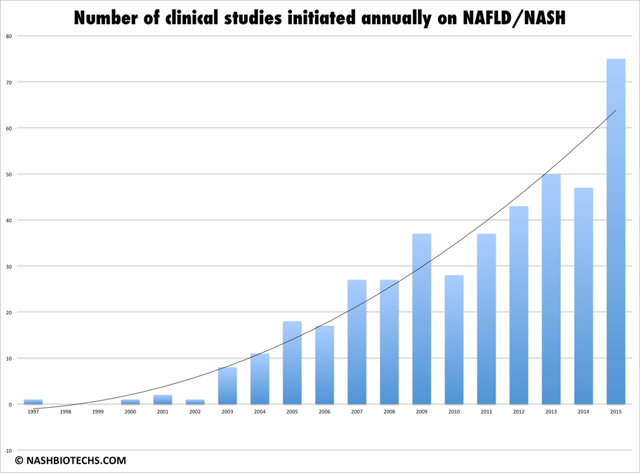 There are dozens and dozens of different biotechs which Galmed has to compete against. Galmed has to effectively compete against pharmaceutical titans such as Gilead (GILD), Allergan (AGN), Novartis (NVS) and many more. There is no certainty that Galmed's Aramchol will beat out their competitors in terms of efficacy, which are increasing in number every single year.
Recently, Madrigal Pharmaceuticals (MDGL) released their 36-week biopsy data evaluating their main clinical asset, MGL-3196, for the treatment of NASH. Since then, the stock has roughly tripled on positive data, with there now being rumors of a possible acquisition of the company.

Madrigal's data in an obvious way is simply superior to Galmed's data. Only 19.2 percent of patients dosed with 600 mg of Aramchol managed to achieve NASH resolution (p=0.0462 percent) while those with dosed with MGL-3196 managed to achieve 27 percent resolution with a much lower P-value of 0.02.
Aramchol's P-values should make any seasoned biotech investor skeptical. To put it simply, the P value is just the probability in which something observed was due to chance. I personally question any P value which exceeds 0.01, although the FDA considers the cutoff for statistical significance to be lower than 0.05. When something hovers closely to that cutoff, I am generally cautious of the data.
For most of their categories, the P values are all jumbled around depending on the dose. Many of the pieces of data could not manage to achieve statistical significance and some of the ones which did manage to achieve it did so just barely. Such high P values leave very little room for error in a future phase 3 trial, and upping the dose to create a greater effect could have its own unforeseen consequences.
Looking forward, it's likely that Galmed will proceed with a phase 3 trial. Whether this phase 3 trial will yield favorable results is up for debate. Personally, I think it will be positive as the trends are currently positive for Aramchol. But the bigger question investors should be asking themselves right now is whether Aramchol can effectively compete with all of the other NASH candidates. And for that reason, I am very bearish about the future prospects of Galmed.
Being a clinical-stage biotech only exacerbated concerns. With no revenue stream and no partner, the only real hope Galmed has is to raise funds from loans or shareholder dilution. Both of which can devastate shareholder value. As of their latest quarter, they only have $15.5 million in cash and cash equivalents in the books. They will need a lot more capital than that if they hope to run a larger phase 3 trial; the average cost for a gastrointestinal phase 3 trial is $14.5 million.
Conclusion
If I owned Galmed shares today than I would sell them. The data is arguably good at best, and there is always an imminent threat of shareholder dilution. Going into debt to raise more capital would create other risks relating to the stability of the balance sheet. Financials are the least of Galmed's worries, as they have to compete against both heavyweight NASH drugs and new-coming ones such as VK2809 and NGM-282 to name a few. I am very bearish on Galmed's future prospects, and I would personally give it a sell rating.
Disclosure: I/we have no positions in any stocks mentioned, but may initiate a long position in MDGL over the next 72 hours.
I wrote this article myself, and it expresses my own opinions. I am not receiving compensation for it (other than from Seeking Alpha). I have no business relationship with any company whose stock is mentioned in this article.
Editor's Note: This article covers one or more stocks trading at less than $1 per share and/or with less than a $100 million market cap. Please be aware of the risks associated with these stocks.