Numerous studies have indicated that dividend-paying stocks perform better over the long term than stocks that don't pay dividends. However, that is a small consolation for investors that have suffered capital losses on their high yield dividend payers over the past 18 months. We consider the current environment and suggest a course of action.
Tough going for the dividend favourites
Despite the stellar longer-term performance of dividend-based investment strategies, the dividend favourites have struggled over the past 18 months in the U.S. and other major markets.
| | | |
| --- | --- | --- |
| Index | Total Return YTD | Total Return since Jan 1, 2017 |
| SPDR Dividend ETF (NYSEARCA:SDY) | 0.2% | 23.1% |
| Vanguard High Dividend Yield ETF (VYM) | 1.3% | 17.9% |
| Utilities Select Sector SPDR ETF (XLU) | -6.4% | 4.7% |
| iShares U.S. Telecommunications ETF (IYZ) | -7.8% | -15.9% |
| S&P500 Index | 5.1% | 28.1% |
(Source: Reuters; priced on June 11, 2018)
The table indicates the lagging short-term performance of various ETFs that hold the typical dividend-paying investor favourites. We compare that to the broader U.S. market on a total return basis (capital appreciation plus dividend income).
Total returns vary among the various strategies represented by the ETFs in the table; however, it is clear that stocks selected for income underperformed the broader U.S. market considerably over the past 18 months.
Higher interest rates create alternatives for income-seeking investors
Despite considerable fluctuations, longer-term interest rates in the U.S. and elsewhere have steadily been moving higher since mid-2016, when U.S. 10-year government bond yields were as low as 1.40% compared to the current level of around 2.95%.
Analysis by Alex Brian from Morningstar, covering the period between 1953 and 2016, found that dividend-paying stocks with mid-to-high yields underperformed the overall market in periods of rising interest rates. However, the lower end of the dividend-paying spectrum performed better than the overall market even during periods of rising interest rates.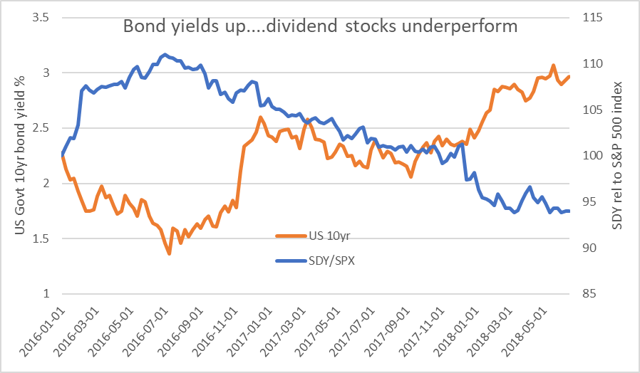 The upward movement in bond yields also roughly coincided with the start of the underperformance of high-yielding equities. The chart compares the performance of the SPDR Dividend ETF relative to the S&P 500 Index with the movement in 10-year US government bond yields.
Money is leaving dividend-paying stocks
After years of strong inflows into the high yield equity ETFs, capital is now being withdrawn from these ETF.
The ETF tracker ETFdb.com lists 148 U.S. ETFs with broad-based dividend strategies. These funds have around US$170 billion of assets under management. Of the ETFs that have been in existence over the past 5 years, net inflows amounted to $40 billion. However, so far this year, the inflows have fallen right back to $780 million, and the past 4 weeks saw an outflow of $240 million.
Substantial outflows have been evident for other high-yielding ETFs involved in specialist sectors such as telecommunications, energy infrastructure and utilities. Of the 45 North American ETFs listed on the ETFdb.com website, almost 70% have seen outflows so far this year.
For real estate, it is worth noting that the U.S. market leader, the Vanguard Real Estate ETF (NYSEARCA:VNQ), has lost $2.4 billion (or 8% of its current asset base) so far this year.
These numbers only account for the ETF sector, which has been taking market share from mutual funds. We suspect the outflows for the traditional dividend income mutual fund have been much higher.
Dividend-based investment strategies - Still making sense?
The question is now whether the recent underperformance of dividend strategies will continue as interest rates normalise. To some extent, the answer depends on how far interest rates will eventually rise in this cycle. We note that 10-year government bond yields averaged about 6.1% since 1960. However, if we exclude the high-inflation period of the 1970s and early 1980s, then the average yield was closer to 4.5%.
If U.S. bond yields are heading towards this "average" level, then dividend strategies will continue to underperform, especially high yield stocks with no or very limited growth in the dividend.
However, the longer-term attraction of dividend-based investment strategies is pervasive. Consider the following...
Better long-term performance: Dividend-based strategies have experienced a very strong relative performance in the U.S. over the long term. A 2016 study by a group of U.S.-based academics found that U.S. dividend-paying stocks, over a period of 50 years, beat non-dividend payers by an average of 1.5 percentage points per year with a lower level of volatility. This finding is supported by various other studies done for different time periods in different or overlapping markets. However impressive this statistic may be, it would be less impressive if the outperformance only happened sporadically. However, Morningstar research dated March 2015 found that higher-yielding stocks have outperformed the overall market in 53 of the 60 10-year rolling time periods since the end of World War 2.
A predictor of future profits: Many investors believe that companies with higher profit reinvestment rates will experience higher future growth. However, Arnott and Asness found that dividend=paying U.S. companies, between 1950-2001, managed to grow their profits at a faster rate than the companies with no or very low dividend payments. This is probably explained by the fact that companies that have the commitment to pay regular and growing dividends have an additional discipline on their capital allocation decisions - they simply have to be more prudent and careful than companies that do not have this implied discipline.
Dividends - clean, hard information: Given the ever-increasing complexity of company financial statements, dividends tell a powerful story of how a company is really performing; the Board of Directors, who should have a clear understanding of the true performance of a company, has to take historical and expected operational cash flows, capital expenditure requirements and liquidity of the company into account when a decision on a dividend payment is made. This holds considerable informational content for investors. Cash dividends cannot be fudged.
Dividends - less volatile than profits: Dividend payments are more stable than company profits, as company boards are normally reluctant to reduce or pass dividend payments, once established. Since 1946, the annual dividend payment of the S&P 500 Index has declined in only 7 of 67 years. Stock prices, by contrast, have posted 20 annual declines.
An inflation-beating income stream: Over the past 100 years, U.S. companies have grown their dividends by 4.7% per year, well ahead of the rate of inflation around 3.0%.
Dividend strategies for a rising interest rate environment
Despite the prospect of higher interest rates, dividend-based investment strategies remain an attractive option for long-term income-seeking investors. We think that dividend investing is not dead, but investors should carefully pick their dividend spots in the current environment. We suggest the following:
Avoid the high yield group
The 2016 study by the group of academics referred to above provides some guidelines for sensible dividend-based investing. In reviewing the performance of almost 4,000 U.S. companies over a 50-year period, they found that dividend-paying stocks beat non-dividend payers by an average of 1.5 percentage points per year.
In particular, the middle group of dividend yielders (i.e., those with an average yield of 4.3%) surpassed both the low yielders and the high yielders in terms of total return. Equally important, this superior performance was achieved with lower risk, as measured by the standard deviation of returns, and that translated into stronger risk-adjusted returns (based on the Sharpe ratio, higher is better).
| | | | | |
| --- | --- | --- | --- | --- |
| | No Dividend* | Low Dividend* | Medium Dividend* | High Dividend* |
| Dividend Yield | 0% | 1.6% | 4.3% | 9.5% |
| Mean Annual Return | 9.6% | 10.0% | 11.3% | 10.7% |
| Standard Deviation | 26.5%% | 21.8%% | 20.0% | 22.3% |
| Sharpe Ratio | 0.13 | 0.16 | 0.21 | 0.18 |
(Source: Financial Analysts Journal, own calculations)
It therefore makes sense to avoid the highest-yielding stocks and rather look for companies with long-term track records of regular dividend payments, solid balance sheets, healthy cash flows, moderate payout ratios, limited cyclicality of profits, and decent growth prospects. This safety-first approach will result in a lower yield but likely provide a better total return (dividends plus capital) at a lower risk. This is even more relevant in a rising interest rate environment.
Re-invest the dividends when possible
Albert Einstein described the compounding of interest as the eighth wonder of the world. This principle can be employed to work for investors in dividend-paying stocks.
This can best be explained by a simple illustration. We selected 10 of the most favoured stocks by the largest U.S. dividend-paying ETFs (see box) and made a notional $1,000 investment into each, dated June 10, 2008.
International Business Machines Corp. (IBM)
Intel (INTC)
Wells Fargo (WFC)
JPMorgan Chase (JPM)
Exxon Mobil Corp. (XOM)
Walmart (WMT)
Johnson & Johnson (JNJ)
PepsiCo (PEP)
Coca-Cola Co. (KO)
Union Pacific Railways (UNP)
Then we calculated the total return, including dividend income over the past 10 years, using two methods. First, we assumed that the investor extracted and spent all dividends, and second, we assumed that all dividends were reinvested into the stock. The outcomes are demonstrated in the graph.
Dividend consumed - A $10,000 investment in the portfolio would have delivered a $246 dividend in the first year. That is a yield of 2.46%. Over the 10-year period, the dividend increased to $660 for a compounded annual growth rate of 10.4% and a yield of 6.6% on the original $10,000 investment. The value of the portfolio increased to $19,598, and the investor received dividends of $2,913 over the 10 years for an annual compounded return of 8.5% per year.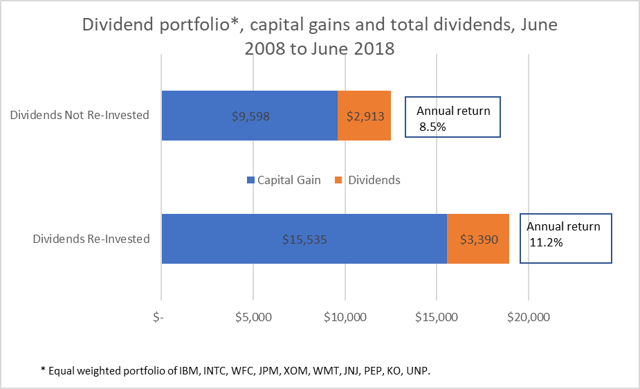 Dividend re-invested - With the quarterly dividend reinvested into the dividend-paying stocks, the investor would have received additional shares and a higher total dividend over the period, courtesy of the higher number of shares. In this case, the dividend in 2018 would have amounted to $866 for an annual increase of 13.4% and a yield of 8.7% on the original investment. The portfolio value increased to $25,534, and the investor received dividends of $3,390 for an annual compounded return of 11.2% per year. By reinvesting the dividends, the investor earned an additional 2.7% per year on his original investment, or $6,414 on the $10,000 investment.
This first approach, where the dividend is removed for expenditure purposes, is obviously suitable for investors that wish to create a regular and consistent income stream.
However, for investors that are still building an income portfolio and do not need the regular income, the results can be enhanced substantially by reinvesting the dividend back in the stock.