Summary
NGL Energy Partners LP (NGL) is a diversified, vertically integrated MLP. The company has significantly more exposure to energy prices than its peers, was adversely affected by price movements in 2016, and has barely recovered since.
Its relatively volatile cash-flow and mediocre financial performance for the last few years make it a relatively risky investment. On the other hand, its balance sheet and overall performance have been improving as of late, de-risking the company significantly. Investors with an appetite for risk looking for high yield investments should consider including NGL in their portfolios, as I believe its dividend is safe and the company safer than it appears.

(Source: NGL Corporate Website)
Business Overview
NGL is a relatively small ($1.4 billion in market cap) MLP with diversified operations across the United States. Its business differs from many of the most popular MLPs in three key ways, all of them negative for the average dividend investor:
Excessive commodity price exposure, leading to volatile revenue and cash-flow generation.
A recent history of financial under-performance, guidance downgrades, and disappointing earnings results.
A relatively weak balance sheet, meaning dividend payments may be in trouble if performance deteriorates.
Excessive commodity price exposure
NGL, as most other MLPs, focuses on the transportation and storage of crude oil, NGLs and natural gas across markets in the United States. These business lines generally operate under long-term fee-based contracts, which helps ensure cash-flow generation is relatively stable.
Unlike other MLPs, NGL also produces, refines, markets and sells several refined energy products. These operations carry significant commodity price exposure and cause wild swings in the company's cash-flow.
To summarize the company's business lines:
Crude Logistics, which focuses on the transportation and storage of crude oil. Some commodity price exposure, significantly reduced after the completion of the Grand Mesa Pipeline.
Water Solutions, which treats, processes and disposes of waste created from the production of oil and natural gas. Strong dependence on commodity prices, as volume treated depends on oil production/prices.
Liquids, which focuses on the buying, transportation, storage and sale of NGLs. Some commodity price exposure, especially relevant for inventory held.
Retail propane, which focuses on the sale of propane to customers of all stripes. Sales are concentrated on the winter months and are heavily sensitive to weather conditions.
Refined products and renewables, which focuses on buying refined petroleum products and delivering/selling them in different markets. Heavily sensitive to commodity prices.
All business lines have some exposure to commodity prices or weather conditions, a less than ideal situation, and one which has caused several financial issues in the recent past.
Recent Financial Performance
NGL's excessive commodity price exposure has led to sustained under-performance across most financial metrics during the recent past.
With that in mind, compare and contrast NGL's cash from operations across the years: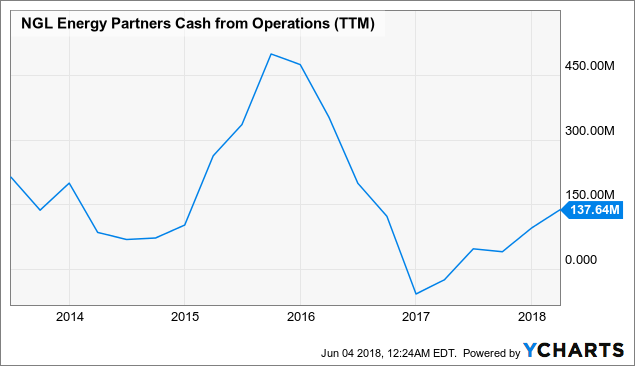 With Enterprise Products Partners's (NYSE:EPD), one of the best managed MLPs in the industry: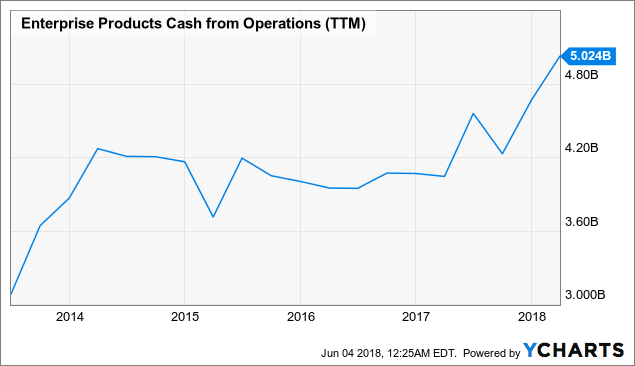 The graphs speak for themselves.
EPD has grown steadily throughout the years, although it was relatively flat from 2014 to mid 2017. NGL, on the other hand, is actually in a worse situation than it was in 2014, as it was badly positioned to withstand a decrease in energy prices.
Other measures show similar results. Revenues were up by almost 100% during the same time period, although shares were up by around the same, not very accretive to shareholders. Earning results were also relatively lackluster.
To make things worse, management has a consistent track record of lowering guidance and then under-performing. They have done so without fail during the last few quarters and continue to do so, to quote from the latest earnings call:
another mess in our liquid segment this year which was off $15 million from guidance.

(...)

we incurred several one-time items (...) Our full year costs were approximate $34 million and would have been in line with our guidance without these items.

(Source: NGL's 4Q2018 Earnings Call)
The company's recent financial performance has caused its stock price to collapse; it's down 75% in the last five years, 33% in the last one. Although the sector hasn't performed all that well as of late, NGL's collapse has been much greater than its competitors: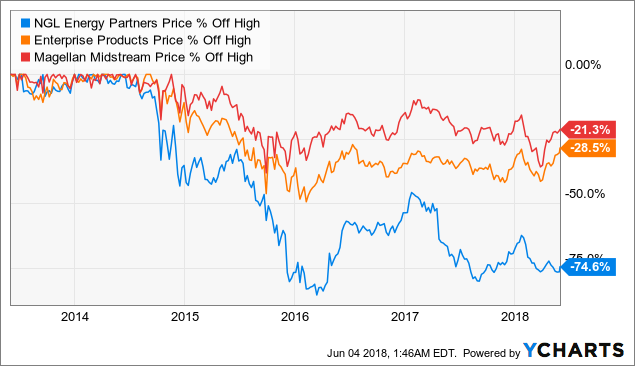 Balance Sheet
NGL's lackluster financial performance has led to a worsening balance sheet. Simply put, management covered the firm's financial woes through the issuance of debt.
NGL has seen its key balance sheet ratios deteriorate. Its debt/equity ratio has, for instance, nearly tripled during the last five years:
Most importantly, the company's leverage ratio is constrained in several covenant agreements to 5.5x, with management targeting a much more conservative 3.25x ratio. It's been trending upwards throughout the years and is currently at 5.1x, much higher than management's expectations and perilously close to its maximum.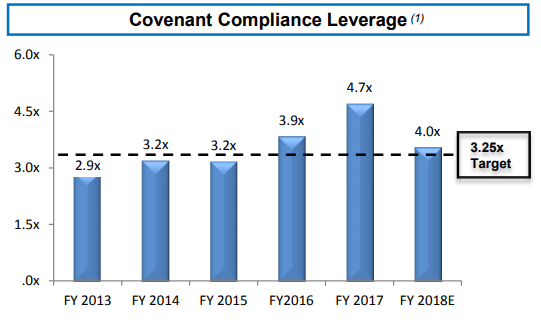 (Source: NGL Investor Presentation)
As long as the company's balance sheet remains this poor, its financial performance will suffer due to relatively high interest rate payments and low credit ratings.
Why invest then?
Even as NGL's overall business is relatively poor, I believe the company makes a great, albeit high risk, investment due to the following reasons:
The company is incredibly cheap by several valuation measures and has a high dividend yield so, returns will very likely be very high.
The company has correctly identified, and is implementing, several initiatives to improve its overall business. Execution has been good so far, although much remains to be done.
Valuation and Dividend
NGL's current dividend of 13% is relatively high, and more than twice that of its larger peers: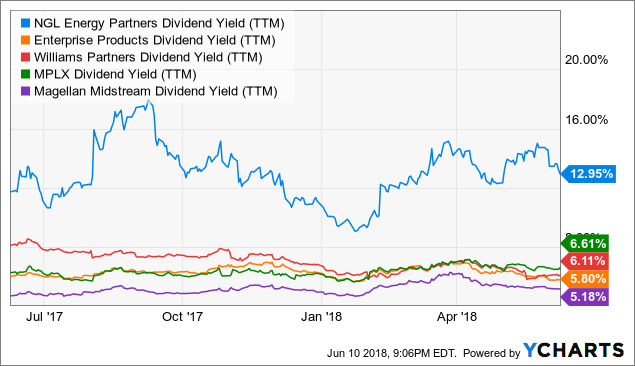 The company's EV/EBITDA ratio is also significantly lower than its peers: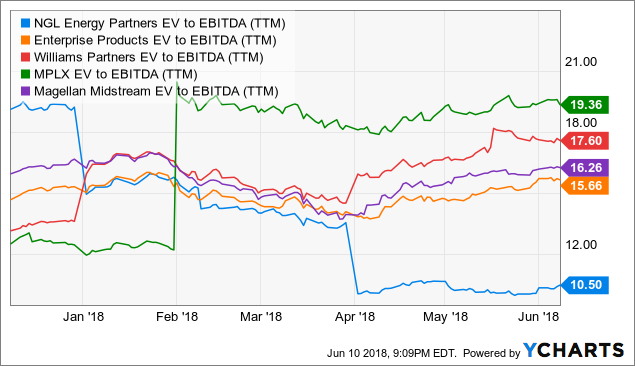 The company is extremely cheap and has a very high yield, so potential returns are incredibly high as long as the company avoids further trouble and moves into more sustainable business lines.
Strategic Initiatives
NGL is implementing several initiatives that should serve to combat the company's main issues: its weak balance sheet, its excessive earnings volatility and its financial underperformance.
First, NGL is divesting itself from several of its assets in a bid to strengthen its balance sheet. The company sold $536 million worth of assets last quarter, mostly in its propane and pipeline business, and used all proceeds to reduce its outstanding debt. NGL plans even bigger asset sales in the near future. Most importantly, management recently announced a deal with Superior Plus Corp (OTCPK:SUUIF) in which NGL will sell its remaining Propane business for $900 million in the coming months. This, combined with a smaller sale last quarter for $89 million, values the company's propane business at 10.9 EV/EBITDA, a slight premium relative to its current valuation.
Management expects to use around $800 million of the proceeds to reduce its debt, a significant reduction as debt currently stands at $2.69 billion, with the remainder to be used for CAPEX and other smaller investments. NGL's CEO is quite sanguine about the expected benefits of the transaction; he discussed this in the earnings call (emphasis mine):
We are narrowing our focus, reducing indebtedness and moving to a self funding model for our organic growth capital. We should now be able to achieve our target leverage of 3.25 times in a short timeframe, rebuild our coverage to our targeted 1.3 times or better and like to grow our distributable cash flow per unit from there.

(Source: NGL's 4Q2018 Earnings Call)
The reduction in leverage seems self-explanatory; an improvement in the dividend coverage/distributable cash flow, less so. Losing its Propane business would reduce the company's revenue and EBITDA significantly, but CAPEX and other expenses would also go down. To know if the sale is advantageous to shareholders, we need to know if the company's distributable cash flow, which takes into account all relevant variables, increases or not. It seems that if NGL were to use all of the proceeds to reduce debt, distributable cash flow would increase by $71 million, using an interest rate of 7.2% - the company's average - but the Propane segment generated $74 million last year. The transaction seems to be a wash from a cash flow perspective, but the improved balance sheet is reason enough to like it.
Second, management has indicated it wishes to expand its Crude Logistics segment, with an emphasis on pipelines. The company has already made several investments in this area, the aforementioned Grand Mesa Pipeline, and is interested in more. As these investments are much less volatile than most of the company's operations, NGL should see less earnings volatility moving forward.
These initiatives, combined with a general recovery in energy prices, have led to an improvement in the company's financial performance, with double-digit EBITDA and cash-flow growth last quarter: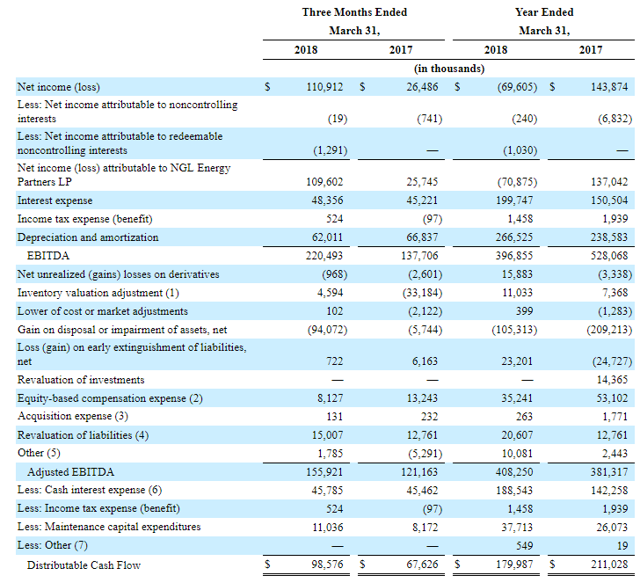 (Source: NGL's 4Q2018 Earnings Call)
Assuming no growth from last quarter's results, the company would have 1.4x distribution coverage if performance is similar for the rest of the year, a relatively healthy ratio and above management's target.
Taking into consideration these initiatives, there is a clear way forward for the company. Management just has to execute their strategic plan adequately enough and NGL should see a much improved balance sheet, significantly less commodity price exposure and earnings volatility, growing cash flow, and a return to dividend growth in the medium term.
Conclusion
NGL's high dividend yield and low valuation make it an attractive investment choice for dividend investors. On the other hand, the company's volatile cash-flow and history of mismanagement and under-performance make it a relatively risky proposition. If management is able to perform adequately, which they seem to be doing recently, the company should be able to sustain its dividend for the coming years and grow it in the long-term. I think NGL makes for an attractive, high-risk investment, and one that investors should keep a close eye on.
Disclosure: I/we have no positions in any stocks mentioned, and no plans to initiate any positions within the next 72 hours.
I wrote this article myself, and it expresses my own opinions. I am not receiving compensation for it (other than from Seeking Alpha). I have no business relationship with any company whose stock is mentioned in this article.