Avid Technology, Inc. (AVID)
We reiterate our November 27, 2017, recommendation to BUY AVID's first-lien term loan and upgrade its convertible bonds from HOLD to BUY, due to a generous term loan amendment enabling greater flexibility in addressing the June 2020 maturity. We maintain our SELL on AVID equity, citing poor results the past two quarters.
Term Loan Amendments
On May 10, 2018, AVID's senior lender Cerberus Capital Management ("Cerberus") entered into a fourth amendment of the Company's first-lien term loan. Changes to the term loan were directionally positive for AVID:
+ Extended maturity to May 2023 versus February 2021
+ Expanded the facility's revolver to $22.5 million from $10 million
+ Expanded the facility's term loan to $127.5 million from $105 million
+ Lowered LIBOR interest rate spread to 6.625% from 7.250%
+ Reduced mandatory amortization payments to ~1% of outstanding principal from ~5% for a two-year period between June 30, 2018, and June 30, 2020.
The fourth amendment eliminated a provision accelerating term loan maturity if the converts are not successfully refinanced and increased the amount of convertible notes AVID can buy in the market from $15 million to $40 million. From December 15, 2017, to May 10, 2018, AVID purchased $4 million convertible notes around 85 cents on a dollar, slightly lower than where they trade today.
Finally, Cerberus tightened the maximum leverage covenant but loosened the leverage ratio formula to exclude the convertible notes. We now see lower chance of term loan covenant default with AVID in compliance through 2019.
Figure 1. AVID Debt Increased, Covenants Loosened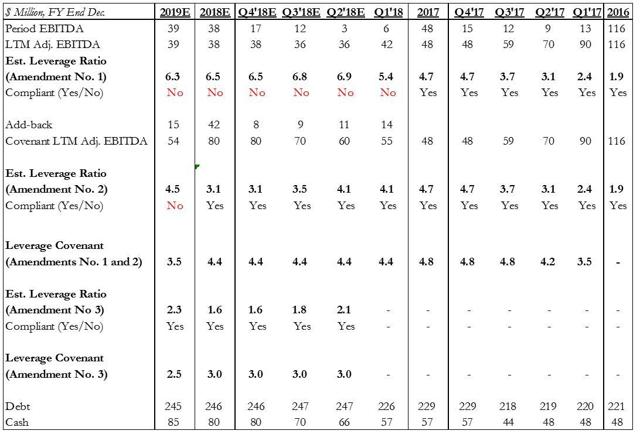 Source: Cannell Capital LLC estimates & Company Filings
Convertible Note Refinancing
The convertible notes yield ~7.3% to maturity at the current price of ~$90. If AVID utilizes the full $40 million in liquidity now authorized for repurchase, it could reduce outstanding principal by ~$46 million at prevailing prices.
Assuming open-market repurchases plus $48 million of cash on the balance sheet at the end of March 2018 and our estimate that AVID will generate $17 million of free cash flow through June 15, 2020, we expect just $14 million of uncovered principal at maturity. $14 million represents just 11% of the original issue size. We are now confident the Company will be able to successfully refinance these notes.
Figure 2. Path to Convertible Refinancing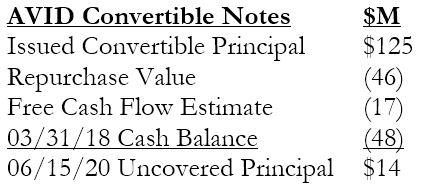 Source: Cannell Capital LLC estimates & Company Filings
Recent Results Disappointing
Despite the increased flexibility afforded to AVID by its senior lenders, the Company has posted disappointing results the past two quarters since our last article.
In Q4 2017, the Company missed the Street's EBITDA estimate by $8 million after adjusting for one-time factors. 2018 guidance given March 15, 2018, called for free cash flow of $2 million to $14 million versus the consensus estimate of $16 million.
Q1 2018 results missed expectations on both revenue [$97.9 million vs $100.9 million est.] and adjusted EPS [($0.10) vs. ($0.03) est.]. Notably, the Company's bookings for the quarter were just $102 million versus the $111 million expected.
AVID's net debt to trailing four quarter EBITDA rose from 1.9x at March 31, 2017, to 4.8x at May 10, 2018. On the May 10, 2018 conference call, AVID said they expect to be cash flow negative in Q2 2018.
In total, the expected turnaround at AVID does not seem to be gaining traction. We maintain our SELL rating on AVID equity as the overall size of the pie (enterprise value) is shrinking while more of it is apportioned to creditors.
Asset Coverage of Debt
The sum of the parts and run-off valuation of AVID's assets suggest a total recovery for debt and an implied equity value of $3.81 per share and $2.83 respectively - a decline of 25% and 45%.
Some companies with market dominance and rapid growth deserve rich multiples. For instance, MuleSoft, Inc. (MULE) grows revenue at 60%, and on March 20, 2018, Salesforce.com Inc. (CRM) bid 22x 2017 sales for it. Sputtering companies are on the other end of this spectrum, however. AVID is sputtering.
Pro Video Creative Tools and Digital Audio Software are AVID's most valuable products and deserve about 1.3x multiple to sales in our opinion.
Figure 3. Sum of The Parts Valuation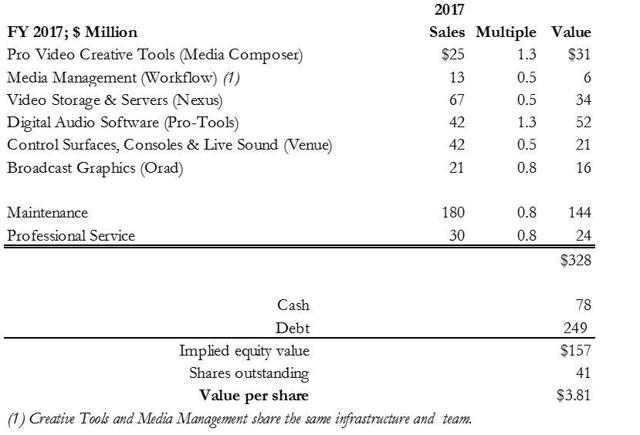 Source: Cannell Capital LLC estimates
Alternatively, a prospective buyer may be willing to pay the discounted runoff value of AVID's contractually committed backlog of $341 million. This would imply a $2.38 per share value of equity.
Figure 4. Runoff Value

Source: Cannell Capital LLC estimates
Conclusion
AVID's business model transition appears to have derailed with poor recent results, the firing of five-year CEO Louis Hernandez (ostensibly the turnaround leader) and disappointing 2018 guidance.
We suspect the patience of Cerberus is being tested. Do they desire the keys to the business? Probably not. Do they want to endlessly provide waivers? Probably not. From atop the capital structure with $128 million of $249 million senior debt do they view the equity to have much value? Probably not.
Disclosure: I am/we are short AVID.
I wrote this article myself, and it expresses my own opinions. I am not receiving compensation for it (other than from Seeking Alpha). I have no business relationship with any company whose stock is mentioned in this article.
Additional disclosure: Cannell Capital LLC has been both a buyer and a seller of the common stock of Avid Technology the past. The firm is currently 'short' such shares and could potentially short more shares in the future. The firm owns debt securities issued by Avid Technology. This report is provided for informational purposes only. Any implied recommendation as to whether these shares should be sold or bought by third parties is explicitly withheld. Caveat emptor.