Quick Take
BrightView (BV) intends to sell shares of its common stock to raise $100 million from a U.S. IPO, according to an S-1/A registration statement.
The firm provides commercial landscaping solutions to its clients through the entire lifecycle from initial design to ongoing maintenance.
When we learn more details about the IPO, I'll provide a final opinion.
Company & Technology
The Calabasas, California-based commercial landscaping company was founded in 1939 (as Brickman) to provide high quality landscape and snow design and maintenance services with a dependable service commitment.
Management is headed by CEO Andrew Masterman, who has been with the firm since 2016 and was previously an Executive VP and President at Precision Castparts.
BrightView has assembled a management group with decades of combined experience. Its landscaping solutions come down to four parts -- design, develop, maintain and enhance, -- thus caring for the whole lifecycle of client landscapes.
Below is a brief overview video of BrightView's services:
(Source: BrightView)
BV provides a suite of 9 services to its commercial customers:
Design
Development
Maintenance
Snow & Ice
Water Management
Tree Care
Tree Growing & Moving
Golf
Sports Turf
Investors with 5% or more of company stock include KKR (KKR) (75.8% pre-IPO) and MSD Partners (17.7%). MSD Partners is the family office of Michael Dell.
KKR acquired its majority interest in December 2013 from previous private equity owner Leonard Green & Partners for $1.6 billion.
Customer Acquisition
The company operates in various markets, servicing clientele in diverse fields -- commercial, education, healthcare, hospitality, religious, residential, retail, sports and leisure.
BV has over 200 branches across the US which allows it to operate on a local level. Thanks to the branch delivery model, BrightView defines itself as a single-source end-to-end landscaping solution provider to a diverse customer base at national, regional and local levels.
The firm acquires its customers through its branches strategically located in 30 U.S. states and its partner network, which allows the company to reach all 50 states and Puerto Rico.
BrightView operates in two different segments:
Maintenance Services
Development Services
Selling, G&A expense as a percentage of total revenue has fluctuated with no discernable, meaningful trend:
1H FYE 2018: 20.8%
FYE 2016: 21.4%
FYE 2015: 20.4%
For 2016 and 2017, management stated its contract renewal rate was 85%.
Market & Competition
According to a 2018 market research report by IBISWorld, the commercial landscaping services market generated a total of $88 billion between 2013 and 2018, representing a CAGR of 4.7% for the period.
The main factors driving market growth are the demand from both residential and nonresidential clients increasing as macro economic markets have stabilized.
Major competitive vendors that provide commercial landscaping services include:
LandCare
Five Seasons Landscape Management
Yellowstone Landscape
BrightView believes it is superior to its competitors due to the wide range of services they offer to property owners, from design to maintenance, as well as their ability to reach every state.
Financial Performance
BV's recent financial results can be summarized as follows:
Uneven and slow topline revenue growth
Decreasing gross profit
Uneven gross margin
Decreasing cash flow from operations
Below are the company's financial results for the past two and ¾ years (Audited GAAP for full years):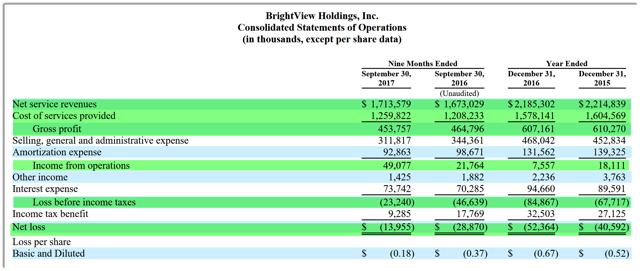 (Source: BrightView S-1/A)
Total Revenue ($)
Through Q3 2017: $1.7 billion, 2.4% increase vs. prior
2016: $2.19 billion, 1.4% decrease vs. prior
2015: $2.2 billion
Gross Profit ($)
Through Q3 2017: $453.8 million
2016: $607.2 million
2015: $610.3 million
Gross Margin (%)
Through Q3 2017: 26.5%
2016: 27.7%
2015: 27.6%
Cash Flow from Operations ($)
Through Q3 2017: $78.9 million
2016: $111.9 million
2015: $123.4 million
As of March 31, 2018, the company had $9.5 million in cash and $2.16 billion in total liabilities.
IPO Details
BV intends to raise $100 million in gross proceeds from an IPO of its common stock, although the final amount may be as high as $500 million.
Management says it will use the net proceeds from the IPO as follows:
...to repay borrowings outstanding under the Second Lien Credit Agreement and, to the extent there are any remaining proceeds, to repay borrowings outstanding under the First Lien Credit Agreement. Borrowings under the Second Lien Credit Agreement mature on December 18, 2021 and presently bear interest at 8.31%. Borrowings under the First Lien Credit Agreement mature on December 18, 2020 and presently bear interest at 4.88%.
Management's presentation of the company roadshow isn't available yet.
Listed bookrunners of the IPO are Goldman Sachs, J.P. Morgan, KKR, UBS Investment Bank, Baird, Credit Suisse, Macquarie, Jefferies, Mizuho Securities, Morgan Stanley, RBC Capital Markets, Nomura, Stifel, William Blair, Moelis & Company and SMBC Nikko.
Expected IPO Pricing Date: Not on calendar.
An enhanced version of this article on my Seeking Alpha Marketplace research service IPO Edge includes my commentary and opinion on the firm's IPO prospects.
Members of IPO Edge get the latest IPO research, news, market trends and industry analysis. Start with a Free Trial.
Disclosure: I/we have no positions in any stocks mentioned, and no plans to initiate any positions within the next 72 hours.
I wrote this article myself, and it expresses my own opinions. I am not receiving compensation for it (other than from Seeking Alpha). I have no business relationship with any company whose stock is mentioned in this article.