Editor's note: Seeking Alpha is proud to welcome Jasper Lawler as a new contributor. It's easy to become a Seeking Alpha contributor and earn money for your best investment ideas. Active contributors also get free access to the SA PRO archive. Click here to find out more »
UK Stocks are on a tear, hitting fresh all-time highs while U.S. stocks are range bound and having a difficult time gaining traction. The relative strength of UK stocks to U.S. stocks has reached an extreme by historical standards and looks stretched. With the Federal Reserve likely to increase rates, the U.S. markets are likely to continue to face headwinds.
Economic data in the U.K. has been softer than expected, allowing the Bank of England to pause its normalization process. The recent increase in interest rate differential has been sending the British pound lower, making the UK a more attractive destination for international investors. A pair trade between the FTSE 100 and the Dow Jones Industrials is an interesting proposition, and will help you avoid choppy market conditions.
The UK Economy Is Slowing, Allowing Interest Rates to Ease
This week, the UK reported that its May CBI industrial trends survey came in much softer than expected. The headline number showed that total orders balance declined to minus 3 dropping from a reading of one in April, and missed expectations of a reading of 2. the month prior. The industrial trends survey showed declines in both domestic and global growth showing that the manufacturing sector is slipping.
In addition, the UK reported that net government borrowing dropped in April. UK April headline CPI unexpectedly declined to 2.4% from 2.5% year over year in March. Core CPI rate also came in a tad under at 2.1% year over year, down from 2.3% year over year in the month prior and below the median forecast for 2.2% year over year.
Historical Correlation
A correlation study describes how two items move in tandem. A correlation coefficient of 100% describes perfect correlation where assets move in lockstep. A correlation coefficient of -100% is perfect negative correlation where two assets move in the opposite directions.
The historical correlation between the FTSE 100 and the Dow Industrial Average is approximately 60%, using a 50-week (approximately one-year) correlation. Currently the correlation is 26%, which means that the returns of the FTSE 100 are not moving in tandem with the Dow Jones Industrials. While this phenomenon is likely to head back to the historical average of 60%, the two indices can remain uncorrelated for a while.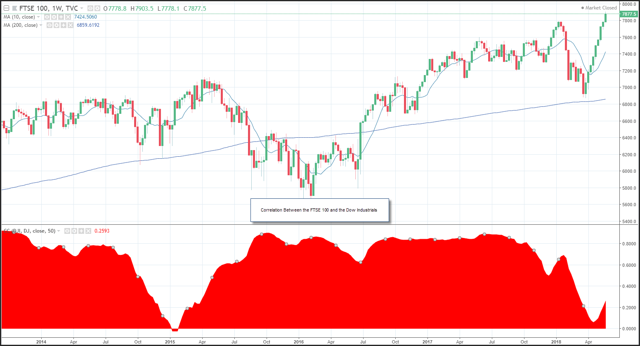 Source: Trading View
The UK Has More Room to Run
The FTSE 100 relative to the Dow Industrials has increased more than 16% since hitting a low of 0.285 in March of 2018. The ratio (FTSE 100/DJI) has rebounded back to the Bollinger band high, which is two standard deviations above the 20-week moving average. While the rebound is likely stretched, the ratio has decline substantially over the past 25 years after reaching a high of 0.89 in 1993.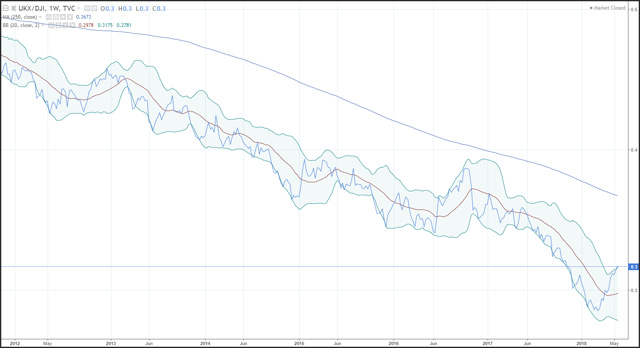 Source: Trading View
One way to take advantage of the relatively low price level of the FTSE 100 to the Dow Jones Industrial Average is to put on a pair trade.
What Is a Pair Trade?
A pair trade is a trade between two securities, where you are speculating on the relative performance of one asset relative to another. To place a pair trade, you purchase one asset while simultaneously selling the other. In this case, you could purchase the FTSE 100 and sell the Dow Jones Industrial Average or vise versa. You can accomplish this by using exchange traded funds (ETFs) that track these indices or contracts for differences (CFDs) that reflect the returns of the FTSE 100 and the Dow Jones Industrial Average.
What Is the Action Plan?
The FTSE 100 is on a roll and breaking new highs. While the movement has been stretched, the index is likely to continue to move higher as interest rate changes by the Bank of England are unlikely to be as robust as expected. In the short-term a long FTSE 100 short DJI might be choppy, but there is a lot of upside as the FTSE has underperformed the Dow for 25 years, and there is a lot of catch-up football left for the FTSE 100.
Disclaimer: The information and comments provided herein under no circumstances are to be considered an offer or solicitation to invest and nothing herein should be construed as investment advice. The information provided is believed to be accurate at the date the information is produced. Losses can exceed deposits.
Disclosure: I/we have no positions in any stocks mentioned, and no plans to initiate any positions within the next 72 hours.
I wrote this article myself, and it expresses my own opinions. I am not receiving compensation for it. I have no business relationship with any company whose stock is mentioned in this article.