In general, I am against trying to predict where stocks will go within the next year. I consider it too short of a time frame for many stocks and prefer to invest mostly on long-term fundamentals. For the few who have read multiple of my articles, you'll notice that most of them have 2-3 year price targets instead of the normal 1-year.
That being said, I am continuing to work on my prognosticating skills, so I thought I'd write an article about the stocks I think will perform best over the next year. I'll plan on revisiting it in 1 year and see how I did. Without further ado, here are my picks:
CLF - Cleveland-Cliffs (CLF) sells iron ore that it mines mostly from the Great Lakes area. As commodity prices fell over the last 5 years, it had a very rough time, being strangled by high amounts of debt. In the last couple years, it has been able to massively reduce its debt, partially by diluting shares considerably. While the dilution will keep it from getting to its previous highs of 5-10 years ago, it is a much safer company and can grow considerably from here. I expect 2018 to be a breakout year for the company, which I explain more in my article, Take An Escalator Up The Cliffs.
VSTM - Verastem (VSTM) is a small-cap biotech company that had very good phase 3 data last year for its drug duvelisib (DUO) as a second-line drug intended to treat chronic lymphocytic leukemia (CLL). Here is an article I wrote back in October giving a wide valuation range showing how much potential it has, Will Verastem Make You Vera-Rich?. Since that time, it has gone through two rounds of dilution, as well as recently selling the rights to DUO in Japan to Yakult (OTCPK:YKLTY), to raise funds for its hopeful upcoming FDA approval (PDUFA date of October 5th). I see VSTM as well funded at this point and still has plenty of upside upon what I consider a likely approval. I also have been thoroughly impressed by management, continuing to hit milestones well ahead of guidance and well-timed accessing of funds. Even with the recent run-up in the last few months, I still think another 50% return from this point is likely with as much as 100% in the next year.
ADMS - Adamas Pharmaceuticals (ADMS) is another small-cap biotech company. Late last year it had its main drug, GOCOVRI, approved to treat dyskinesia in patients with Parkinson's disease. It has been a roller-coaster ride so far after approval, but with the first full quarter of sales looking on track and a great pipeline, I think this name will continue to run higher over the next year. Here is my article, Adamas Releases Pricing For GOCOVRI, explaining it all more in depth.
XAN - Exantas Capital (XAN), formerly known as Resource Capital (RSO), is a commercial mortgage real-estate investment trust (mREIT). I am not touching residential mREITs with a 10-foot pole right now, but commercial mREITs are another story. While residential mREITs are much more vulnerable to rising interest rates, there are many commercial mREITs that are trading well above book value, such as Blackstone Mortgage (BXMT) and Starwood Property (STWD) which are both ~1.2x book value.
Resource Capital had a history of being a poorly run mREIT a few years ago. New management has taken over though and has a great job so far converting the business to a solid commercial mREIT. I don't ever expect it to trade at such a premium as BXMT or STWD, but since XAN is currently trading at ~.71x book value, there is plenty of room to go higher and still trade at a discount. As it finishes the transition over the next year and continues to increase its dividend, I expect it will trade closer to book value. I'm expecting 5-10% returned in dividends over the next year and 10-20% returned in capital appreciation. I was certainly too early on my call before, but I still agree with what I said last year in my article analyzing how management was doing.
ETP - Energy Transfer Partners (ETP) has a sustainable 11.6% yield. The yield got this high in the first place as it levered way up over the last few years to start a plethora of new projects. It also has struggled with regulatory bodies halting its construction many times over the last couple years. However many big projects have been completed in 2017 and so far in 2018. After the Q1 report, it already has increased distribution coverage to 1.15x. With several more projects to come online and others to increase flows and bring more segments online, I expect the distribution coverage to continue to increase. As the yield becomes safer, I expect the price to go up until the yield hits ~8% which would be nearly 50% capital gains from here. Even if it only goes up modestly or not at all, a nearly 12% yield is very nice margin of safety.
The biggest risk I see for ETP is that many are expecting a roll-up with the parent company, Energy Transfer Equity (ETE), in 2019. CEO Kelcy Warren, while he owns a large chunk of ETP shares, owns significantly more ETE shares. ETP is kind of at the mercy of whatever roll-up terms ETE dictates. I can see an argument why smart money is going with ETE for the long-term, but I see ETP as having a better chance at gains over the next year. One other note I'd like to make is that both ETP and ETE are MLPs, so if you do decide to invest in them, you'll have to deal with the dreaded K-1 form at tax time.
RDS.A/RDS.B - Royal Dutch Shell (RDS.A) (RDS.B) has had a great past couple of years as oil prices have recovered and people realized the company was going to be just fine despite buying BG Group at a questionable time. I think Olsny Freitas stated it best in his article, Royal Dutch Shell Incredibly Secure High Yield, when he said "great ideas don't require good analysts." I think what he was getting at is that if oil prices just stay put where they are, there is plenty of money to be made still. While RDS has already increased in price dramatically over the last couple years (from under ~$39 to ~$73 currently), with EBITDA continuing to increase and the company continuing to pay off debt, you can see how much it should continue growing from comparing Trailing EV/EBTIDA to Forward EV/EBITDA. I expect ~15-20% total returns over the next year.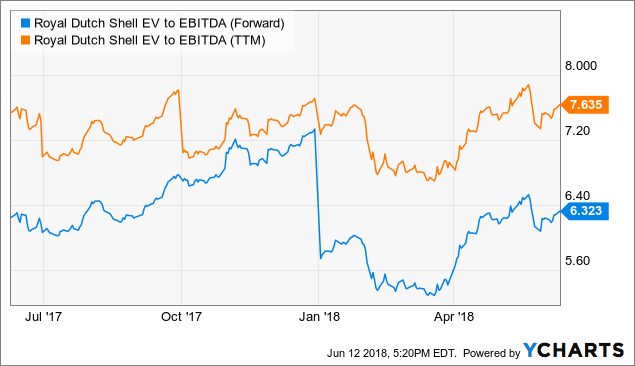 AVEO - AVEO Pharmaceuticals (AVEO) is mostly a play on what I consider a likely approval of its drug candidate that is furthest along, Tivozanib, intended to treat renal cell carcinoma. It already got rejected from FDA once, but had poor study setup. It should finish another study in Q2 2018 and likely resubmit to the FDA in late 2018. Even though it seems like too short of a timeline for the company to get these results back, submit for FDA approval, and get approved all in one year, positive results from the study and even getting closer to a PDUFA date is cause for plenty of run-up considering the market cap is at less than $300 M.
Conclusion
Now to bring all my 1-year Buys together. I listed them above in the order I trust they'll have large gains over the next year. I am keeping track of them through Morningstar in a fake portfolio totaling near $100,000 to make it easy to compare to in a year. I took prices on 6/13 at the time I was writing this article. Here are the allocations:

Source: Morningstar
As usual, I recommend everyone do their own due diligence on each individual stock as this is mostly an exercise to see how I do over a year. I also in general like to have majority of my money in long-term positions with less overall allocated in companies I only see doing well in the short-term. Please feel free to add your own favorite 1-year picks in the comments below.
Disclosure: I am/we are long ADMS, AVEO, CLF, ETP, XAN, RDS.B, VSTM. I wrote this article myself, and it expresses my own opinions. I am not receiving compensation for it (other than from Seeking Alpha). I have no business relationship with any company whose stock is mentioned in this article.
Editor's Note: This article covers one or more microcap stocks. Please be aware of the risks associated with these stocks.