Background
Few months ago we introduced four teams:
The main difference between the four teams are as follows:
| | | | | | | |
| --- | --- | --- | --- | --- | --- | --- |
| Team | Minimum Coupon/ Yield | Special Features | Average Weighted Duration (in years; up to) | Types of Securities | Target Total Return (per annum) | Maximum Draw-Down (up to) |
| I(ncome) | 5% | No overlaps (same issuer) | 5 | Bonds, baby bonds, Preferred shares , CEFs | 5%* | 5% |
| R(IC) | 7% | | 7 | BDCs, mREITs, eREITs, MLPs, MFs | 7%* | 7% |
| G(rowth) | N/A | Past & (expected) future 10% revenues & EPS growth | N/A | Stocks only | 10%* | N/A |
| S(peculative) | N/A | Multi-bagger potential | N/A | Market-cap < $1.6B | 40% over next 2 years | N/A |
* For the team (as a whole), based on equal sightings, over both short (12 months) and long/er terms.
Truth must be told: In spite of "Trapping Value" being the pseudonym of my partner, with whom I'm running The Wheel of FORTUNE - our service is hardly ever speculating. Instead, we focus on attractive value and/or income plays, with an emphasis on risk management. Therefore, if I wish to "go wild" I must do so here, on the free side.
Thing is that it doesn't seem like "going wild" at all. In our last S-Team Update from March, the average return of the S-Team (assuming equal weightings) during the relevant period (February 26th - March 12th) was 8.19%.
Not bad. Not bad at all... but wait until you see what it is now!
Performance of S-Team
Here's how the 10 constitutes of the S-Team have performed since the team was introduced on 2/26/2018, exactly one month ago: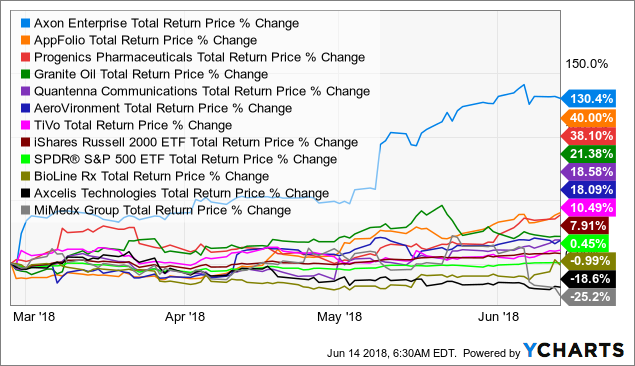 The average return of the S-Team, assuming equal weightings, during a period of 15 days (February 26th - June 13th) is 23.24%!
Yes, you read it right - 23.24% average total return in less than four months. Not bad. Not bad at all, especially when the S&P 500 has returned 0.45% and even the Russell 2000 (IWM) "only" delivered 7.91% - about one third of what the S-Team has delivered - during that time.
More statistics?
Seven out of the 10 S-Team's constitutes delivered positive total returns, with an average return of exactly 40%.
The total returns of all seven constitutes with positive returns were greater than 10%.
Three out of the 10 S-Team's constitutes delivered negative total returns, with an average return of exactly -14.93%. By the way, excluding yesterday (6/13), the number of stocks with negative total returns was only two.
This is an impressive performance in both absolute and relative terms. A return of 23.24% would make any investor very happy on an annual basis, let alone 3.5 months. Furthermore, this return was far and beyond what any relevant-chosen benchmark would have returned during that period.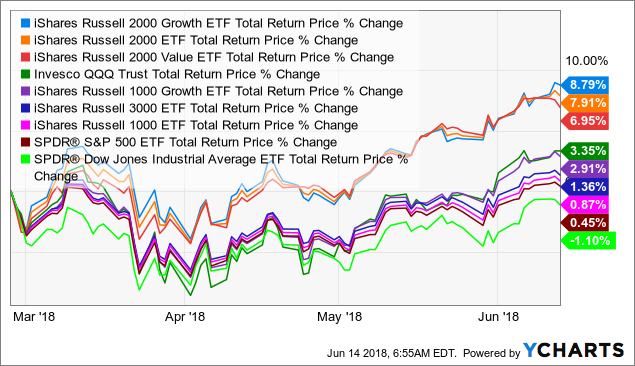 During the relevant period, none of the leading indices - SPDR S&P 500 Trust ETF (NYSEARCA:SPY), PowerShares QQQ Trust ETF (NASDAQ:QQQ), SPDR Dow Jones Industrial Average ETF (NYSEARCA:DIA) - got anywhere close to the S-Team performance.
Same goes for the broader, smaller-cap, indices - iShares Russell 1000 ETF (NYSEARCA:IWB), iShares Russell 1000 Growth ETF (NYSEARCA:IWF), iShares Russell 3000 ETF (NYSEARCA:IWV).
The Russell 2000 related indices - the iShares Russell 2000 Growth ETF (NYSEARCA:IWO) and the iShares Russell 2000 ETF (NYSEARCA:IWM) - with 8.79% and 7.91% respective returns were the closest ones. Nonetheless, even here they've returned only about 30-40% of what the S-Team delivered.
S-Team's Stock in Focus: AAXN
Unlike our previous coverage, from now on we will start taking a closer look at a certain stock on each update that we publish.
We will start with the stock that performed the best thus far and move down (from the highest to the lowest) until we hopefully cover all constitutes of the S-Team.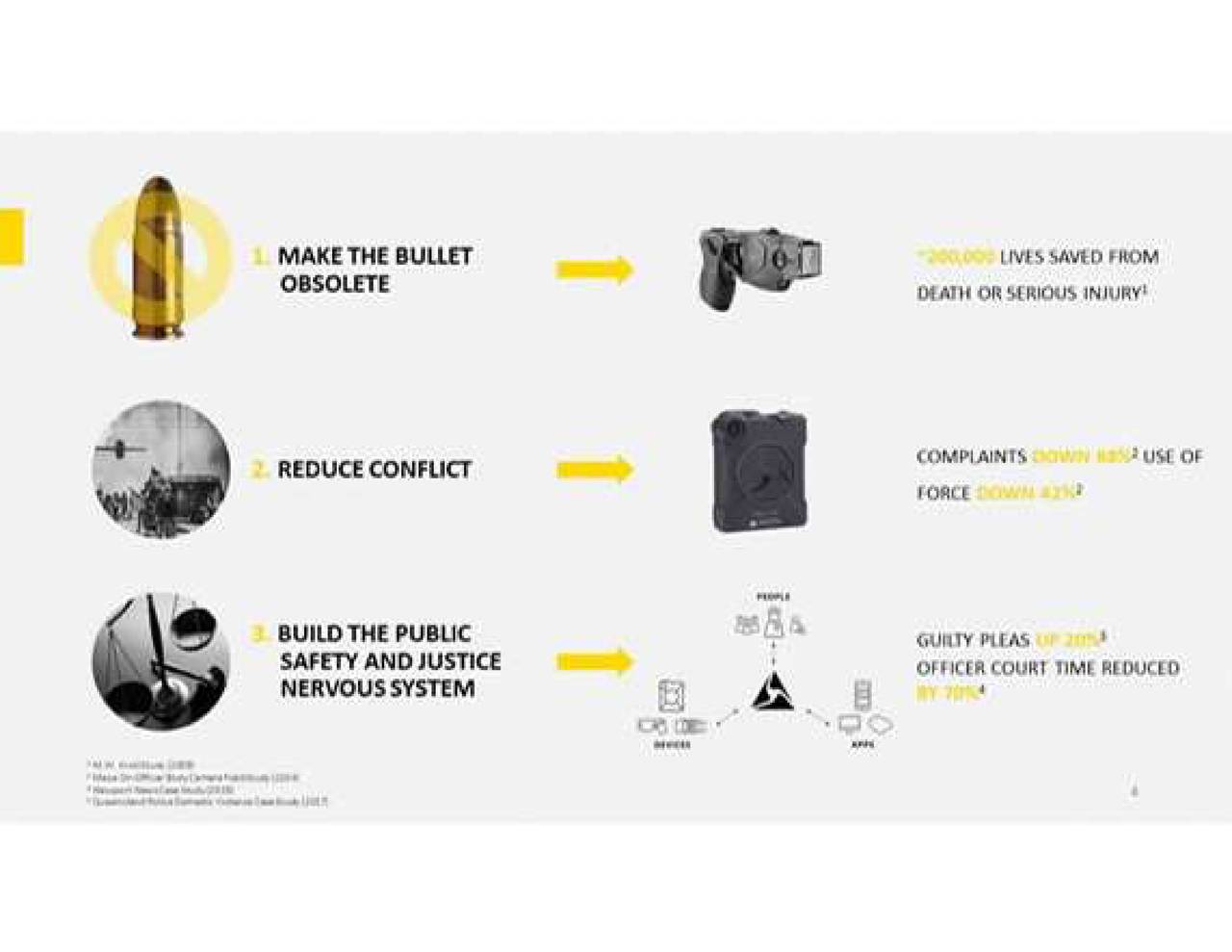 Source: Company's presentation
Axon Enterprise (AAXN) (Sector: Industrials. Industry: Aerospace and Defense)

As a reminder, here is the company's self description:
Axon protects life with a network of connected public safety technologies. Founded in 1993, Axon - formerly TASER International (TASR) - first transformed law enforcement with its TASER electrical weapons. Axon continues to protect life in new ways with a growing suite of connected devices and apps, from TASER smart weapons to body cameras, digital evidence management tools, records management systems, in-car video solutions, artificial intelligence automation, training and mobile apps. These technologies work together to automate outdated processes so officers can get to the truth faster, act with confidence and focus more time on serving their communities.
Hundreds of thousands of lives and countless dollars have been saved with Axon's network of devices, apps and people.
Many people think that AAXN is simply producing guns (thus, hate it) but it's important to note that AAXN is working almost entirely with law enforcement bodies and most of its revenues and future growth is dependent on serving the professional-institutional and not the private-retail market.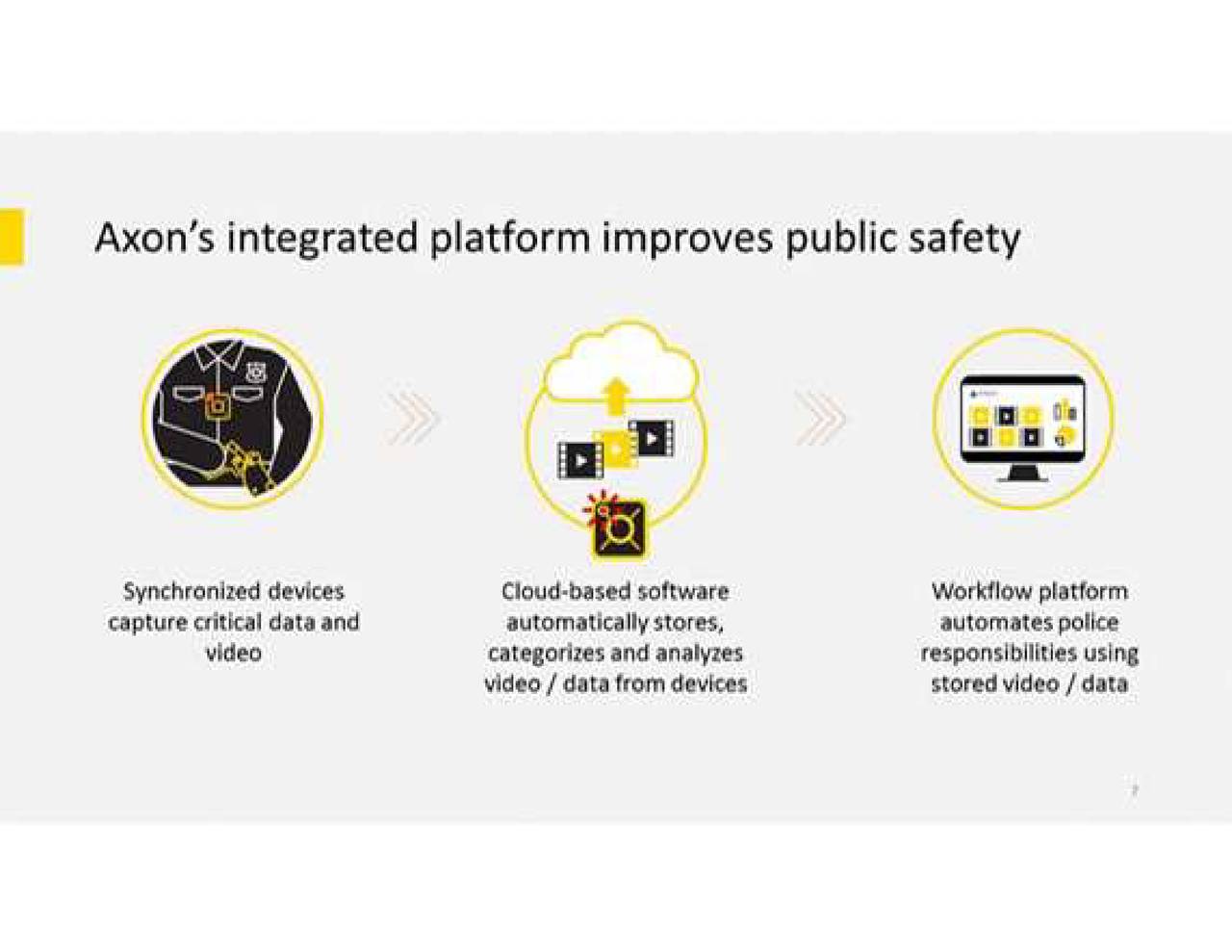 Source: Company's presentation
Financials
First of all, allow me to make it very easy for you when it comes to AAXN in 2018: You want to own it before earnings. You know, there are those stocks - Amazon (AMZN) anyone? - that jump when they publish earnings, no matter what. AAXN seems to be joining this group in the current calendar year.
On 2/28, following Q4/2017 ER, the stock jumped 27.82%.
On 5/9, following Q1/2018 ER, the stock jumped 22.33%.
Truth is that the results were impressive and the market couldn't ignore:
| | | |
| --- | --- | --- |
| Period / Item | Q4/2017 | Q1/2018 |
| Revenues | $101.2M (+27.7% Y/Y), beat by $9.92M | $94.7M (+15.4% Y/Y), beat by $5.27M |
| EPS | $0.32, beat by $0.28 | $0.13, beat by $0.15 |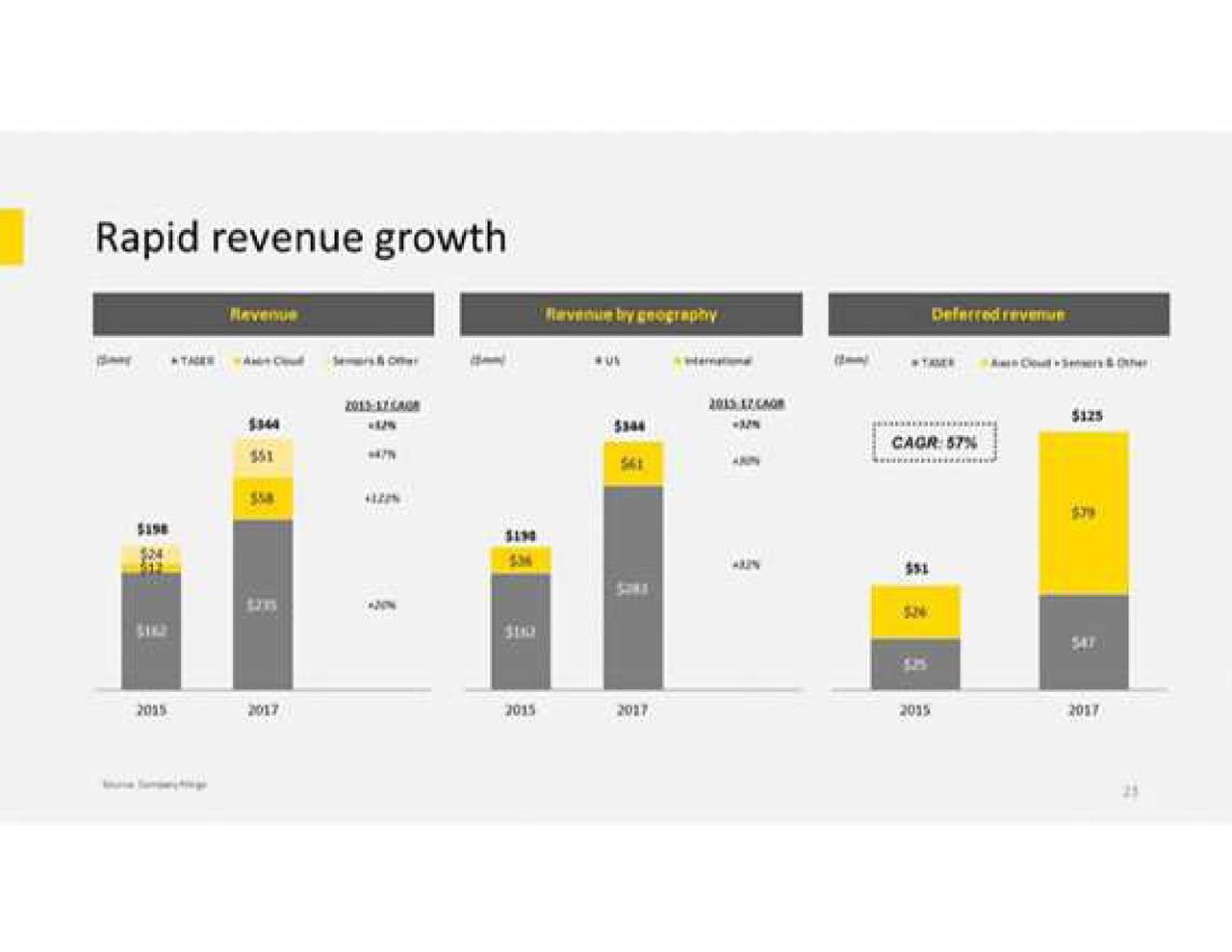 Source: Company's presentation
Business Development and Growth
Nonetheless, there's more to AAXN than just the numbers:
A new partnership with DJI Innovations (DJI).
A new partnership with Milestone Systems, a global leader in video management software.
Acquisition of the VIEVU camera subsidiary from The Safariland Group.
Forming a long-term partnership with Holster.
AAXN is currently hitting on all cylinders and fronts:
1. Innovation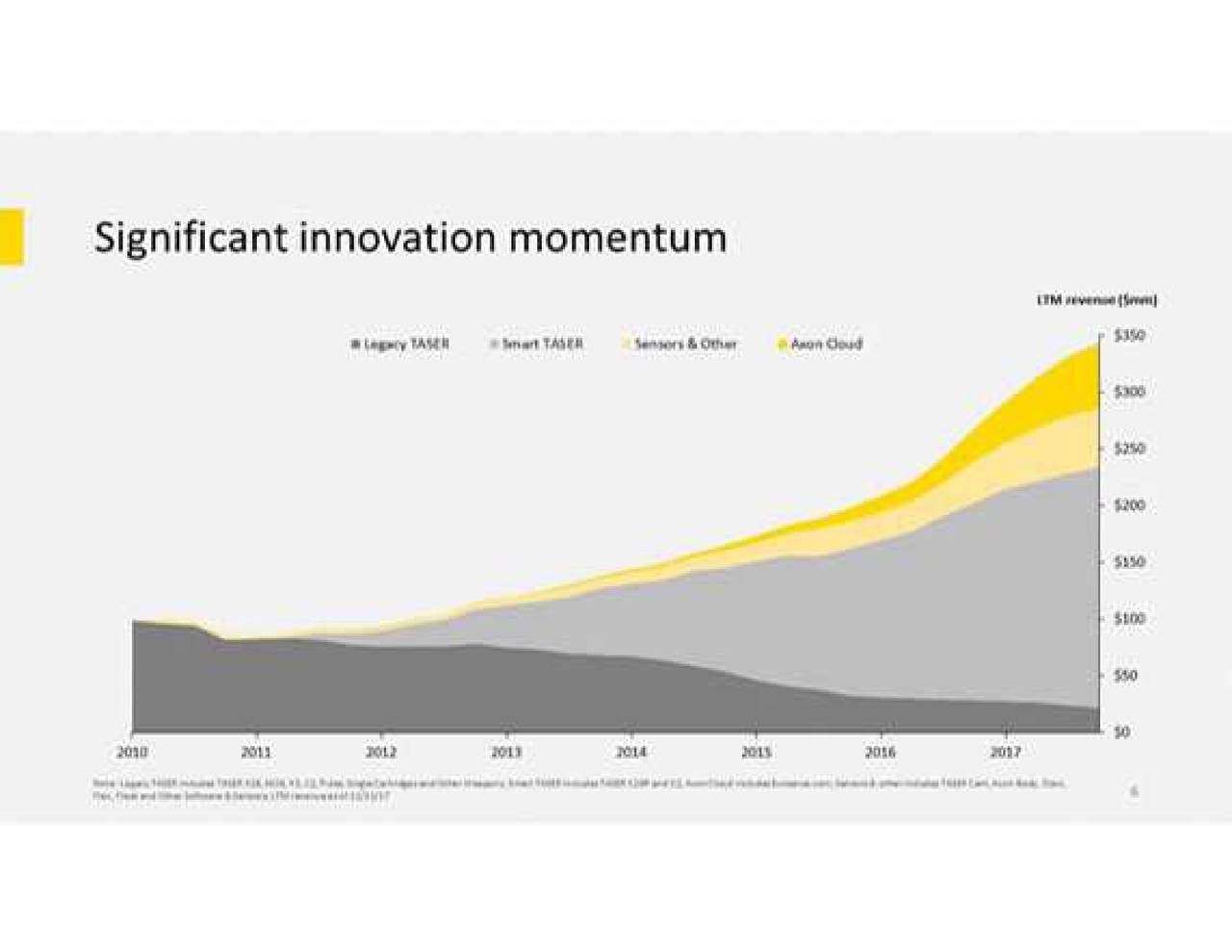 Source: Company's presentation
The company has shifting from selling products to selling services, from a hardware-based company into a software/cloud-based operation.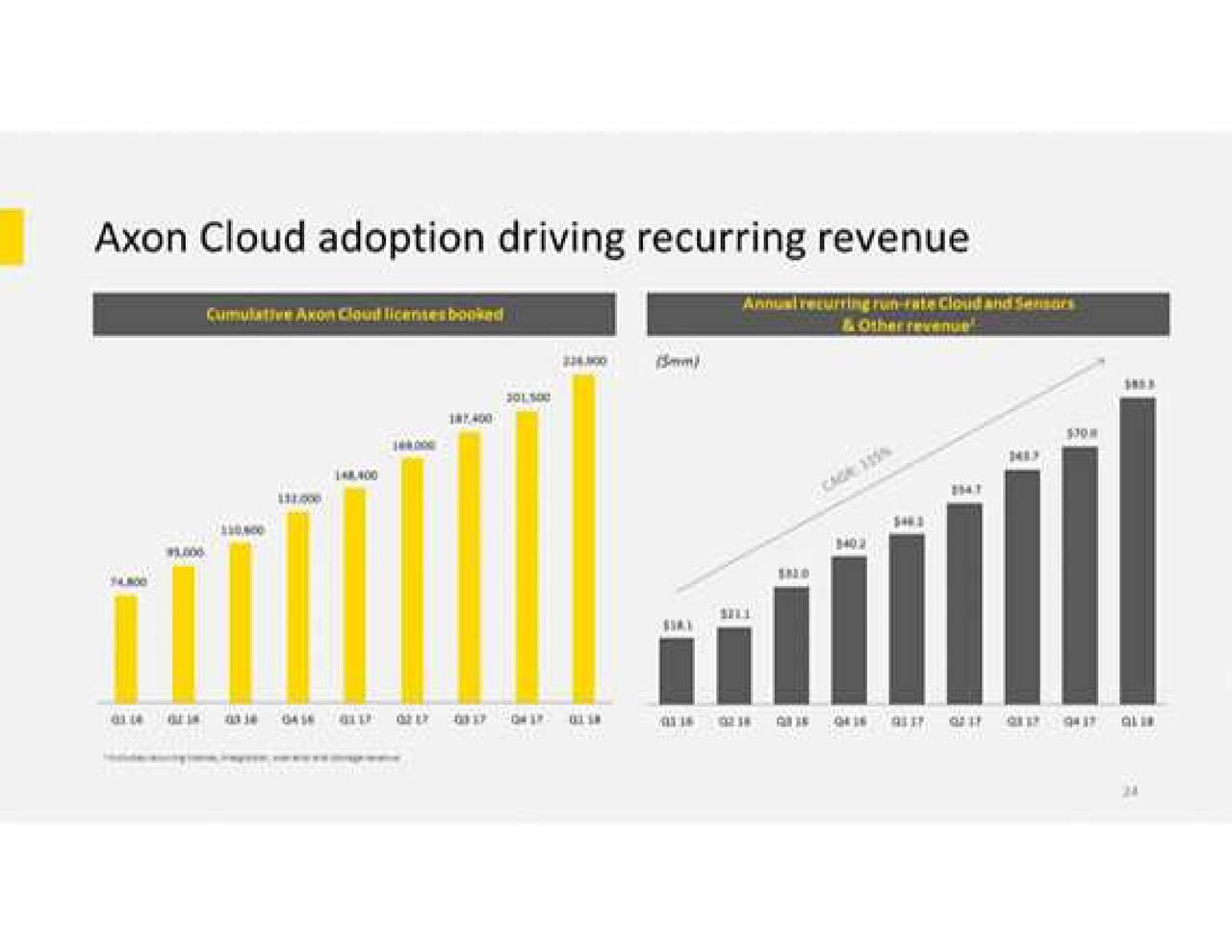 Source: Company's presentation
2. Business model
The company's business model is shifting more and more from one-off revenues (as been the case with the old TASR) to recurring cash flows that are based on subscriptions.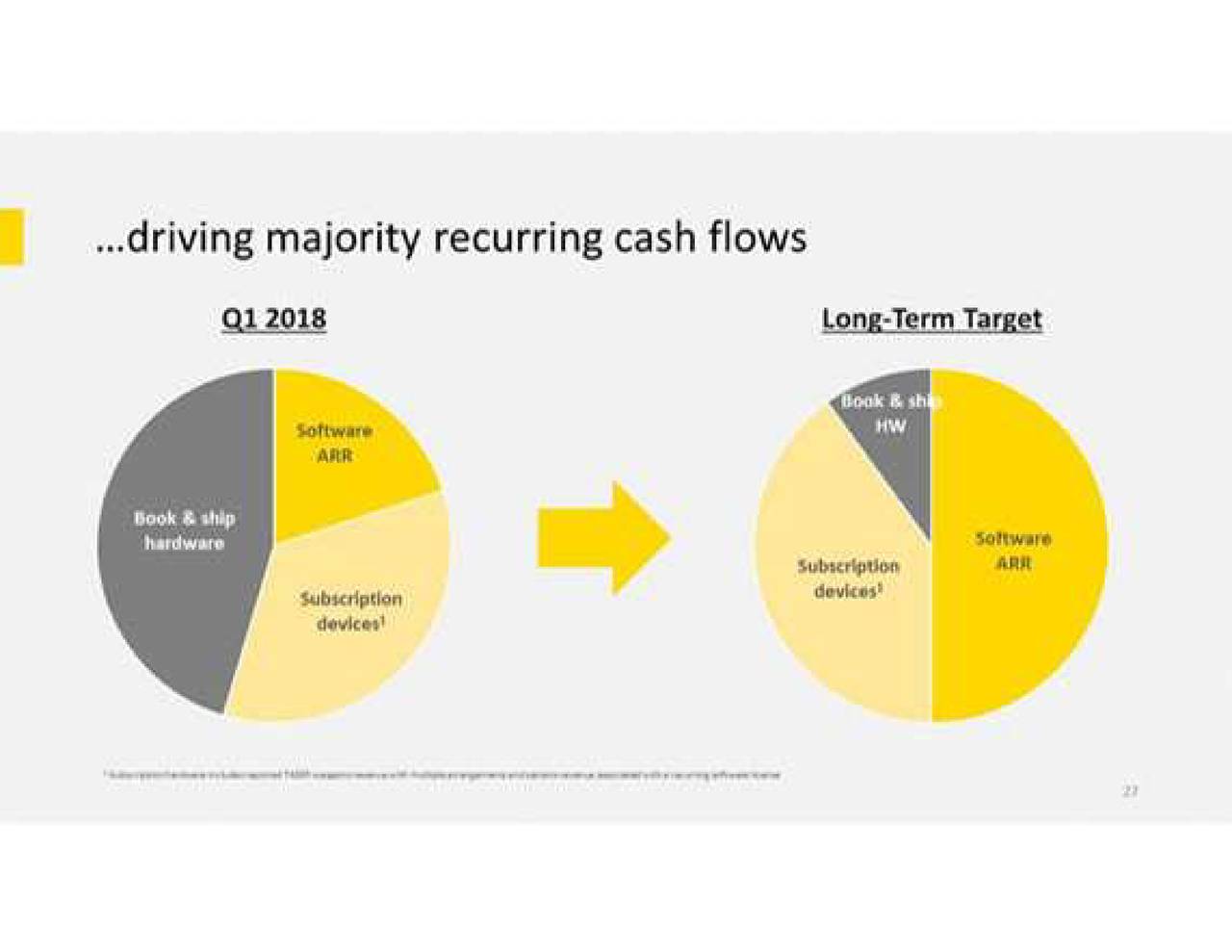 Source: Company's presentation
Once you become a subscriber/user of AAXN services - it's hard/impossible to get out. Not because you can't but because you don't want to.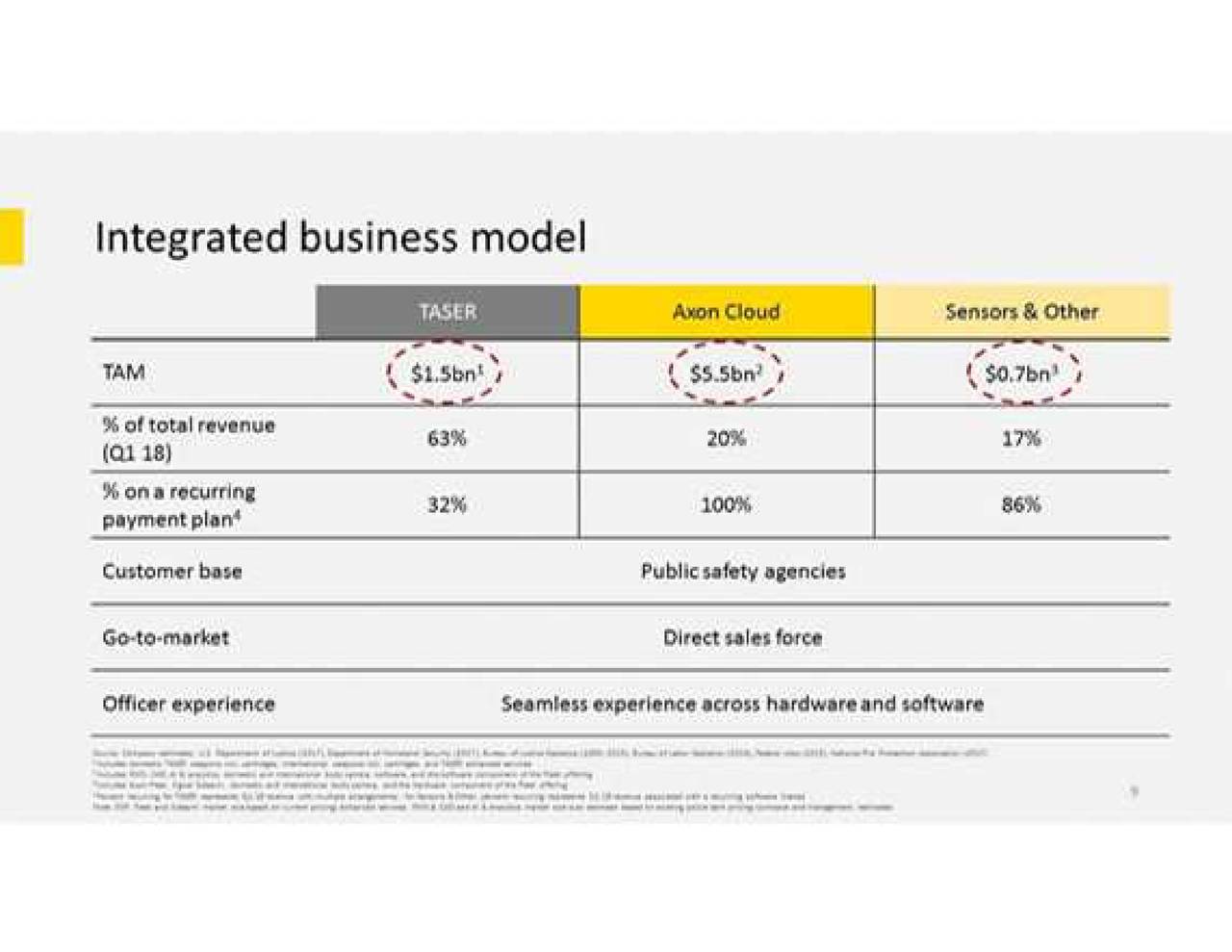 Source: Company's presentation
Short Interest
It's important to note that the stock tripling its value in a matter of few months took a great tool from short sellers who got it all wrong here.
Short interest more than halved since peaking toward the end of 2017. At 15.6% it's certainly not low - and a short squeeze is still very much on the cards - but the magnitude is nowhere near the levels we saw when putting the S-Team together.
Valuation
On one hand, the stock price chart leave very little room to be hesitant.
The company also sold 4.3M shares in a public offering for $53 each. Seems cheap right now. But a significant injection of cash either way.
On the other hand, it's hard to ignore the valuation that the stock reached. Indeed, JPMorgan (JPM) - a long-time bull - recently downgraded AAXN from Overweight (been there for several years) to Neutral, solely due to valuation, while maintaining its $66 PT. Although its positive long-term view of AAXN remains intact, JPM says that a further re-rating of the stock likely will "require more evidence of traction with new initiatives such as RMS and AI, or significant international expansion."
Analysts remain mostly bullish on AAXN but, just like JPM, most of them see the stock as fairly valued.
The street-high price target is $70 (lowest is $50) and the average rating is Overweight, similar to JPM.
Institutional investors have been net sellers of AAXN during Q1/2018 - and they were dead wrong about it. Perhaps the "smart money" is not that smart after all.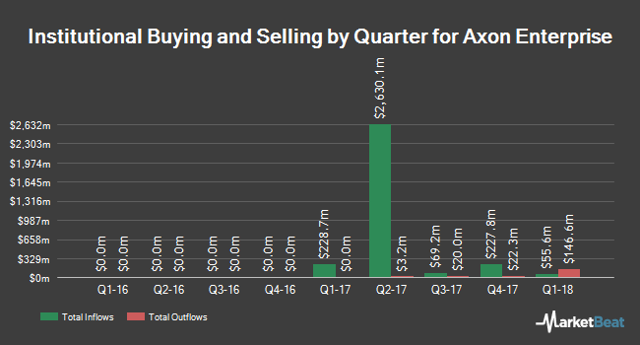 The market expects AAXN to earn $0.51 in FY 2018 and $0.76 in FY 2019. This would still put the P/E at 127.2 and 85.4, respectively, based on current price.
Following the strong Q1/2018 results the company has updated its outlook for 2018 as follows:
Revenue growth guidance been raised from 16%-18% to 18%-20%.
Operating margin expansion (compare to 2017) increased from 300 basis points to 400 basis points.
Normalized tax rate is expected to be in the 20% to 25% range.
Capex in the range of $12M to $16M.
No doubt this stock is moving in the right direction.
Bottom Line
Overall, we believe that JPM has a point and it's hard to argue that the stock is fully/fairly valued here. You may give this stock another one or two earnings reports in order to possibly/hopefully catch another run up.
However, it's hard to argue with the growth story and great potential that Axon Enterprises offers. The company still has a long way to go and what might seems expensive today may be cheap in a couple of years.
This is a high-risk investment and this is exactly why it's part of the S-Team. Nonetheless, high risk for itself doesn't mean that the potential reward doesn't overcome, i.e. compensate enough for, the risk.
We remain holders here but we may start selling out-of-money calls and/or puts (we don't see the stock halving from here...). As a volatile stock, the premiums should be nice and certainly can allow for either extra return (not that this is needed...) or for selling the stock at higher prices than the current mid $60s.
Author's note: If you like this article please scroll up and follow us. In order to make the most out of following us, please make sure that you're not only following us, but also doing so at real time:

That's the only way to get notifications regarding both articles and blog posts that we publish at real time.

The Wheel of FORTUNE monthly review for April is now available. Make sure you check it out while our free trial is still on!
The Wheel of FORTUNE is one of SA Marketplace most comprehensive services. Our universe (of coverage) is unlimited and we touched upon all types of securities: common stocks, preferred shares, public bonds, baby bonds, options, currencies, commodities and even multiple startegies.
Since 3/1/18 Trapping Value is part of The Wheel of FORTUNE so you now get two for the price of one.
Take advantage of a two-week, free of charge, first-hand experience before you commit to the service on a longer-term basis.
Make sure you read the reviews (133/135 possible stars) subscribers wrote about the service to gain a better understanding of what you may expect out of it.
Disclosure: I am/we are long THE S-TEAM.
I wrote this article myself, and it expresses my own opinions. I am not receiving compensation for it (other than from Seeking Alpha). I have no business relationship with any company whose stock is mentioned in this article.