This is a high-risk, high-reward play and should not be seen as a sure thing. If your risk tolerance is not high, I do not recommend taking action here.
Introduction:
On March 22, 2018, President Trump's administration decided to impose $60 billion in tariffs on the Chinese economy due to tech-related intellectual property theft and patent infringement of United States company's products. China was swift to respond with a round of tariffs on 128 U.S.-origin products effective immediately as of release on April 2, 2018. According to the United States Department of Agriculture Foreign Agricultural Service, these tariffs targeted approximately $2 billion in United States exports. While there were additional tariffs imposed on April 4, 2018, by China this report will focus on the tariff list released April 2, 2018. However, it is worth noting that preliminary analysis has shown the additional tariffs follow the same pattern as discussed in this report (take a look at beef).
While there has been much discussion regarding the introduction of a 25% tariff on American soybean exports to China, I believe this laser focus has been misguided. Closer examination of the 128 tariffs imposed on April 2, 2018, shows that 78 (61%) targeted berries, fruits, melons, and nuts. In 2007 and 2012, the USDA Census of Agriculture found that not only was California the number one overall producer of berries, fruits, melons, and nuts but supplied 2/3 of the United States' total production. I believe California was signaled out and specifically targeted by the Chinese government with tariffs to influence the upcoming United States House of Representatives election in November 2018.
I have identified milk and dairy products as a likely target for future tariffs by the Chinese and this is where shorting Dean Foods (DF) comes into play. Due to decreasing demand and stubbornly low milk prices, Dean Foods has seen its stock price fall from its 52-week high of $18.45 to yesterday's close of $9.88. However, the stock has recently rallied over 20% from its low in April. If I am correct and China does impose tariffs on milk and dairy products, this will likely cause the price of milk to drop and Dean Foods will find its recent rally reversed. While Dean Foods is clearly not the target of China, it is most certainly not in a position to come out of this trade war without at least a few wounds.
Background:
During presidential elections, California is widely considered to be a guaranteed win for any Democratic candidate. However, this is not caused by a population of pure Democrats but rather the major population centers themselves have strong ties to the Democratic party. Meanwhile, a large portion of the rest of the state is generally considered to be Republican. These districts are not considered Republican strongholds and therefore, are not guaranteed wins for the Republican party in the upcoming House election. This election is especially important for the Republicans and President Trump as the majority they are currently enjoying is required for the President to effectively move forward with his trade war with China and many other of his controversial policy initiatives. Therefore, the fourteen seats that are currently under Republican control in California will be of vital importance to the Republican majority. The LA Times in an article updated June 8, 2018, stated of the fourteen most competitive seats up for election ten are currently held by Republicans. The article also reports that the Democratic Party believes they cannot win a majority in the House without winning a portion of the Republican-held seats in California. Subsequent articles by the New York Times, Bloomberg, etc. have continued to hammer California's importance to the Democratic party's chance to take the majority in the House of Representatives. The Democrat's strategy assumes they do not lose any districts in California. While on a general basis I do not believe China has a major preference over which party controls the United States' Congress, due to the increasingly hostile rhetoric coming from the White House and the restarting of the trade war a Democratic-controlled House is vital to China's interests.
The pain inflicted on California's farmers by the Chinese tariffs is magnifying the already difficult situation experienced by the United States agricultural sector. Reported in an article published by Bloomberg on February 7, 2018, U.S. farmer income is predicted to decrease by at least 6.7% year over year in 2018. The cause is a glut in the agricultural marketplace forcing profits to a predicted 12-year low for United States farmers. Meanwhile, costs, excluding increases from new Chinese tariffs, are predicted to rise approximately 1% according to the USDA in 2018. California's farmers are hurting, and the increase in costs due directly to Chinese retaliation to President Trump's policies will make an already difficult situation worse.
California, The Republican Party, and Tariffs
California is one of the United States largest producers of agricultural products and produces 2/3 of the nation's berries, fruits, melons, and nuts. California is also America's sole producer of the following agricultural products (99% or more):
Almonds
Figs
Olives
Peaches
Artichokes
Kiwifruit
Dates
Pomegranates
Raisins
Sweet Rice
Pistachios
Plums
Walnuts
*Items in the above list that are in bold were individually mentioned by the tariff list. Items in italics were covered by an overarching category.
The Republican party currently controls fourteen of California's fifty-three House of Representative seats (26%).
The total number of counties either entirely or partly controlled by Republican districts is 49 leaving 77 counties controlled either entirely or partly by the Democrats. It is important to note that districts overlap counties and take up different sections of counties. However, this is not always the case and has been taken into account in my analysis.
Number of farms and subsequent acres directly affected by the Chinese tariffs:
| | | |
| --- | --- | --- |
| | Farms | Acres |
| | 59,797 | 2,972,731 |
| | 40,410 | 2,179,532 |
| | 67.58% | 73.32% |
*The most recent data available broken down by county was 2007, and therefore, the data is slightly out of data. However, the limited recent data available has indicated an increase in acres and number of farms rather than a decrease due in part to the excellent year's farmers had from 2007-2013.
In 2007, in California, 59,797 farms produced berries, fruits, melons, and nuts that are facing increased tariffs by the Chinese and approximately 67.58% of these farms are in House of Representative districts controlled by the Republican party. These farms provide approximately 73.32% of the acres in California that produce agricultural products facing increased tariffs as of April 2, 2018. Previously mentioned was the issue of overlapping counties and while there are some counties listed that also fall partly into Democrat-controlled districts they do not provide many farms and acres contributing to the calculation. More importantly, the sections of the counties the Republicans control in these cases are where a clear majority of the farms and acres reside.
The Dairy Thesis
Now that I have established that California is a target the question remains, who cares? The cost of previous tariffs has been long priced into the market and, therefore, no actionable trade can be made on this information. Utilizing the analysis above as a way to narrow the list of potential targets, I have singled out milk and other dairy products as a strong candidate for future tariffs. To start with China is a large consumer of American dairy products. In 2017, China imported approximately $577 million worth of dairy products from the United States accounting for approximately 10.54% of total US dairy product exports for 2017.
For 2017, California produced approximately 18.5% of the United States' total milk production, placing it firmly as the largest milk producing state. The second-largest milk producing state is Wisconsin at approximately 15%, and whose electoral college votes went to President Trump in the 2016 election with a margin of 47.9% to Clinton's 46.9%. The remaining states contribute less than 10% to the United States' annual milk production, but it is worth mentioning that Idaho and Texas produce approximately 7% and 6%, respectively.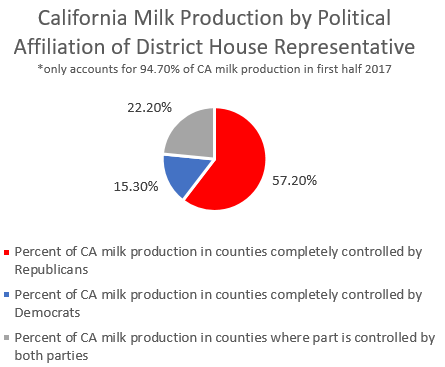 Dividing California's United States House of Representative districts by their political party and looking at the milk production split present a compelling argument. To complete the pie chart to the right, I divided each district into their separate counties and then classifying those counties into three categories: Republican-controlled, Democrat-controlled, and controlled by both parties.
Republicans control counties which produce 57.2% of California's annual milk production, and there is another 22.2% of milk production that is controlled by both parties. As an aside, I have not found a way, nor do I believe it possible without satellites, to find where exactly each farm lands on the district line in counties that consist of both Republican and Democrat districts. However, my analysis has shown that they do generally fall on the Republican side and, therefore, as above, I am comfortable combining the counties partly controlled by each party with the Republican-controlled counties. This means that approximately 79.4% of California's milk production is in Republican-controlled districts. To underline the significance of this, I would like to remind you that Republicans only control 26% of California's total allocated US House of Representative seats.
Making it Actionable: Dean Foods
On June 1, 2018, CNBC published an article titled "Dairy farmers are struggling as they are squeezed out of a changing milk market." The title says it all. Dairy farmers in the United States are being devastated en masse by a combination of consistently low prices, extreme competition, and shrinking demand. Just Google dairy farmers USA and you will find the front page crowded with articles, all recent, about how dairy farmers in the United States are struggling to stay alive. The same can be said for the distributors of dairy products. Dean Foods shares recently hit a six-year low in April this year as the price of milk refuses to rebound and demand keeps shrinking.
Dean Foods effectively sells dairy products exclusively but is uniquely vulnerable to milk prices due to 68% of its 2017 product mix being comprised of fluid milk. A few important statistics from its 2017 10-K:
Gross Profit: 23.3%
2017 net sales up 1.1% from 2016
Net Cash Flow from Continuing Operations: $144.799 million

2016: $257.413 million
2015: $408.153 million

Cash and Cash Equivalents: $16.512 million
Interest Coverage Ratio (using EBIT): 1.28
Net sales were up 1.1% in 2017 year-over-year due to price increases ($360.4 million) and acquisitions ($82.3 million); however, sales volume decreased by a staggering $357.9 million when compared to 2016. Further pressure on milk prices from the decrease in demand caused by hypothetical Chinese tariffs being imposed on US dairy products will cause an already pressured Dean Foods' stock to drop even further. From its low in April, Dean Foods has rallied approximately 21.50%. Dean Foods dropped to its lowest point in six years due to a downgrade by Goldman Sachs from neutral to sell. I believe further pressure on milk could put a serious dent in its rally with the potential to wipe it out completely.
Risks and Comments on my Thesis:
There are some risks to consider relating to my thesis. The first and largest is that China might not place tariffs on agricultural products again. California has a large economy, and there are other potential targets. To be clear I do not have a bug planted in President Xi Jinping's office and, therefore, it is impossible to be even close to certain that the Chinese will hit California's agricultural industry with further tariffs.
Another risk to consider, although I consider this unlikely, is that the US-China trade war might be over or reached its peak. Due to recent comments and my continual analysis, I find this prospect extremely unlikely. Milk and dairy products may also not end up being targeted. Remember, while I believe there is compelling evidence to support my thesis it is impossible to be even close to certain. I have linked several Google Sheets below with my research for people who wish to do a deep dive into the numbers. This will give you a head start in finding other products and industries that might be targeted; for this article, I have just chosen to focus on dairy products as I believe it is the most likely to be the target of future tariffs. I do ask, however, that you cite my article.
On a separate note, I think it is vital to mention Mexico recently put import tariffs on dairy products coming from the United States. This will compound any pressure future Chinese tariffs might have. For more information on these tariffs, please see this article titled: How Trump's trade war is hurting California's largest agricultural sector.
Conclusion
The research indicates an emerging pattern of targeted tariffs by China against California, especially against the Republican-controlled House of Representative districts. California produces many other products and services that are important to China. In 2016 California produced 18.5% of the nation's total milk production with total 2016 production valued at $6.07 billion. Due to the ready availability of supplies of milk from other sources (Australia), this seems like a logical next move for China. However, this report also attempts to highlight the nuanced approach that China is taking with its tariffs. Rather than just going after the obvious targets, such as Republican strongholds, China is focusing attention on less obvious choices. I have found that due to the importance of California in the upcoming House of Representatives election, the districts and counties mentioned will continue to be hit by tariffs. Dean Foods will be put in an already difficult situation by any tariffs on dairy products by China and will subsequently see its shares lose at least a significant portion of their rally. In regards to the success of trade talks with China, I refer to President Trump's comment to reports on May 17, 2018, in reference to the talks, "Will that be successful? I tend to doubt it."
The Data
For a more detailed breakdown of the agricultural products produced by each county, districts controlled by Republicans, the political breakdown of California's fifty-three House of Representative districts, and the numbers behind the macro dairy analysis, please see the Google Sheets linked here: CA Districts, Republican Controlled, and CA Milk Production.
Disclosing my Positions
Instead of directly shorting Dean Foods I have purchased $10 strike price put options with an expiration date of 7/20/2018. My current average cost is $0.5250. However, I may size up or down in the future. I have done this as there is a high level of risk associated with this action and utilizing puts instead of shorting introduces an aspect of limiting my downside.
Disclosure: I am/we are short DF.
I wrote this article myself, and it expresses my own opinions. I am not receiving compensation for it (other than from Seeking Alpha). I have no business relationship with any company whose stock is mentioned in this article.
Additional disclosure: While I express my opinion in this article, only you can determine if a specific strategy is right for your portfolio. You should always do your own research before buying, selling, or shorting any stock.