The Stock
Transurban Group (OTCPK:TRAUF) is engaged in the development, financing, operation, and maintenance of toll roads networks. The stock price has dipped recently as global rates begin to rise and investors exit traditionally rate-sensitive infrastructure/income stocks; however, Transurban's management has proven their ability to continue both expanding their number of assets and increasing distribution payments while reducing rate sensitivity. As such, the recent falls provide investors with an opportunity to buy the stock on a dip.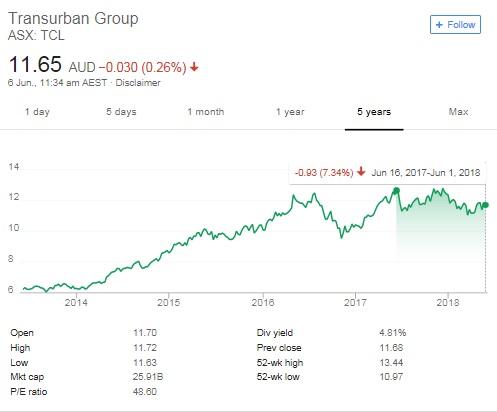 (Source: Google Finance)
Fears over the slight decrease in Transurban's 1H18 free cash flow are also overblown, as 2018's dividend distribution will be sufficiently covered and the current forecast yield of ~5% will be maintained.
| | | | |
| --- | --- | --- | --- |
| | 1H17 | 1H18 | % Change |
| Free cash | $680M | $582M | (14.4%) |
| Weighted average securities eligible for distribution | 2,043M | 2,055M | 0.6% |
| Free cash per security | 33.3cps | 28.3cps | (14.9%) |
Transurban's management has proven their skill in the toll road industry countless times, both by acquiring assets at a fraction of the cost that other operators paid to build them (as the other operators have become financially stressed with cash-flow issues due to poor management and were subsequently forced to sell off these assets).
Chief executive Scott Charlton points to the need to get an acceptable long-term return on the billions of dollars of capital investment required for these huge infrastructure projects. It's also true Transurban has certainly been better at working out that return than many of its competitors. As Charlton noted when announcing Transurban's half yearly results this week, consultants and contractors in the past often used overly optimistic traffic forecasts to win projects. This sometimes included big payments to state governments keen to get as much money as possible as soon as possible. This went awry when projects like Sydney's Cross City Tunnel and Brisbane's Airport Link couldn't meet those rosy forecasts and instead went into administration, leaving Transurban able to acquire several assets at much-reduced prices. This confirms its current role as the major player in Australian toll roads with full ownership or controlling stakes in 11 toll roads and stakes of 50 percent in Sydney's M7 and M5 motorways. It also owns two toll roads in Washington, DC. (Source: The Australian Financial Review)
Transurban's 1H18 report emphasizes management's dedication to their disciplined investment strategy.
Transurban investment approach: No asset is a must win, with a proven disciplined approach to acquisitions -over 25% of portfolio acquired out of receivership for approximately 50% of construction cost. Our focus on a long term investment horizon has been demonstrated in both project selection and valuation approach when participating in bidding processes. Leading traffic forecasting and investment return-I66 Express Lanes-Transurban bid was US$500 million-US$1.1 billion less than winning bid on US$3.5 billion project (Source: Transurban 1H18 Report)
Revenue for 1H18 was significantly up y/y, with a 21.9% increase in group revenue:
| | | | |
| --- | --- | --- | --- |
| | 1H17 ($M) | 1H18 ($M) | % CHANGE |
| Toll Revenue | 1,032 | 1,131 | 9.6% |
| Construction revenue | 274 | 462 | 69.1% |
| Other revenue | 28 | 31 | 12.0% |
| Total Revenue | 1,334 | 1,624 | 21.9% |
(Source: Reuters)
This continuously strong financial performance is due to the increasing demand for Transurban's existing toll roads, and this demand is expected to significantly increase over the next 10 years as congestion increases with population growth.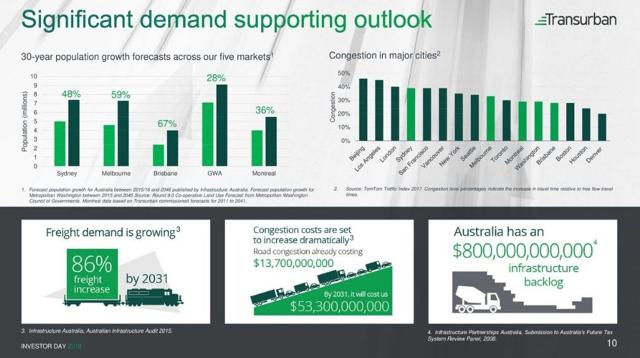 (Source: Transurban Investor Day Presentation)
Freight volume is also forecast to increase over 86% by 2031, providing a significant boost to Transurban's revenue as charges for freight-related vehicles are significantly higher than passenger vehicles (in some cases over 150% higher).
| Toll Point | Car (Class A/Class 2) | Heavy Commercial Vehicle (Class B/Class 4) |
| --- | --- | --- |
| Windsor Road | $2.56 | $7.68 |
| Pennant Hills Road | $3.62 | $10.85 |
| Herring and Christie Roads | $3.61 | $10.84 |
| North Ryde (mainline) | $7.23 | $21.69 |
| Lane Cove Road on-ramp | $2.13 | $6.41 |
(Source: M2 Sydney Transurban Toll Charges)
1H18 highlights:
1H18 saw a distribution of 28.0 cents per share, with the FY18 distribution guidance of 56.0 cents per share (growth of 8.7% y/y FY17) remaining on track. Management has recently emphasized the importance of a continued focus on customer experience, with an $11 billion development pipeline dedicated to improving customer experience resulting in the LinktGO GPS app and the GLIDe back-office system both being implemented. The West Gate Tunnel Project (WGTP) 4 achieved contractual close in December 2017, and construction has now commenced. The US$565 million project to extend the 95 Express Lanes toll to Fredericksburg was approved, with financial close expected in FY19. The group achieved a statutory profit of $331 million, with proportional toll revenue increasing by 10.5% to $1,176 million. Average daily traffic (ADT) grew by an average of 1.4% across all assets.
Business Segment Analysis
Sydney
Sydney's 1H18 proportional toll revenue increased by 9.8% to $476 million. ADT (average daily trips) increased by 2.9% to 667,000 trips (with higher revenue large vehicle traffic increasing by 3.9%), with growth seen across all assets in the area resulting in EBITDA growth of 10.3%. Construction of NorthConnex (NCX) is over 50% complete and on track to be completed by the end of 2019 (currently 18 of 21 kilometers of tunneling completed with 1,500 workers on site). The LinktGO GPS app was also launched in NSW.
Melbourne
Melbourne's 1H18 proportional toll revenue increased by 14.2% to $388 million, with large vehicle traffic increasing by 1.9%. ADT decreased by 1.0% to 820,000 (expected to be a temporary fall caused by disruptions from the CityLink Tulla Widening works), with EBITDA rising by 17.5%. Contractual close was achieved on the West Gate Tunnel Pass and construction has now commenced (expected to be completed by 2022). Implementation of a new freeway management system included variable speed limit signage and automatic incident-detection system, enhancing Transurban's customer service.
Brisbane
For 1H18, Brisbane's proportional toll revenue increased by 3.5% to $200 million, with ADT increasing by 3.5% to 408,000 trips (including a large vehicle traffic increase of 4.9%) resulting in EBITDA increasing by 3.6%. The Logan Enhancement Project is progressing on time and budget, and Transurban has been selected to deliver Brisbane's end-to-end tolling solution for the Toowoomba Second Range Crossing (TSRC) Project.
Greater Washington Area
Expansion into the USA is crucial to accelerating Transurban's growth story into the future, and the early signs are very promising. During 1H18, the Greater Washington area's proportional toll revenue grew by 17.9% to US$87 million, with ADT increasing by 3.4% to 97,000 trip, resulting in EBITDA increasing by 19.9%. Construction has commenced on the 95 Express Lanes project (46km high-occupancy lanes that operate on Interstate 95 in northern Virginia from Stafford County to Fairfax County). The Virginia Department of Transportation has accepted Transurban's proposal for a 16-kilometre extension at southern end of the 95 Express Lanes project, with financial close and commencement of construction expected in early 2019.
Work on the 13-kilometre extension to the north continues to progress, with completion expected in late 2019, and the recently announced Fredericksburg extension will extend the 95 Express Lanes project by an additional 16 kilometres to the south by the end of 2022. Once completed, Transurban's Express Lanes in the Greater Washington Area will be the largest connected network in the United States.
The average workday toll revenue on '95 Express Lanes' increased by 14.3% to US$336,000, with an average dynamic toll price of US$8.04, while average workday toll revenue on the '495 Express Lanes' increased by 25.2% to US$315,000 (with an average dynamic toll price of US$5.43).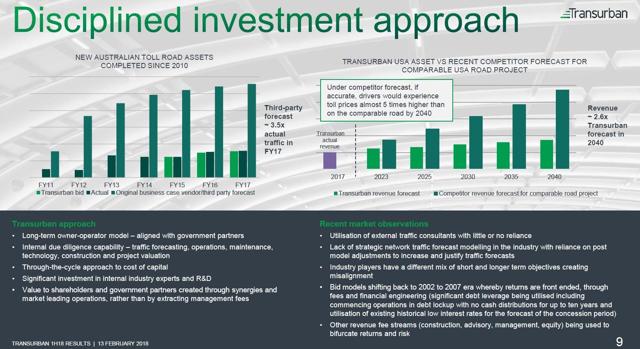 (Source: Transurban Investor Day Presentation)
Canada
Transurban has also begun expanding into Canada as part of its North American strategy. Transurban's planned 7.2km toll road and bridge connecting Northern Montreal across the Riviere des Prairies to commercial and residential areas using free flow/electronic tolling is expected to exceed original traffic projections. Revenue from the planed A25 includes an availability payment from the Canadian government plus toll income collected (see more below). If successful the A25 will be acquired using existing balance sheet capacity, with the deal expected to close Q4 FY18: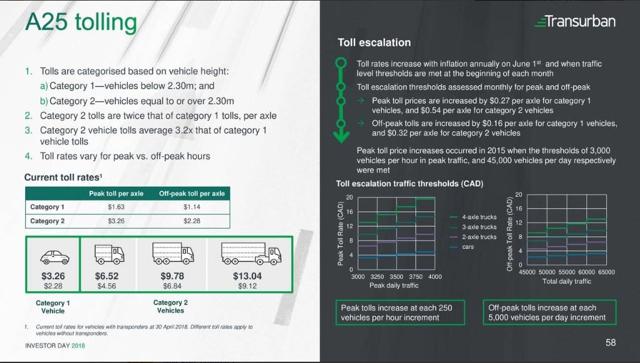 (Source: Transurban Investor Day Presentation)
Outlook
The future for Transurban is very bright as the company acquires more projects and average daily traffic grows substantially each year. As such, Transurban investors should benefit from both dividend increases y/y and share price appreciation as the company's asset list grows: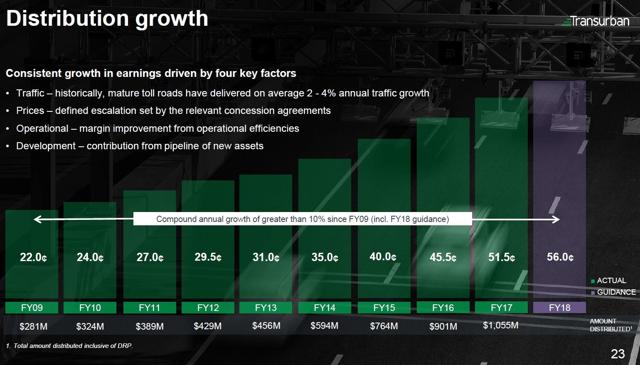 (Source: Transurban FY17 Overview)
These consistent distribution increases are set to continue into the future, as most assets expiration dates are more than 20 years away, giving management sufficient time to replace/require their existing assets in order to keep up necessary free cash flow: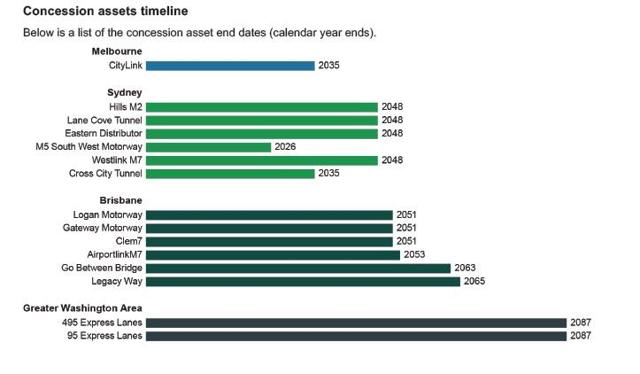 (Source: Transurban 2017 Annual Report)
Capital Management/Dividend
Transurban's management has proven their effectiveness in managing free cash flow and balancing the necessary shareholder distributions with the need to maintain a strong balance sheet with the flexibility to access funds required to continue the company's expansion: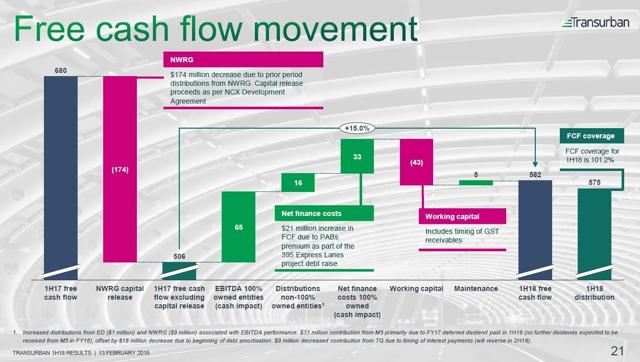 (Source: Transurban Investor Day Presentation)
Management is committed to funding projects from existing balance sheet funds wherever possible, however, equity issuances will most likely be required for the WestConnex project if awarded by the NSW Government.
No remaining FY18 debt maturities require refinancing, and management has begun positioning their balance sheet for a rising interest rate environment, and have hedged 100% of their currency risk:
(Source: Transurban 1H18 Presentation)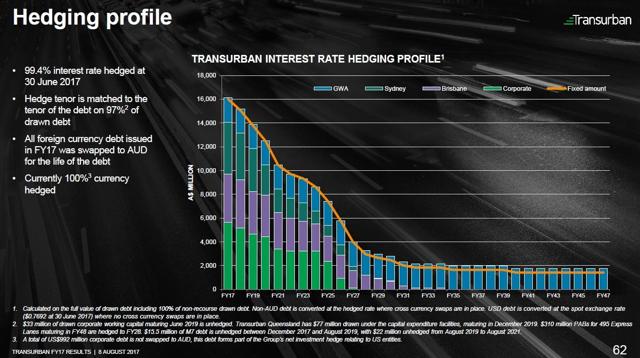 (Source: Transurban 1H18 Presentation)
Risks
While both Transurban's stock and the company's operations have been stable for several years, Transurban does face a number of potential risks moving forward: Reduced traffic volumes or an inability to grow traffic volumes, changes in government policies, changes in access to suitable financing arrangements, the dependency on the services of key contractors and counter-parties as well as unfavorable changes to market or operating conditions.
Chief among these is the risk of changes in governmental policy relating to Transurban's operations, however, Australian competition regulator Rod Sims backs privatization and private sector investment in infrastructure on the basis of its greater efficiency:
He has regularly expressed his concern about the growing community scepticism that privatisation of assets is leading to higher costs for consumers because state governments are too keen on up front profits from the sale. Consider the high prices paid for various ports, for example. Toll roads are different in that these are usually not assets that already exist, of course. But they do require governments to judge the right balance between the community interests in getting the roads built, the commercial interest in making those investments as profitable as possible and the political interest in raising money - or at least not spending it. (Source: The Australian Financial Review)
As such, the risk of a sudden shift in governmental policy against Transurban remains minimal, however, investors should remain aware of the potential impact this would have.
Conclusion
The recent dip in Transurban's stock price due to investors exiting traditionally rate-sensitive infrastructure/income stocks presents an opportunity to income investors as Transurban's management has proven their skill in the toll road industry countless times, both by acquiring assets at a fraction of the cost that other operators paid to build them and through conservative balance sheet management. The current dividend yield of ~5% is likely to continue increasing each year, providing an attractive opportunity to income investors.
All investors must conduct due diligence on all investments and accept full responsibility for their own performance.
Disclosure: I/we have no positions in any stocks mentioned, and no plans to initiate any positions within the next 72 hours.
I wrote this article myself, and it expresses my own opinions. I am not receiving compensation for it (other than from Seeking Alpha). I have no business relationship with any company whose stock is mentioned in this article.
Editor's Note: This article discusses one or more securities that do not trade on a major U.S. exchange. Please be aware of the risks associated with these stocks.