Katahdin Bankshares (OTCQX:KTHN) has made progress over the last year in strengthening its banking operations and financial position. The successful resolution of a single major nonperforming loan significantly reduced the company's ratio of nonperforming assets to total assets with limited impact on the allowance for loan losses.
Common shareholders' equity has continued to grow despite increased accumulated unrealized losses in the company's investment securities portfolio in the face of rising interest rates. In addition, net income and return on assets and equity metrics have improved, partially due to corporate tax reform, but also due to improved net interest income and control of expenses.
The improved performance came despite the company's strategic decision to deemphasize brokered deposits which led to a decrease in total deposits and a corresponding increase in borrowed funds. The company will likely incur a price for this decision in the short term but, we believe, will benefit in the long term by eliminating a potentially volatile source of funds. Katahdin now finds itself in the relatively enviable position of having a loan portfolio, which is larger than the core deposit base.
The above factors, as well as the nearly 30% increase in the company's share price and the enactment of corporate tax reform since our original article, has prompted us to reevaluate our perspective on Katahdin and update our earlier financial and valuation projections. We present our updated conclusions and our rationale for continuing to believe Katahdin represents a compelling long-term investment opportunity.
We should note that the calculations in this article are based on the most recent share price of $17.95 per share although the share price has been very volatile recently due to the typically thin trading volume. In addition, we have adjusted price-to-earnings values to reflect our estimates of forward earnings to reflect the benefit of corporate tax reform whereas we had previously used a trailing twelve-month (TTM) metric for this ratio.
Valuation
We updated our valuation models to reflect the present financial condition of the company. We continue to use Camden National Corporation (CAC) as our publicly traded reference for valuation based on our belief that Camden would be the most likely acquirer of Katahdin in the event of a transaction. The adjusted metrics for the two companies are reflected below, including a "midpoint" valuation that, in part, represents a potential acquisition premium valuation between the two banks:

Source: Market Data and Internal Projections
We also updated our book value per share projections for Katahdin, on both a basic and tangible book value basis. We adjusted the stated book values to reflect an assumption of a "fully reserved" position, i.e., the impact to book value in the event Katahdin increased its allowance for loan losses to achieve a coverage ratio (the ratio of allowance for loan losses to nonperforming loans) comparable to that of Camden National.
The "fully reserved" calculation is not intended to suggest Katahdin's current allowance for loan losses is insufficient but instead intended to reflect a more conservative valuation based on the reserving practices of a potential acquirer.
The presentation below provides the adjusted book values for the company on this "fully reserved" basis under both the current capital structure (with the company's preferred stock outstanding) and assuming a different capital structure, more fully discussed below, wherein Katahdin has redeemed the preferred stock through the issuance of common stock in a rights or secondary offering: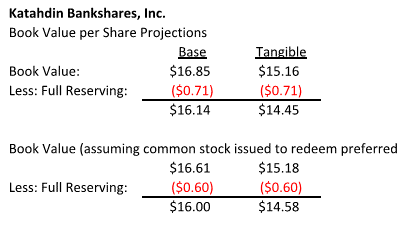 Source: Winter Harbor Capital
Finally, we updated our projections for forward earnings for Katahdin based on the first quarter results assuming different efficiency ratios. The projections were also adjusted, as with the book value calculations, for the current capital structure as well as for the scenario in which the preferred shares are redeemed and replaced with common stock equity.
The adjustments to the efficiency ratios reflect our view that the company has meaningful opportunities to improve its operations as an independent institution yet also account for part of the potential acquisition premium an acquirer may assign to the ability to achieve cost savings in a combination. We present our forward earnings projections for the year below:

Source: Winter Harbor Capital
The results allow us to update our prior valuation model under the various scenarios based on both a multiple of earnings and a multiple of book value: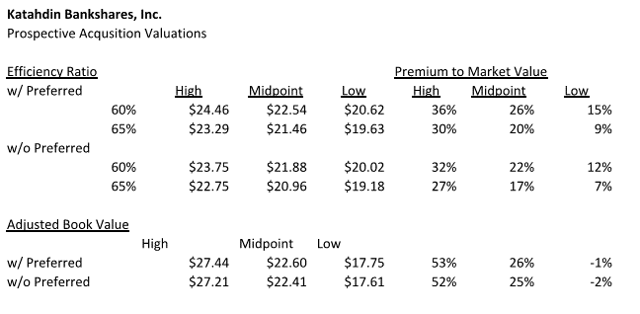 Source: Winter Harbor Capital
In our view, the company is presently fairly valued at the current valuation under the base case although there remains meaningful potential value despite the increase in market value over the past year. The updated valuation range of $20.00–$22.00 per share falls within the range indicated in our prior article with the low end being brought up due to the increased profitability associated with corporate tax reform. In addition, it's worth noting that the overall valuation range presented in this table has narrowed somewhat from our earlier projections largely due to the narrower valuation gap between Katahdin and Camden National.
We still foresee compelling potential returns associated with incremental growth in earnings and book value through the retention of earnings under a base case without any significant improvements in the company's operations. We discussed this view in our earlier article and continue to believe the company on its current trajectory can generate consistent average annual total returns for shareholders in the range of 9%.
However, in an acquisition scenario, or if the company can materially improve its efficiency ratio independently, there remains a decent amount of potential upside in the company's valuation. Indeed, even under the relatively modest midpoint valuation scenario, there is the potential for an additional 11%-22% acquisition premium to the current market price, while the high end of the estimated range (a valuation comparable to that of Camden National) results in a 40% premium over the current market price.
In addition, on an absolute basis, Katahdin remains modestly valued relative to community banking peers. The shares trade at a multiple of 1.1 times book value (1.2 times tangible book value) while the price-to-earnings ratio on our forward earnings estimates is between 10 and 12. In part, this reflects the relatively thinly traded nature of the company's shares although, in our experience, blocks of shares do occasionally come available on the market.
Acquisition Potential
We continue to believe Katahdin would be a good acquisition candidate for another Maine financial institution. Bangor Savings Bank would be, from a geographic standpoint, the most logical acquirer, but the company's privately held status could present challenges from a financing standpoint. However, in late 2017, Bangor Savings announced the acquisition of Granite Bank of New Hampshire in a $45 million cash transaction, suggesting that Maine's second largest bank is interested in acquisitive growth and has the resources do to so on a scale similar to that of a Katahdin acquisition.
Camden National Corporation, the largest bank in Maine, remains our leading candidate as a potential acquirer of Katahdin. Camden National has built its market position in Maine over the last two decades through incremental acquisitions and Katahdin would represent an accretive opportunity to further solidify the company as Maine's leading financial institution. In addition, as a publicly traded company, Camden National has the ability to use its stock as currency, eliminating the need to raise sufficient cash as would likely be the case with a transaction with Bangor Savings.
However, it remains to be seen whether Camden National will continue to focus on the Maine banking market or follow Bar Harbor and Bangor Savings into adjacent states with its next acquisition. Regardless, while we see value in a potential acquisition of Katahdin, we're not basing our expectations on an acquisition.
Preferred Stock And A Secondary Offering
Finally, we continue to believe that the company would be well served to strongly consider a rights offering or secondary offering of common shares to redeem the outstanding preferred shares next year.
In the event the company were to receive net proceeds of $16.15 per share (a 10% discount to the current market price), it would require issuing roughly 620,000 shares of common stock to redeem the outstanding preferred stock. A transaction at this stage would be very mildly dilutive to both book value and earnings per share as demonstrated in our calculations above – a price which may be well worth paying given the preferred stock's dividend rate.
In addition, a secondary offering would allow the company to either boost the common stock dividend, retain additional earnings to grow equity, or some combination. The additional dividends payable on the newly issued common stock, at the current indicated annual rate, would be about $266,600 versus annual preferred stock dividends of $875,000.
The annual difference of slightly more than $600,000 provides additional flexibility for the company and would more than cover even a 15% increase to the current dividend rate. The numbers further improve in the event the company utilized internal funds to redeem a portion of the preferred stock and limited the issuance of new common shares.
The preferred stock does, however, have certain advantages provided interest rates remain below the threshold where the preferred dividend rate would begin to increase or, alternately, the company were able to redeem the preferred shares with proceeds from new preferred shares with a lower preferred dividend rate.
In particular, by essentially fixing the cost of the preferred capital, ongoing earnings growth would be allocated over a smaller number of common shares, thereby slightly boosting earnings per share. In our assessment, this benefit is rather marginal, though, and we'd prefer to see elimination of the preferred shares in favor of common stock.
Of course, any such transaction ultimately depends on the actual proceeds the company could receive from such a transaction. Secondary stock offerings (or rights offerings) are usually completed at a discount to market price in addition to the associated transaction fees and, given the volatility in the company's share price, it's debatable as to exactly what would be realizable in terms of net proceeds per share.
Operations
Finally, we continue to like the company's operations. We've noted no significant changes in the advantageous composition of the company's loan and securities portfolios over the last year and believe the company remains relatively well positioned for rising interest rates.
Conclusion
Katahdin remains one of our favorite community banks for the long term and we continue to believe the company represents a significant value opportunity for patient long-term investors regardless of an acquisition. The company's consistent incremental increase in earnings and book value should continue to benefit shareholders well into the future while opportunities for operational improvement provide a basis for improved profitability. The company's shares continue to trade at a modest valuation despite the surprising rise over the last year and we therefore remain opportunistic buyers.
Author's Note: Katahdin Bankshares is a thinly traded micro capitalization company. We recommend using limit orders to avoid (or at least limit) significant price swings when investing in companies of this nature.
Disclosure: I am/we are long KTHN, CAC. I wrote this article myself, and it expresses my own opinions. I am not receiving compensation for it (other than from Seeking Alpha). I have no business relationship with any company whose stock is mentioned in this article.
Editor's Note: This article covers one or more microcap stocks. Please be aware of the risks associated with these stocks.