PepsiCo (PEP) has seen shares peel back over the last several months, falling from just over $120, to as low as $96. Since May, shares have rebounded, rising over 9% from their low.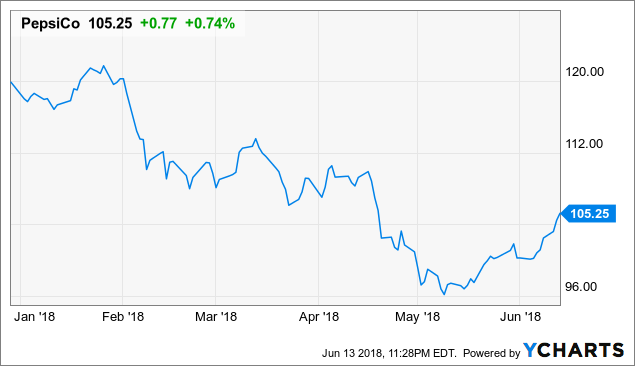 Despite the run back up, we believe shares have further upside, likely reaching their $120 level by the end of the year. With Pepsi making itself comfortable in the healthy snacks market, we expect further M&A to continue as the company puts its pile of cash to use.
The fact that the health snacks space is fragmented only makes it better, providing a consolidation opportunity for Pepsi and accelerating their market share growth in the space. When coupled with a relatively low valuation, and strong dividend yield, we see this as a good time to begin building a long-term position in PepsiCo.
Top Line Growth Initiatives
PepsiCo has continued to witness stagnant revenue growth since FY13, with soda sales lagging as a result of more health-conscious consumers. Pepsi's revenue declined at an average rate of 1.1% per year. In FY17, revenue came in at $63.5 billion up just 1.2% y/y.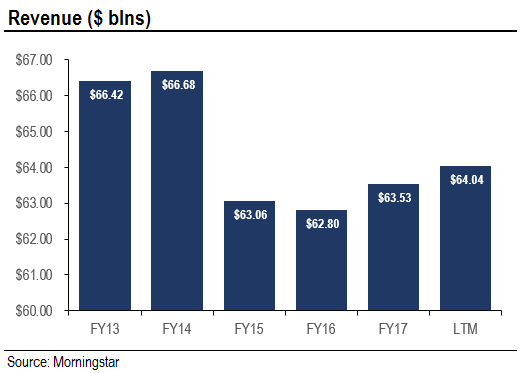 Source: Morningstar
In an effort to offset this slowdown, management has placed an emphasis on healthy snacks and beverages. Several weeks ago, Pepsi announced their acquisition of Bare Foods Co. (DBA "Bare Snacks") for an undisclosed amount. The deal underlines managements efforts in expanding their healthy snack portfolio as part of their "Better For You" initiative.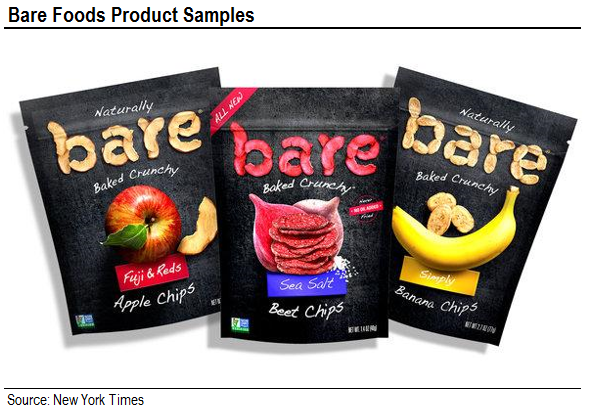 Source: New York Times
Bare Snacks initially sold baked apple chips, but has since grown their baked fruit and vegetable product offering. The products are sold through a combination of online and in-store outlets throughout the U.S., including Target, Whole Foods, and now Walmart. According to the agreement, Bare Snacks would continue to operate independently although management would report to Frito-Lay North America.
According to Grand View Research, the TAM for Healthy Snacks is set to grow at a ~5.1% CAGR through 2025, reaching nearly $33 billion in size.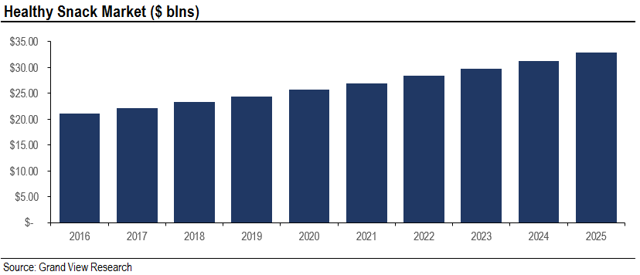 Source: Grand View Research
Looking forward, we believe that M&A activity is a great way for Pepsi take advantage of the growing healthy snack market by expanding their product offering, to cater to the more health-conscious consumer. Integration efforts would not be too complex, as witnessed with Bare Snacks' independent operation post-acquisition.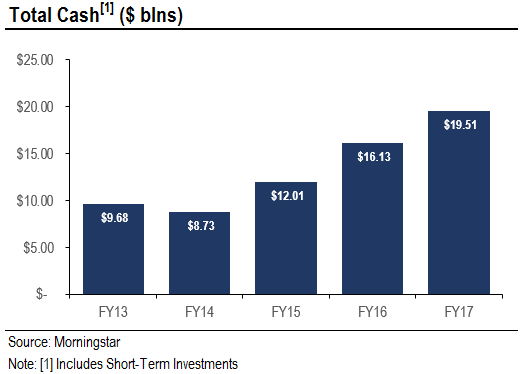 The company's cash situation also provides them with some extra reinforcements in their M&A endeavors. Pepsi's cash pile has grown in FY17 by over $3 billion, at roughly $20.6 billion in the MRQ. Yet Pepsi's debt/equity ratio has consistently grown over the past few years, sitting at ~3.6x in FY17 (~4x MRQ). In spite of the leverage, the company's ability to service debt remains healthy.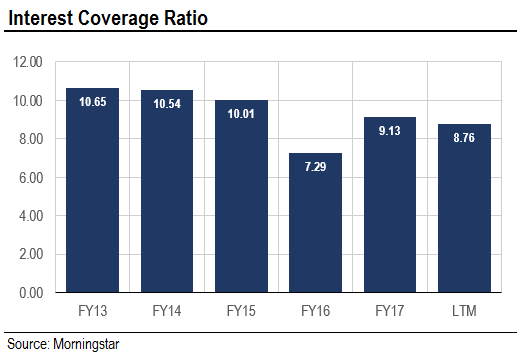 Interest expense is kept at a reasonable level, with the company's coverage ratio over 8x in the LTM. With costs being kept under control, and total OpEx down 136 bps y/y into FY17, we expect Pepsi's interest coverage ratio to remain strong going forward.
The New York Times notes the incredibly competitive space which PepsiCo is moving into, stating that:
As consumers' appetite for healthy snacks has grown, so has the number of products fighting for a spot in their cabinets. In 2017, a study by Nielsen showed thousands of small manufacturers collectively held 60 percent of the fast-growing clean-label market.

Source: New York Times
However, despite the boom and bust nature of most small manufacturers, we see potential in the fragmentation. The consolidation of clean-label snacks could help PepsiCo unlock some value given the sheer size of the market, along with its projected growth in the coming years.
Valuation
Historically, PepsiCo has traded between 16-30x earnings since FY08, averaging 20x earnings. This is in-line with the company's current valuation of 20x; on a forward looking basis, the company's 18x FY18 earnings multiple is actually quite attractive on the low end.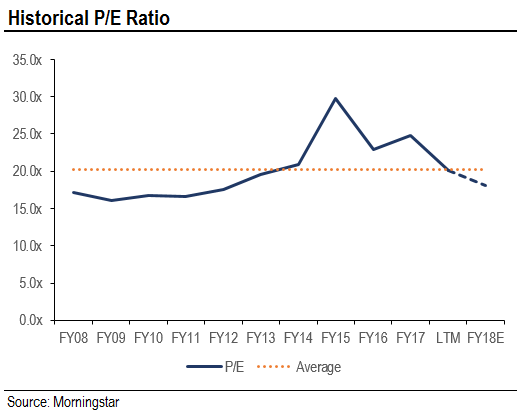 When comparing the company to industry peers, PepsiCo's valuation appears to be even more attractive at first glance. Industry peers currently trade at an average LTM earnings multiple of 34x and ~27x forward earnings.

Source: YahooFinance, S&P Capital IQ
This is significantly higher than PepsiCo's LTM/FY18 earnings multiple of 20x/18x. Adjusting for capital structure, Pepsi trades at ~13.5x EBITDA, which is again a heavy discount to the industry average of ~20x.
Unfortunately, margins are not up to par with peers, with the company's net/EBIT margins of 7.6%/16.4% well below the industry norm. Despite this, the discounted valuation appears to be too steep in our eyes, and unjustified. Pepsi's dividend, yielding roughly 3.6%, adds to the company's attractiveness factor, and when coupled with the company's M&A abilities, warrants a higher multiple in our eyes.
Bloomberg's FY18 EPS estimate is ~$5.69, which is in-line with the analyst consensus. When applying a multiple of ~21x earnings, we derive a $119 PT, reflecting upside of over 13% from Wednesday's close.
Takeaway
PepsiCo continues to move forward in a highly competitive industry, with M&A being a strategy the company is using for growth. The recent acquisition of Bare Foods opens the door to a growing healthy snacks market, which is expected to reach nearly $33 billion by the year 2025.
With roughly 60% of the market fragmented among smaller manufacturers, we believe this presents a consolidation opportunity for PepsiCo. The company's strong balance sheet and cash position allows it to pursue M&A opportunities in this space, which we can see driving value for years to come.
Margins remain below the industry average. However, this is more than made up for in the company's discounted valuation relative to peers, a discount we believe to be too steep, and unjustified. With a 3.55% dividend yield, we believe now would be a good time to begin building a position for the long-term.
We initiate a buy rating, and a $119 PT.
Disclosure: I/we have no positions in any stocks mentioned, and no plans to initiate any positions within the next 72 hours.
I wrote this article myself, and it expresses my own opinions. I am not receiving compensation for it (other than from Seeking Alpha). I have no business relationship with any company whose stock is mentioned in this article.