I found the former Concurrent Computer Corporation by running a stock screener for companies trading below their net current asset value ("NCAV"), and I believe it merits a quick write-up. The company is now named CCUR Holdings and it trades over the counter under the ticker "OTC:CCUR." (All data in the article has been derived from CCUR's SEC filings.)
The company formerly had two operating businesses which it sold in 2017. It now sits on about $62.8 million of liquidatable current assets (after adjusting for repurchases through May 3, 2018), $7.8 million of liabilities, and $0.5 million of 2018 termination and severance expenses disclosed in the footnotes. In total, I have pegged the company's net liquidation value at $54.4 million. With 9,325,677 fully diluted shares outstanding, NCAV/share stands at $5.83/share.
Asset Quality
Marketable assets are shown in the following table. The vast majority of the assets are in cash and money market holdings with the remainder in marketable securities. $2.8 million of the fixed maturity debt has maturities beyond five years, which I don't particularly like - but all assets are Level 1 or Level 2, so nothing should be illiquid.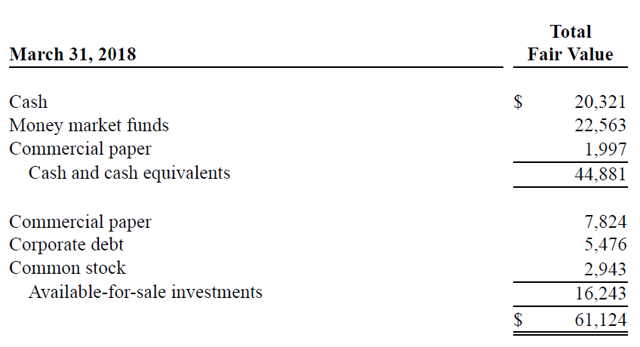 Source: CCUR March 31, 2018 10-Q
As of March 31, 2018, CCUR had $3.45 million tied up in escrow accounts related to the sale of its operating businesses. $2 million should have been released May 15, and the remaining $1.45 million is slated to be released December 31, 2018.
Finally, I have excluded prepaid expenses and other current assets of $1.035 million from the NCAV calculation. While I'm pretty sure some textbook disagrees with this decision - it's hard to liquidate prepaid assets.
Pension Obligations
One of the least attractive characteristics of CCUR is a legacy German pension obligation. The pension program was discontinued in 1998 and covers no current employees, but the company estimates (as of June 30, 2017) that it has ~$4.6 million of future obligations and only ~$1.0 million of plan assets. (GAAP primer: Companies only report the net pension asset/obligation on the balance sheet, so the $1 million in assets has not been previously counted.) The company dutifully reports the net pension liability (as of March 31, 2018) of $3.95 million on the balance sheet.
The bad part is that pensions are notoriously difficult to settle - and if the company chose to liquidate, it might need to pay an insurance company more than $4 million to take on the obligation. On the other hand, the company is assuming a 1.55% discount rate and a 2.0% expected return on plan assets. To be honest, both of these numbers are bafflingly low to me, and I will assume that some quirk of German law specifies ultra-conservative investments. That said, the spread of 0.45% likely indicates that $4 million is probably a very conservative estimate of net liability. There may be a few pennies of upside value hidden within the pension assumptions.
Tax Loss Carry Forwards
CCUR has $56,035 of tax losses it can carry forward. At 21% US Federal Corporate tax rates, the nominal value of the tax shield is $11.7 mm. I apply a 50% discount and value the tax shield at $5.8 million or $0.63/share.
If I add the tax loss value to the NCAV, I get a rough valuation of $6.47/share.
Near-Term Share Price Movements
On March 5, 2018, CCUR announced a 1 million share repurchase authorization. At the time of the authorization, CCUR had about 9.9 million shares outstanding, so the authorization was about 10% of the outstanding shares. The company has subsequently purchased 667 thousand shares through May 3, 2018, at an average price of $5.08/share.
Concurrently, insider Julian Singer has been aggressively purchasing shares. Since the beginning of the year, Singer has executed two revised consent agreements with the board allowing him to own up to 4.17 million shares in the company. During that time, he has acquired more than 1.4 million shares (15.6% of the business) and his current ownership stands at 3.38 million shares. (He could purchase 790K more shares under the consent agreement.)
Given 333K shares left on the repurchase and 790K shares, there are maybe as much as 1.1 million shares of demand currently in the marketplace. This could provide a near-term tailwind to the share price, but ultimately, I see demand petering out as the share price approaches liquidation value.
CCUR's share price bottomed around $4.70/share shortly after it was de-listed by NASDAQ at the end of March 2018. It currently trades for $5.32/share on volume of about 10,000 shares/day.
Margin Of Safety And Closing Thoughts
When evaluating US net-nets, I am typically looking for a 30% discount to fair value (including tax NOLs) with at least a 15% discount to NCAV. The 30% discount allows 2-3 years for the company to reach fair value and still achieve my desired rate of return.
A 30% discount to fair value of $6.47 is $4.52/share.
A 15% discount to NCAV of $5.83 is $4.95/share.
As you can see, the current price is about 17-7% higher than I would typically target, so I will keep CCUR on my radar.
It has a board that clearly recognizes the ability to generate equity value through share repurchases; and
an activist investor building a significant position.
The company has substantial upside if it can find an attractively priced acquisition to capture the value of its NOLs, with the option of liquidating at a premium to current share prices.
Disclosure: I/we have no positions in any stocks mentioned, but may initiate a long position in CCUR over the next 72 hours. I wrote this article myself, and it expresses my own opinions. I am not receiving compensation for it (other than from Seeking Alpha). I have no business relationship with any company whose stock is mentioned in this article.
Editor's Note: This article covers one or more microcap stocks. Please be aware of the risks associated with these stocks.