Quick Take
Essential Properties Realty Trust (EPRT) has filed to raise approximately $504 million in an IPO of its common stock, according to an amended F-11/A registration statement.
The firm owns and manages a number of single-tenant retail properties throughout the United States.
EPRT is growing rapidly by providing middle-market tenants with a sale-leaseback structure to unlock capital.
Company and Business
Princeton, New Jersey-based Essential was founded in June 2016 and now owns 530 primarily single-tenant, free-standing properties in 42 states.
Management is headed by President and CEO Peter Mavoides, who has been with the firm since March 2016 and was previously President and COO of Spirit.
The firm's primary capital partner is Eldridge Industries will own 43.9% of company stock post-IPO. The underlying operating entity [OP], EPRT Holdings, will own 30.2% post-IPO.
EPRT's portfolio is currently 99.1% occupied by 127 tenants, 'with none of our tenants contributing more than 6.8% of annualized base rent.'
The pie chart below shows the breakdown of EPRT's tenant base by industry: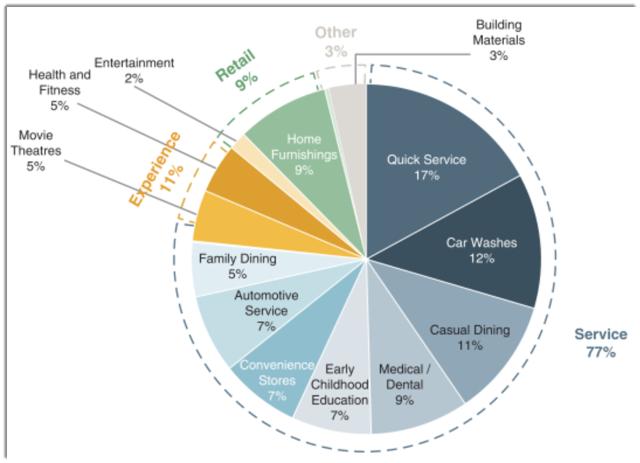 (Source: EPRT F-11/A)
Market
According to an April 2018 Colliers research report, net lease sales volume for the single tenant market in the U.S. attenuated somewhat in 2016 - 2017 after a record year in 2015, as the chart below shows: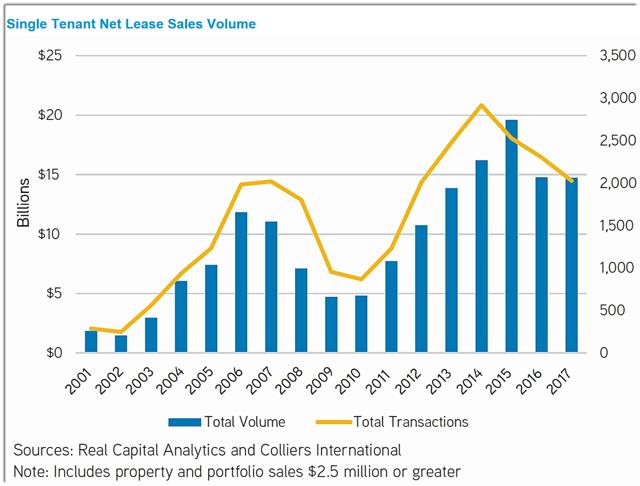 (Source: Colliers)
Total transactions were also down from their peak in 2014 but the market as a whole remains quite active.
Key report takeaways are as follows:
Capitalization rates increased in Q4 2017 slightly to 6.4%
Retail sales are expected to do well in 2018 as households benefit from tax cuts
Further interest rate hikes could impact buyer decision-making as spreads contract.
Management says that its strategy is focused on providing capital to middle market tenants that operate service-oriented or 'experience-oriented' retail locations and who wish to sell their interests in sale-leaseback structure.
Financial Performance
EPRT's recent financial results can be summarized as follows:
Rapidly growing topline revenue
Slight drop in adjusted FFO
Reasonably low leverage ratio
Below are the company's financial results for the past two years: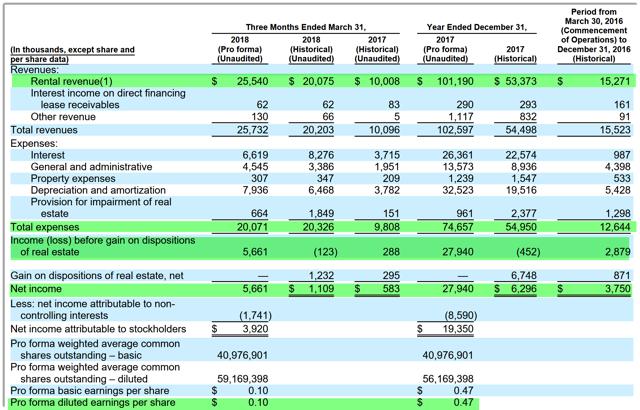 (Source: Essential F-11/A)
Revenue ($)
Through Q1 2018: $20.1 million, 100% increase vs. prior
2017: $101.2 million, 89.5% increase vs. prior
Adjusted FFO (Pro Forma)
Through Q1 2018: 13.9 million
2017: $58.6 million
Leverage Ratio (Net Debt/EBITDA)
As of March 31, 2018, the company had $11.1 million in cash & equivalents and restricted cash and $753.8 million in total liabilities.
IPO Details
EPRT intends to raise $504 million in gross proceeds from an IPO of 32.5 million shares of its common stock at a midpoint price of $15.50 per share.
The firm is also selling a private placement to its primary capital partner, Eldridge Industries, in the amount of $125 million.
Assuming an IPO at the midpoint price, EPRT is expecting to value itself at a market capitalization of $993 million.
Essential says it will use the net proceeds from the IPO as follows:
We expect our operating partnership to use the net proceeds received from us and in the concurrent private placement of OP units (if any) [i] to repay short-term notes, with an aggregate principal balance of approximately $288.0 million as of June 1, 2018, issued to an affiliate of Eldridge and [ii] for general corporate purposes, including potential future investments. The indebtedness to be repaid to an affiliate of Eldridge was incurred to acquire properties. These short-term notes accrue interest at an annual rate equal to LIBOR plus a spread of between 2.14% and 2.55% (with a weighted average annual interest rate of 3.83% as of March 31, 2018) and mature on various dates throughout 2018 and 2019 (with a weighted average maturity of 245 days, as of March 31, 2018).
Listed managers of the IPO are Goldman Sachs, Citigroup, BofA Merrill Lynch, Barclays, Credit Suisse, RBC Capital Markets, SunTrust Robinson Humphrey, Evercore ISI and Ladenburg Thalmann.
Expected IPO Date: June 20, 2018.
An enhanced version of this article on my Seeking Alpha Marketplace research service IPO Edge includes:
- Valuation
- Commentary
- Opinion on the IPO
Members of IPO Edge get the latest IPO research, news, market trends and industry analysis. Start with a Free Trial.
Disclosure: I/we have no positions in any stocks mentioned, and no plans to initiate any positions within the next 72 hours.
I wrote this article myself, and it expresses my own opinions. I am not receiving compensation for it (other than from Seeking Alpha). I have no business relationship with any company whose stock is mentioned in this article.