Welcome to the weekly natural gas storage report edition of Natural Gas Daily!
EIA reported a storage build of 96 Bcf for the week ending June 8. This compares to the +90 Bcf we projected and consensus average of +90 Bcf. The +96 Bcf also was 5 Bcf higher than the five-year average of +91 Bcf, and 18 Bcf higher than last year's.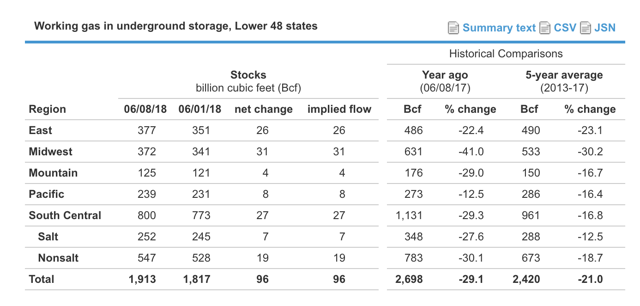 (Source: EIA.)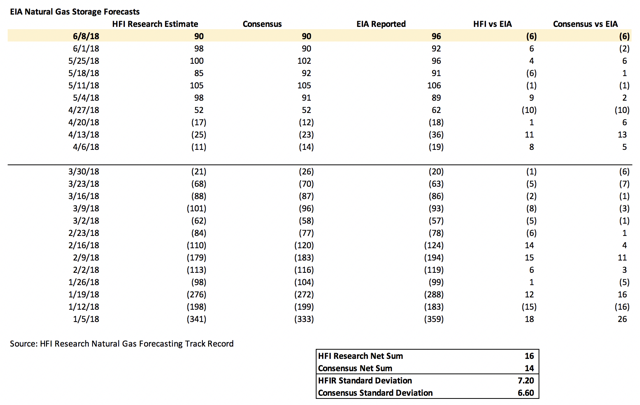 Priced for Perfection
Last Friday, we alerted readers that the weather models were starting to turn bullish, which resulted in our exit from the long DGAZ position. Since then, weather models did turn bullish, but natural gas prices have also rallied to the recent highs. In our view, natural gas prices today are priced for perfection given the short-term fundamental set-up.
On one end, weather models continue to show slightly above-average weather in the 15-day outlook, but on the other, no risk of cooling surprise is being priced in. In our "what are the traders saying" section today, traders noted that without the bullish weather backdrop, storage injections would be building ~17 Bcf higher. And as we head into summer cooling demand season, if CDDs trend back to the 10-year average, the weekly injection comparisons are set to worsen.
Let us put things into perspective. Commodity Wx Group forecasts that the latest bullish CDD revision now pushes June 2018 to be the hottest June since 2000.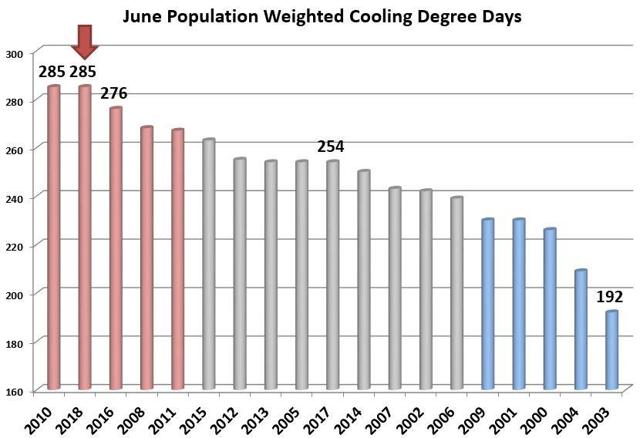 (Source: Commodity Wx Group)
Now take a look at the storage estimate comparisons below: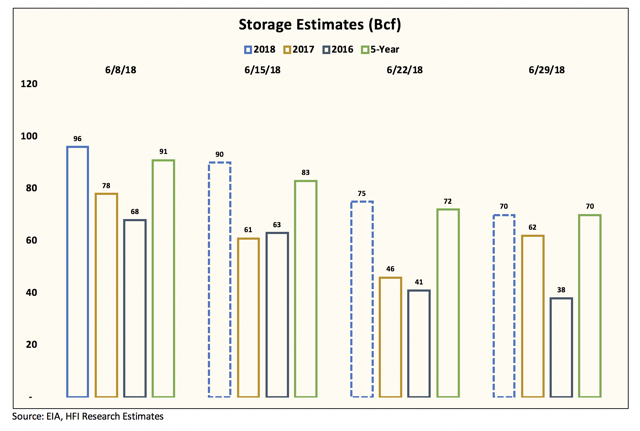 As you can see, despite the rest of June expected to come in as the hottest June since 2000, storage injections are only matching the 5-year average.
What happens when the weather moderates?
This is precisely why we believe natural gas prices today are priced for perfection, and the moment the weather models show any hint of a cooling trend developing, prices will sell off as the market anticipates higher-than-expected injections.
Of course, Mother Nature could show the warming trend continuing, which we believe will keep prices elevated around here for now, but the risk/reward is tilted to the downside given the potential flip-flops in the model forecasts.
As a result, we went long DGAZ yesterday. The near-term fundamentals continue to be supported by a bullish weather backdrop, but if that changes, we believe prices will head lower.
HFI Research Natural Gas
Thank you for reading. If you have historically found our public natural gas articles insightful, you will certainly find our premium write-ups to be even better now. We have made major improvements over the last year incorporating a dedicated section on weather, trader commentary, and fundamentals. Now we are introducing what we would do with our positioning. If you are interested, you can see here more info.
Disclosure: I am/we are long DGAZ.
I wrote this article myself, and it expresses my own opinions. I am not receiving compensation for it (other than from Seeking Alpha). I have no business relationship with any company whose stock is mentioned in this article.